Can You Dropship Makeup Products From AliExpress Safely?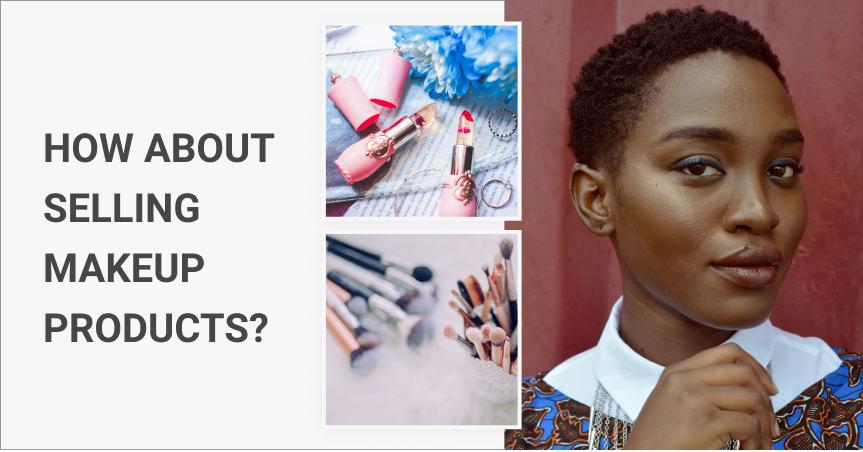 The short answer to this question is 'yes'. 🙂
And if you want to dropship makeup supplies from AliExpress, read further to learn how to do it right!
Do you like the beauty industry?
Are you keeping an eye on all the newest trends, collections, products, and makeup techniques?
In this case, you really can benefit from dropshipping makeup products offered by AliExpress sellers. All you need to do is know how to do it right!
How to dropship makeup from AliExpress: think who will be your clients
Right now, you might be wondering: why start with this step?
Well, the answer is pretty simple. Largely, your choice of a target audience defines the whole trajectory of your business growth and development.
If you don't know who exactly you're going to target, you won't be able to plan and launch an efficient marketing strategy.
And without due marketing efforts, it will be challenging for your store to become a well-known and truly profitable shopping destination.
So, let's think about your probable customer segments first of all!
These might be:
The most obvious way to dropship makeup products is to offer them directly to the customers who need beauty products for their personal use.
If you choose this market segment, you need to think really carefully about your brand image and strategy. Will you sell affordable makeup supplies to low-income customers? Or, will you sell specific categories of products (let's say, cute makeup accessories for millennials, or luxury beauty supplies, etc.) to more demanding buyers?
As you understand, your choice of a target segment defines your future business actions. To be more specific, you will choose products and set their prices according to your customers' preferences and financial possibilities. And of course, you will select promotional channels and create advertising messages that are relevant and appealing to this particular customer category.
Established makeup artists prefer well-known brands that are guaranteed to leave both them and their clients satisfied. But, newcomers to the beauty industry can't always afford premium expendable materials like brushes, napkins, holders, cosmetic bags, etc. So, they look for inexpensive alternatives of a good quality.
If you're going to choose this customer segment, you need to remember that these buyers value the quality of makeup supplies very much. Their professional reputation and career depends on the customer service they provide, so they can't just go with poor quality materials.
This is an even more demanding type of customers. But, having a reliable corporate client might turn out to be really beneficial for you! In this case, you'll be using a so-called B2B business model. It means that your clients will be not private individuals, but companies.
It's not unusual in dropshipping: for example, one of our clients, Kingpin from India, targets retail shopkeepers who buy products in small bulk. The store that he built with B2B model generated $28,000+ in sales in the first month of its operation, so clearly, he made the right business decision there.
If you choose this customer segment, you need to be ready to register your business officially. Maybe, the makeup school (especially if it's your local one) will ask you to sign an official contract with business details. And of course, you will need to be super careful about the products you offer these customers, and their quality.
So, it brings us to our next point!
Create the makeup product offer to dropship
There is a huge 'Health & Beauty' product category on AliExpress. Several subcategories within it might be appropriate for a makeup-themed store.
Makeup, Skin Care, Beauty Essentials, Tools & Accessories, Skin Care Tools and Beauty Equipment are the subcategories that should make you interested.
Please, be very careful if you want to dropship makeup and beauty products that are applied directly to the buyer's skin!
Lipsticks, eyeshadows, masks, creams, oils and similar products might be a troubling choice for a dropshipping store – and here is why:
You must be 100% sure they are harmless to the users
Ideally, you need to ask the suppliers to show you some kind of a certificate that explains the products' origin and contents. At the very least, you need to check out AliExpress buyers' feedback to see if the product has caused anyone any problems.
You also need to be ready to answer your customers' questions. What will you say if they ask you about the product's components or its influence on a specific skin condition?
Beauty products might get spoiled during transportation
As a dropshipping store owner, you don't control the packages shipping process. So, you can't really be sure that these creams, oils, and other substances won't get exposed to heat, sun, and extreme weather conditions that might ruin their formula. Besides, you can't guarantee that the products' bottles won't get damaged, causing the contents to leak out.
You might have some branding issues
If you take a look at any beauty product like serum or lip gloss offered on AliExpress, you'll see that its package contains the manufacturers' name. Basically, there aren't non-branded beauty products of this kind.
So, your customers might start wondering: are you authorized to sell these brands? Do you have a proper license? Aren't you selling counterfeit products? And you need to be able to give a clear, convincing answer to any of these tricky questions.
Are there any safer options to dropship makeup products?
The points above might seem a bit scary. Still, don't think that this industry don't give you the opportunity to benefit from it with dropshipping! You just need to narrow down your product offer a little bit.
We recommend that you focus on makeup accessories, tools, and equipment.
As we've already mentioned it above, these expendable materials see a huge demand. There are plenty of such products on AliExpress, and lots of them show an incredible amount of orders.
Check out the examples below:
Makeup brushes set
Price – US $1.04-1.42, rating – 4.8*, number of orders – 49875
Disposable eyelash/eyebrow brushes
Price – US $0.98-1.98, rating – 4.9*, number of orders – 27291
Makeup mirror with LED lights
Price – US $5.09-26.5, rating – 4.8*, number of orders – 20131
Makeup organizer
Price – US $2.62, rating – 4.8*, number of orders – 19258
Winged eyeliner stencil
Price – US $1.55, rating – 4.6*, number of orders – 12018
As you can see, tens of thousands of people buy these products. Even though they're not bright lipsticks or anti-aging serums, they sell really well. And that makes them the perfect option for you!
Work with the makeup suppliers from AliExpress
Even though makeup supplies and accessories don't always come in direct contact with the buyers' skin, they should still be safe and harmless for the user.
This is why you need to examine their product pages carefully and find out:
Are there enough product details?
Imagine that you're buying this item for your personal use. What would you like to know about it? Can you find the necessary details in the description provided by the supplier?
If you feel there isn't enough information about the product's use and maintenance, write a direct message to the seller and ask all your questions. If you're not satisfied with the answers or with the seller's way of communication, don't import this product to your store.
Pro tip: Like some particular product, but don't like the way it's presented? Can't find common ground with the supplier? Check if other AliExpress sellers offer an identical item with a better product page. Free AliDropship Extension for Google Chrome will do this job for you automatically – check out this guide to learn more!
How do buyers evaluate these products?
The Feedback section is your best friend. Here, you can read buyers' opinions on the item, view the real-life product pictures taken by the actual users, and find out whether the product truly matches its description.
By the way, using the free AliDropship Extension for Google Chrome, you will be able to instantly view all customer reviews containing pictures. Therefore, you'll be able to evaluate the product quality much quicker.
Have you picked and imported the products? Great! Now, it's time to proceed with your marketing strategy!
How to dropship makeup: build a brand
Makeup segment, as much as the overall fashion industry, is largely driven by emotions.
So, if you want to succeed in this field, you need to have:
A store selling makeup supplies should have user-friendly navigation, a clear layout, and a good-looking appearance that you'd expect from a beauty industry website. The easiest way to do it is to pick a proper theme that lets your store look great on any device, and motivates visitors to place their orders.
Pro tip: order a ready-made dropshipping website that meets modern technical standards and doesn't require you to have special knowledge. This store will be made according to your personal requirements, so it will be your chance to stand out from the competition!
Your website visitors' trust and their desire to buy something from your store largely depend on the product presentation.
As you know it, AliExpress products have weird confusing titles, overly long and not always informative descriptions, and photos marked by someone else's logos.
Of course, all these product page features are troubling you as for a dropshipping store owner. This is why you need to make extra efforts to create a positive brand image and bring the imported product pages to perfection. These changes usually refer to overall page contents, items' descriptions, and visual materials (both images and videos).
Pro tip: ask dropshipping experts to evaluate your website and give you recommendations on its improvement. A professional online store review can help you change your product pages appearance dramatically, and increase your profit levels as a result.
Social networks like Instagram, Facebook, and Pinterest are great places to showcase your store offers, collect feedback on your products, communicate with your customers, and launch full-scale promotional campaigns. Also, they are convenient channels to look for collaborations with the influencers who matter for your target audience and throw unusual marketing events. Surely, you need to pay them the closest attention!
Pro tip: use this handy service if you need help with a professional social media accounts creation. And, consider this opportunity to get a package of expertly made Facebook and Instagram ads to boost your store performance!
Do you feel more confident about your makeup dropshipping prospects now?
As you can see, there are lots of helpful solutions on your way if you decide to dropship makeup supplies and accessories. So, if you've always wanted to try yourself in this business, you're one step away from getting your own customized dropshipping store!