Buying An Established Business: Established Stores VS Custom Stores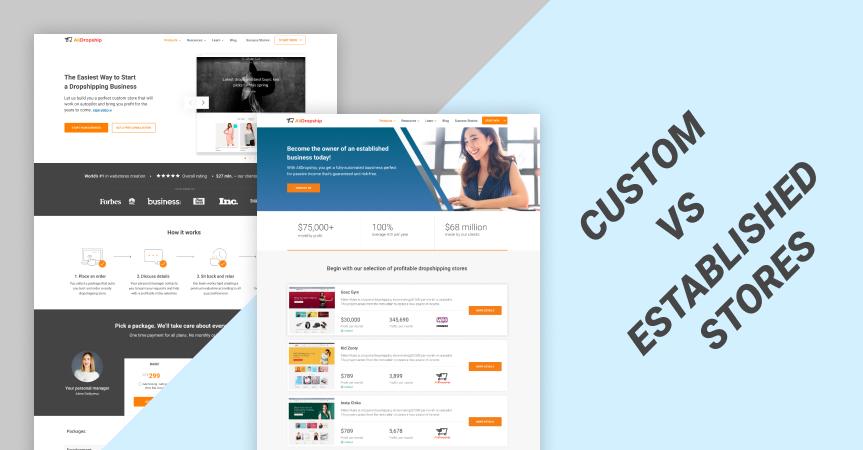 Interested in buying an established business? AliDropship now offers two types of dropshipping stores for sale – Custom Stores and Established Stores. However, these names often cause confusion. In this article, I will explain the difference between the two options as well as their pros and cons.
Buying a business sounds like a good idea, especially if it's an ecommerce venture that doesn't require as much investment as a brick-and-mortar store. Dropshipping is even more attractive since it requires even less investment, and the risks are relatively low. And here, AliDropship offers two types of business for sale.
Custom Stores and Established Stores are built on the AliDropship plugin and allow you to start dropshipping goods from AliExpress to different countries around the world. However, they're not the same. To understand the difference between these types of business, one needs to understand how the plugin works.
Dropshipping, AliDropship plugin and how it all works
AliDropship is an ecommerce plugin for the WordPress content management system. Simply speaking, the latter is just a platform for building websites.
The plugin allows you to create not just a standard website but the one designed as an online store. It also has a rich set of tools and functions that allow you to dropship products from AliExpress. This is how it works.
Dropshipping is a business model that implies selling products without having to manufacture or store them. You find an interesting product on AliExpress and import it to your newly created store. You simply copy the product information (title, variations, description, photos, videos, etc.), but you don't buy the product.
When a client purchases the item, you place this order with AliExpress but you ask the seller to send the product directly to your customer. Since you always sell goods for a higher price, you get the margin as a profit.
In theory, one can do all this manually, but with the number of orders rising, it'll eventually become impossible to handle it on your own. That's why you need an automation tool.
The AliDropship plugin allows you to import and edit goods from AliExpress, quickly and easily process orders and automate most of your work. You also get 50 free imports from AliDropship's database of pre-edited products.
However, before actually starting a business, one has to create the store, import and edit products, as well as connect the site to social media accounts, which takes time and effort. And that's where our ready solutions come in.
What are Custom Stores?
Custom Stores are dropshipping sites the AliDropship team creates for customers on request. Although building an online store isn't that difficult, it still takes time and effort. So, instead of doing everything on your own, you can delegate this task to us.
Before the work begins, your personal manager contacts you to discuss all the details including the niche, design, preferred package, etc. After that, you only need to wait for your store to be completed.
As a result, you're getting an online store professionally made according to your individual preferences.
Pros:
You choose the niche of your store
You pick the name, theme and design of the store
Three packages to choose from – Basic ($299), Advanced ($499) and Ultimate ($899)
Cons:
You purchase a business ready for launch, but it will not start bringing profit until you start promotion.
What are Established Stores?
Established Stores are built on the AliDropship plugin by our team just like Custom Stores or the websites made by our clients. They are technically identical. However, these stores are managed and promoted by AliDropship's Ecommerce Department. You could say, they're just our own stores.
It all starts with an idea. The team chooses a niche that promises to be profitable; then they buy a domain and hosting and create the website using the plugin. After we import products and everything's ready, we start promoting the store.
Our experts promote it on different channels, try out various strategies, customize the stores for better results and experiment with products. After a while, the website gets its own customer base, a certain reputation, active social media accounts with real subscribers and so on.
When we see that the business is bringing profit, we list it for sale. In other words, a person buying a small business like this gets a dropshipping store that is already running. You still need to promote and develop it, but it's much easier than starting from scratch.
Pros:
Built by experts
You are buying an established business that already has followers and is bringing profit
Along with the site, you also get a detailed guide, social media accounts with active subscribers, everything you need to start your own promotion campaigns, and free lifelong post-sale support and training from your personal manager.
Cons:
Customers can't choose the name, niche and design of the store
The price of an Established Store is calculated according to its annual profit and, therefore, high-performing stores can be quite expensive.
Who could benefit from Custom and Established Stores?
While these two offers may seem similar, they will suit different purposes.
When purchasing an Established Store, you get a business that's already running and bringing a profit. Thus, one doesn't have to spend months promoting it from scratch or risk failing.
On the other hand, those who buy a Custom Store get to choose plenty of individual business details. It is the buyer who, after a detailed consultation with a personal manager, decides what to sell in this shop, what it should look like, etc. Customizable features are its main benefit, so this option will suit someone who wants to see their dreams take shape. Custom Stores are much more affordable than Established Stores, but one has to promote them from scratch.
Thus, buying an established business offers different privileges: Custom Stores allow you to start promoting right away without having to build the website on your own while Established Stores allow you to start enjoying profits right away without having to develop a reputation.