How To Make Over 1 Million Dollars A Year [Case Study]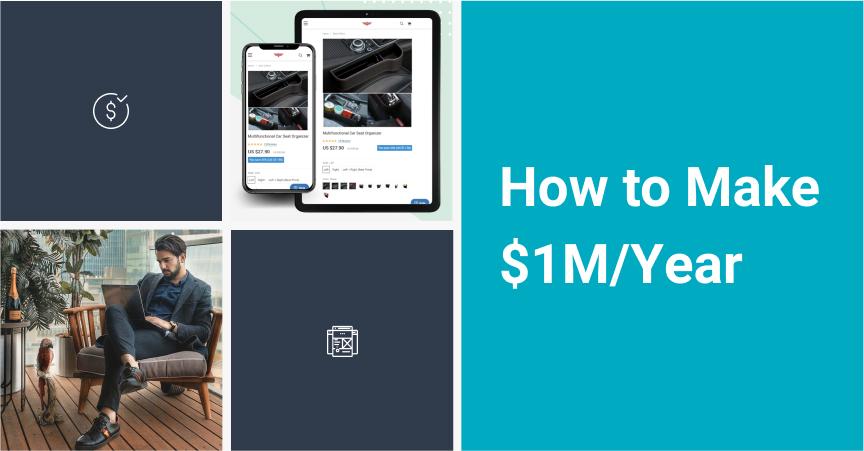 Wondering how to make 1 million dollars a year – and more? Then how about buying a copy of our dropshipping store that already makes OVER $500K a month?
Everyone wants to have a million dollars on their bank account. But working full time can hardly make this dream true even if you try to save money every time you get paid. Even finding a side hustle to make some extra cash won't change the situation.
One of the most realistic options is to start a business. However, traditional business models require a lot of investments and a large start-up budget, which few can afford. Besides, even if you do find enough money for a start-up, most businesses go bankrupt a year or two after they were launched
That's why today many people consider starting a dropshipping business. Unlike traditional business models, dropshipping doesn't require a lot of money to start. It carries less risks. But, at the same time, lets you gain valuable experience in ecommerce. And of course, with enough persistency, one can expect to enjoy additional income.
Sometimes dropshipping store owners are happy to have a source of some extra money. But those who put more effort into their business can achieve more impressive results and even turn dropshipping into a source of passive income. You can read about such dropshippers in a number of our success stories.
Recently one of our self-owned stores far exceeded the 1 million dollars annual revenue threshold and became our best-performing Premium Store. Now, it makes over $500,000 a month – go here to see its latest performance!
The best part is that you can purchase an exact copy of this website along with all the imported products, marketing materials and even promotion recommendations from our experts! And before you go and get it, let's analyze the website to see how it makes so much profit – and how you can repeat its strategy.
How to make 1 million dollars a year: pick the right niche and products
It's no secret that finding a profitable niche is one of the keys to success. Our team has been running different dropshipping stores for many years. We have also tested a lot of products and niches. Our experience shows that there are two kinds of products that sell really well.
The first type is products with emotional value that can trigger impulse purchases. But for this particular store, the team chose useful products.
Most of the store's inventory consists of car accessories. They're designed to make driving more comfortable or help car owners with cleaning and repair. Such goods as car seat organizers, mini garbage bins or leather repair paste offer distinctive functional value.
Advertising such goods is much easier since you don't even have to explain why a particular product is worth buying. A simple demonstration of how a product works (with a video, GIF or a picture) simultaneously shows a problem and how the product solves it. And that's it!
These products don't require picturesque descriptions or unrealistic promises. Their usefulness is obvious and undeniable, which allows you to advertise them in a plain and straightforward way.
Another reason why the team chose this niche is that its target audience is quite broad. We advertise these products to both men and women of different ages. Anyone who has a car or knows a person who has a car can potentially buy these products for themselves or as gifts for friends and relatives.
And of course, the team prioritizes suppliers who offer free or affordable shipping. This way more money could be spent on advertising.
How to make 1 million dollars a year: work on the product pages
We have already talked about the importance of product pages in our blog. And working on this store, our team did their best to improve them as much as possible.
It goes without saying that all product pages feature high-quality images as well as GIFs and videos when possible. The best-selling goods have at least 35 customer reviews. Most of them also provide customer-made photos. The latter is extremely important for social proof.
Moreover, each product page was chosen after testing multiple variants. So, what you can see now on the site are the variants that provide the highest conversion rate.
The team uses AliDropship's Split Test add-on to try out different product page designs and pick the best-performing one.
The team also pays attention to page loading speed. After all, a lot of potential customers may leave your site if it takes too long to load. Therefore, all the product pages on the site are properly optimized.
The site's structure also plays an important role in its success. Products are spread between categories in such a manner that visitors tend to buy more than one item at a time. When browsing any product category, potential buyers can see different goods that complement each other, which increases the average order value on the site.
How to make 1 million dollars a year: polish the marketing strategy
Another important part of the store's success comes from the marketing strategy in use.
As of now, the team mostly targets customers living in the US. As mentioned above, the audience spans a wide range of ages. Pretty much every car owner can be interested in these products.
We advertise mostly on Facebook but also use email marketing and other social media. The team also plans to launch campaigns on Google, Pinterest and TikTok.
Just like with all our self-owned dropshipping stores, we mostly use video ads because this format converts the audience better than anything else. The average ROAS of our ads exceeds 2.
When choosing products for advertising, the team prioritizes items that have more chances to be purchased in quantities. People often buy more than one item because they want to give another one as a present to a relative or a friend.
Additionally, we often offer attractive discounts to those who want to purchase several products, which is an important part of our marketing strategy.
The same approach is used on the site. We have a number of bundles offering sets of goods that solve similar problems and have similar designs. And of course, such bundles go with a good discount. The team also uses AliDropship's Purchase Upsell plugin to raise the store's average order value.
Thanks to this strategy, the average order value on the site exceeds $50.
As you can see, the team pays due attention to all business aspects from choosing products and suppliers to designing ads. More detailed case studies on each of them are on the way, so stay tuned! And if you're wondering how to make 1 million dollars a year (and even more!), consider purchasing a copy of our most successful Premium store along with its product inventory, list of suppliers, advertising materials and target audience recommendations: you're in for a treat!