Get Your Own Custom Dropshipping Store Powered By AI
View video
Let us build you a perfect custom store that will work on autopilot and bring you profit for years to come.
VIEW VIDEO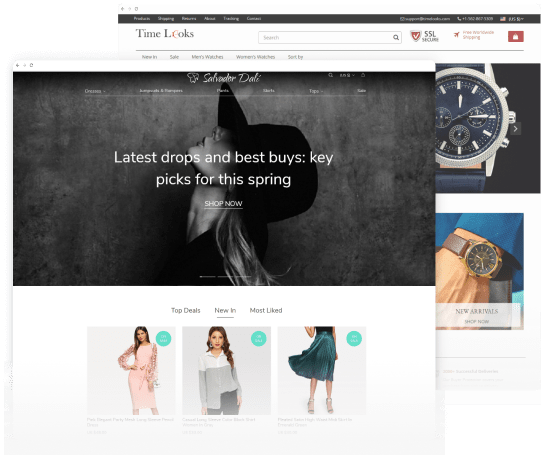 World's #1
in online store creation
Overall rating
$108M
in client profit this year



Dec 8, 2022
I always have a great experience, and this is overall a great company. All staff is always quick to respond and help me when it comes to requests and/or questions. I'm sure I'll always continue to be satisfied customer.
Family House
Oct 27, 2022
I am very pleased with AliDropship! The customer service is always professional and they have a great team of experts on hand. I am very appreciative!
Silvio
Sep 23, 2022
I would like to thank all AliDropship staff for providing excellent services and products. Anytime I have a question or need help with my ecommerce store, and I reach out to them, they are there to provide BEST costumer service and in no time.
Najib
Aug 16, 2022
This is an excellent company to work with. Products and customer service is excellent and they are 100% concerned and at your service. I would rate this company as many stars available.
Sparkle Jones
Aug 13, 2022
Love this company. They're always prompt to respond if I don't understand something. One time I sent a message on a weekend, and had a reply within a few minutes. Very happy with the service and the product :)
Debbie B
Jul 29, 2022
AliDropship is a great and easy to use tool for Dropshipping, it helps out a lot when you're beginning your business, has a lot of functions and add-ons to help you out and their customer support is always on point, helpful and polite.
Tony Morello
How it works
1. Place an order
You select a package that suits you best and order a custom dropshipping store
2. Discuss details
Your personal manager contacts you to learn your requests and help with a profitable niche selection
3. Sit back and relax
Our team works hard creating a high-class custom store according to all your preferences
4. Get your ready store
You become a dropshipping business owner without actually lifting a finger
5. Let AI promote it
AI starts boosting your traffic and sales with a smart auto-promotion strategy
NEW

Skyrocket your sales with lightning-fast US shipping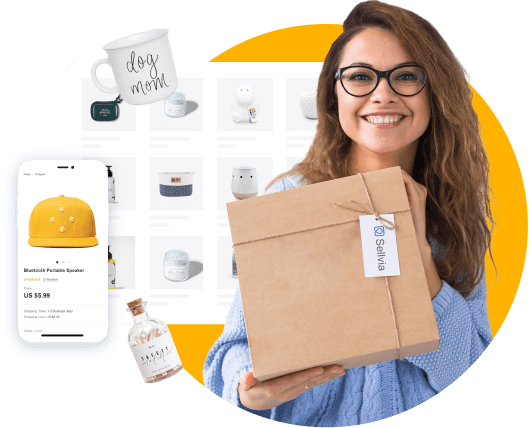 Add Sellvia to your order and enjoy:
50% more sales with 1-3 days shipping across the US
Full access to a 5-star selection of top-selling products
Huge profit margins due to best purchase prices
Maximum conversions with top-quality product pages
Boost your business from the very start!
Drive more traffic and sales with AI-generated SEO content
Boost your online presence with unique promotion articles, well indexed by Google!
Improved search engine rankings
Increased web traffic
Quality backlinks
Brand awareness and reputation
Engaging content for potential customers
Make AI work for your benefit!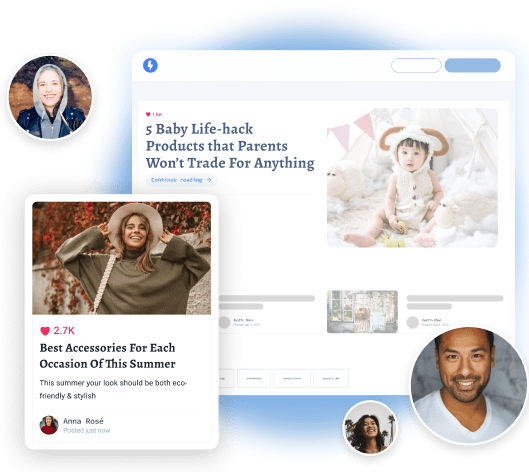 Pick a package. We'll take care about everything else.
One time payment for all plans. No monthly or hidden fees.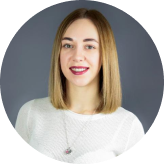 Senior manager
Alena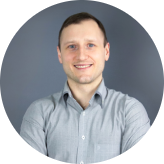 Senior manager
Andrew
Basic
Advanced
Ultimate

US $

299

One-time payment

FREE*

*Try Sellvia for free for 30 days. $39/month after trial

US $

499

One-time payment

FREE*

*Try Sellvia for free for 30 days. $39/month after trial

US $

899

One-time payment

FREE*

*Try Sellvia for free for 30 days. $39/month after trial

GET MY STORE
GET MY STORE
GET MY STORE
Packages:
All the tools necessary for a fast and easy start to your dropshipping business
Includes an extended catalog and additional features for your business rapid growth
Perfect for a 100% hassle-free start with a store ready to make immediate profits
Development
Niche research
Niche research

We select a trendy, high-demand niche for you after analyzing it for stable long-term positions and a great potential in future.

Domain name
Domain name

We find and buy for you an attractive, search engine friendly domain name – relevant to your business and easy to remember.

Professional mobile-friendly design
Professional mobile-friendly design

We create a professional and clean design for your website including a custom logo, header images, favicon, banners, etc. Your website will fit the screen size of any device, whether desktop or mobile.

AliDropship plugin
AliDropship plugin

The plugin allows searching, importing and updating products on your site directly quickly and easily.

Choice of products
Choice of products

You can select any products of any types and niches offered to be imported into your dropshipping store.

Unlimited
Unlimited
Unlimited
Number of products ready to sell
Number of products ready to sell

The number of products added to your website on development stage. Later you can upload more products. The number of imported products is only limited by the disk space you have on your hosting.

50
100
200
1-3 business days US shipping
1-3 business days US shipping

We process all orders within 24 hours and ship them within 1-3 business days across the US from our own fulfillment center based in Irvine, California.

*Available with Sellvia™

*Available with Sellvia™

*Available with Sellvia™

Top-notch product pages
Top-notch product pages

We provide superb descriptions for every item – with quality photos, compelling descriptions, and real customer reviews. These product pages are optimized for maximum conversions.

*Available with Sellvia™

*Available with Sellvia™

*Available with Sellvia™

Shipment from US warehouse
Shipment from US warehouse

All the products we offer are in physical stock in our own warehouse in Irvine, California. Orders are shipped within 24 hours and delivered within 1-3 business days across the US.

*Available with Sellvia™

*Available with Sellvia™

*Available with Sellvia™

Monthly orders
Monthly orders

You can get any number of orders per month and we won't take any extra charge, no matter how many orders you process - 1 or 1 million.

Unlimited
Unlimited
Unlimited
Professional analytics
Professional analytics

You get the most important stats integrated right into your dashboard – to keep you informed about the website's traffic, its sources, visitors' behavior, conversions, etc. You can also track status of any order for any client at any moment.

Payment gateways
Payment gateways

AliDropship Plugin supports the most popular payment processors like PayPal, 2Checkout, Stripe, PayU.

PayPal, Credit cards
PayPal, Credit cards
PayPal, Credit cards
Store creation time
Store creation time

We need several days to provide a full-fledge dropshipping business: 12 to 25 business days depending on your package.

10-15 business days

*5-9 business days with Sellvia™

18-20 business days

*6-10 business days with Sellvia™

20-25 business days

*7-12 business days with Sellvia™

AliDropship store theme
AliDropship store theme

We'll offer you to choose from our selection of awesome designs for your store. No matter which one you pick - it's included in the package and will cost you nothing.

Free
Free
Free
Promotion
Automated AI promotion
Automated AI promotion

AI boosts your traffic and sales with a smart auto-promotion strategy.

SEO Articles
SEO Articles

We'll write high-quality, SEO-optimized articles for your store blog. They will drive free organic traffic and trigger sales.

5
10
20
On-site SEO
On-site SEO

This service includes basic SEO settings like meta data creation and submitting your website to the indexing services of search engines.

Meta data, Google indexing
Meta data, Google indexing
Meta data, Google indexing, home page SEO article
Social pages
Social pages

We will help you create and add design to the accounts of your business on top social networks and integrate social buttons and widgets on your website.

Facebook
FB, Pinterest, Instagram
FB, Pinterest, Instagram, YouTube
Promo video
Promo video

Video will help you to promote your online store and tell your customers about all the advantages of your products and services.

Social media promo tool
Social media promo tool

This special plugin will automatically post your products and promote your business on Facebook, Pinterest and Instagram.

FREE*

*Try Sellvia for free for 30 days. $39/month after trial

GET MY STORE

FREE*

*Try Sellvia for free for 30 days. $39/month after trial

GET MY STORE

FREE*

*Try Sellvia for free for 30 days. $39/month after trial

GET MY STORE
Interested in custom dropshipping stores but still have questions?
Our experts will answer all of them!
This is how you will achieve amazing results with your custom dropshipping store
AI-driven promotion
Quality SEO articles will improve your search engine rankings, drive free traffic and boost your sales, all while saving tons of your time and effort.
Personal manager
Your dedicated manager will guide you through every step of your custom store creation, answer all your questions and take care of any technical issues.
Niche research
We will carefully select and analyze a product niche for you. We'll ensure your niche is in high demand right now and will stay profitable in the future.
Zero work from you
Our team of professionals will create your store from A all the way to Z. In just a few days you'll get a turnkey dropshipping business ready to bring you profits.
100% ownership
You don't depend on anyone else's rules or limits and can do whatever you want with your store. You can customize and upgrade your site — or even sell it.
Mobile and SEO friendly
We'll provide a cutting-edge responsive design that looks perfect on the screen size of any device. We'll also create all the visuals like logo, banners, images, etc.
Lifetime support
Ordering a custom store from us, you can count on our technical help, advice and free software updates, no matter when you made your purchase.
Best selling products
We'll pack your store catalog with the top-performing and high-demand items from the most trusted and best-rated suppliers.
Beautifully crafted custom dropshipping stores for every client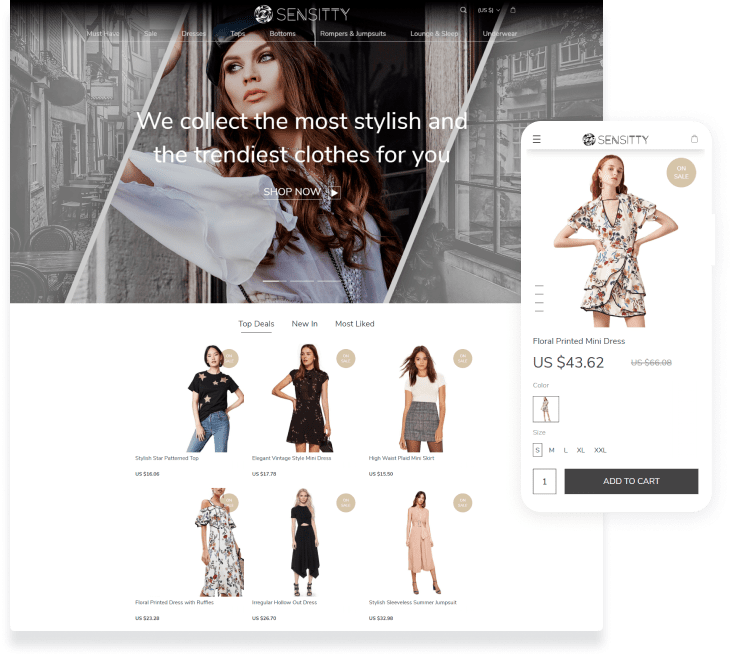 sensitty.com
This unique custom dropshipping store achieves the maximum aesthetic impact with the bold full-width imagery that leaves nobody indifferent.
Solutions: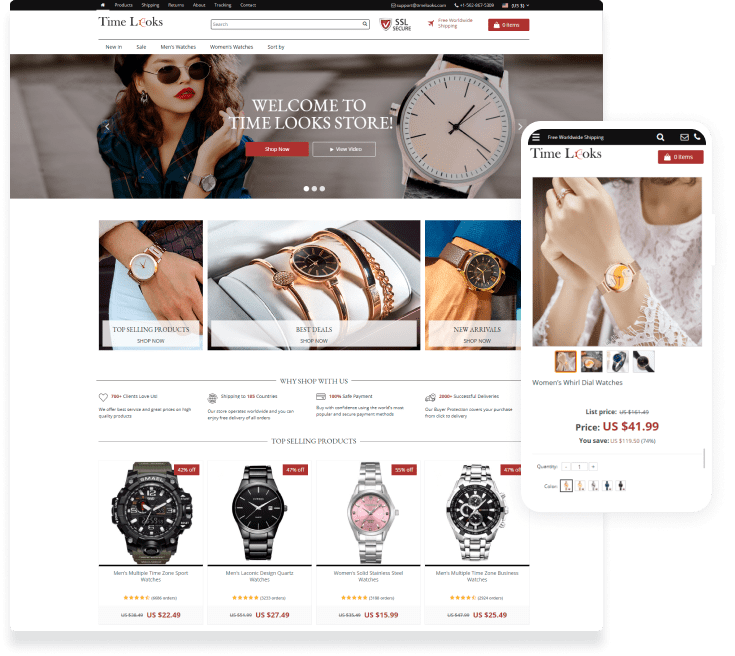 timelooks.com
This polished, professional layout shines the spotlight on the inventory and makes the store stand out among competitors.
Solutions: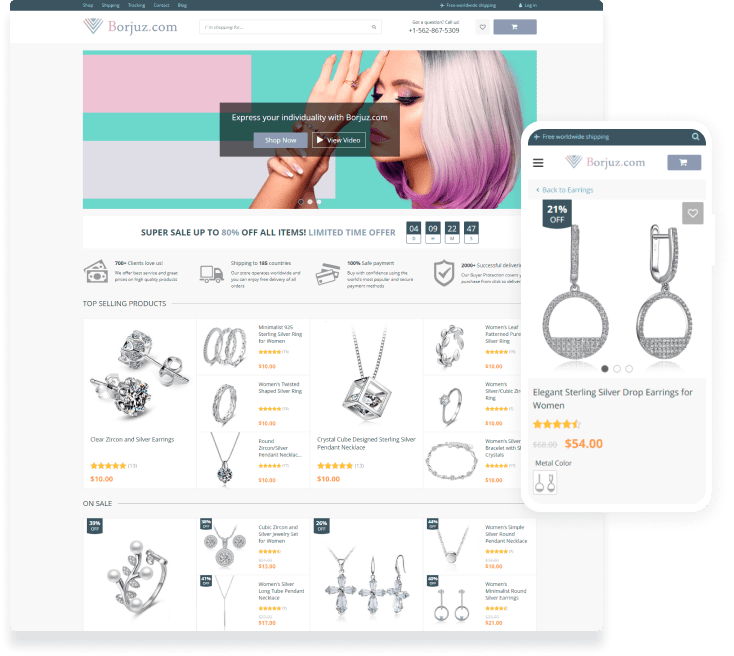 borjuz.com
This beautifully consistent design showcases the store items at their best and boosts customer engagement.
Solutions:
This is why 200,000+ clients trust us
"I purchased a custom store from AliDropship and I really liked the procedure and the way they helped me to open the store. We were connecting on Skype, answering every day, really fast, to all the questions that I had, all the things I wanted to know about. I don't know a lot about building a website, and the price was very good!"
"If you are doubting on how to create a website, I really recommend you to try AliDropship because my website was ready in 3 weeks. Honestly, it's the best choice I would have ever made and I'm really happy about the result."
"It exceeded my expectations! The layout, the products, the service, all of it was top-notch. My favourite part about it is the About Us page. I love this webpage. How that was made up is just awesome!"
"I reached out, I paid for the Custom store, and someone reached out to me immediately. Suddenly the entire team was working on it! They did everything: they did SEO, they set up the email marketing, they set up the entire design… I had a manager just doing a logo!"
"When I ordered the service I found it very professional. They guided me step-by-step through the process. They guided me in choosing the domain name, the niche, the products, and they incorporated all my suggestions in the process."
"The designers did a great job when it came down to web design. I have no experience in designing online stores. They took everything into account what I had liked, the logos I liked, and the name I liked. They just did a great job!"
"I was looking for a website for my bicycle store. Upon signing up with AliDropship, their manager contacted me and also guided me through the process of designing the website. I have no experience in any web design, but the manager was very patient and guided me through all the process."
"I would like to say that we had no experience about the ecommerce at all. We had a small research on the Internet. And finally we had decided to buy from AliDropship Premium Stores the classic store "Buy It Carl" along with the marketing packets and the Social Rabbit Plugin. And like this we've started our journey..."
Vendi and Dimitris,
Czech Republic and Greece
"You don't need to stress over your inventory management or how to run your backstore. So, it gives you a tremendous opportunity to focus on your marketing activities that will give you sales and also profits."
"I would say what I like most about it is definitely the customer service. Everybody on the team is very responsive, seems like they want to help and they very adamant on helping me, they answer any questions I have. They put a lot of effort into trying to keep a good customer service base which is very useful."
"For starters, I chose AliDropship because it is 100% free lifetime because I tried other platforms like Shopify which have a monthly subscription. And I felt AliDropship was more fair for me. I have a job 9-to-5, 5 times a week. The money is not enough. So, I'm looking for something extra and in the long term, something as the main source for living."
"I loved how you can have a custom website built: you can actually go in there and you can choose your niche, you can choose how many products you want, and you can also choose from an add-ons range – from social media to marketing to digital advertising. I actually chose the Facebook and Instagram ads, and I'm very pleased with the results of all the work."
"When I first decided to start dropshipping, I had absolutely no idea what to do or how to start. So, I turned to AliDropship for everything – from custom website boiled all way down to advice on niche selection and logo design. The entire experience was incredibly easy, and this is coming from somebody with absolutely no knowledge on website design, WordPress, or setting up the ecommerce store."
"I checked a few options. AliDropship seemed to be the best, had the better options, better price points, offered everything I needed, really, from the store. The automation tools from the AliDropship are great - Social Rabbit, for example. I also like the ability to import products directly from AliExpress before making them live on the store, which is fantastic."
"My favourite thing about AliDropship custom store is that once the store is ready, they will give you a complete guide on how to effectively and efficiently run your custom store. And not only that: in addition to that, you will get lifetime support from AliDropship team."
Some questions you might have
What's the difference between AliDropship plugin and custom store?
When you buy AliDropship plugin for $89, you buy a piece of software. You will need to install it on your website and create a dropshipping store with its help by yourself. When you order a custom store for $299+, you get a fully functioning dropshipping website created by our team. As soon as the store is handed over to you, you can start promoting it right away!
Can you make me a store on WooCommerce?
When we make a custom store for you, we can base it on either AliDropship Original plugin or AliDropship Woo plugin (it doesn't affect the store price). Original stores are best for eCommerce newcomers. Woo stores allow more flexibility and are great for experienced online entrepreneurs.
What are my monthly fees?
You have NO monthly payments or transactional fees for AliDropship tools. You only need to make a one-time payment to buy your custom store package! The only exception is the Sellvia subscription - IF you choose to add it to your order. It is paid on yearly basis.
What's the difference between custom store packages?
The packages differ by the number of pre-imported products (you can always import more if you want to!) and the range of marketing features that will help you promote your store in the future.
Can I upgrade my package later?
Of course! Just contact your support manager to do it.
Will you choose a profitable niche for me?
Yes, we have the list of trending niches analyzed by our experts. You will only need to choose the one you like the most!
When will I get my custom store?
Usually, it takes 1-3 weeks. It depends on the package you've chosen. The quicker you share your vision with your personal manager and the more you cooperate with them, the sooner we'll deliver the ready store to you!
You will get an individually created, fully functioning online store that is completely ready for operation. Together with it, you will also enjoy detailed guides on your store promotion and management, lifelong licences for AliDropship plugin and the add-ons included in the package, and free lifelong tech support.
Will you find and set up payment gateways for me?
Yes, your personal manager will recommend the most suitable payment gateway for your store! We will set it up as soon as you register within this system with your personal details.
Will my store be profitable?
We will do our best to give you the most efficient tools and the most detailed guides to make the most of your dropshipping business.
Some of our clients make about $180,000/month! Even though we can't predict your earnings, we give you an instrument with a great profit potential, and it's totally possible to make the most of it.
Can I translate my store into a different language?
Yes, you can!
Can I add more products to my store?
Yes, you can add unlimited amount of products. When you get your ready custom store, it already has 50-200 pre-imported products depending on your package. At any moment, you can import more products if you want to!
Do I need to register my business?
AliDropship does not ask for any documents from you to set up your website. In most countries, you can start dropshipping business as a private individual, without any registration.