WooCommerce
Dropshipping Plugin
Thanks to AliDropship Woo plugin, it will take you seconds to import products into your WooCommerce dropshipping store, process clients' orders, and track the business performance.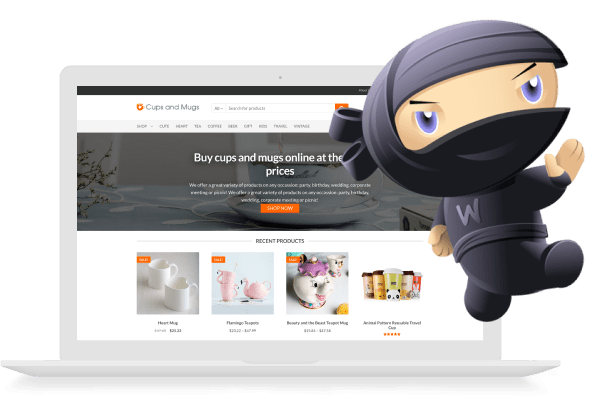 Why AliDropship Woo Plugin
Choose from unlimited range of products
Send orders to suppliers in a single click
Save your time and boost your income
Benefit from one-time payment for the plugin
Enjoy free lifelong plugin updates and guidance
Key to your future success story
Look at the incredible achievements of our clients who use our WooCommerce dropshipping plugin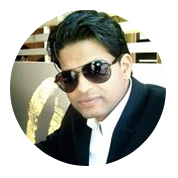 Meet Kingpin from India who makes 500+ sales per day
with WooCommerce dropshipping business!
"When I opened my first store, it took me only 2 hours to set it up and to import 100+ products using WooCommerce dropshipping plugin.
I hit $28,000 in sales in the first month."

Meet Daniel from Uganda who uses a combination of platforms
and automated solutions to easily run his dropshipping stores.
"I have 12 WooCommerce stores, they gross between $80k-$150k per month on average."
All the features you need: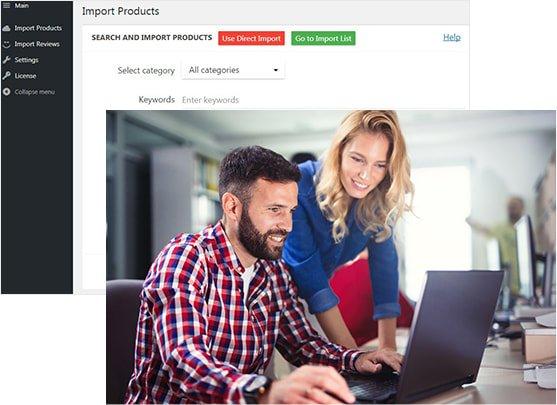 Search & import
Use different integrated filters to find desired products and then add them to your website easily.
Automated order
Forget about ordering every product manually. Just click the 'Order' button and confirm the order.
Auto updating
The auto updating system keeps your product info fresh and corresponding to the latest data.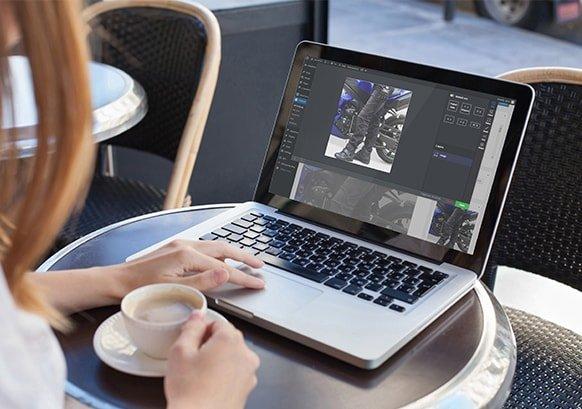 AliDropship Google Chrome extension
Easily import products one by one or in a bulk, choose one or several shipping countries and shipping methods.
Built-in image editor
Use this powerful feature to change product images in AliDropship Chrome Extension while importing items and directly from WordPress admin panel: resize, apply filters, stickers, remove watermarks, etc.
Cash-back system
Earn 8% commission on each purchase as an additional bonus to your main dropshipping source of income.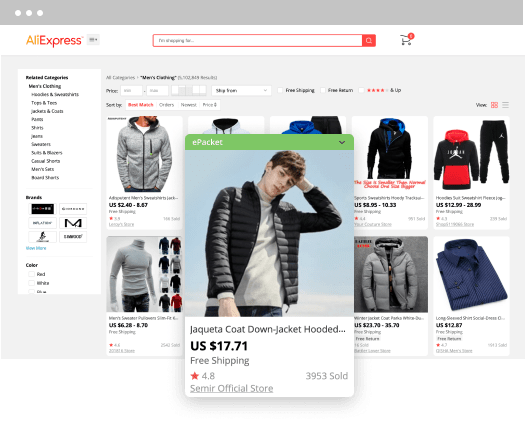 Pricing automation
Use an advanced pricing markup formula to apply your rules for particular products or all items in your store.
Auto order tracking
The Plugin checks your orders for tracking updates and sends notification emails to your clients automatically.
ePacket shipping filter
Easily find products with ePacket shipping option to offer your customers a fast and free delivery service.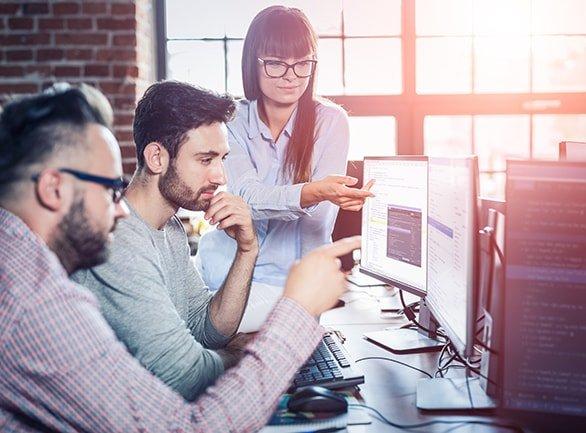 Unlimited product selection
You can choose any products of any types and niches offered and import them into your drop shipping store.
Product reviews
Engage your customers and encourage sales with the option to import reviews into your site directly.
Free updates & support
Buying the WooCommerce Dropshipping Plugin you get full after-sales support and life-long free updates with new options and features.
AliDropship Woo plugin is compatible with WooCommerce themes, so you can easily select or change the style and design of your dropshipping online store.
100% positive feedback from the international dropshipping community
I would recommend Wocommerce with AliDropship. We are able to manage these sites in-house with very little web knowledge, plus WooCommerce is free and Woo plugin is the one-time payment only and that is a huge factor in keeping costs down.
I worked for the last few weeks with Alidropship to build my first store on Woocommerce. I'm not a tech person, but I talked to Irina who fixed and explained everything in just a few minutes! I would like to thank her for helping start my first business.
I've picked AliDropship for Woocommerce dropshipping because it allows more flexibility. Now, I am confident I made the right choice. Highly recommend Woo plugin and promotion tools to all who want to start dropshipping.
Don't have much to say, we built a store on Woocommerce platform using AliDropship. It's easy and not so expensive, there is no monthly fee. Love the add-ons! Thanks for all the hard work, guys and gals.
Fantastic plugin for running an eCommerce business. Love Woo plugin and how I can customise my store with it. I recommend people with no or less experience like me to start a business with this company as a source of income.
Last month I bought Woo plugin. $89. Currently impressed by woo version and really happy so far using their hosting silver plan and add-on bundle.
...Both Alidropship and Woo both are a good plugin, but i personally like Woo one. I am using it with Flatsome and some other plugin as well. No complaints yet.
I've used various other platforms before but this is the first time I've used WooCommerce, and AliDropship Woo is without doubt a must-have for anyone using WooCommerce for a dropshipping store. Well done, guys, great plugin.
Hey thanks for this great plugin!! I almost want to own it so that no one else can have it =D This plugin not only saves my life it makes my life much much better. Thank you!!
Great experience. I learned a lot about WooCommerce and especially the online marketing field.
All in one dropship package. The woocommerce support is great too.
100% risk free — no hidden fees
30 days

Money Back Guarantee
Free Lifelong Support

& Updates
Safe & Secure

Online Payment
A message from our founder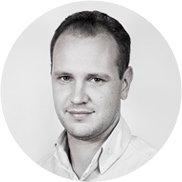 «Dear friends,
We've created the AliDropship plugin based on our solid and diversified experience in building and running dropshipping businesses. Every single feature was tested on dozens of our own projects – and polished with the help of dropshippers from all over the world. This hard work and joint research resulted in a product that really drives businesses to success, and we are really proud of it. You are welcome to get the most out of our dropshipping plugin and our customer support: it's high time to start building your prosperous future.»
Yaroslav Nevsky, CEO & Co-founder of AliDropship