Dropship Phone Cases: How To Build A Business On Small Stuff?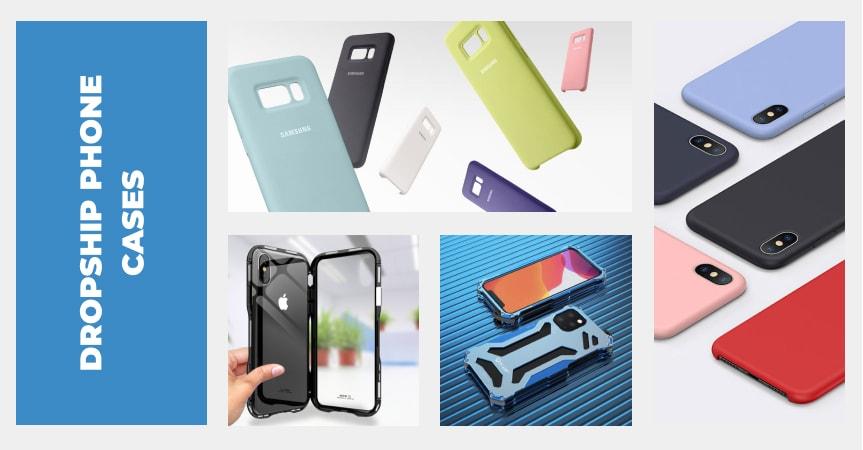 Do you think of starting your own business? Are you eager to build an ecommerce empire? Is it interesting for you how to make a fortune with small stuff? If so, it's high time for you to learn how to dropship phone cases!
To date, lots of people think about starting their own business since wage labor isn't often well-paid. Actually, it's a great idea to have a stable source of high income, isn't it
However, when talking about starting a business, many people seem to be setting way too ambitious goals right from the start. They believe that in order to get a profitable business and make lots of money, they have to deal with something grand, big, high-priced, etc.
But what if I tell you that this is not a must? You have all chances to start your own ecommerce business right now and build a financial empire dealing with knick knacks only.
Do you want to know how to do this? So stay tuned!
Why is it a perfect business idea to dropship phone cases?
Well, let's find out why dropshipping phone cases is going to be promising for you as a business owner.
First of all, this is about the demand. In fact, the demand for cell phone cases is high enough. Are there any doubts about it? If so, let's check Google Trends.
And Google Trends tells us that the popularity of the 'phone cases' search request is consistently high, but sometimes it's just over the roof!
You may ask a logical question: why are phone cases so popular online? In fact, there is a reasonable explanation.
Firstly, a cell phone is now a must-have for almost all people from all over the world. Some people even have several mobile phones.
Unfortunately for customers and fortunately for you as a potential business owner, cell phone manufacturers make phone bodies of fragile materials – if using a cell phone without a case, they often get scratched, crushed, etc. And due to the fact that, in some cases, cell phone prices are over $1,000, people have to think of how to protect their phones against harmful effects.
Secondly, it's not as easy to buy a phone case in an offline store. In fact, there are not many of them even in large cities.
What's more, can you imagine how many cell phone models there are now in the world? And generally, each of them requires its unique case. It's clear that it's not reasonable to maintain a retail outlet with cases for all the cell phones in the world.
Moreover, offline store owners have extra expenses such as rent, employees' salaries, etc. That's why, in most cases, they have to think of a significant markup.
Consequently, if you go to a phone case offline store, there are 3 main challenges you are likely to face:
There are no cases for your cell phone
You find a case for your cell phone, but a product range is strictly limited
There is a wide range of cases for your cell phone, but they cost a lot
Due to this reason, it has become extremely popular to buy phone cases online. Actually, online stores offer you a wide range of phone cases at relatively low prices, what else do you need?
By the way, since, as a rule, phone cases don't cost a lot online, internet users often tend to make impulse purchases (i.e. make an unplanned decision to buy something). So it's also essential for you as a dropshipping business owner.
Well, do you still have any doubts about starting to dropship phone cases? If so, let's turn to official data on how many cell phones are sold in the world per year.
According to Statista, about 1,500 million cell phones are sold every year. Why is this important for you and your business? In fact, this is a number of your potential customers. Sounds tempting, doesn't it?
How to dropship phone cases like a pro?
Well, we have already learned that it's a great ecommerce business idea to dropship phone cases. But how to do this in the right way since there are a huge number of phone cases on the market?
First of all, let's discuss which cell phones it's better to sell cases for. We recommend that you pay attention to the cell phones of major producers: Apple, Samsung, Huawei, Xiaomi, Meizu, etc. These companies account for a large share of total mobile phones sold on the market. Make sure by yourself!
So it remains for you to focus on cases for phones from above-mentioned producers, and you will easily provide your business with a wide target audience.
BTW, it's also a great idea to dropship cell phones, so, in your online store, you can start selling both cell phones and phone cases.
Now let's talk about case types and which of them are more promising in terms of dropshipping.
In fact, there are lots of case types: fitted cases, bumpers, flip cases, etc. Definitely, fitted cases are the most demanded on the market.
Fitted cases are phone cases made for a specific cell phone model.
Such cases are usually made of a rigid or flexible material. Please notice that some suppliers don't only offer phone cases with predefined prints, but also provide you with an opportunity to create a custom phone case design.
Beyond this, there are phone cases that are made to pursue some further objectives. We are now talking about shockproof, battery charger, wallet cases, etc.
Certainly, it would be great if the product range of your online store will consist of lots of different phone cases. Fortunately, a dropshipping business model lets you do this without any challenges. However, if you don't want to dissolve into all the case types, try to focus on fitted cases.
And now, for dessert, we present you 11 most promising product categories and 83 best best phones cases to dropship. Here they are!
83 best phone cases for you to dropship
Best cases by phone manufacturers to dropship:
1. Cases for iPhones
Cases for iPhones are ones of the most popular on the market. It's due to the fact that, as a rule, consumer electronics from Apple cost a lot, and people try to make their best to protect the body of their phones.
What's more, it's easier for you as an online store owner to work with cases for Iphones – in their lineup, there are only several models that are supposed to be relevant.
Moreover, Apple offers its clients a lineup of authentic iPhone cases. However, they are extremely expensive, so lots of people are interested in purchasing a replica.
2. Cases for Samsung phones
Samsung is also one of the most popular phone manufacturers on the market. So it's definitely a good idea to pay attention to cases for Samsung phones when dropshipping phone cases.
3. Cases for Huawei phones
Smartphones from Huawei are in a strong demand on the market nowadays. And it sounds reasonable since many of them don't cost a lot. That's why cases for Huawei phones are popular online!
Best types of phone cases to dropship:
1. Fitted cases
We have also noticed that fitted cases are the most popular on the market. That's why, when dropshipping phone cases, we strongly recommend that you pay attention to them.
Which phone models to focus on when dropshipping phone cases? So try to concentrate on flagships of the most powerful phone manufacturers.
2. Flip cases
Flip cases are also in demand online. If compared with fitted ones, they have an advantage: they protect both the front and back side of a device.
It's a lot easier to dropship flip cases because there are lots of 'one-size-fits-all' ones. So define the most popular screen diagonals and start to dropship flip cases!
3. Wallet cases
Wallet case is, in fact, a flip case with a pocket for credit cards, notes etc. They also suit a dropshipping business model perfectly since there are also lots of 'one-size-fits-all' wallet cases!
4. Half-wrapped cases
Half-wrapped cases are also very popular on the market. They differ from fitted cases due to the fact that they don't cover a cell phone completely.
5. Phone bumpers
Phone bumpers are phone cases that cover a device around the edges only. Actually, these cases are also in demand on the market since, most commonly, phone edges are first to suffer if a device falls.
6. Phone pouches
Phone pouches are obviously a must-have for your online store! These are phone cases that suit people who follow an active lifestyle: waterproof cases, cases for running, etc.
In most cases, such products don't cost a lot, but you have a chance to sell unique items!
7. Shock-proof cases
Since the main task of a phone case is to protect a phone body against external effects (accidental drops, friction, etc.), shockproof cases are becoming popular on the market. In some of them, special attention is paid even to phone cameras.
8. Battery charger cases
I bet you have been in a situation when your cell phone battery is out at the wrong time. That's why nowadays battery charger cases are available on the market!
How to dropship phone cases: final takeaway
Today we have figured out that it's a perfect business idea to dropship phone cases. And it's not necessary to deal with some high-ticket products to build a promising business.
In fact, dropshipping phone cases is not only profitable, but also convenient. If you don't dissolve into all types of cases for all the phone models, you can create a lucrative online store with minimal effort.
What's more, there will be potential for growth since there is a huge number of unique types of high-quality phone cases that are likely to become popular in a while. Moreover, you can easily add smartphones to the product range of your online store and start to dropship cell phones!
Well, does it sound tempting for you? Would you like to build your own ecommerce empire and get a stable source of high income? So it's high time to dropship phone cases and get your dropshipping business!