Dropship Stickers: How To Gain From Small Stuff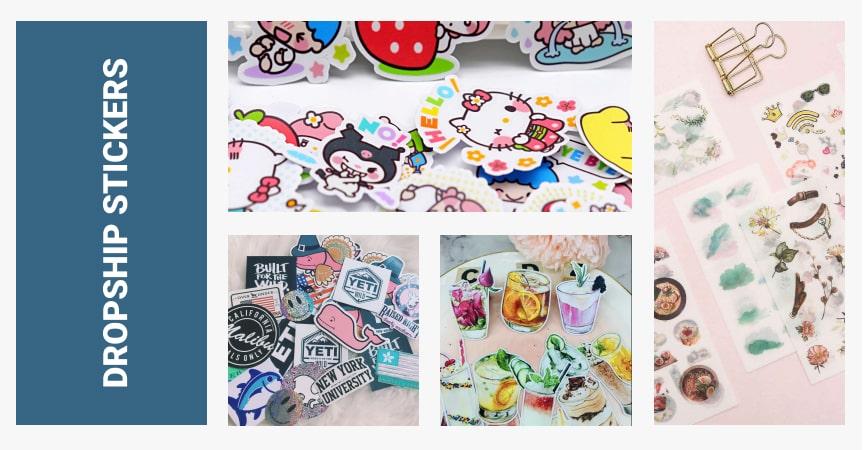 Are you looking for a stable source of high income? Don't you believe it's possible to build your financial empire with small stuff? If so, it's high time for you to learn how to dropship stickers right and benefit from that!
If you are eager to start your own profitable business, but you don't want to deal with something big or technically complex, it should be interesting for you to learn more how to dropship stickers and expand your business in order to get sufficient income.
And since there is a strong and stable demand for different stickers, we've decided to examine how to start and run a sticker dropshipping store backwards and forwards.
Today we are glad to tell you whether it's profitable to dropship stickers, how to start such a dropshipping store right, what items to sell, etc. Beyond this, there is a bonus for you: we are going to provide you with the list of 80+ trending products to sell and get maximum benefit from your business!
So let's get it started!
Is it profitable to dropship stickers?
Do you think that it's impossible to make a fortune with some small things like stickers? Well, that's not true!
In fact, there are lots of profitable niches to work with small stuff. And if you start dropshipping stickers, this is one of the most promising ideas for your business nowadays.
Don't you believe it? Then, let's check up what Google Trends can tell us about stickers and their popularity worldwide.
And Google Trends claims that the popularity of the 'stickers' search request is over the roof recently. Does this mean something to you?
Well, let's go further. Here is one more advantage of stickers dropshipping. Actually, if we are looking for a profitable niche, we can find the one with some two or three hot products. And if we speak about stickers, this is a prime example of a product category with lots of trending items to sell.
Just try to choose stickers, sort the results by the number of orders, and voila. You will see that there are dozens of products with a large number of orders. In practice, not every niche can boast about this.
BTW, beyond this, there are some more significant pros of sticker dropshipping for you to benefit from!
It's almost impossible to damage stickers in transit since we are speaking about adhesive paper
You can easily bring the average order value in case you group the products in the right way
You have an opportunity to sell not only stickers with pre-set patterns, but also let your customers create unique designs and print exclusive stickers
Actually, there's more. And it's already clear that it's an extremely promising idea to dropship stickers, isn't it?
How to start dropshipping stickers?
Okay, if you're eager to start dropshipping stickers, you need to know how to do this right and get the maximum benefit from this business.
Basic
First of all, you should note that there are different kinds of stickers. On the market, there are wall stickers, decorative post-its, motorcycle stickers, protective shields, etc. And nothing can make you focus on just one particular type only.
What's more, we have already mentioned that you have an opportunity not only to sell pre-set stickers, but also let your customers create post-its with unique designs! Cool, isn't it?
It means it's a bid for a larger target audience. In practice, in this case you are going to target not only those who just want to buy a sticker for their vehicle, for example, but also those who want a unique product.
So you make your target audience increase several fold. And it's logical because nowadays stickers are widely used all over the world: they are in a high demand among entrepreneurs as well.
Although you can be sure that selling pre-set stickers is a profitable business idea, if you provide your customers with an option of creating unique stickers, this is going to be your gold mine!
Trending products to sell
Certainly, if you want to get a smooth start in dropshipping stickers, you should know for sure what exactly to sell in your online store.
Actually, if you resell stickers, you are likely to know that there are lots of different stickers: wall stickers, vehicle stickers, nail stickers, etc.
What to choose and focus on? And the point is that it's up to you since the majority of these product categories have the same capacities. Meanwhile, nothing stops you from dropshipping all the types of stickers!
Stationery stickers
Let's speak about regular small-sized post-its. They are mostly interesting to teens who buy them for their notebooks, diaries, etc. In practice, they don't cost a lot, that's why they are extremely popular worldwide.
Decorative stickers
Online stores often separate decorative stickers from stationery ones. Probably, decorative stickers are the same things but designed for a wider audience.
Toy stickers
It's all easy with toy stickers: as a rule, stickers with cartoon characters are in a strong demand nowadays! Just take a look at the number orders. Great, isn't it?
Wall stickers
Lots of people are looking for ways to decorate their homes, work spaces, etc. That's why wall stickers are so popular nowadays!
Vehicle stickers
Well, if we are speaking about vehicle stickers, this is a lot more interesting. The point is that car and motorcycle stickers can serve two functions: decoration and protection. Some people even use stickers in order to hide some vehicle defects. And since these stickers are mainly sold at a very low price, you should definitely consider them when dropshipping stickers!
Custom stickers
And here is one of the most interesting types of post-its – it's custom stickers!
Certainly, you are supposed to dropship increasingly popular stickers on the market for the maximum benefit. It's already your bid for success. But how to make the most of your sticker dropshipping business?
So we would recommend you consider the option of custom stickers. Actually, there are lots of suppliers who are ready to print stickers with your own designs.
How does it work? In practice, your customers provide you with the designs for their stickers, choose the size, and the number of stickers required. Please note that if you deal with custom stickers, there is such a thing as minimum order quantity (MOQ).
It means that your customers will not be able to order 1-3 stickers. Meanwhile, they don't have to purchase several thousands of them. So you need to find a supplier with minimum order quantity, that's it!
How to focus on the long-term benefit?
Actually, dropshipping stickers implies dealing with hot products and a broad target audience. But what if you need more benefits? In fact, if you dropship stickers, it's quite possible!
If you have successfully started dropshipping stickers, expanded your business and you're ready to make the most of it, feel free to consider the subscription business model.
The point is that dropshipping stickers fits the subscription business model perfectly. For example, you can target cartoon fans, etc. And each week, these fans will receive stickers with one of their favorite cartoon characters from you. Sounds tempting, doesn't it?
If you successfully launch the subscription business model in your online store, you can easily set a course for a long-term development and get a stable source of high income. So what else do you need?
How to dropship stickers right: final takeaway
If you think about starting your own profitable business, we highly recommend you consider dropshipping stickers.
As you can see, if you dropship stickers, there are lots of opportunities for you. You can work with pre-set stickers from reliable suppliers, or let your customers create their own unique stickers. And this is great when you let people create something unique, isn't it?
Moreover, you can easily launch a subscription business model with sticker dropshipping and get a long-term benefit. Doesn't it sound tempting?
It turns out, dropshipping stickers is a highly promising niche with its unique features. Well, do you want to start a profitable ecommerce business with 100% ownership? Then, it's high time to dropship stickers!