Want To Start Dropshipping Hair? Here's Your Action Plan!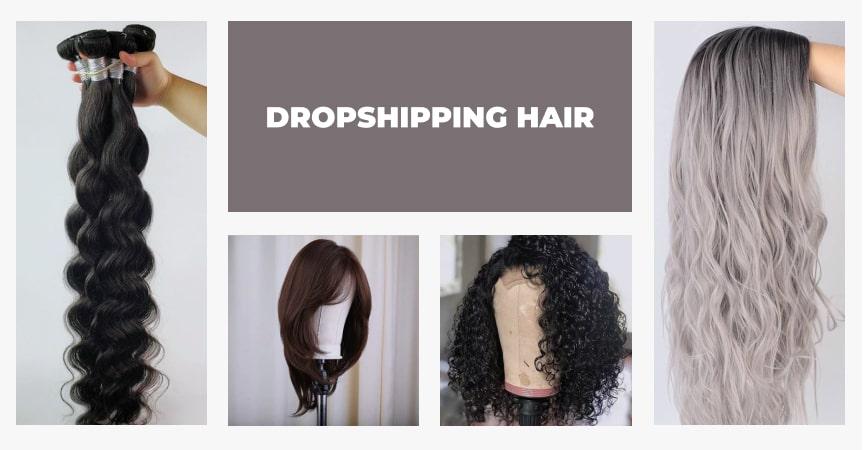 Have you ever thought about dropshipping hair? Here's what you need to consider if you want to give it a try!
To many people, the whole idea to dropship hair is… unusual, to say the least.
Still, the public interest – and therefore, demand – is definitely there.
Being such commonly requested products, things like wigs and extensions can work for both your and your buyers' benefit. Indeed, they will not only improve your customers' quality of life significantly, but also reflect well on your store profits.
In fact, the hair wigs and extensions market is expected to grow by $2.42 billion in the 2020-2024 period, showing a compound annual growth rate of about 6%. Analysts explain that one of the major factors influencing this market development is an increasing demand for human hair of premium quality. According to their estimates, human hair wigs and extensions will be the most sought after product type in the next three years. At the same time, in an effort to lower down the production costs, core industry manufacturers will be investing in technological advancements allowing them to produce good-looking and durable synthetic wigs as well.
As you can see, this industry is moving forward quickly, having an exciting potential of further growth and progress. And the best news is, anyone can enter it quite easily, by simply launching a venture aimed at dropshipping hair. So, what needs to be done?
Things to do before you start dropshipping hair
So, you like the industry performance numbers, and want to try yourself in this niche, too. Let's go over the most essential steps to take on the preparatory stage!
Register with a payment gateway
To run an online business, obviously, you must make sure your website can accept the payments your buyers make when they place their orders. And to make it happen, you need to have a payment gateway integrated into your store.
There are dozens of payment gateways you can use that are widely trusted and used all across the world… but there's a little catch, too.
If you want to start dropshipping hair, you need to register an account with a payment gateway BEFORE you start making an online store.
The reason here is simple: many reputable payment providers, such as Stripe or 2Checkout, have a list of product types they don't agree to work with. Unfortunately, hair can often be the item type that's not approved by the provider… Sometimes, they simply don't let you register if you say you have an online store selling these specific products. That's why it's crucial to try registering before you do anything else. You don't want to do lots of work and then find out you can't put your business into operation, right?
So, choose a payment provider that works in your country (and in your customers' country, too!) and contact them to complete your registration process.
Got registered successfully? Let's move on!
Define your target audience
Oh, there are so many questions for you to answer at this point!
What specific segment of the buyers' audience will you be focusing on? Will it be the people who purchase human and synthetic hair for their personal use? Or, will you be working with businesses who buy wigs and extensions in bulk (for example, to resell, or to use as training tools for hairdressers, etc.)?
What do these customers expect from their purchasing experience? Which payment methods work best for them, and what kinds of devices they're using to shop online?
What product types do they look for and want to order from an online store? Which added benefits of this purchase are most important for them (maybe, a huge saving, or fast shipping, or pre-purchase advice,…)?
How can you appeal to them in your marketing materials? Which information channels (specific social media, forums, blogs…) are best to use to attract their attention? What kinds of visuals and phrases are most likely to trigger their buying activity?
Understanding how your target audience thinks, feels, and acts is essential. Whether you're dropshipping hair or selling any other type of products online, try to answer as many of these questions as you can. This will make you closer to your potential customers – and closer to the business profits you're counting on. 😉
See what you can sell
Traditionally, the source of products to sell in a dropshipping store is AliExpress. There, you can freely view the available products, contact sellers directly, and source enough low-priced products to add to your store.
So, you can easily browse AliExpress and see:
Which broad types and narrow categories of products you can get there
What kinds of products have the biggest number of orders – and therefore, see the highest audience demand
How informative are the product pages (the items' titles, product details, information in the description, and visuals are crucial to your online store, and you should only focus on the most informative products)
What buyers write in the product reviews when describing the seller's behavior and the product quality
Need a bit more guidance? You are welcome to read these in-depth guidelines on choosing trending AliExpress products to dropship and finding the best AliExpress sellers to work with!
And now, let's take a look at some popular AliExpress items you can find in the hair dropshipping niche!
Dropshipping hair: niche products you can find on AliExpress
Below, you'll find a sample product selection you can use as your inspiration. Here, you'll see products with a high (4*+) rating and free shipping option that belong to several hair-related categories. Hair accessories and decorative items are featured here, too: they can be a nice addition to your store if you want to target broader audiences!
Weaves
Lace wigs
Synthetic wigs
Hair care & styling items
Hair accessories
Ribbons and ties
Hair bands
Hairpins
Head bands
How to start dropshipping hair?
Okay, so let's say that by this point, you're definitely sure you want to dropship hair.
You're registered with a payment provider, have some idea of your most promising audience, and know what you want to sell.
Now what?
Let's get you a proper store! Yes, the one you'll connect your payment gateway with. 🙂
You need a store that's easy to manage for a newcomer, convenient to redirect the orders to your AliExpress supplier, and optimized to the ecommerce industry standards.
Actually, you can create one by yourself. AliDropship plugin allows you to transform any basic WordPress website – even a blog! – into a proper marketplace. Here's what it can do to turn you into an owner of a cool dropshipping store!
And if you want to skip all the boring tech parts of setting up a store, connecting all the necessary elements, etc., there's a solution, too! Simply order a custom store from a pro team of developers, marketers, and designers. It will be powered by AliDropship plugin as well – but you won't have to do anything to put it into motion. Explain what you want this store to be like, monitor the creation process, and when you receive the finished website, it will be ready to operate immediately! Every custom store goes with a new entrepreneur's guide to help you promote and operate it easily and profitably. So, wouldn't you like to start dropshipping hair (or anything else at your choice!) with professional in-depth guidance and tech support? 😉