The FIRST Free WooCommerce Dropshipping Theme From AliDropship Is Now Ready!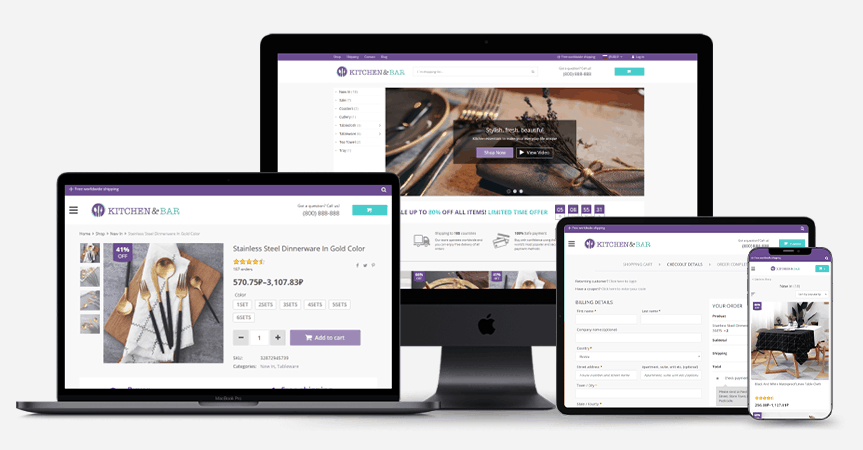 That's some really special news. From now on, AliDropship team offers its own free WooCommerce dropshipping theme – the first of its kind.
Well, you probably have already guessed it: our team loves challenges 🙂
Since the beginning of our enterprise, we have been offering adorable, profit-oriented themes integrated into the AliDropship plugin and available for custom store creation. However, they were only compatible with the original AliDropship solutions.
But, as our plugin also has a WooCommerce-friendly version, we think it's unfair to leave our Woo-oriented clients with no helpful resources! This is why we took our highest earning theme – Da Vinci 2.0 – and made a Woo version of it.
Let's see how that turned out!
A first look at Da Vinci 2.0 for WooCommerce, our innovative free WooCommerce dropshipping theme
So, here's a demo dropshipping store built on Da Vinci 2.0 for WooCommerce – take your time to explore it!
As you can see, the Homepage here looks really similar to the Homepage of an original Da Vinci 2.0 store. All the familiar and time-proven elements are in place:
A catchy slider grabbing the visitors' attention immediately
A countdown timer creating the sense of urgency and prompting an order placement
Persuasive infographics inspiring trust in the store…
Of course, the well-liked product blocks – Top Selling Products, On Sale and Just Arrived – are also here, appealing and captivating as usual.
There is a good reason for it. Da Vinci 2.0, as much as the good old Da Vinci template, has proved itself as a user-friendly, easy to navigate theme. Having it tested on our own dropshipping stores, we are sure that it provides a healthy conversion rate and boosts the store owners' profits.
So, mostly, we have only modified its technical side – and made sure it works perfectly on WooCommerce.
Still, of course, there are tiny differences that make this theme an even more promising choice for your dropshipping store.
For example, on the Homepage, you can assign a specific layout to each of the product blocks. There are 5 possible layouts: a grid, or a row of 3, 4, 5, or 6 products. Let's say you've picked a row of 4 items for the Top Selling Products block. You can apply the same styles to the On Sale and Just Arrived blocks, or you can choose different layouts for each of the blocks. It's especially convenient if you have a different amount of products in every category, and you want to showcase them in the most appealing way.
Also, you can see some changes on single product pages as well.
For example, on the screenshot below, you can see a typical product page on the regular Da Vinci 2.0 theme.
In comparison to it, a product page in the store based on Da Vinci 2.0 for WooCommerce looks more innovative.
The most obvious differences are the positions of the picture gallery and the Add to Cart button. They clearly illustrate the flexibility of WooCommerce settings. For example, you are free to choose between 4 options of the gallery placement: right to the main image, left to the main image, under the main image, or according to the default WooCommerce image gallery. It lets you experiment with your product page appearance and achieve the most good-looking and attractive result.
Categories' pages got a slight upgrade, too: here's how an original Da Vinci 2.0 category page looks like.
Now, let's compare it to the category page in the Da Vinci 2.0 for WooCommerce theme.
It doesn't simply have more 'air' that makes it look more clean, professional, and easy to navigate. It also has larger product images – they are much more likely to grab the visitors' attention, right?
Plus, the WooCommerce functionality let us create an advanced sidebar on the left: you can add any widgets to it. On this demo page, for example, you can see the filtering option. The users can filter the products by price or by rating, and quickly find the item that meets their needs.
Surely, from the point of view of both the user's convenience and the functionality improvement, this theme is a blessing for every dropshipping store owner.
So, how will your business win from this WooCommerce dropshipping theme?
Okay, now let's once again list your benefits from using this cutting-edge theme!
Many experienced entrepreneurs are bored with usual WordPress stores, and are looking for more diverse ways to run their businesses. For this purpose, they often choose WooCommerce – and achieve brilliant results with it. For them, of course, our first Woo-friendly theme is a long awaited gift!
Guaranteed top performance
The main issue of WooCommerce is the lack of 'official' plugins and add-ons supporting its operation. You can set up a really flexible WooCommerce website – but for this purpose, you have to use the solutions created by independent developers. Lots of people all over the globe offer their own WooCommerce plugins and add-ons, but not all of them are certified professionals, so you can't always be sure of their education and background.
That's why AliDropship's first WooCommerce theme is such a good news for Woo fans! Our team's world-class developments are tested and approved by dozens of thousands of users worldwide. With every new product we introduce, we raise our own standards a bit higher, and keep the unfailing level of development.
As well as any other solution offered by AliDropship, Da Vinci 2.0 for WooCommerce is profit-oriented. It is based on the templates with a time-proven efficiency, and it was carefully tested on our self-owned dropshipping stores before the release. So, we have no doubts in this theme's capability to generate healthy returns for you!
You can download and use the Da Vinci 2.0 for WooCommerce even if your store doesn't run on AliDropship plugin. Without the plugin, it will have a slightly limited functionality (for example, it won't have the built-in currency switcher, or the photos in customer reviews on single product pages) – but still, you'll get a perfectly performing theme with a high potential of generating sales.
So, it gives you a chance to create a well-operating dropshipping store with the tiniest expenses possible. You can get WooCommerce for free, install our free Woo theme on it, and use the free DropshipMe package to import 50 perfectly edited AliExpress products to your store. In this case, you'll only have to pay for a domain name and a hosting – and you'll be ready to go!
If you need an advice on using Da Vinci 2.0 for WooCommerce, please note: client support is only provided to AliDropship Woo plugin users.
How to get this free WooCommerce dropshipping theme for your store?
That's easier than you can imagine!
That's it! Take these simple steps, and become an owner of a good-looking and profit-oriented online store theme!
We hope our free WooCommerce dropshipping theme will meet your expectations and will be a wonderful addition to your online business. Feel free to ask any questions about Da Vinci 2.0 theme for WooCommerce in the comments section below!