How To Create Product Videos For Marketing And Get $400 Per Week Easily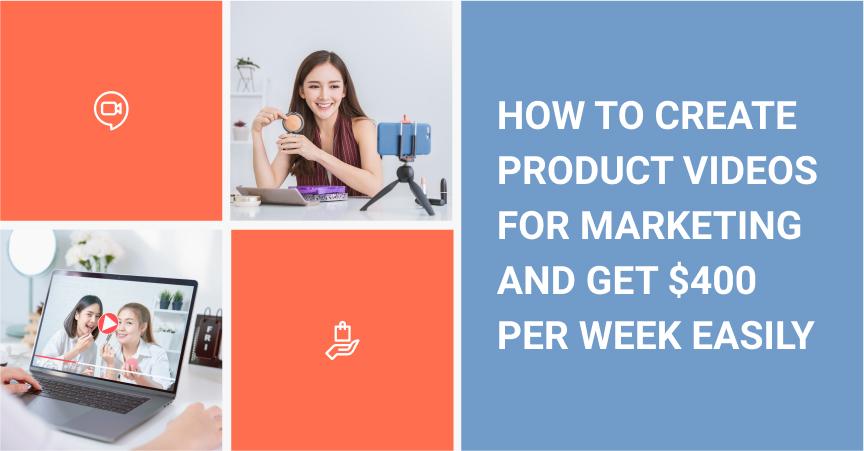 What's the importance of product videos for marketing? Today, we will talk about this strategy of promoting your dropshipping store.
If a picture is worth a thousand words, a video is worth a thousand pictures. In the world where people prefer watching to reading, this statement is as relevant as ever. According to the latest data, 72% of people would rather watch videos than read product descriptions to learn about the product. What's more, after watching a product video consumers are 64-85% more likely to make a purchase! As you can see, creating product videos is a must if you want to promote your dropshipping store on YouTube and make a lot of money. In this article, we will explain how we create product videos and earn thousands of dollars.
Making product videos for marketing: our strategy
Our own approach is smart but really simple! We buy a product from our own dropshipping store, record a product video and upload it to one of our YouTube channels. After that, we add a YouTube link to the product description and watch the number of sales increasing. That's it!
The beauty of this promotional strategy is that we create a product video once, and it works for us and brings us money as long as it exists.
For example, during the last week, only one product video has brought us $400! And it will continue making money for us although it won't take us any effort.
So, if you do not take advantage of ecommerce product videos yet, it's high time to start. And we will help you with this.
Let's go through our step-by step guide on how to create a product videos for marketing and significantly boost your sales!
Step 1. Get ready to create product videos for marketing
Making a product video is not a difficult task, but you need to make some preparations.
1. Purchase the item for your ecommerce video
Pick the products you want to review in your video. As a rule, we buy the items that:
Are the best sellers in our stores
Have lots of positive reviews
Have a highly promising potential
It's up to you what to focus on!
In this case, study we will view the example of a product called Kawaii Canvas Backpack with Cat Print.
2. Create a YouTube channel for your product videos
To promote your dropshipping store with the use of product videos, you first of all need to have a YouTube channel.
To get it, create a Google account, sign in to YouTube and follow the instructions which will appear on the screen. If you have any problems, feel free to use this guide.
We have already customized our YouTube channel and it looks like this:
3. Choose a device you'll use to film the product videos for marketing
To record a video, you can use a smartphone, a webcam, or a video camera. Nowadays, they all have the necessary features to make great videos, so choose a device that you can afford (and like the most).
4. Find a quiet place
You need to find a place where you will record your videos. Ideally, it should be a place where nobody will bother you. This aspect is very important because people are not likely to watch a product video where, for example, wild dogs are barking in the background. So make sure that your workspace is quiet.
5. Keep your background clean
Your video will look unprofessional if your background is not clear enough! So, before making a product video, tidy up your room and take all unnecessary things from your working desk!
6. Take care of light
Make sure that you have plenty of light, so people could see what products you're reviewing. Record a product demo video and provide a little bit of extra light if it's necessary.
Step 2. Ensuring your product video for marketing has a winning script
Once the preparatory work is done, it's time to think about the message you want to deliver to your viewers. Even if you're a good speaker, you need to write a product video script. This way, your speech will be more attractive, memorable and persuasive. Here are some tips for you.
Concentrate on the product
Product videos should be focused on the product itself, not on you!
When people make reviews for the first time, quite often, they try to impress their audience by talking about their lives or how they're feeling right now or any other unnecessary things. Frankly speaking, no one wants to watch how you speak about you, you, and you.
People click on your videos to get the information about the product, so focus on its features and advantages.
A product videos for marketing should be short and informative. You only have a couple of minutes, so concentrate on what is important. We recommend you to create product videos that are no longer than 2-3 minutes. Show your audience how this product looks from all angles (15-30 seconds), how it's made (1 minute) and how it works (1-1.5 minutes).
If a product video is too long, about 60% of people will avoid watching it!
When describing a product, explain to people WHY you like it. For example, "I like this T-shirt because it's made of 100% cotton and it's really pleasant to touch". When you start making arguments and justify your opinion, people start gaining trust to your ecommerce product videos and buying from you.
Share the user experience
When people watch a product video, they want to know a little bit more than just about colors, shapes and sizes. Actually, they want to know about other users' experience! So try to show your audience how you could use this product in your life, but do not overload your speech with personal details! Remember, you have to tell your viewers about the product, not about you!
Do not take your viewers for fools and do not try to persuade them that this item is cool, although it's not! It looks really awful when a review maker says "Wow, I like it so much! This T-shirt is so awesome! The colors are so bright" and demonstrates a T-shirt that looks like an old doormat.
If you understand that an item has a low quality and you really have nothing to say about it, it's better to look for another product for your review (and probably, for your store offer, too).
At the end of your video, you have to encourage your audience to do what you expect from them. You can use a direct call-to action, for example, "Click the link below to buy this product" OR you can give people a reason why they should take a desired action, for example, "As I know, this product is on sale now. Click the link below if you want to save your money".
Step 3. Using the ecommerce product videos for marketing
I hope you have successfully recorded your first product video. Now you have to learn how to make the most of it!
Here is your action plan:
#1 Upload the video
Add your masterpiece to your YouTube channel!
#2 Write a title for your video
It should be the same as the name of your product. At the end of your title, add the keywords "Review" or "Unboxing".
#3 Write a short description
Sometimes we create a unique text, but more often, we just use our product video script.
#4 Add a call to action to your description
For example, "Get yours HERE" or "Buy an extra one TODAY while it's on SALE".
#5 Insert a UTM mark into your product link
It helps you gather some statistical data and track your advertising campaign. Go to Google Analytics and find the tool Campaign URL Builder. After that, fill in the highlighted fields:
Paste your product link in the Website URL field
Write your traffic source in the Campaign Source field
Add the name of your advertising campaign to the Campaign Medium field
Type the name of your product in the Campaign Name field
Then copy the generated URL and add it to your YouTube video's description.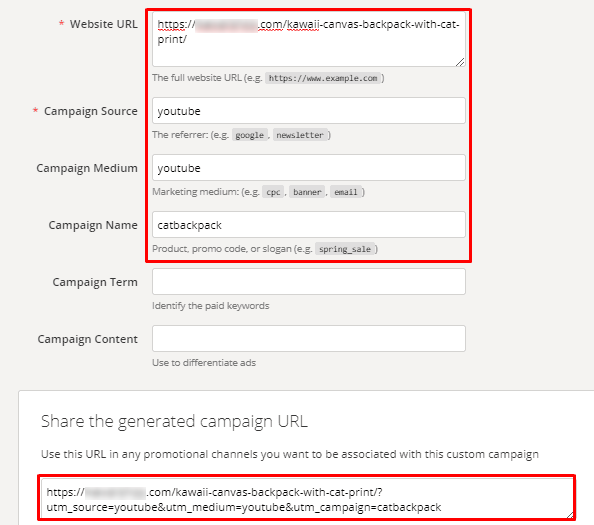 This link looks too awkward now, but don't worry about it! After publishing your video, it will have nothing remarkable! The viewers won't notice a thing!
#6 Make a cover for your YouTube video
We recommend you to create a special picture with the name and the photo of your product in it. Such thumbnails are very clickable and attractive for viewers!
After making a picture, you need to upload it to your YouTube channel. This is only possible if your YouTube channel is verified. Here is a detailed guide on how to do it.
#7 Publish your ecommerce video
When the video is published, copy its URL and put it in your website product description. Do the following things:
Click the "Share" button.
Near your video, you will see a code. Copy it.
Go to your dropshipping store, open your product description and click the "Text" button.
Paste the code at the bottom of your product page.
If you have done everything right, your product description will look like this.
Please note: If you don't see a video in your product description, make sure that you have pasted the code in the text field!
#8 Attract the first viewers
Ask your family and friends go to your channel, watch your video till the end, like it and leave some comments. Thanks to this, your videos will be indexed better by search engines.
#9 Repeat
Take the same steps for any other products you want to promote this way.
#10 Observe
Monitor the videos' performance to see how it's all going and what you can improve next time!
Now you know how to create product videos for marketing and use them to boost your store sales. If you have any questions, feel free to leave a comment. We are always happy to help you!