How About Selling Cosplay Supplies In Your Dropshipping Store?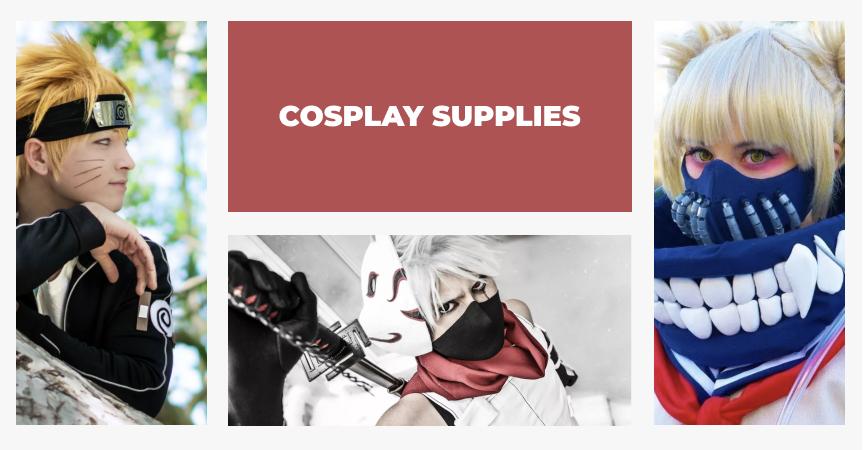 As we know from our own experience and successful entrepreneurs' feedback, the best dropshipping niches are the ones related to hobbies. So, today, we're talking about selling cosplay stuff and your ways to capitalize on this interesting hobby!
Why does selling cosplay supplies make sense?
Basically, cosplay means recreating the appearance and the behavior of fictional characters or real-life famous persons.
Sounds fun, but it's much more than playing around! Experienced and professional cosplayers spend a lot of money on their costumes. If you've ever seen anime cosplayers, for example, you know how good these outfits are made. Therefore, you can sell cosplay products to this audience and make good money.
And, when it comes to making the right outfit for the character you're cosplaying, generally, you have 3 options:
Buy a ready costume on Amazon, eBay, AliExpress, or anywhere else
Go for a tailor service and order a costume that fits you and repeats the original one in detail
Craft the necessary outfit by your effort
And here's an interesting detail – compare the 2 screenshots below:
People are less and less interested in ready-made cosplay costumes. Instead, they show a steady interest pattern to crafting their outfits themselves!
Here's a great option for those who wonder how to make money as a cosplayer
It's a great thing if you can turn your hobby into a money-making business, much like Kitty from New Zealand did with her dropshipping store.
Cosplay, as well as any other highly specific hobby, requires lots of special knowledge. For example, if you know what it takes to craft your own cosplay outfit, you can perfectly understand what types of products are a good match for your store.
If you like some particular universe or fandom, you can confidently write engaging descriptions for your products and run the store-linked social media on an almost expert level.
Moreover, if you're a cosplayer yourself and a good tailor too, you can create brilliant content for social media or a blog containing various guides and tutorials on how to craft costumes at home. Such an approach will let you both draw traffic to your platforms and offer them corresponding products.
And, if you know the most important events for the cosplay community, you know when to start promoting your store more actively to let cosplayers buy the necessary stuff in advance.
As you can see, selling cosplay goods is much easier if you're a cosplayer yourself. But even if you don't have background knowledge in cosplay, don't worry!
Now, let's talk about how to make money with cosplay.
How to make your dropshipping cosplay business work
To run a professional cosplay accessories store with the dropshipping business model, you need to have a clear understanding of the following:
There are various reasons for people to look for cosplay items and accessories.
Some of them are getting ready for large-scale events like comic cons or for their money-making activities like blogging, modelling, etc. Other customers are preparing for themed parties and family get-togethers, and some clients are only looking for cosplay stuff shortly before Halloween.
Clearly, the people in these customer segments have really different expectations and requirements when it comes to your product range, items price, delivery time, etc. This is why it's so important for you to understand who you're targeting – and tailor your offers accordingly.
What exactly will you sell?
AliExpress has quite a wide range of cosplay-related items – let's see what are the major categories you can cover!
Selling cosplay accessories from AliExpress: specific characters' accessories
Not all the elements of a character's outfit can be recreated by your own effort. You still need to buy some of the accessories, jewelry pieces, etc. from a manufacturer.
Be really careful if you're selling cosplay products of this kind: they may fall into the category of copyrighted items. It is likely that they might disappear from an AliExpress seller in some time, or cause you some legal issues. You might try selling them at the beginning of your dropshipping journey to get more media coverage, but it's definitely a bad idea to base your long-term product strategy on them.
Tony Stark sunglasses
Price – US $3.49, rating – 4.7*, number of orders – 17430
Guy Fawkes mask
Price – US $1.29-3.59, rating – 4.8*, number of orders – 1642
The Witcher's pendant
Price – US $2.14, rating – 4.6*, number of orders – 2102
Shinobi headbands
Price – US $2.85-3.40, rating – 4.6*, number of orders – 659
The Vampire Diaries necklace
Price – US $1.98, rating – 4.8*, number of orders – 1665
Selling cosplay items from AliExpress: generic supplies
Don't want to deal with copyrighted items? Smart move. 😉
In this case, you can always find more or less 'generic' products that will be a great addition to your store, and won't violate any rules.
Most typically, these items are 'expendables': they need to be replaced from time to time, which is why the buyers will come for them again and again.
Wig
Price – US $11.80-13.66, rating – 4.8*, number of orders – 3107
Latex ears
Price – US $1.53-1.60, rating – 4.8*, number of orders – 2706
Cat ears
Price – US $3.67, rating – 4.5*, number of orders – 17584
False eyelashes
Price – US $1.22, rating – 4.8*, number of orders – 434
Selling cosplay supplies from AliExpress: craft materials
Here, you can collect all the possible things that can help people create their one-of-a-kind cosplay outfits.
This product category is quite appealing because it gives you great opportunities for the future store growth. Theoretically, later, you can add other types of crafting materials to your store, and reach a wider customer audience – why not?
If you're working with these items, make sure they are more or less unique, or affordable, or have another noticeable competitive advantage. Otherwise, why would people order them online instead of buying from a nearby shop?
Foil paper
Price – US $1.46, rating – 4.8*, number of orders – 1571
Vinyl sheets
Price – US $1.15-1.26, rating – 4.9*, number of orders – 180
Water soluble canvas
Price – US $1, rating – 4.8*, number of orders – 921
Skin color fleece
Price – US $6.02-8.48, rating – 4.8*, number of orders – 612
Colored EVA foam
Price – US $6.98-8.88, rating – 4.8*, number of orders – 411
Selling cosplay items from AliExpress: craft tools and equipment
Similarly to the previous category, these items also give you enough room for the future business growth. Still, if you're working with them, you need to make sure that they meet core dropshipping requirements.
For example, technically complex items might see not enough demand because buyers prefer to check them in real life. Heavy products might cause an overly high shipping fee, and sharp tools, theoretically, can be banned from import if they are viewed as hazardous items.
Keeping it in mind, take a look at a sample AliExpress product selection in this category!
Sewing clips
Price – US $0.86-0.89, rating – 4.9*, number of orders – 4778
Portable sewing machine
Price – US $8.44, rating – 4.7*, number of orders – 9656
Leather craft tools
Price – US $1.81, rating – 4.9*, number of orders – 1513
Cute measuring tape
Price – US $0.98-1.15, rating – 4.8*, number of orders – 3895
Travel sewing kit
Price – US $3.89, rating – 4.8*, number of orders – 4431
Pottery & sculpting tools set
Price – US $12.62-15.59, rating – 4.9*, number of orders – 1134
Thimble
Price – US $1.62, rating – 4.9*, number of orders – 8534
Glue gun
Price – US $3.18-13.52, rating – 4.8*, number of orders – 3650
How do you like the idea of selling cosplay accessories and supplies in your dropshipping store? If you want more niche ideas for your upcoming business, check out this list of the most profitable niches to try in 2021!