Andy Warhol Woo
One-of-a-kind theme with lots of conversion-boosting features, calls to action, Fear Of Missing Out badges and trust banners designed to keep audiences engaged. Let your customers enjoy a truly responsive experience, whatever device they're using.
Buy Theme
View Demo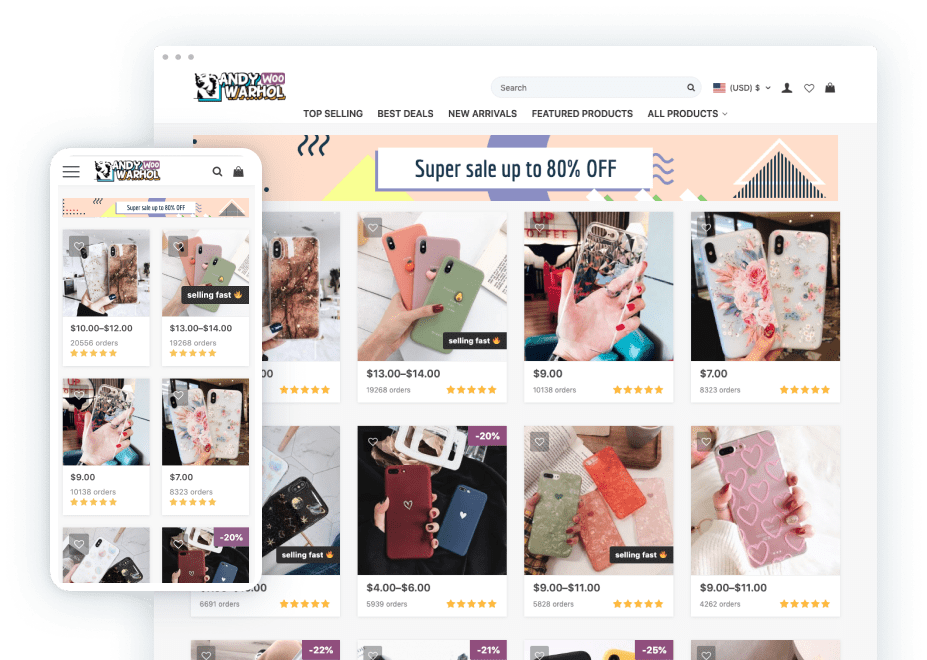 Version 1.1.0 - 19.09.2023 (Current version)
Compatibility with latest woo version Shopping cart pop-up fix
Version 1.0.17 - 31.01.2023 (Current version)
Compatibility with latest woo version Fix for php8 Autofilling updates Minor improvements
Version 1.0.14 - 24.03.2022
'Remove' button for side cart fixed
Version 1.0.12 - 14.01.2022
Update for compatibility with the latest version of WooCommerce
Version 1.0.11 - 17.12.2021
Fixed: displaying of products at the front Minor improvements
Version 1.0.10 - 08.12.2021
Update for compatibility with YITH Wishlist Minor improvements
Version 1.0.9.6 - 01.11.2021
Minor improvements
Version 1.0.9.5 - 08.10.2021
iOS 15 support added Right-to-left languages support added (WP admin area → WooCommerce)
Version 1.0.9.4 - 27.05.2021
Product Slideshow compatibility added
Version 1.0.9.3 - 14.04.2021
WooCommerce 5.2.2 compatibility added
Version 1.0.9.2 - 08.04.2021
Duplicate products bug fixed on Front page
Version 1.0.9.1 - 05.02.2021 <
Google Analytics Enhanced Ecommerce add-on compatibility added
Version 1.0.9 - 12.11.2020
'Premium Products' support added
Version 1.0.8 - 04.09.2020
WooCommerce 4.4.1 compatibility added Category Menu Link added to Header Navigation Minor improvements
Version 1.0.7 - 14.08.2020
WordPress 5.5 support added
Version 1.0.6 - 12.05.2020
Now you can import video to product gallery (make sure you have the latest versions of AliDropship Woo plugin and AliDropship Woo Product Video add-on) Favicon added
Version 1.0.5 - 12.05.2020 (Current version)
Multiple visual improvements Dots replaced with numbers in Single product page slider on mobile Now search box is open on mobile 'orders' / 'sales' / 'bought this' text at your choice in product box (Homepage, Category page) Now you don't need to reload the page after removing a product from shopping cart to update number of items in the cart icon Structured data improved
Version 1.0.4 - 10.04.2020
Payment icons added to Footer section Trust badges and payment icons in Footer can now be replaced Quantity selector added next to 'Add to cart' button Structured data improved Zoom bug fixed (image gallery on Single product page) Duplicated products bug fixed (when Infinite scroll enabled)
Version 1.0.3 - 13.03.2020
WooCommerce 4.0.0 compatibility added Header links (Top selling, Best deals, atc.) added to mobile menu Minor improvements
Version 1.0.2 - 18.02.2020
Countdown Timer add-on compatibility added Reviews Page add-on compatibility added Mobile menu optimized
Version 1.0.1 - 11.02.2020
YITH WooCommerce Wishlist bug in child theme fixed WooCommerce 3.9.1 compatibility added 'Show side Shopping cart when a product is added to cart' option added to WP Theme settings
Keep your finger on the pulse
To enjoy the full range of features, please download the latest version of the theme
Show less
View more
Theme features
Infinite scroll
An efficient way to browse your store, increase user engagement and content discovery
Homepage and Category ad banners
Running sales promotions has become easier: add promo banners and link them to any page
Store features
Powerful value propositions that convert visitors into paying customers
Fear of missing out banners
Unique sales incentives to keep online shoppers engaged and motivated
Sticky 'Add to cart' button
The perfect solution to always keep the main eCommerce call-to-action button in sight when you scroll down a product page
Payment icons and trust badges
Let your customers know that your web store is trustworthy
All AliDropship themes include
Free theme updates and new features
Free customer support
Wide range of customization options
Side Shopping cart
Shopping cart page
Blog section
Live search
Social media icons and widgets
Built-in cross-sell
Free translation platform
Why our customers love this theme
Kevin
Canada
"We were looking for a simple theme and didn't w ant to put visitors off by being too designy. Andy Woo is great fit for us, looks good, simple to customize and navigate."
Mila Hayes
USA
"A serious time and effort saver. By far, one of the best I've used: snappy and user-friendly."
Claudia Ramos
Peru
"the best purchase ever. nothing to say more 👌"
Azeez
Nigeria
"The best support I have ever received in any service offered online. Highly recommend to those who are looking for a fast Woo theme packed with features. Thanks a bunch!"
Erickson Daniels
South Africa
"Andy Warhol is fantastic, way faster than any other Woo templates. After using it for just 2 weeks I already can see a spike in sales. This theme is a game changer, trust me. You won't regret it."
Gabriel L.
USA
"grrrrreat value for money, folks! the theme is mind-blowing, it has exceeded all my expectations. good job guys"
Dimitar
Bulgaria
"I used so many other paid ecommerce themes but this is simply the BEST! Good bless you"
Matt Young
UK
"uber simple to set up considering how many different things you need to do when you start a website from scratch"