Wish List Add-On: What Is A Wish List And How To Benefit From This Element?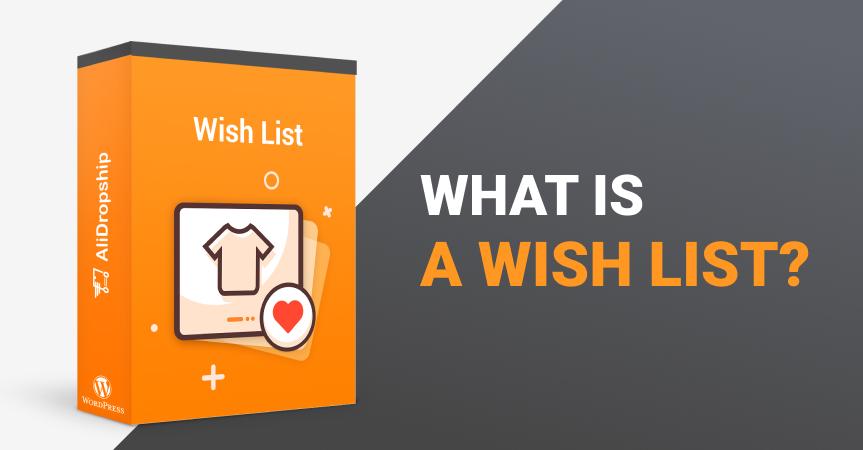 Don't let your site visitors leave once and for all! Let customers create wish lists with AliDropship's Wish List add-on and encourage them to come back for more. What is a wish list? Why is it important for your business? Let's find out!
What is a wish list?
We all go shopping and buy things online from time to time, right? Sometimes you see a nice-looking dress, a new video game on the platform, or a cool office chair. You want them but don't buy them.
The reasons can be different. What's important is that you leave the brick-and-mortar shop or the ecommerce store without making a purchase.
But what if you could add items to a list of things you want to buy in the future? Some online platforms offer this opportunity to customers. And with AliDropship's Wish List add-on, you can offer this option to your clients too!
But first, what is a wish list?
A wish list is a personalized collection of products a customer is interested in but has no intention to buy immediately. Or, simply put, it's a list of products a customer wants to buy later.
You may think that a wish list is kind of the same as a shopping cart. Just another collection of goods a visitors want to buy. But they're not the same!
Shopping carts contain products that buyers are going to purchase right now. Yes, something can go wrong, the client can change his/her mind, but the intent to purchase is obvious.
A wish list is too a list of things clients want to buy – except not yet! They want them, but they're having doubts, or want them later, or don't have the money yet, or something else.
The important thing here is that the visitor will leave the site without buying these items and most likely will forget about them. In this case, a wish list is something that brings customers closer to completing the purchase rather than forgetting about the desired item.
Let's talk in detail about the benefits of using wish lists.
Why your business needs wish lists
Since a wish list makes it harder to forget about the items you wanted to purchase, there are more chances a customer will come back, check his/her list, and complete the purchase.
Better bounce rate, better SEO
If you promote your dropshipping businesses with search engine optimization, bounce rate is one of the things you have to keep an eye on. This metric reflects how many visitors leave your site after viewing just one page.
Having the Wish List add-on installed on your site lets your visitors keep browsing the product pages and adding whatever they liked to the list. As a result, people will stay longer on your site, which improves its overall SEO performance.
Customers who can't make a wish list, tend to use the shopping cart for this purpose. They simply add a product to the cart and leave to come back later. As a result, your cart abandonment rate grows.
To create a wish list, a visitor has to register a user account. With the Wish List add-on, this is optional but possible.
As a result, the store owner gets the visitor's email address, which can be used in remarketing campaigns later. The Wish List add-on lets you send emails related to the products a particular customer added to his/her wish list.
When starting a dropshipping business, you can't be sure what products will sell well. With the Wish List add-on, you get clear statistics showing which goods enjoy high demand. So, based on this information, you may want to significantly change your current marketing strategy.
And finally, the Wish List add-on can reflect how many times other users added a particular item to their wish lists. This information works as proof that a product is popular among other shoppers, thus stimulating uncertain visitors to complete the purchase or at least add the item to their own wish list too.
Now that you know what a wish list is and how your business can benefit from wish lists, let's learn how to use the add-on.
How to use the Wish List add-on?
After installing and registering the Wish List add-on, you will see it in the admin panel of your website. Here you will find four tabs (including the License tab).
It'll add a new button to all your product pages that lets visitors create wish lists or add products to existing ones.
Now, let's start with the settings of your new add-on.
Settings
Button configuration
First of all, you can customize the wish list button configuration.
The position tab lets you choose between three options. The option "As a floating button" creates a widget on the right or left side of the screen. Users can go to their wish lists by clicking on it. Here you can change the widget's color, size, and position.
This is what the button will look like in your store.
If you choose the option "As a menu item", the button will appear in the product categories menu.
The option "Add to your header menu" will place the button next to the shopping cart on the top of the screen.
Let's take a look at the options in the next section.
The "Display as" tab (not available for the "As a menu item" configuration) has two options. It displays the wish list module either as a pop-up window or as a separate page.
The "Require login" option, when turned on, asks site visitors to register. When doing so, they also agree to receive emails related to products from their wish lists. But you can switch it off. In this case, the wish lists created by unregistered visitors will be deleted after 24 hours.
The "Quick view" will display a small preview window with the products in a customer's wish list (not available for the "As a menu item" configuration).
"Use multi-lists" allows visitors to create and manage more than one list.
"Notice" will display a pop-up confirming that an item was successfully added to a list.
"Social count" displays how many clients added the same product to their own lists, which serves as another social proof for your dropshipping store.
Appearance
This section lets you customize the button that adds products to wish lists. There are three options available. You can also change its position, size, and color or add one of the three available icons.
This is what the final result looks like on the website:
Wish list page settings
And finally, you can customize the page that contains all the wish lists created by site visitors. Here you can change the page's name (Title) and pick one of the five layouts:
The "Price changes" option shows the price dynamics after the product was added to the list. One more motivation to buy it!
"Delete item" automatically removes a product from the list after the visitor purchases it.
The two last options let you place control buttons and social share buttons on each product icon in visitors' lists. You can see all available options in the screenshot.
Don't forget to save the changes!
Dashboard
The Dashboard section shows the add-on's performance: how many people used it, how many products were added to wish lists in total, and how many visitors subscribed to direct emails.
You can collect data over a period of up to 30 days. The add-on also shows the 10 most popular products based on how many times were added to wish lists.
Marketing
The Marketing section lets you customize mailing rules. These are the conditions under which email notifications will be automatically sent to the people who added the corresponding products to their wish lists.
Here you can turn on or off all the available mailing rules as well as see the performance statistics. The button at the bottom will let you create new rules.
"The product price is down": site visitors will get an email if the item's price falls by a certain percentage. Here you can set the percentage, create an email subject and a letter template.
"The product is in stock again": remind visitors of the goods they wanted to purchase but couldn't because you ran out of stock. Here you can only customize the subject and the letter template.
"The product is going out of stock": site visitors will get these emails if the item's quantity on AliExpress will go below a certain limit. Here you can set this limit and customize the subject and letter template.
What is a wish list? It's a powerful tool for raising sales and profits! If you're looking for additional solutions that can improve your buyers' experience and the performance of your dropshipping business, buy the Wish List add-on and enjoy a boost in sales! As of now, the add-on is compatible with the original AliDropship plugin, but our team is already working on adapting it for the WooCommerce version, so stay tuned!