Thank you
for sharing your thoughts with us as your feedback will help us to provide you with enhanced product quality.
Offer your customers irresistible discounts for buying a certain amount of a specific product with Bulk Discounts add-on! Discover a simple and flexible way to apply tiered pricing and volume discounts to skyrocket your income!
Overview
With the Bulk Discounts add-on, you can motivate your clients to buy more of your products in bulk, or even start working with wholesalers!
This add-on allows you to apply bulk pricing to any item or product variations in your store effortlessly: no coding skills required!
Benefits
Multiply your profit with mass discounts
Increase the average order value
Encourage people to buy more per order
Provide special bulk offers to impress customers
Enjoy our lifetime support and updates
Features
Apply volume discounts to a target product or a whole category 
Manage discount rules in one place: select a product or a category, set your bulk pricing, write a catchy text to entice customers and don't forget to save your progress. Set it up once, and start selling more while investing less time and effort!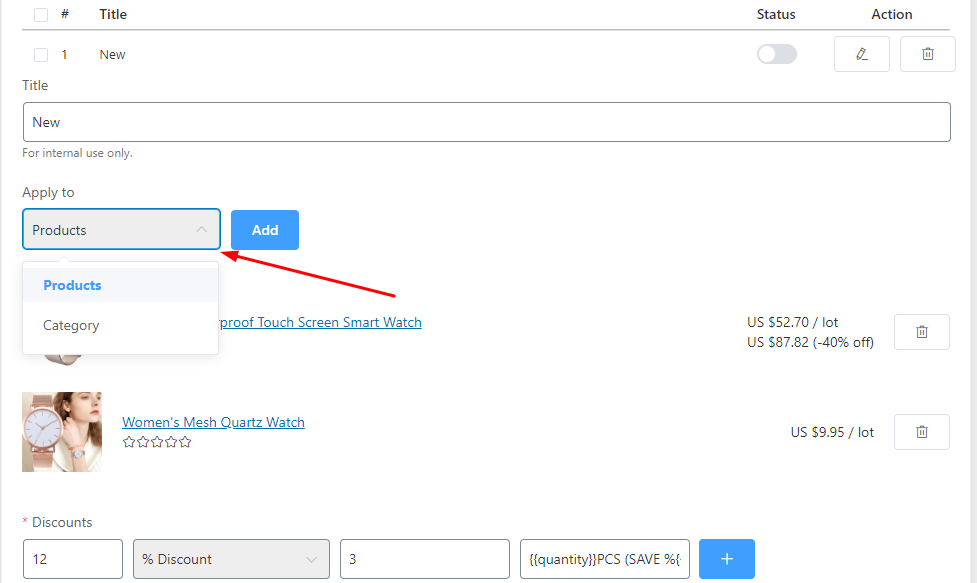 Control, navigate and save your bulk offers 
In the add-on dashboard, you can find all the offers you created, check their stats, edit them if necessary, and activate/deactivate them in a click.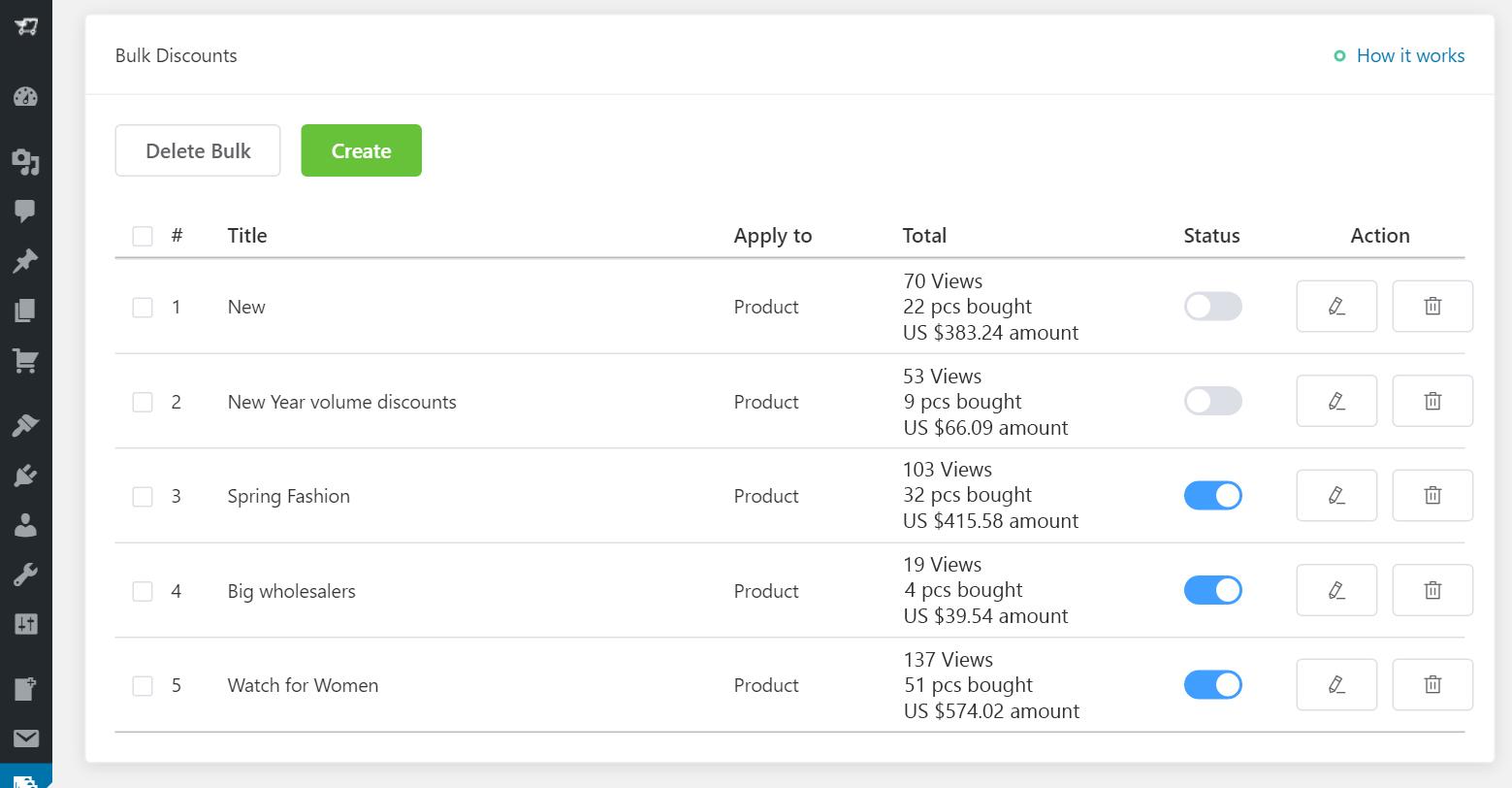 Customize the appearance of your bulk discount offers
Draw even more attention to your offers and make them match your website's design with a design customization option! Select colors of texts and buttons and choose an icon in several clicks.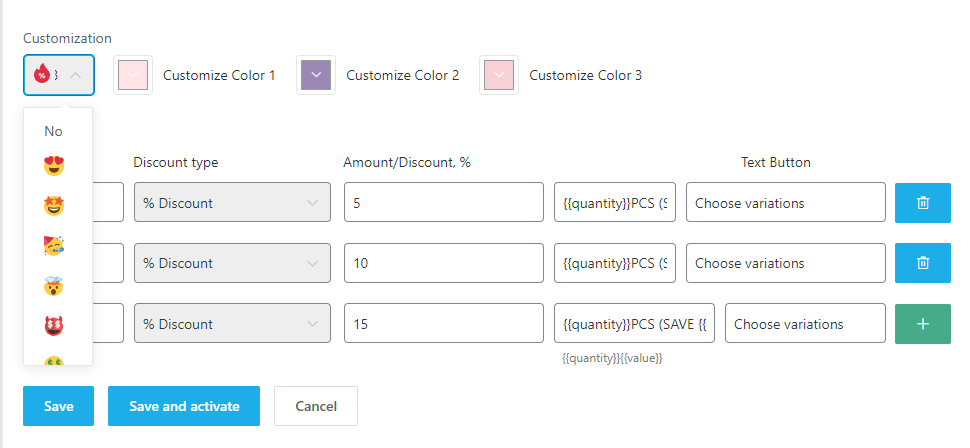 Offer the best bulk discounts in your store to gain more customers and be one step ahead of your competitors!
Any questions left? Learn more in our Knowledge Base or ask us at support@aliexpress-na-russkom.ru.
Some questions you might have
Is Bulk Discounts add-on supported by AliDropship WooCommerce plugin?
This add-on is compatible with both AliDropship WooCommerce and the original AliDropship plugin versions.
Can I use Bulk Discounts add-on on WordPress and WooCommerce sites without AliDropship?
No, you can't. This add-on is not compatible with WordPress and WooCommerce sites without AliDropship plugin
Does Bulk Discounts work with products that have variations?
Yes, it does. If a product has a variation, your customers can select their desired choice, and the bulk discount will be applied for this variation. Also, there is a sleek pop-up that allows your customer to select different Product Variations (in case he or she needs different variations, otherwise one can still click the discount offer button).
How many offers can I create with this add-on?
Bulk Discounts add-on allows you to create an unlimited number of different offers. Also, you can apply an unlimited number of discount rules for each offer.
How long will my Bulk Discounts license key be valid for?
All our add-ons have a lifelong license key. You can use it for as long as you want.
Is the setup service included in the price of Bulk Discounts?
No, but you can order this service
here
.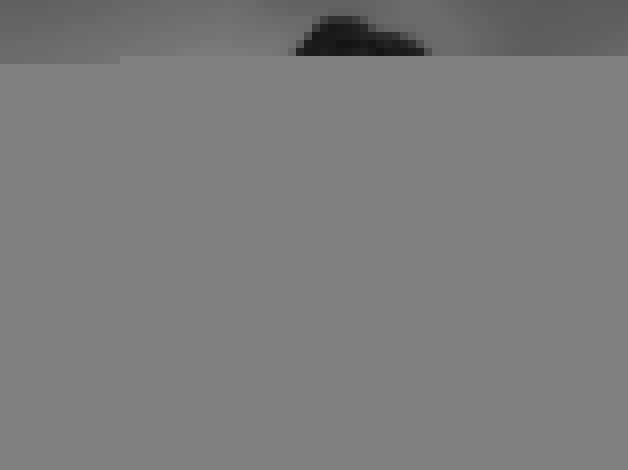 Any questions?
We'll be happy to answer in detail!
contact us