Is Aliexpress Dropshipping Dead? Dive Into The 2024 Trends And Find Out!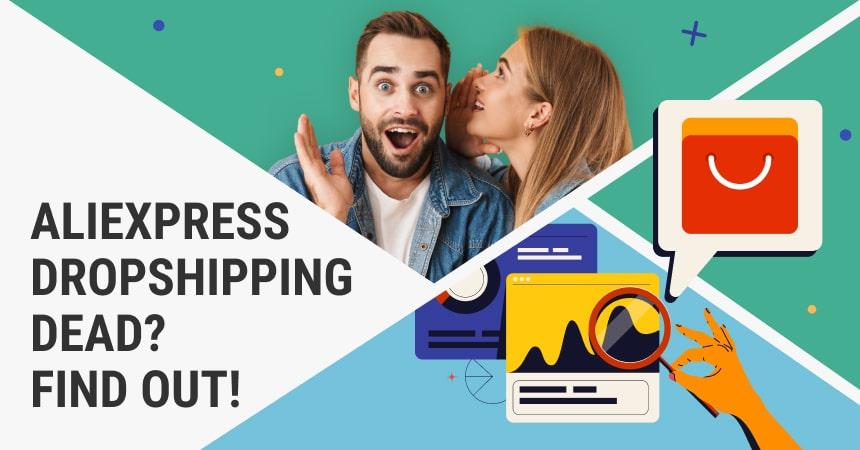 There's been quite a buzz lately with many wondering: "Is Aliexpress Dropshipping Dead?" We understand where this is coming from – the world of ecommerce is ever-evolving, and it's easy to get caught up in the whirlwind of rumors.
But rest assured, dropshipping isn't merely surviving – it's going to be thriving in 2024!
If you've been pondering about the current state of dropshipping, you're in the right place. In this article lay out all the reasons why dropshipping remains a substantial player in the online commerce game.
Whether you're just starting out or have been in the game for a while, let's unravel the exciting and still very vibrant world of dropshipping together.
AliExpress dropshipping: How does it work?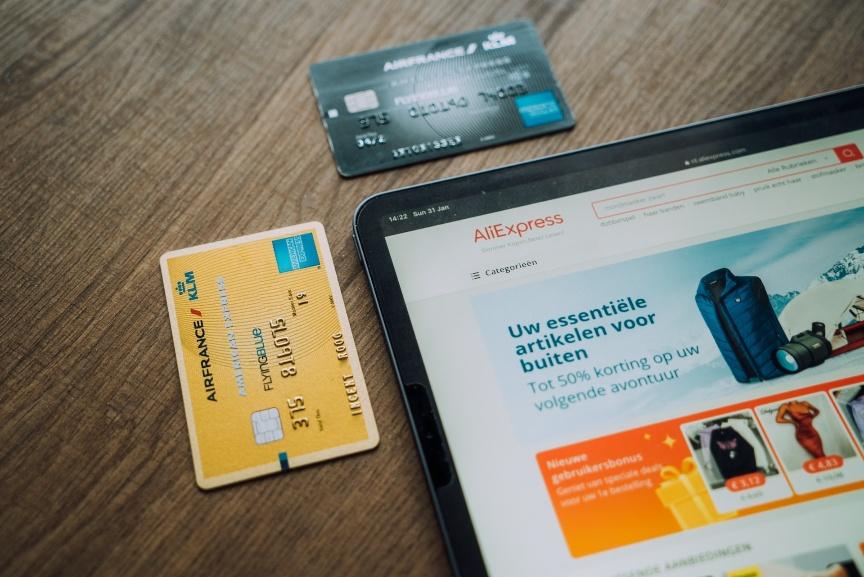 AliExpress stands as a powerhouse in the online supplier realm, offering a unique model where ecommerce enthusiasts don't have to maintain any inventory. Instead, they play the vital role of the middleman.
Here's how it flows: You spot a nifty product on AliExpress and showcase it in your store. Instead of customers heading straight to AliExpress, they make their purchases from you.
Now, when an order pops in, you buy the chosen product directly from AliExpress, which then takes care of shipping it to your customer. This cycle continues as long as you have the zest for your ecommerce venture or until the product pool dries up.
The real charm? Dropshipping sidesteps the traditional challenges of brick-and-mortar setups. No upfront costs, no worries about space or unsold stock. This leaves you with a leaner budget, letting you redirect funds towards marketing and amplifying your sales.
Now, isn't that something to consider for your next ecommerce venture?
Is AliExpress dropshipping dead? Stats that prove otherwise!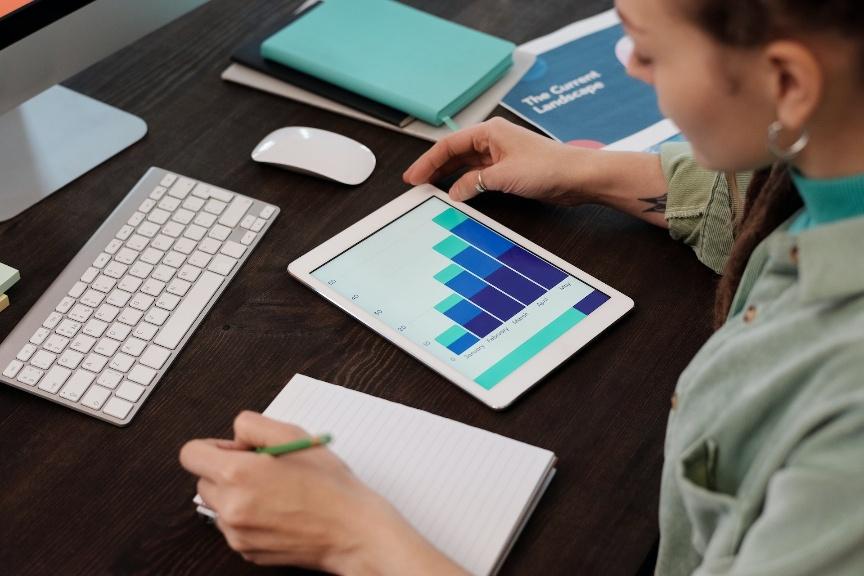 Alright, diving deeper into the world of dropshipping, you might be wondering if the industry's vitality is waning. But here's the thing: the data paints a quite optimistic picture.
The forecasts for dropshipping aren't just promising; they're truly compelling.
We're looking at the market potentially reaching a remarkable $301.11 billion by 2024.
Fast forward a bit to 2025, and that figure is expected to escalate to $372.47 billion. The showstopper? A projected valuation of $476.1 billion by 2026. That's a massive leap from its 2020 value, marking an increment of $347.5 billion within just six years.
Breaking it down, the period from 2020 to 2026 sees dropshipping growing at an average yearly rate of about 24.39%. The highlight will likely be 2026, anticipating a growth spurt of 27.82%. If we narrow our focus to 2020 through 2025, the expected growth hovers around 23.7%. And if these projections hold true, the industry could very well surpass the $500 billion milestone by 2027.
The allure of dropshipping is rooted in its operational simplicity. Once you receive an order, all you have to do is forward it to your supplier. They then take the reins, handling everything from packing to delivery. This streamlined approach allows entrepreneurs to hone in on refining their business strategies.
The upside to AliExpress dropshipping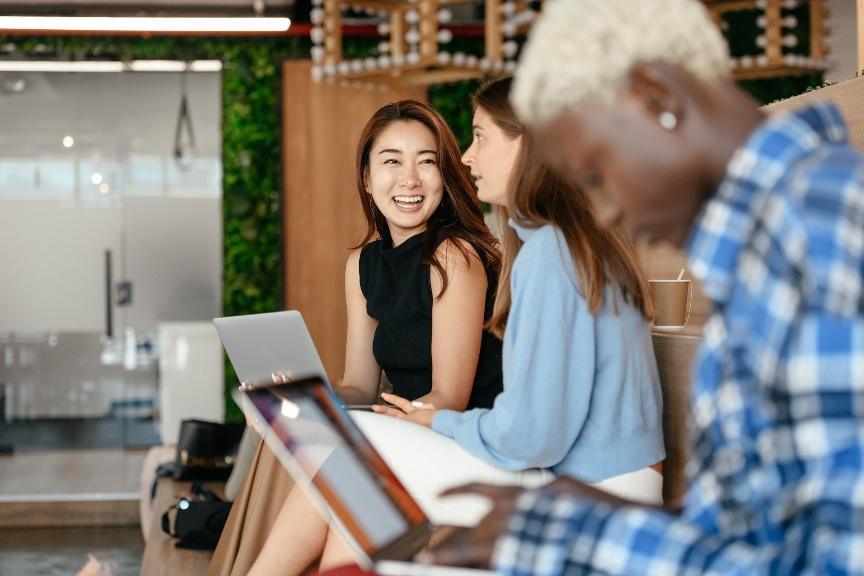 Dropshipping with AliExpress? Oh, there's a lot to love! If you've been mulling over diving into the dropshipping game using AliExpress, you'll want to know the perks that come with it. Let's dive into why many entrepreneurs are gravitating towards this platform:
Kickstart Your Business on a Budget
Starting with AliExpress dropshipping is kind on your wallet. There's no need to invest heavily in stock, meaning you can launch without significant upfront costs.
With suppliers primarily based in China and shipping worldwide, AliExpress provides a launchpad for expansive global reach. Your business has the potential to touch every corner of the globe.
Forget About Minimum Orders
Bulky orders aren't a thing here. Suppliers on AliExpress generally don't set minimum purchase requirements, letting you order precisely what's needed.
Inventory? What Inventory?
One of the major draws of this platform is ditching the traditional inventory hassles. Products are competitively priced, enabling you to sell without fussing over warehousing.
The beauty of AliExpress dropshipping is that you can start as small as you wish and scale up as you gain traction. Whether it's ten products or a hundred, you dictate your growth pace.
See a product that's catching fire in the market? AliExpress is a goldmine for trendy items. With a vast selection, you can continuously refresh your offerings based on what's hot.
The world becomes your playground with AliExpress. You're not restricted to one region or country; the entire world is your potential customer base.
Master the Art of the Deal
Engaging with suppliers is more than just transactions. There's room for negotiation, and striking a savvy deal could mean better profit margins for your store.
Jumping into the world of AliExpress dropshipping could be the smart move your entrepreneurial journey needs. With these advantages at your fingertips, the sky's the limit!
Secrets to successful dropshipping with AliExpress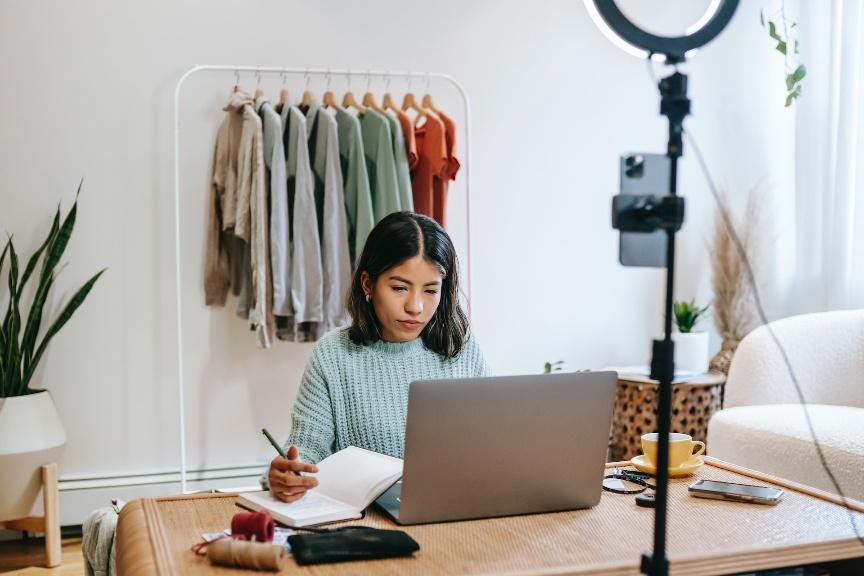 Now that you've got the gist of what AliExpress is and how its magic unfolds, you're probably itching to kickstart your dropshipping adventure. Navigating the AliExpress waters can be tricky, but with the right compass, you're bound for success. Here's your trusty guide to dropshipping like a pro.
Quality Assurance: Sample Before You Leap
Dropshipping is a jam-packed arena, and standing out is the key.
But here's the deal: a few AliExpress sellers might (unintentionally or not) push out less-than-stellar products. To avoid these pitfalls, get product samples and vet them firsthand. If you're eyeing a broad product range, try getting samples from a few suppliers.
This way, you can cherry-pick those who are top-notch in quality.
Setting Realistic Shipping Expectations
Considering a lot of AliExpress sellers are nestled in China, shipping to places like the U.S. can take a minute… or a month.
But that's not going to be a problem if you're dealing with Sellvia!
Now, while the idea of lengthy shipping times might make you twitchy, many customers are okay with the wait, provided they get their money's worth. To sweeten the deal, explore faster shipping options like DHL or FedEx, or entice with free shipping.
It's all about setting and managing expectations!
Pricing: It's a Balancing Act
While the allure of dirt-cheap prices to magnetize customers is strong, resist the urge. Going too low might cripple your profits and dampen the spirits. And remember, running a dropshipping venture isn't free. Ads, website upkeep, and handling returns add up.
To keep things in check, aim for a ballpark of 50% margin.
For instance, if an item costs $10 on AliExpress, pricing it at $15 is a savvy move.
More Than Just a Price Tag
If competitive pricing is your sole claim to fame, you might hit a roadblock sooner than you think.
The trick lies in bringing something unique to the table, setting you apart from the e-commerce crowd. This could be superior customer service, quick responses, or unparalleled product quality.
Perhaps it's diverse payment options, social media engagement, or curating personalized shopping experiences.
The Power of Aesthetics: Stellar Photos and Descriptions
A picture paints a thousand words, and in ecommerce, it might translate to a sale.
While AliExpress might offer some decent product images, giving them a personal touch can elevate the game. You don't need a high-end camera; your smartphone can work wonders! Pair these with compelling product descriptions, and you've got a winning combination.
Jumping into the world of AliExpress dropshipping might seem daunting, but with these tricks up your sleeve, you're well-equipped to make waves. Dive in and make your mark!
Dropshipping Trending Products for 2024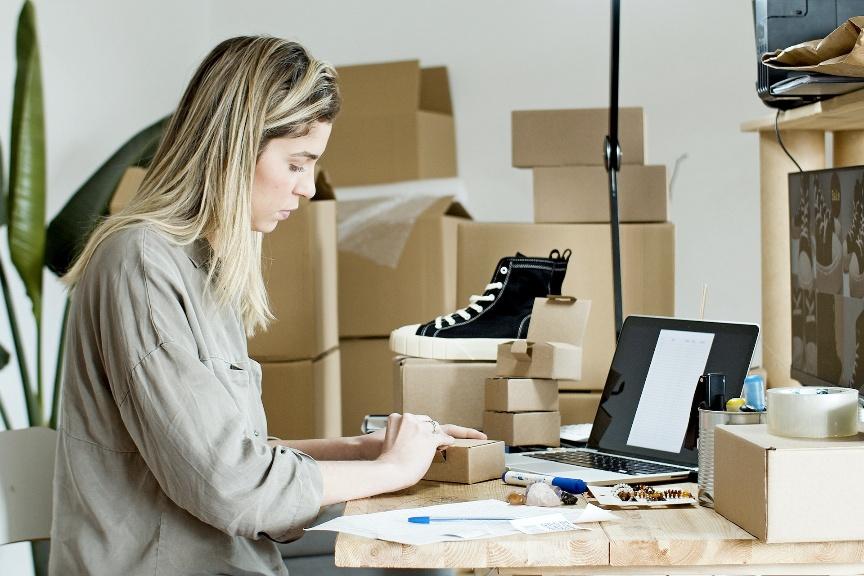 Success in dropshipping often involves staying a step ahead of consumer demands. Knowing what products are gaining traction can give you a significant edge. Below, you'll find a curated list of potential best-sellers for the upcoming year:
Smartphones are no longer mere communication devices – they represent a lifestyle. Unique phone cases, advanced wireless chargers, and other smartphone essentials can cater to this growing lifestyle demand.
The wearable tech space, with its fitness monitors and advanced smartwatches, dovetails nicely with the health and wellness trend.
Then there's the smart home revolution, with products like voice assistants and energy-efficient devices leading the charge.
And for those always seeking the latest in tech, drones, cutting-edge Bluetooth speakers, and innovative tech gifts are sure to catch their eye.
Fashion is ever-evolving. Modern clothing, influenced by the latest seasonal trends, can appeal to the fashion-forward.
Footwear, too, offers vast opportunities, from daily wear sneakers to the latest in heel designs. Jewelry offers a touch of elegance, with choices ranging from bold statement pieces to subtle classics.
And there's a growing interest in specialized apparel, such as eco-conscious attire or sport-specific activewear, which can help a dropshipper target niche markets.
People are continually seeking ways to reinvent their living spaces. Chic home decor pieces like wall accents and elegant cushions can add character to any room.
For those who love to cook, or simply love the idea of cooking, unique appliances and innovative kitchen utensils are in demand.
Furnishing a home is as much about functionality as it is about aesthetics. Durable yet stylish furniture that emphasizes both can be quite a draw.
And for the bedroom, premium bedding that prioritizes comfort is always in demand.
In today's world, self-care is not just a luxury; it's a necessity. Products promising radiant skin, from cleansers to specialty treatments, continue to be popular. Hair nourishment products, emphasizing organic ingredients and diverse hair type suitability, can find a ready market. The makeup space offers limitless opportunities, from lipsticks to eyeshadows, especially if they promise quality and versatility. And in these challenging times, wellness essentials like essential oils and relaxation tools can offer a much-needed respite.
Fitness is not just a routine; for many, it's a way of life. Durable gym attire, stylish footwear, and essential gym accessories can appeal to these fitness enthusiasts.
Sporting gear, from yoga mats to sports-specific equipment, is always in demand.
And for those seeking adventure, gear for activities like hiking and camping remains a perennial favorite.
Learning can be fun, and educational toys like STEM kits and puzzles exemplify this.
Collectibles, especially niche ones, can attract dedicated enthusiasts.
The world of tabletop entertainment, with board games that cater to all age groups, is enjoying a resurgence.
And for the crafters out there, quality materials and innovative crafting kits can provide endless hours of creative joy.
Pets are family. Daily essentials like grooming kits and dietary supplements can cater to their day-to-day needs.
Playtime is essential for pets, and interactive toys can keep them engaged.
The world of pet fashion is booming, with stylish accessories ranging from the functional to the outright fancy.
And for those looking to offer something unique, there are always niche pet products, be it organic pet snacks or breed-specific accessories.
Modern driving is as much about convenience as it is about mobility. Smart car gadgets, from GPS trackers to wireless chargers, add to this convenience.
Quality spare parts for cars are always in demand, especially if there's clarity in compatibility.
Car maintenance products, like waxes and polishes, can appeal to both everyday drivers and auto enthusiasts.
And for those who see their cars as an extension of themselves, customization options offer endless possibilities.
Spotlight on Sellvia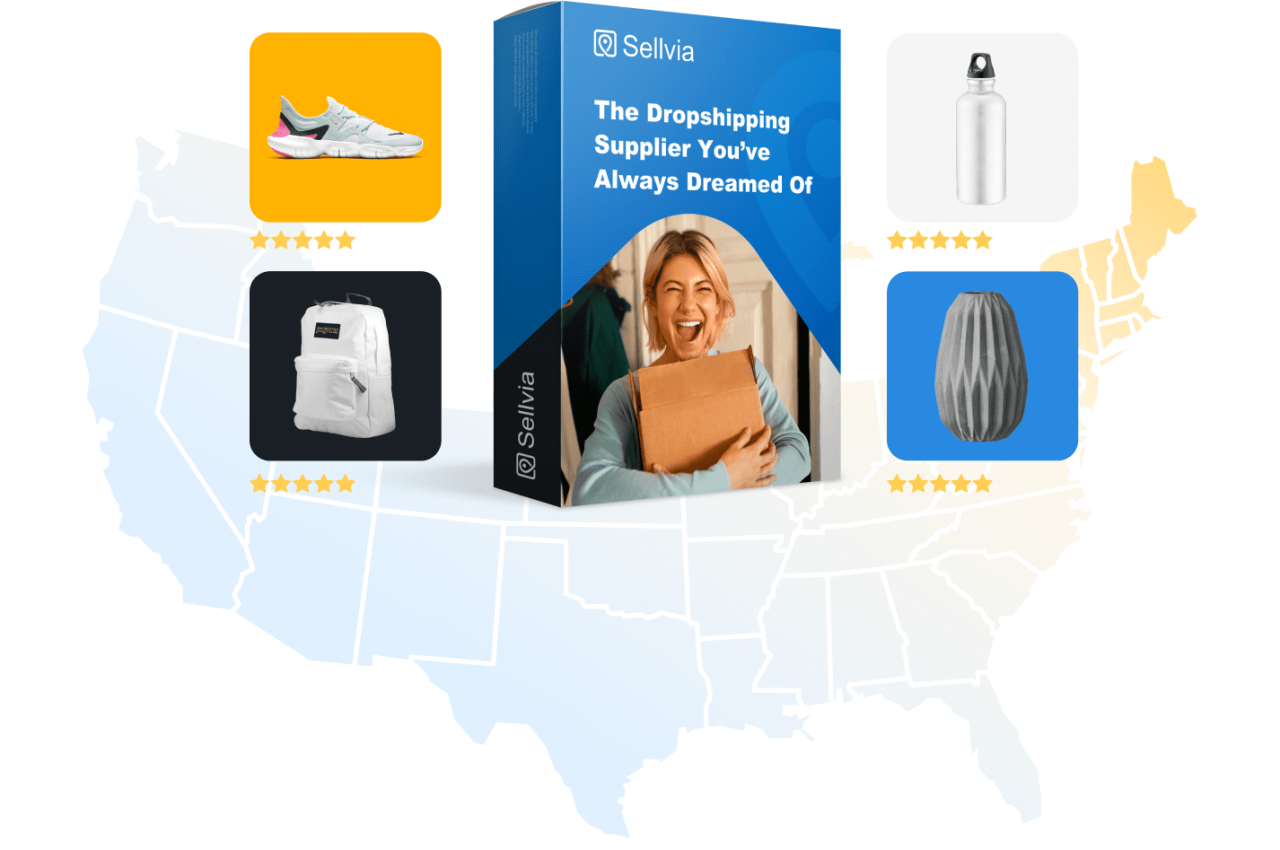 Sellvia's Fulfillment Center is a hub where a plethora of trendy and in-demand products await their next destination. What sets them apart? Every product is primed for dispatch, promising that within just one business day post-order, it will be set for its journey to the customer.
Want all the Sellvia advantages? Simply add Sellvia package to your order and you're set for success!
Swift Deliveries Across the U.S.
Time is of the essence in the ecommerce world, and Sellvia understands that. With their entire stock strategically located within the U.S., customers can expect their orders to land on their doorsteps in a swift 1-3 business days.
And when it comes to reliability, they've partnered with USPS, a trusted name ensuring not just speed but also the safe arrival of every package.
Packaging with Precision and Discretion
Every product that exits Sellvia's Fulfillment Center is a testament to their meticulous attention to detail. Ensuring a journey-ready product, each item is encased in pristine packaging — void of any labels or pamphlets that might give away its roots.
For those in the dropshipping realm, such discretion is indeed an added advantage.
A Ready-to-Use Catalog Tailored for Dropshippers
Perusing through Sellvia's catalog is a delight. It's a treasure trove of meticulously crafted product pages boasting high-definition images, concise titles, insightful descriptions, and genuine customer reviews.
This user-friendly approach ensures that dropshipping entrepreneurs can seamlessly introduce these products to their platforms, negating the need for any tedious edits.
Quality & Transparency at the Forefront
One can't help but emphasize Sellvia's unwavering commitment to quality. Each product that finds its way into their catalog has undergone rigorous testing and scrutiny. What's presented to potential customers are not just high-res images but also accurate, conversion-optimized descriptions.
This transparent approach ensures that every customer gets a comprehensive view, empowering them to make informed purchase decisions.
Whether you're a consumer or a dropshipping business owner, with Sellvia, you're not just choosing a product, but also a promise of quality, efficiency, and authenticity.
Conclusion
As we look ahead into 2024, the dropshipping landscape is ripe with opportunities. From the latest in tech gadgets to the essentials for our furry friends, consumer demands are as diverse as they are dynamic.
Success in dropshipping, however, isn't just about identifying trending products; it's about understanding the evolving consumer mindset. It's about recognizing the shift towards self-care, the emphasis on sustainable fashion, or the growing importance of home as a sanctuary.
By aligning product offerings with these deeper consumer insights, dropshippers can not only tap into immediate market demands but also build a foundation for sustainable growth.
Whether you're a seasoned seller or a newbie exploring the vast dropshipping universe, remember, success lies where passion meets preparation. Happy selling!