How To Find A Million Dollar Dropshipping Product: A Step-By-Step Guide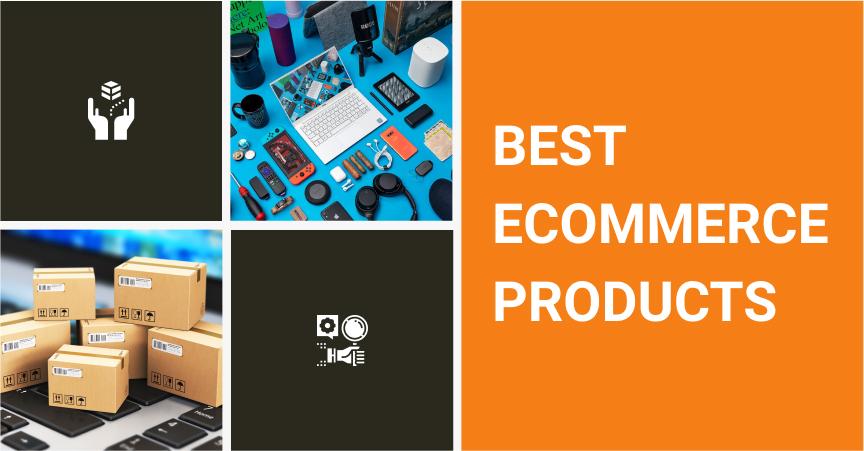 A successful dropshipping business requires excellent goods. But how do you find them? Here is the method AliDropship's team uses to find the best ecommerce products.
Whether you have a general or a niche dropshipping store, you're going to need at least a few products to start making money. But our own experience shows that a single product can earn you more than all the other goods in the store.
To make it happen, one needs a really popular item, but how can you know what's going to fail and what's going to shine? Here's how our team searches for new and promising dropshipping products.
We are going to need the following:
A profile on AdSpy
A profile on AliExpress Dropshipping Center
A Facebook and/or Instagram account
Access to AliExpress
Access to Amazon
Let's begin!
What is AdSpy and why do we need it?
AdSpy is a database that allows you to search and look through ads published on Facebook and Instagram. You can also click on them to view the original social media post.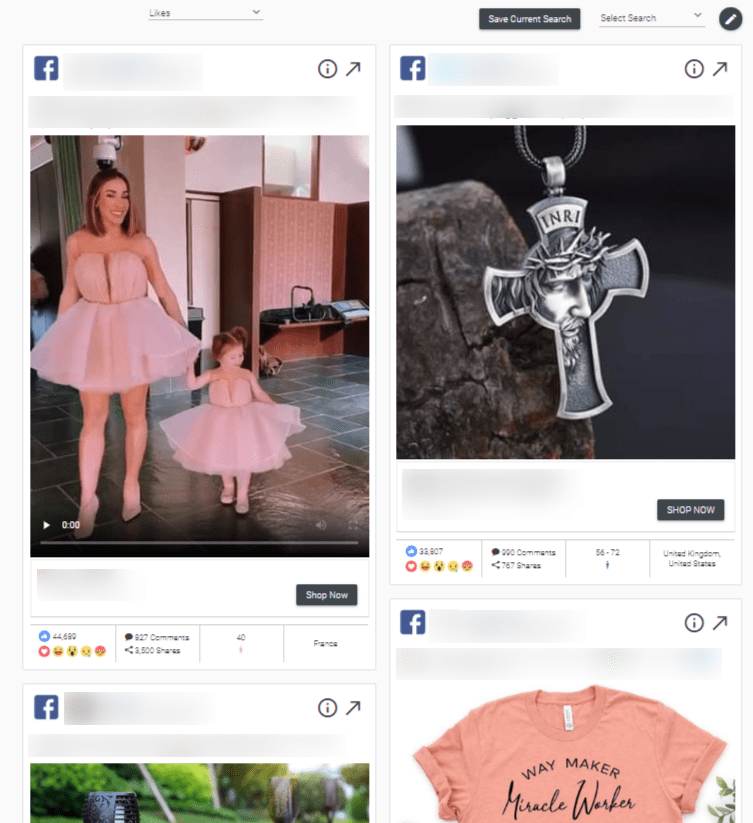 This is how one can see what other ecommerce entrepreneurs (and dropshipping store owners in particular) advertise. Although we can't know for sure how successful their attempts are, there are several methods to identify the potential of a given product.
Finding products with AdSpy
First, we're going to set up the filters. There are 15 of them, plus a search field, but not all of them are necessary for this particular task. So, here are the ones we need.
Site Type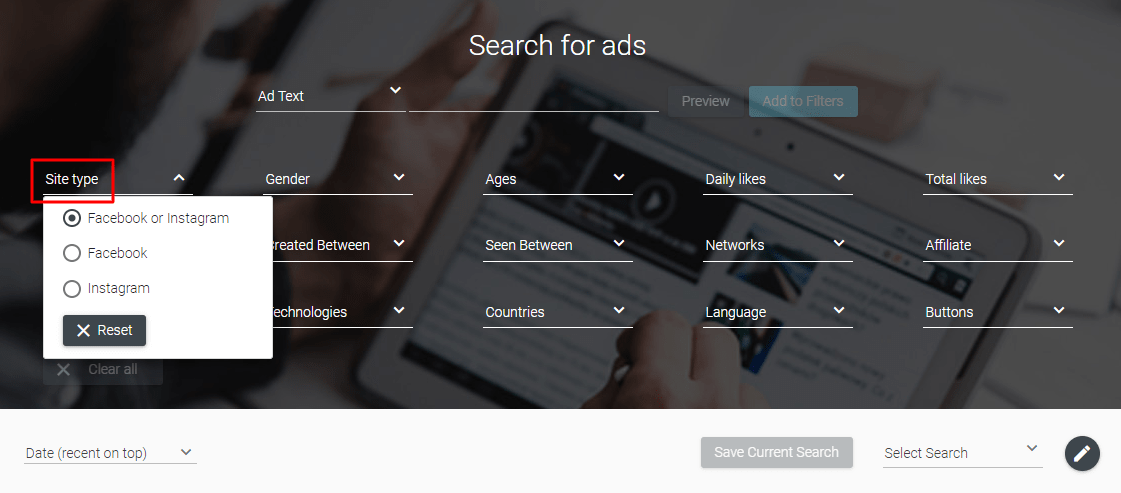 This filter lets you toggle between ads on Facebook and Instagram, but the default settings show both of them. Since both these social networks work great for ecommerce business, leave it as it is.
Technologies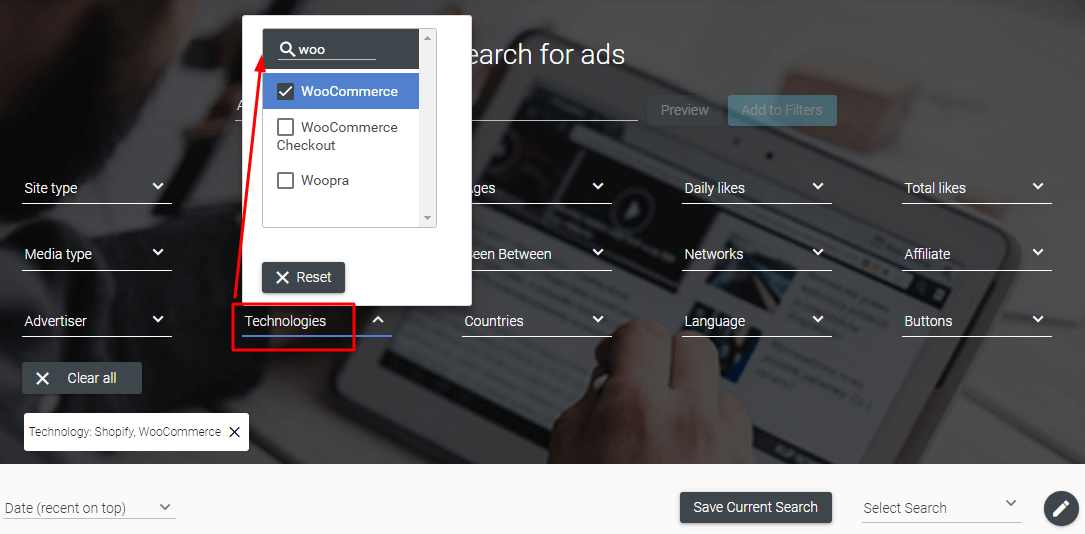 This filter can hide all ads that come from any platforms except the ones you choose. Here I picked Shopify and WooCommerce, so I'm going to see only ads created by ecommerce stores built on these platforms.
This is how I can find out what other dropshipping sites advertise.
Seen Between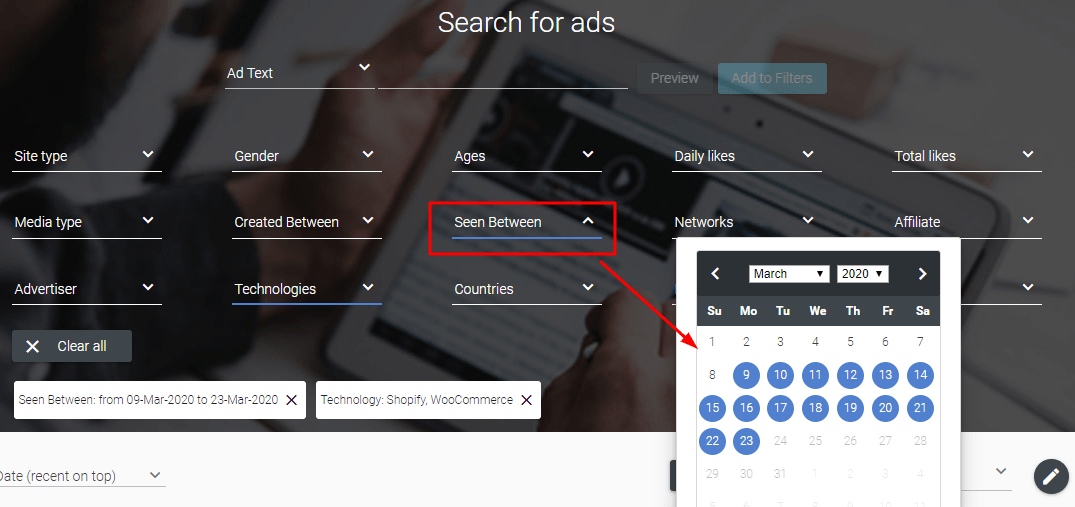 With this filter, I can learn what ads were shown to Facebook and Instagram users during a given period of time. In other words, I'll be able to see the best ecommerce products regardless of when the ads were created.
For example, this ad below was created in July 2017 but is still visible now.
In other words, it's an old ad, and one should be careful about it. Popular ads get republished again and again, thus, earning a huge amount of likes. On the one hand, if you see such a post (with 150 or even 350 thousand likes), it's definitely a popular product.
On the other hand, the number of likes clearly indicates that somebody's been advertising and selling this product for a very long time. It could mean that the market is already oversaturated or that beating this particular store will be extremely difficult.
The ad on the screenshot got more than 200,000 likes and was shown in 22 countries. A serious competitor, in my opinion. So, choosing the same product may be risky.
However, I can still try to make a good profit, but we'll get back to it later.
Created Between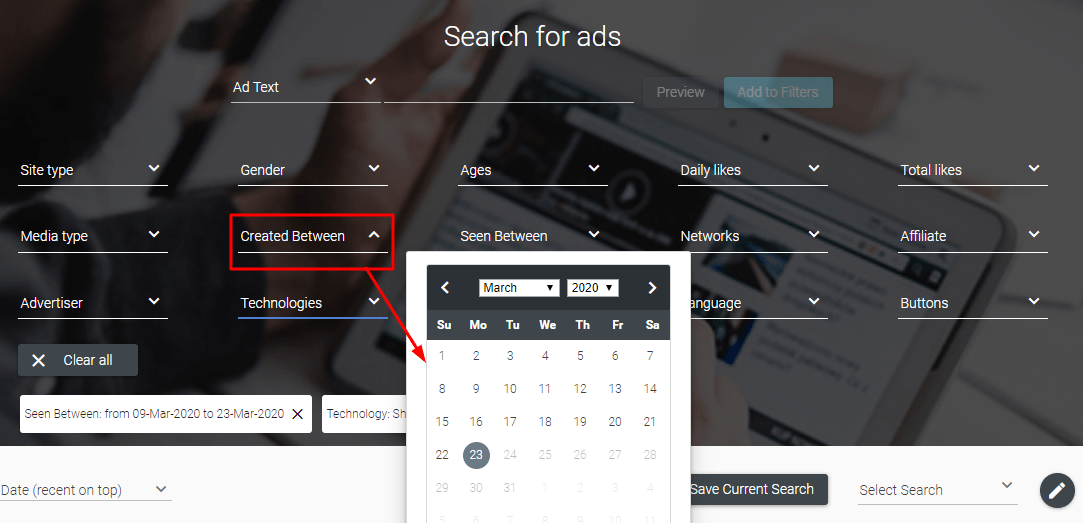 Unlike the previous filter, this one will show me only those ads that were created during a given period of time. In theory, such ads reflect the latest trends better than the Seen Between filter. However, if you see a newly created ad, it doesn't necessarily mean nobody made similar ads before.
Still, this filter is more trustworthy if you're looking for fresh (not only popular) ideas.
Language
The Language filter will show you ads created in a given language. On default settings, AdSpy doesn't take this parameter into account at all. Neither should you if you want to dropship worldwide, but some entrepreneurs may need it.
Do you remember the ad that got 200,000 likes which I considered too competitive? If I sold products only in my own country, I could try finding similar ads in my language. If there's none, it could mean that nobody's been trying to sell this item in my country. And if it's popular worldwide, it may get popular here as well!
So, it's a useful filter to check niches and products on local markets.
Total likes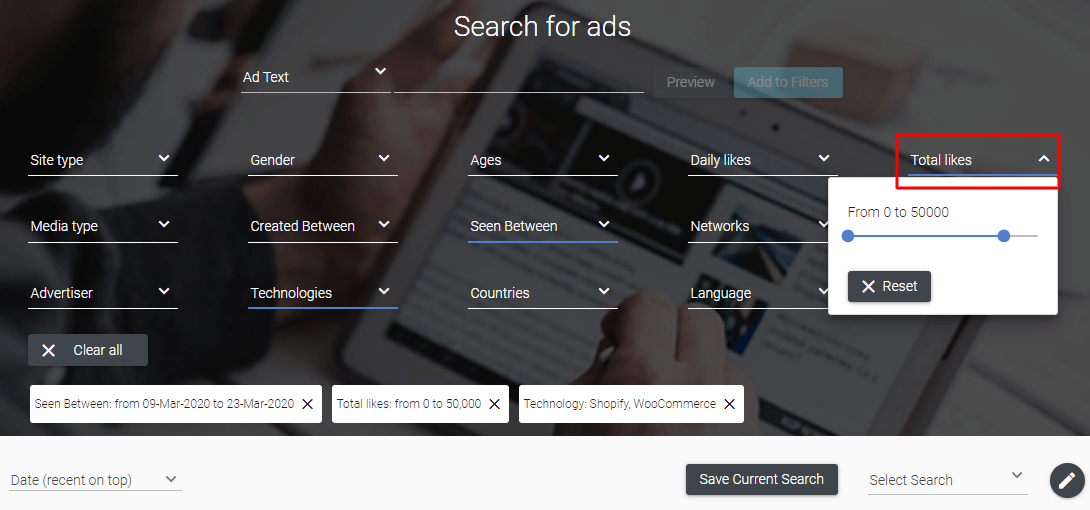 As you could guess, this filter will show me ads with the number of likes I want.
How many is enough? That's a tricky question. It really depends how long an ad exists, how wide a given niche is, and how large the audience is.
A good ad usually gets about 5,000 likes a week. However, I wouldn't mind seeing ads that got only one or two thousand likes since they were created because even such limited results can inspire me. So, I'll set the minimum to zero.
As for the upper limit, I set it to 50,000 to avoid too popular ads.
Ad Text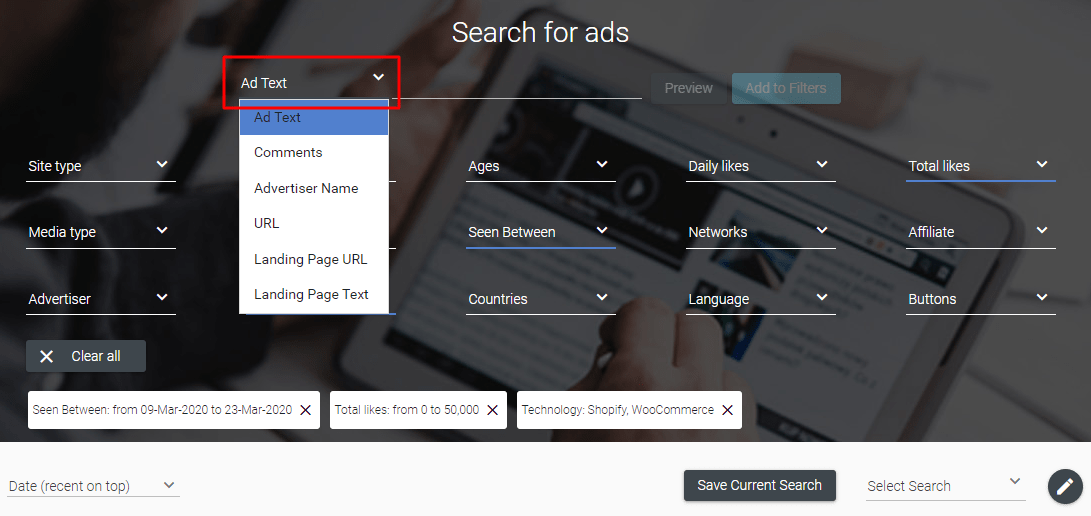 It's a search field that will look for ads that contain a given word or phrase, comments, advertiser name, etc. You may want to use it to narrow down the search to a particular niche or theme. But since I'm looking for any kind of product, I'm not going to use it.
Results order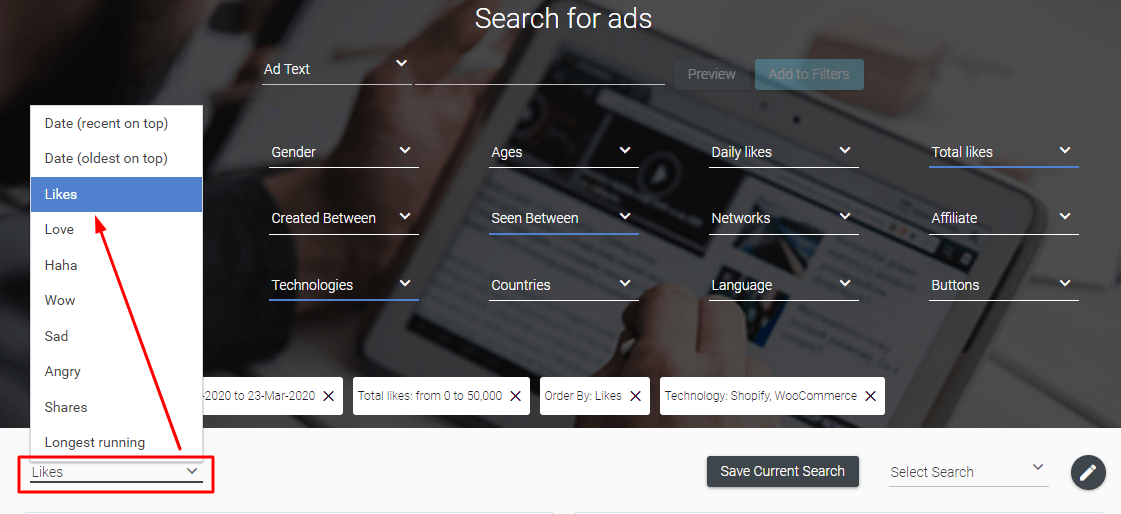 And finally, I need to sort the list by the number of likes.
As a result, I will see the ads shown to users in the past two weeks and having 0-50 thousand likes.
Looking for the best ecommerce products
After setting up all these filters, AdSpy will show a long list of ads. Most of them will probably not suit you for different reasons. For example, I found quite a number of ads promoting shoes, but I don't want to take such a risky product.
That's Ok. You're going to see a lot of boring stuff here, but you have to get through it to find decent product ideas. Just keep scrolling until you find something interesting.
After just a few minutes, that's what I found.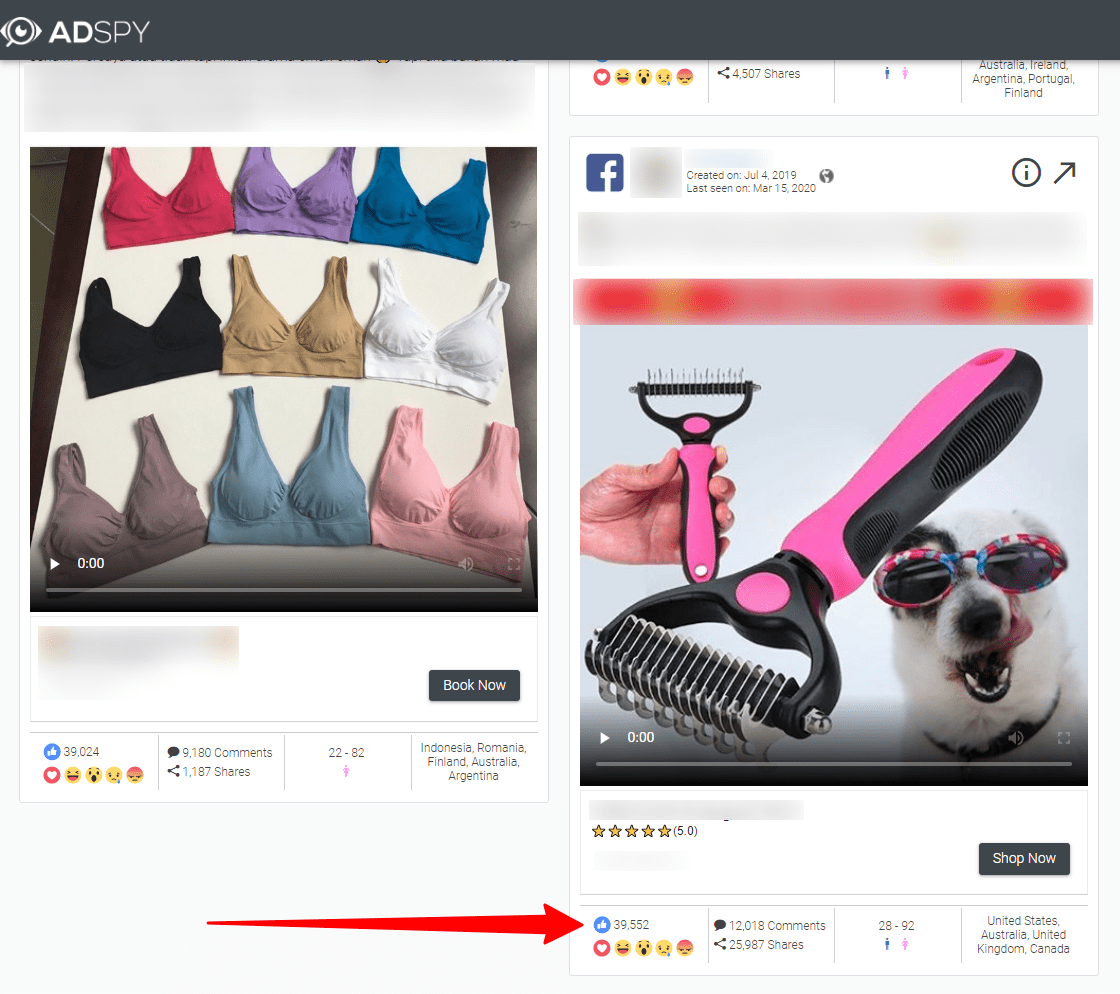 The ad got 39,000 likes which is a lot but not too much. The product on the video looks good and it was last shown just three days ago. Although I'm a bit worried the ad was created in July, 2019, the item is still worth checking.
Verifying products with Google Trends
The easiest way to check the demand for a given product is to go to Google Trends. It says that the interest for grooming tools has been steady over the past 12 months, which is a good sign.
Note that Google Trends works well with more or less general queries and will hardly help with very specific ones. For example, my attempt to input "cucumber T-shirt" completely failed. But it doesn't mean such T-shirts couldn't sell well, so don't expect Google Trends to be helpful all the time.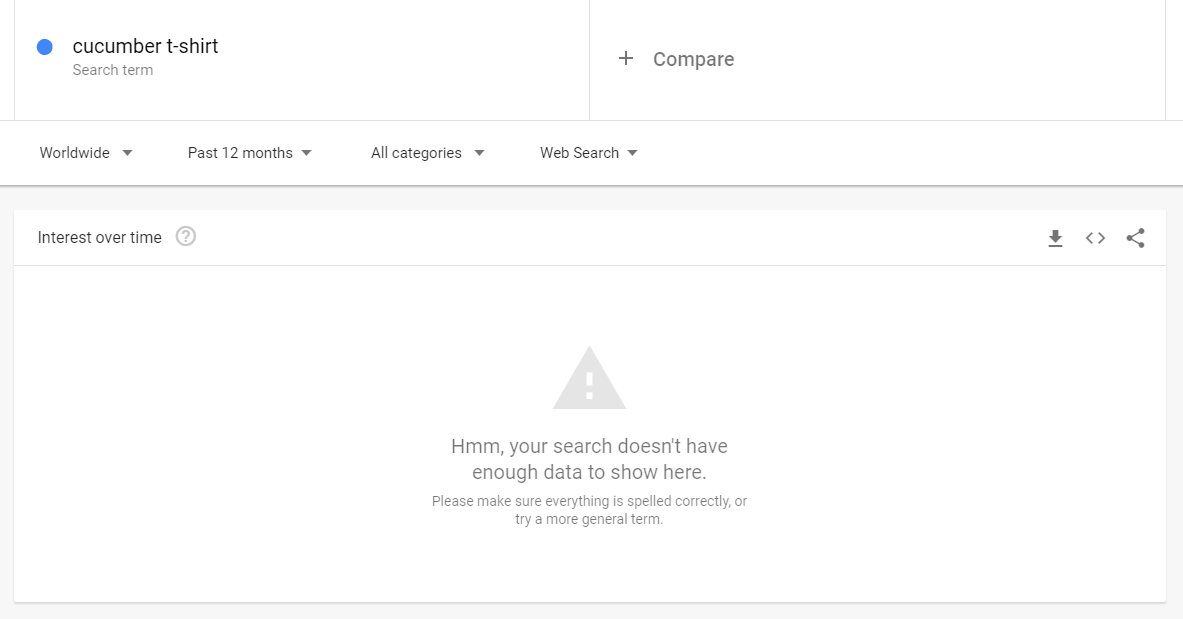 Checking customer reviews
Whether Google Trends helped or not, next you want to see the post on Facebook or Instagram to check comments. Of course, you can see customer reviews on the seller's website, but social networks generate much more engagement and people tend to communicate more willingly there.
It's also important to check when the last comments were posted to see whether the item is still popular.
After 10 minutes of scrolling, I found out that most users were happy with their purchase and the last comments were posted a few hours ago, so the product gets another score.
Visiting the seller's website
Now it's time to check the online store that published the ad. There you can check customer reviews as well, but you're unlikely to see any negative comments. What you really need is to check the price, shipment options and costs, available payment methods, the countries the store delivers to, etc.
In other words, you want to know if you can compete with this particular store. However, keep in mind that there are probably lots of other stores selling the same product, so this one serves just as an example.
I found out that the shop sells the product at almost $20, but charges about $5 for shipment. So, the total cost of a purchase would be around $25.
Finding the product on AliExpress
Next, I'm going to AliExpress to find the same or a similar product. Voila! And at the first try!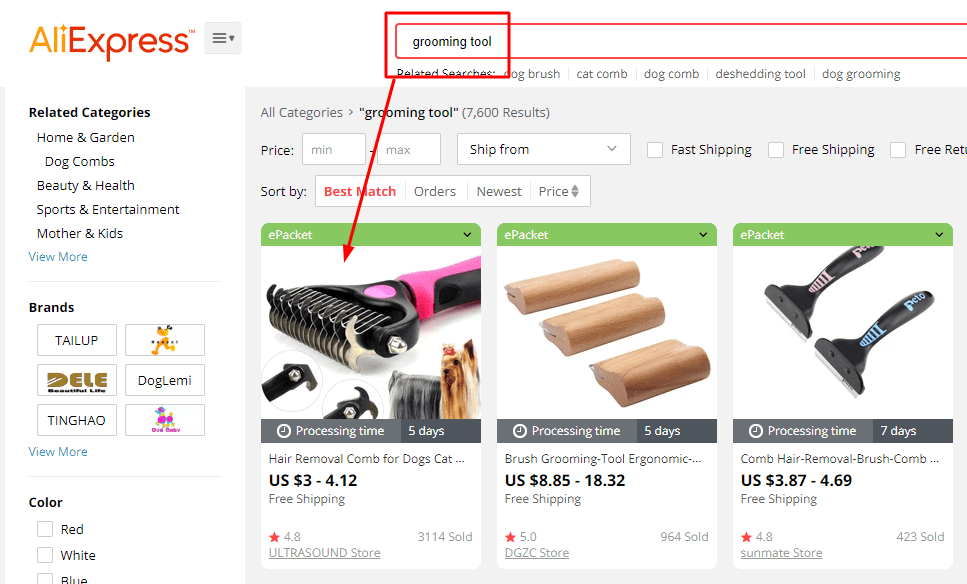 As you can see, the product costs up to $4.12. It has 4.8 stars, and the seller offers free shipment, and I really like the number of goods sold.
I also checked the customer reviews: there are lots of customer made photos, and out of 1,186 clients, only 4 were unhappy.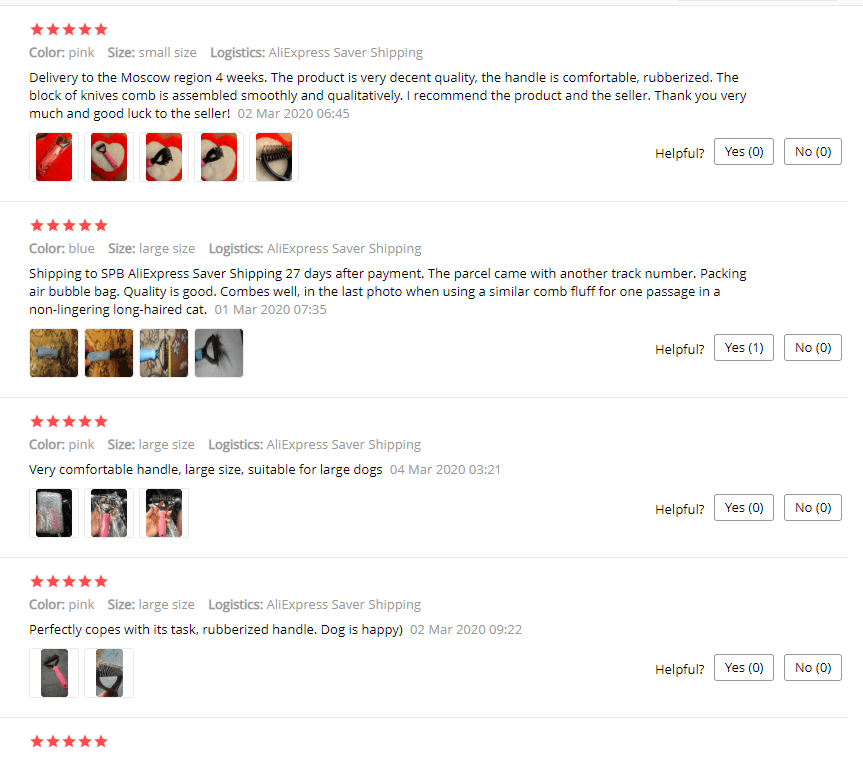 So far, it seems like the best ecommerce product I'm looking for!
Visiting AliExpress Dropshipping Center
Now it's time to check how the product behaved for the last past weeks. There are two ways to do it.
The first one is to find products by a keyword. It'll show you lots of similar goods which you can sort by the number of sales, rating, price, etc. There's also a number of helpful filters. When you find something interesting, click on the Analysis button.
This method is good for finding product ideas, but right now I'm looking for a particular item, so I'm going to use the Product Analysis tab right away. It'll get me to the same analysis page but with blank fields.
Here I paste the URL of the product I found earlier and click on the Analysis button. The page shows me the sales dynamics, and it looks pretty good. The store enjoyed sales each day for almost two weeks!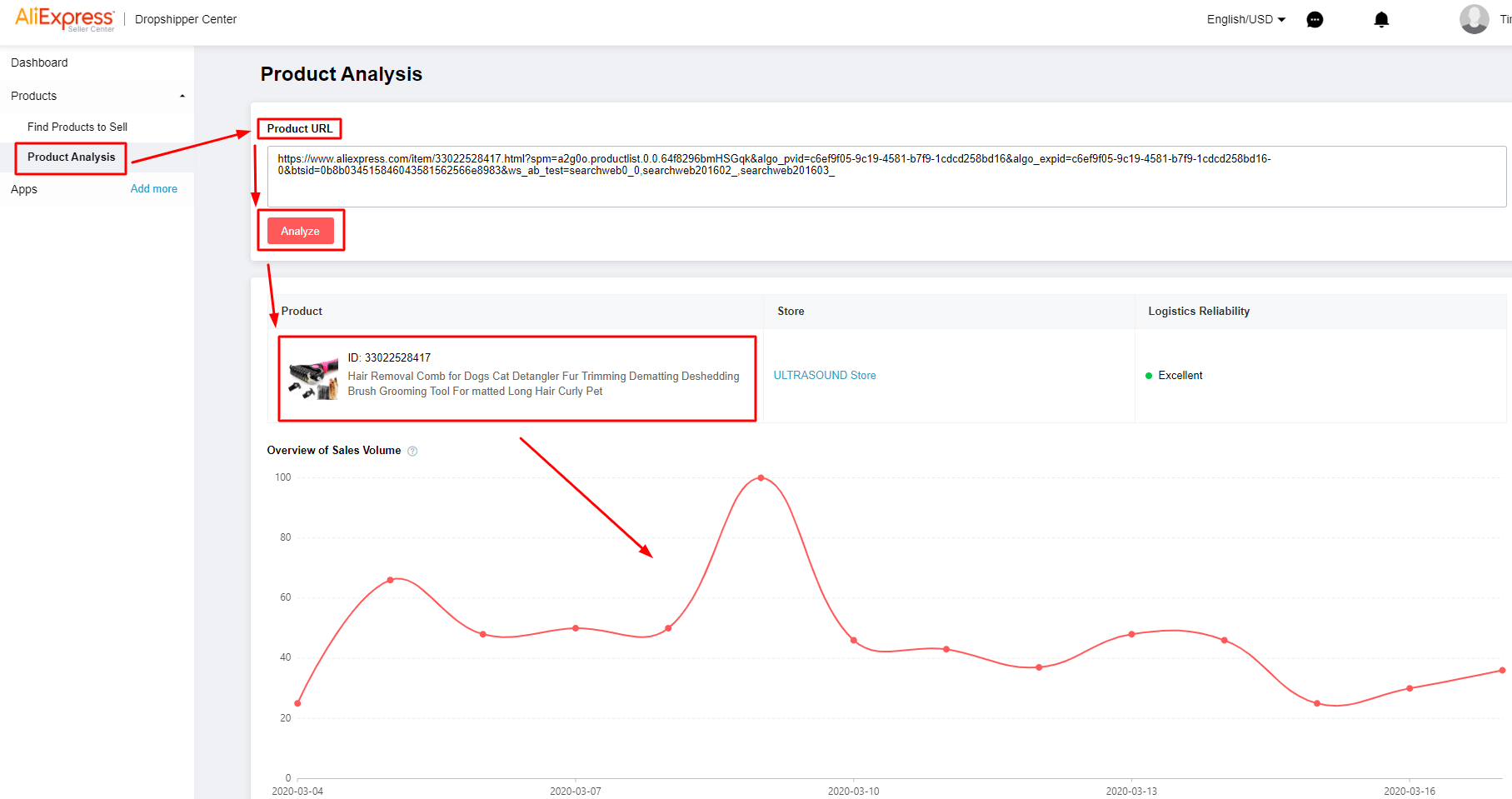 Even if the store had zero sales except for one or two peaks, I would still consider it as a good sign. Such peaks usually indicate that someone started to promote this product and then stopped. In other words, I should be able to replicate the success. And this graph looks even better than I expected.
But let's not put the cart before the horse. There's just one last thing I want to check.
Checking the product on Amazon
Just one attempt, and I get the same product right away.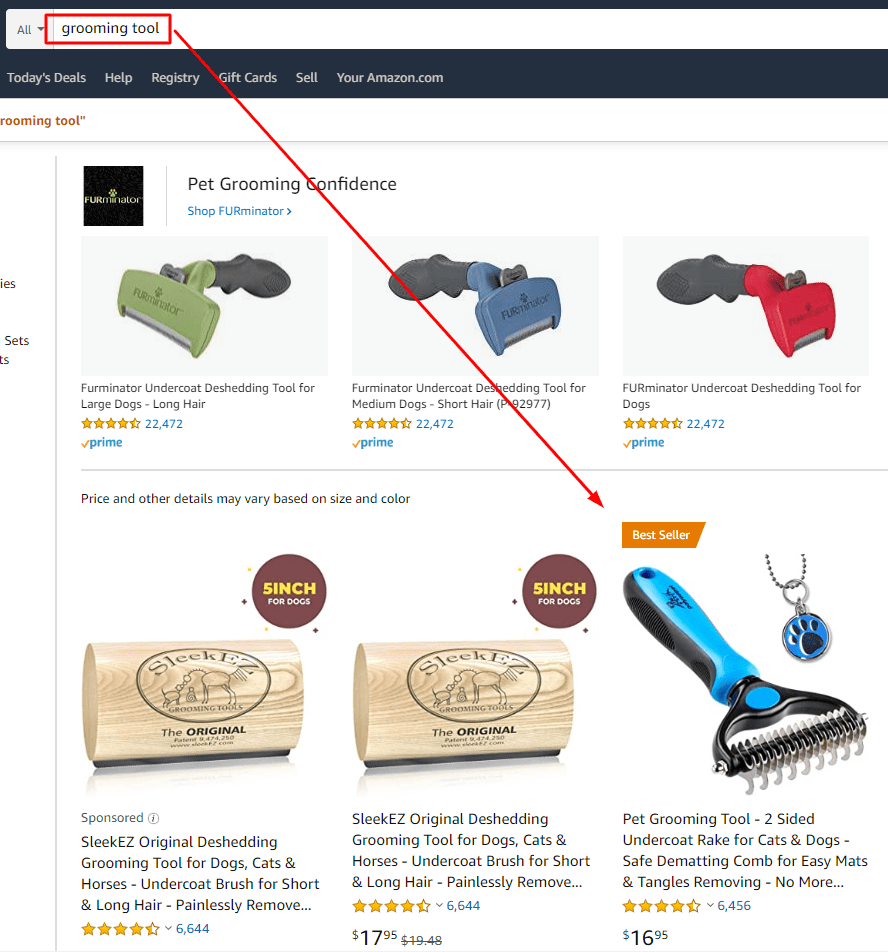 The first thing you should look at is the product's rating. Since Amazon doesn't show the number of sales, this is the only way to know how popular an item is. In this case, 6,456 is an impressive score which means people buy and enjoy this item.
The second thing to check is the price sellers ask on Amazon. This particular shop sells the item at $16.95, and I don't really like it.
The problem is, if i want to make a profit, I have to include various expenses into the price such as shipment cost, import duties, cost of conversion, etc. According to my calculations, I will have to sell this item at least at $25 (just like the creator of the Facebook ad I found).
Moreover, I also found a similar product on Amazon that cost only $9! Even if you add the cost of shipment, Amazon buyers can purchase it at about $15.
Does it mean I should give up on this product? Not necessarily.
First of all, $10 is not a huge difference. As long as your price stays within the expected range, people may still want to buy the goods.
Second, few people will compare prices. Yes, when you purchase something expensive, like a TV set or a sofa, you want to find the best deal possible. But a grooming tool isn't that kind of product. As long as the price seems right, they will still buy it.
Third, this type of product can trigger impulse purchases, so the price difference shouldn't be a problem.
To sum up, I would say that this product is not perfect because I'll have to compete with Amazon in terms of pricing. On the other hand, it still has a promising potential, and the fact that somebody is successfully advertising it on Facebook proves it.
Therefore, I would import this item and advertise. Despite the risks, it's actually worth trying. Besides, waiting for the absolutely perfect product can take forever. And even if I find one, it won't take long before somebody starts selling a similar product on Amazon.
List of the best ecommerce products to sell in 2022
Want to turn your passion into profit? Try Sellvia! It is a whole Ecommerce Ecosystem where you will find always in-demand high-quality products form a reliable supplier, with all the benefits an ecommerce business needs to start its journey towards success!
If there's one thing that will never get out of style – it's art.
By selling art supplies, you have the freedom of choosing what particular type of art form to focus on. For example, painting, or you can go broader and provide art supplies for lots of different art forms.
Products can include things like easels, paintbrushes, clay, markers, charcoal, ribbons, papers, scrapbooking embellishments, canvases, etc.
Household items are becoming much more popular nowadays.
In fact, home decorative materials are forecasted to increase by 4.8% YOY all the way through 2026. Consumers want comfortable atmospheres to spend their day-to-day lives and get away from all the chaos of everyday lives. However, this isn't the only reason, with real estate surging and showing no signs of slowing down. Here are a few Home Decor items slated to generate buzz in 2022: carpets, tapestries, and blankets. Beddings, pillows, and mattresses. Household storage containers. Towels, washcloths, and other bath linen.
Jewelry and Fashion Accessories
Over the years, have seen a lot of changes, but one thing remains the same – jewelry and fashion accessories will always remain desirable items.
The fact of the matter is that an online dropshipping store that sells these kinds of products, regardless if its rings, necklaces, bracelets, etc. has tons of potential.
One of the most popular online categories that is the cause for online spending are pet products.
The global pet market is projected to surpass $270B by 2025. Pets are man's best friend and are often a central part of any owner's household. That's why purchasing products for their pets is like second nature to them,
Here's a look at some of recommended products: slow feeder bowls, pet selfie tools, electronic toys, pet beds.
Auto products and accessories
The car niche is very broad and has a wide variety of products and accessories to choose from.
For example, seat covers, steering wheel covers, dash covers, air fresheners, backup cameras, etc. There are plenty of opportunities in this market.
Technology and gadget accessories
Technology has become an essential part of our everyday lives that helps solve many everyday problems.
The market is incredibly huge and, although it can be difficult to narrow down what exactly you should be selling, we suggest you focus on what lies closer to your specific interests.
There are a lot of target groups and niches to sell to, all you need to do is study them and figure out what they want and need. Here are a few product examples.
Whether it's a smartphone armband for your morning runs, a wireless charging station to charge your device more convenient to charge, or even a waterproof bag that will protect your phone from getting water on it, car phone holders, wireless charging stations, wearable devices, USB Port Extensions, etc.
Whatever you decide to focus on selling, there are many options for you to sell.
Have you noticed more and more people shifting their lifestyles in favor of a healthier one? This is why there's been a significant rise in demand for various sports products and accessories. Even clothing being one of them, consumers are searching for more comfortable clothes to wear for their workouts and even to wear around the house.
As the sports and fitness industry grows rapidly, so will athleisure trends. While there are plenty of activewear products for men, women's athleisure trends are higher in the marketplace overall. Here are some product examples: high-waisted leggings, customized activewear, hoodies.
Moreover, all kinds of fitness items are in high demand – from stability balls and yoga straps to balance disks, kettlebells, and resistance bands.
In 2020, the global fitness equipment market was worth more than $10 billion. It's expected to grow at an 11% CAGR between 2021 and 2027.
Conclusion
The most important thing to remember here is that there's no 100% guarantee it'll work. All the numbers I was able to gather only give me a general idea of what potential the product has, but risks still remain.
On the other hand, with a dropshipping store, I only need to invest in advertising. I don't have to buy 500 goods in advance without knowing whether they will sell. Even if I fail, I'm not going to lose a fortune.
At the same time, with each attempt, I'll be learning and becoming more experienced. With due patience, this experience will turn into skills and knowledge that will let me spot opportunities in a moment.
This was a step-by-step guide on how AliDropship team finds the best ecommerce products for our own Premium Stores. We carry out such an in-depth research so that you could purchase these stores' copies and enjoy the incredible range of handpicked trendy goods!