How To Start Home & Garden Dropshipping With Sellvia?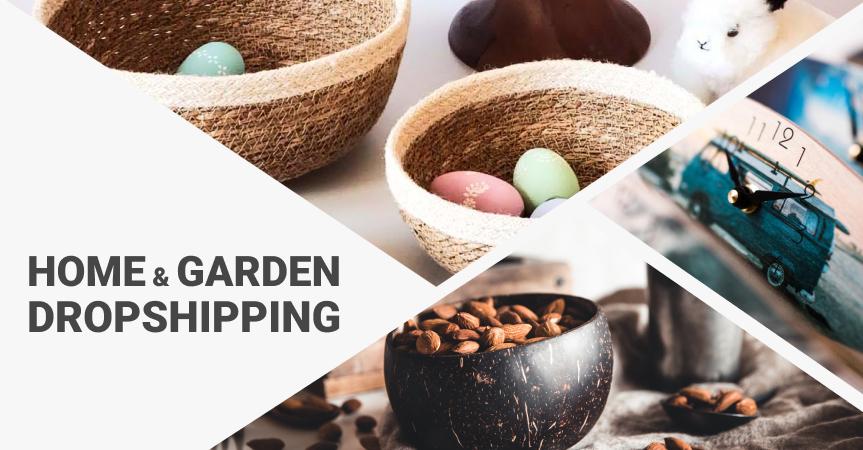 Are you looking for a profitable ecommerce niche? Then how about selling items for improving people's living environment? I'm talking about home and garden dropshipping! Keep reading to learn what potential this niche has, what products you can offer, and how to provide super-fast shipping across the United States.
Home and garden dropshipping: market forecast
One of the secrets to building a successful business is to find a niche of products that enjoys stable demand over long periods of time. Of course, one can make money with hype products as well. But the risks here are higher, and predicting the market dynamics is harder. It's much safer to invest in a niche with millions of products sold to a broad audience every day.
Home and garden supplies are one of such niches.
Decorating one's house can be both a necessity and a hobby. Four walls and a roof isn't enough to make the building your home! So, it's no wonder people buy all kinds of home and garden products to make their life more comfortable or simply to decorate their place.
During 2020-2024, the global home and garden ecommerce market is expected to grow by $101.65 billion progressing at a compound annual growth rate of 9%.
As for the US home and garden retailing market, it was valued at $841.9 billion in 2020. By 2025, it will reach $1,022 billion. But what's more interesting, the online sector sales grew by 17.7% in 2020, which clearly indicates a shift towards ecommerce.
To a great extent, this trend resulted from the COVID-19 breakout which made Americans focus on their homes. On the other hand, according to Statista, 228.73 million Americans owned lawn and garden equipment in 2020, not to mention every family decorates their homes.
Moreover, by subscribing to Sellvia, a full-scale ecommerce ecosystem, you can ship home and garden products to US customers in 1-3 business days, which will let you successfully compete with large market players.
In other words, with millions of potential customers, this niche has striking potential. But to dropship garden supplies and home products, one needs an ecommerce store.
Home and garden dropshipping: building an online store
There are several ways to start a dropshipping store and sell home and garden products. Some of these options will suit people with no experience in IT while others will suit those who are ready to put more effort into building a distinctive online store.
Building a dropshipping store from scratch
Those, who have some knowledge of site-building and using the WordPress content management system, can create a dropshipping site on their own. There are many digital solutions that let you sell goods from different dropshipping suppliers.
One of such solutions is the AliDropship plugin designed for dropshipping products from AliExpress. The plugin lets you build a dropshipping store on WordPress and is also compatible with the WooCommerce plugin.
The AliDropship plugin is also compatible with Sellvia. So, if you want to dropship garden supplies and home products to the US and benefit from Sellvia's fast shipping, it's a good choice. Sellvia is also compatible with WooCommerce online stores. So, if you own one, you can simply subscribe to Sellvia to get access to its wide range of products.
Ordering a Custom Store
Another option is to order a dropshipping store from a team of professionals. In this case, you get a professionally made website created with your own ideas and preferences in mind.
This option is perfect for people who have little knowledge of site-building or have little time. For a reasonable sum of money, you get a website with everything installed (including payment gateways), a number of products already imported, and ready to be launched right away.
Buying a Premium Store
Those who would like to launch their new business as soon as possible can benefit from AliDropship's Premium Stores. These are copies of AliDropship's own dropshipping websites. When you purchase one, you get a copy of this site along with a number of pre-tested products that have proved to be in-demand.
Some of these websites are built around the home and gardening niche. And, like all AliDropship stores, they're compatible with Sellvia. All you have to do is to subscribe to Sellvia when buying a Premium Store.
Home and garden dropshipping: products to sell
Gardening equipment and supplies
When it comes to picking products to sell in your store, first of all, consider various garden supplies and tools. As mentioned above, lots of Americans spend time taking care of their gardens and lawns. The total nationwide spend on gardening in the US is $2.5 billion. So, there are many potential buyers in this segment.
Home décor products
The second thing that comes to mind when talking about this niche is, of course, home décor products. The US home décor market was valued at $190.96 billion in 2020. By the end of 2026, it will reach $283 billion. Moreover, the industry's ecommerce segment has also started generating good sales. Generation Z and Millennials even purchase décor products on social media.
Home storage and organization products
Another important part of decorating your house is solving the storage issue. Many families today have so many things that storing them can become a problem. Fortunately, the industry manufacturers offer lots of solutions. According to Freedonia Group, the US sales of home organization goods will rise by 3.8% annually through 2021 to $11.8 billion.
Home improvement goods
Modern houses and apartments require not only decorations but also minor improvements. Moreover, Millennials who are now rapidly becoming homeowners tend to spend more on home improvement than the previous generations. On average, Millennial households spend or plan on spending almost $10,000 on such projects. And that includes home improvement tools and equipment.
Household cleaning products
Cleaning is a tiresome yet necessary chore. No matter how cruel it sounds, this fact makes household cleaning products a good choice for a dropshipper because the demand for them originates from necessity.
Kitchen and dining products
And finally, consider dropshipping kitchen tools, cookware equipment, and dinnerware. After all, such products both are useful and serve as décor items. The North American cookware market is expected to register a CAGR of 5.8% in 2021-2028.
Home and garden dropshipping has high potential due to the nature of such products. On the one hand, most of them are absolutely necessary. On the other hand, every consumer has their own idea on how to decorate their house. So, here you can also expect a lot of impulse purchases. And if you're able to deliver these goods in 1-3 business days with the help of Sellvia, your customers will be more than happy to come back for more!
[store banner]