How to Start Grassroots Marketing on Social Media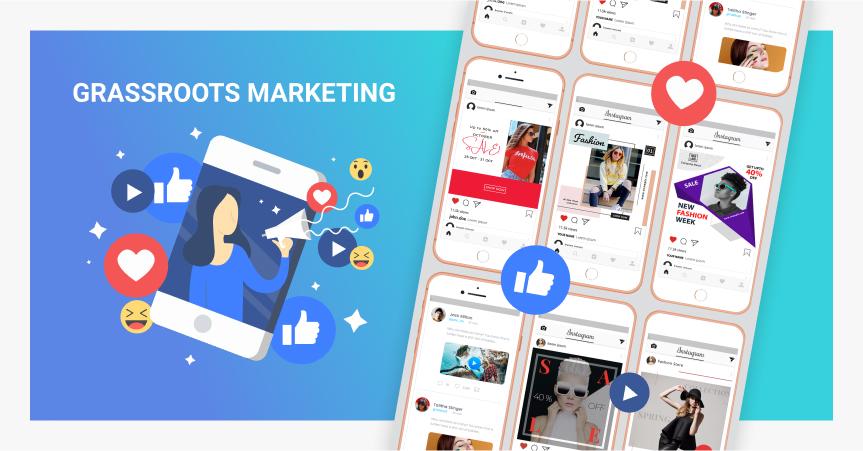 Have you ever heard of grassroots marketing? Today, we'll figure out what it means, and see how you can use grassroots marketing for small businesses promotion!
What is grassroots marketing?
Grassroots marketing is the idea of planting messages and forms of engagement to attract a niche-audience or specific demographic. The idea behind the term "grassroots marketing" is that your brand's messages and engagement are "roots" you plant into smaller, targeted audiences, who then spread your message or brand to bigger audiences (the "roots" then become "grass"). A desirable effect of these efforts is that you build a bigger brand following on your social media page along the way. Grassroots marketing efforts are considered easy and cost-free, making them executable for small start-ups and brands.
Grassroots marketing plan for social media
When you are a small brand starting out on social media, think of establishing your presence in your niche and community like planting little seeds.
Comment
Sprinkle a comment here and there on similar-brand pages or community accounts for your niche. Commenting is the main ways of getting your name out on social platforms. And while "likes" still help Instagram now since likes are no longer visible to users. You can also repost stuff or if you're on Twitter, like and retweet posts
Like
You can also "like" posts to show engagement. As noted, this won't work on Instagram anymore, but definitely can work on Twitter and Facebook.
Repost and retweet
Useful on all social media platforms, reposting or retweeting shows support of a page's posts or content. Note that while you can view which users have retweeted something from a page on Twitter, on Facebook and Instagram, these actions are only visible if said page is tagged in the reposted post. So keep this in mind if you want to quietly "sow" seeds on pages.
And remember — you need to know what your target audience is like. Some questions that can help you find the right accounts to target are:
How old is your audience? Do they utilize social media?
How do they utilize it? Is it more for informational purposes or humor?
What type of brands or accounts would they interact with?
For example, a younger millennial audience most likely interacts with accounts for humor on social media (memes are huge for this). Older audiences tend to utilize social accounts for informational purposes (learn about new products, learn health tips). Knowing this information can help you gauge what you should post on your page and post on other pages (through comments) to attract your target user.
And before you get to posting comments or searching for niche accounts, make sure your social profile is filled-out and properly branded (check out some pointers from us). This is essential in case someone clicks on your profile handle and wants to check out your account.
Grassroots marketing strategies: where to plant the 'roots'?
Followers and similar brands
As noted above, grassroots marketing works by finding like-minded companies to engage with. So let's say you sell various portable water bottles, for example. Your audience is a mix of young and middle-aged, but given your product type, your posts will probably fare better as informational. On Instagram, you can start searching for accounts that skew towards informational content so your product and brand can be of interest to people.
For starters, water bottles are used everyday by gym-goers and fitness-minded individuals. So you can search for fitness-related accounts:
This fitness account (literally called "fitness") posts about how to stay fit through diet and exercise.
You can also go for niches in which your product could be used. For example, water.
Water.org, although a foundation for providing clean water for those in need, is a good target since water bottles are correlated with water.
If you even look through some posts, you'll see some water conservation accounts — and even a water bottle company — commenting. This provides brand exposure and shows you could be posting on a well-aligned brand page.
Detox_recipes is an account targeting health-conscious Instagram users with food and smoothies recipes.
Any account promoting drinks or beverages or health could be great targets too, since people who are interested in these topics tend to use portable water bottles to bring smoothies or healthy drinks with them on the go.
This drink post would be perfect to leave a comment on.
Meme accounts
Memes are one of the hottest account types and forms of content on social media. A meme is typically an image or video that has gone viral, and a witty or relatable caption or scenario is written to elicit laughter.
If your business is geared towards a younger crowd, meme accounts are a great place to start building your presence.
Fabric Skincare utilizes a paid ad featuring a wildly-popular meme to position its product.
My Therapist Says is a popular meme account centered around relatability for people in their twenties.
Popular Asian tea drink chain Kung Fu Tea, which has a large fanbase of teens and millennials, follows My Therapist Says. And that would make sense since My Therapist Says is a meme and humor account. Kung Fu Tea commented on the example post above with:
The tea brand comments something funny on the My Therapist Says post.
By showing a relatability to the quote posted, Kung Fu Tea can elicit a positive response from viewers on My Therapist Says, possibly making them question, "What is this brand? They're funny." And there you have an example of a brand doing grassroots marketing on a niche-targeted page.
Geotags
Essentially a hashtag for locations, geotags on social media are a great way to physically find target users or brand profiles based on a specific place. You can search up a mall, an event, or a city. If you're targeting middle-aged housewives in Vancouver, for example, you can use geotags to search the city of Vancouver, then search for destinations middle-aged women would likely shop (malls, supermarkets, etc.).
Geotag search for Vancouver, Canada.
More specific search for Oakridge Centre, a high-end shopping mall in the city.
Even more specific, here is a post from Crate & Barrel, located inside the mall.
You can keep zeroing on specifics from your geotag search, such as shown above, with finding a store inside a high-end mall where middle-aged housewives could possibly shop at. If you sell home decor or plates or fancy kitchenware, you could really target this demographic by leaving a comment on this post. Something like "We LOVE that bow and gift wrap. So festive!" can convey engagement.
Trending hashtags and topics
A great way to find out what's trending on your social media is to utilize hashtags or trend charts.
Chart of tweet trends on Twitter.
Twitter, as shown above, always has a live chart of topics and hashtags that are trending. Sometimes, there are hashtags such as #MondayMotivation or #FridayFeeling you can implement into your posts for branding. Or there can be a topic relevant to your brand that you can use. For example, if you sell women's jewelry or clothing, you can capitalize on #InternationalWomenDay2020 (which is March 8) to market your business with a message of empowerment.
Simply typing into the Instagram search bar yields results.
Let's say you sell women's jewelry — you can type directly into the search bar on something like Instagram to see the number of posts that use a hashtag. The count helps you gauge what is most popular.
Facebook's search bar helps pull up hashtags, too.
On Facebook, the search function can find results for hashtags as well, although it doesn't show a number of posts using a particular hashtag. Just seeing posts utilizing a particular hashtag (in this case, #womensjewelry) can help you see related hashtags that could work for your post, such as #giftideas or #fashion.
If you're out of ideas, turning to some hashtag generator tools can help, too.
Ingramer features a comprehensive list of trending tags.
All-Hashtag features functionality for trending keywords, too.
And sometimes, you can turn to trusty 'ol Google. We particularly are fond of Google Trends.
Google Trends helps give deeper insight into a phrase or keyword.
This helpful (and free) tool helps you see what a potential a keyword (used as a hashtag) has. Google also displays related topics to help get your mind running for related topics you can hashtag with.
SUMMARY: Grassroots marketing can help build you a targeted following if you position yourself with the right brands and accounts. Use comments to tie in with your audience, whether it's something humorous or informational. And be sure to look out for trends or hashtags to bolster your presence. None of these actions cost you any money, and can make a huge difference in building a brand following.