How To Share Your Content On Facebook & Instagram: Feed VS Stories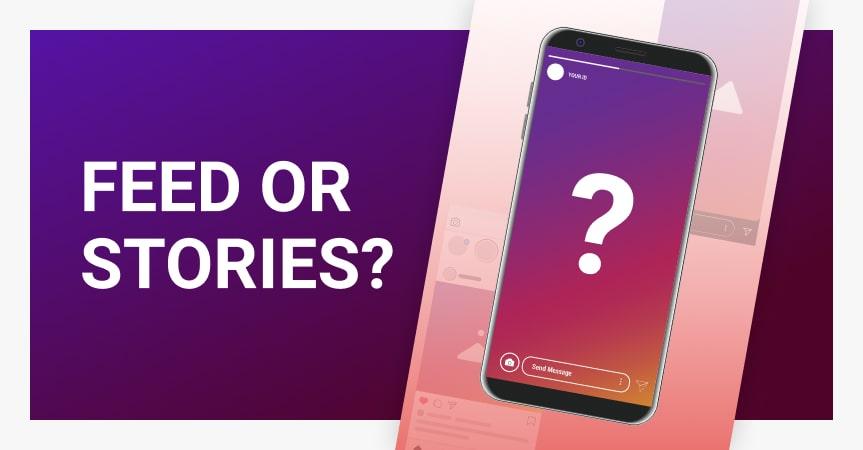 Comparing Facebook and Instagram feed vs Stories and choosing the right placement for your content, you might feel a bit confused.
Regular feed posts are a well-known and popular format of users' activity on social media. But at the same time, Stories have already taken over Instagram (500 million people are said to post 1 billion Stories every day!) and are conquering Facebook.
What does it mean for your dropshipping business? Should you join the flow or ignore it as it won't affect your sales in any way? Our marketing team is here to help you understand the perks of using feed posts and Stories!
Why is posting Stories important?
Most experts nowadays believe that Stories will replace feed posts. According to this survey, 73% of US teens consider Instagram Stories to be the best channel for a company to spread the news about a new product addition or an upcoming sale. It sounds like a golden content opportunity that you definitely should use to your advantage!
Currently, most marketers use Stories as a powerful tool to engage followers through social media. Their efficiency can be explained with the main feature of a Stories: they disappear in 24 hours after the publication. This gives you an opportunity to experiment and get more personal with our clients, create a sense of suspense, and even learn more about the customers.
How can you benefit from Stories?
If you are wondering how to achieve all these results, here's what you can do:
Yes, you're not a blogger, but this way, you could earn your customers' trust and stand out from other online businesses. Sharing something through Stories, you create a closer connection between your business and the viewer, so why not use this to your advantage? For example, you can order some of your most popular products from your AliExpress seller and show how you use them in the Stories. We're sure your customers are gonna love it!
Share user-generated content
We've already mentioned a thousand times that photos in your buyers' reviews are real gems that make your offers more trustworthy. So why not post every new one in your Stories? Don't forget to ask for your buyer's permission first! 😀 And of course, make sure to add these Stories to Highlights to let them stay with you for a little longer than 24 hours 🙂
Ask for your audience feedback
Curious to know the types of content your audience would like to see from you? Wondering whether they prefer red or yellow T-shirts? Use the "Question" and 'Poll' buttons to gather valuable data quickly – and absolutely for free.
Well, obviously, don't waste this opportunity! It's a great idea to duplicate your new feed post in your Stories to make sure it reaches users of all viewing preferences.
How to make your feed posts more effective?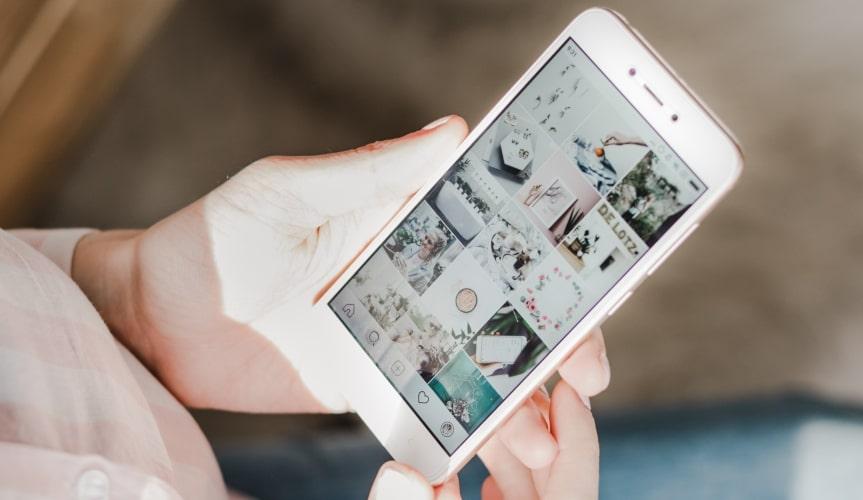 Impressed by the power that Stories may give your business account? We are, too, but this doesn't mean you should forget about feed posts completely.
Today, most people are checking a company's profile on Facebook or Instagram when they first hear about this business or come across its website. If you're promoting your store through social media, you need to pay super close attention to it! In this case, your feed is your brand's face, and you need to make sure it looks neat & pretty.
Here are some tips that will help you to capture the audience attention and look professional:
Tell your audience about your business
Stories are the perfect place to show some behind-the-scenes pieces of your brand life. Feed posts, on the contrary, work best when you need to share the basic info about your store, provide your clients with FAQ, and post some cool reviews with nice-looking photos.
Create a powerful brand message
As we already stated, feed posts will be the first thing your customer is going to see once they access your account. This means that showcasing your products is the key point to make a memorable impression. Make sure your feed posts are showing your awesome products from the best angle possible!
However, remember that no one likes endless advertising messages in their feed. Do your best to also share some useful & interesting facts and articles (relevant to your niche) in your feed posts.
Use the power of hashtags
Hashtags might seem to be tricky as there are so many arguments about their power and possible bans for using too many. However, there is one thing they can help you with. By using hashtags related to your business, industry, or the topic of your post, you can get your content in front of more people in the feed and appear on their Explore page.
Design sells. That's why it is a good idea to design your posts in a similar style, especially on Instagram. Think of aesthetics you like and try to apply the same principles, colors, and filters to your posts. If you're not too much a designer or content-maker, our experts can do that for you.
Don't forget about likes and comments
Feed posts can be liked and commented on, which means they will be visible to Facebook friends and appear on the explore page of Instagram followers. So try to engage your clients into sharing their opinions in comments, and ask for likes.
Facebook and Instagram feed vs Stories: what about advertising?
Long story short, Feed Ads are not the only option available for your business anymore. Many ecommerce entrepreneurs shift their advertising budget to Stories due to the lower costs and seemingly better results.
However, don't rush to wave goodbye to your Feed Ads! The results of a recent social media marketing experiment may provide you with some interesting insights:
In terms of cost per conversion, Instagram Feed ads with additional text still outperform Stories by 10-20%
At the same time, Stories have a higher click-through rate and a lower cost per click, so they are perfect for sending traffic to your website
Stories are better for selling simple products that don't need additional explanations
So let's take a closer look at how these types of ads can benefit your business!
Facebook News Feed ads
We often see these types of ads in our regular social media feed. These can be videos, carousels, or images. Once a user clicks on such an ad, they're taken to a landing page or any page on your website. The good thing about this placement is that users can comment, like, and share these posts.
Facebook Stories
Stories are well-optimized for mobile traffic, have high early engagement rates, and don't cost much. All these factors make them perfect for attracting traffic and growing brand awareness.
Instagram News Feed ads
These ones pop in our news feeds quite often, too! An interesting thing about these ads is that if you hover over such a post for long enough, it lights up and invites you to click. One more exceptional perk of this placement is that it's the only way to share clickable links on Instagram. However, the cost of this placement is usually pretty high.
Instagram Stories
As we already said, Stories are perfect to make people know about your brand and invite them to your website. Moreover, Instagram Stories give you an opportunity to draw traffic to your Instagram account as well.
All in all, we'd like to say that you shouldn't ignore the rising trend of Stories and be a marketing dinosaur! We recommend investing at least 10% of your advertising budget into them.
Quick tips for thumb-stopping ads
Facebook or Instagram, feed vs Stories… Whichever platform and channel you eventually choose to promote your business on social media, here are some universal time-tested recommendations for you to follow!
Follow the ad specs
Remember about the recommended file resolution, size, and type. You can learn more about it here.
Use high-quality visuals
No blurry images and grainy photos! In 2021, it doesn't work anymore.
Use simple language
Keep your ads simple & straightforward. The more understandable your ads are, the better.
Think of your landing page
It should look neat, have a cool product description and a noticeable (very noticeable!) "Add to cart' button. This is a great example!
And remember: whatever help you need with your copywriting, design or ad targeting efforts, our experts will be happy to create just the right ads for your business!
So, what's our conclusion of this Facebook and Instagram feed vs Stories comparison? Actually, we don't need to choose ONE type of placement only! Both formats can benefit your online store a lot and suit your business goals. From promoting your products to making friends with your customers, these tools can do a lot for your business growth while working together. And now, when you have a clearer idea on the best content for your feed and Stories, you are kindly welcome to start experimenting with the most engaging social media posts for your audience!