How To Make An Extra $1,000+ A Month? Watch A Single Product Bringing $1,480+ In 3 WEEKS!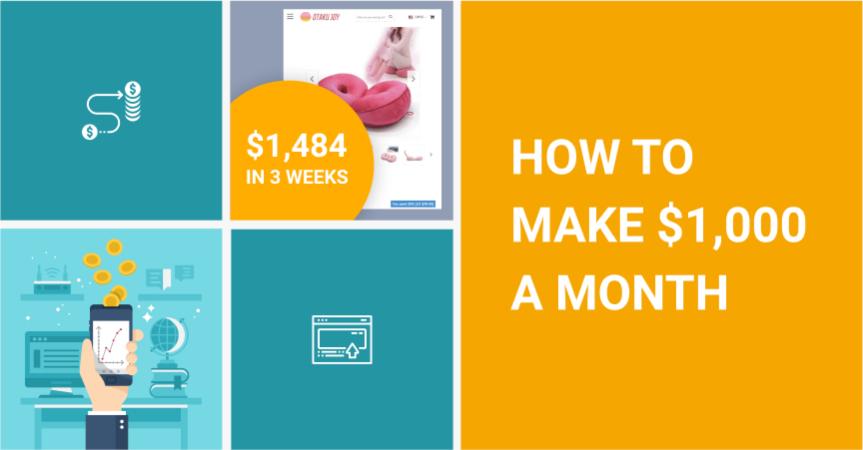 Are you wondering how to make an extra $1,000+ a month with your new dropshipping store? There are many ways to do that – just keep studying product marketing techniques from our blog. Or consider subscribing to our Premium Products service to get new high-performing dropshipping products each week. This is how our team prepares such goods.
Many people don't mind spending a few hours a week for earning extra income. You can teach English online, work as a graphic designer, or try pet sitting. But if you want a chance to turn your side-hustle job into a self-sufficient business, consider dropshipping.
Dropshipping can also become a good side-hustle job for earning extra money from home. But first, you need to find a product to sell online to make extra cash. And that's not an easy task!
Being dropshippers ourselves, we at AliDropship regularly test new products, new marketing strategies, new ad ideas and website layouts. Along with dropshipping solutions we create for our customers, we also want to share this experience with the buyers and readers who haven't made up their minds yet.
That's why AliDropship has created this blog where we, the company's team, share product selections, niche ideas, marketing techniques, etc. We also decided to fuse this experience into our new solution – Premium Products.
In this case study, I'll tell you how to make $1,000+ a month online with Premium Products. I'm going to show you one of such goods and how it became one of the Premium Products we offer.
#1: Finding and checking a product idea to make an extra $1,000+ a month
One can't start making money with no product to sell.
That's why at the first phase our team begins looking for new product ideas by browsing AdSpy. It's a platform that finds commercial posts on Facebook and Instagram. When analyzing ads created by dropshipping businesses, we met this product again and again:
One particular ad had more than 30,000 likes, which is a lot. Besides, this kind of product is often easy to promote because it solves a particular problem people suffer from. So, the team got interested and decided to check the orthopedic cushion.
The team visited the online stores that advertised this product to check their prices and shipping options and found the same product on AliExpress for comparison purposes. It's also a good idea to visit Google Trends, check customer reviews in stores and comments on corresponding social media and compare the product with similar goods on Amazon since it's your main competitor.
Check our guide on finding the best ecommerce products to learn how to conduct this analysis in detail.
The original posts contained almost 19,000 reviews, mostly positive ones where people shared their experience with the product they ordered and what kind of problems they expected the cushion to solve.
The price of the cushion on AliExpress started at $10.43 which isn't bad considering there are sellers offering free shipping options. The delivery time to the US is a bit disappointing, but there's nothing you can do now because of the COVID-19 pandemic.
The statistics in the AliExpress Dropshipping Center show more than a thousand orders made by buyers and dropshippers.
#2: Creating a product page for the new item
Making extra cash from your dropshipping business is good and all, but we want the product to make 1,000 dollars a month or even more. Therefore, we need to take a serious approach. One can't start promoting a product immediately after importing it to their website.
There's still a lot to do, and the very first thing all online businesses need is a perfect product page.
It's important because all your marketing attempts will be useless if the page looks awful. After successfully bringing a potential customer to the product page, one still needs to convince the client that the purchase is worth it.
This is what the product page looks like:
Just like with other AliDropship themes, this one looks neat and clean. When a person visits the page (usually after clicking on an ad), it's extremely important to remove anything that can distract him or her.
A description is an important part of any product page, and we always make sure it has plenty of high-quality images.
And of course, we imported a number of customer reviews with photos to demonstrate that buying here is safe and the quality of the product is high enough.
A professionally made product page like this is absolutely necessary if you want to make an extra $1,000 a month from your store.
#3: Testing the new product
Now that the product page is ready to welcome potential customers, it's time to think about how to actually attract them. We mostly promote products on social media, namely Facebook and Instagram as these platforms are visited by millions of people of all ages.
However, right now it's too soon to start promoting. Before that, we need to create and test advertising materials.
Testing marketing materials
For this product, the team created a number of video posts (videos prove to work best) and launched a PPE campaign on Facebook.
Some entrepreneurs who try making money online and promoting their businesses on social media consider it a waste of time. They say Page Post Engagement campaigns don't bring you any profit, so there's no point doing it.
However, PPE campaigns on Facebook let you test ads, target audiences and the product itself. And they're relatively cheap, so we strongly recommend starting with a PPE campaign.
These were the results of the campaign:
The most important parameters here are the number of impressions, click-through rate and unique link clicks. As you can see, two of the video ads we were testing showed pretty decent results. Another one wasn't so bad, while other ads (you can see only one of them here) didn't really work. So, we had to turn them off.
Testing Facebook interests
If you want to make an extra $1,000 a month, you must properly analyze your target audience. After all, a mistake here can result in wasting several hundred dollars! That's why our next step is to find and test Facebook interests.
At this point, we launch a conversion campaign hoping that at least some of the ad sets will bring actual income. However, keep in mind that you'll have to spend money on a daily basis to keep the ads running. So, make sure to shut down the sets if you see they're not making sales.
This is what we got. As you can see, most of the interests resulted in few clicks and low CTR, so we had to stop them before they "ate" all our budget. Nevertheless, we were able to find two interests that worked pretty well.
Demographic data
It's also important to define a number of other parameters for your target audience, with gender and age being your first priority.
As for age, the testing showed no surprises: the demand for orthopedic cushions is low among people younger than 35.
Testing banner for remarketing campaigns
Since our conversion campaign has already brought a number of Facebook and Instagram users to our dropshipping store, we can now start a remarketing campaign.
If you're not familiar with this concept, let me explain. Most site visitors leave without buying anything. Some even put a product or two to the shopping cart but never move to the checkout page. A remarketing campaign follows such people to make even more extra income.
First, our team of designers creates a number of ad banners. Then the Ecommerce Department launches a remarketing campaign to test how the banners perform. Take a look:
Here's an example of a few unsuccessful and two successful banners. After thorough testing, the team picks the 10 most efficient ones and hands them to Premium Products subscribers.
#4: Final results
By this time, it becomes obvious whether a new product is worth all this work and has potential or not. Let's take a look at the financial results:
The campaigns were running for three weeks and the total revenue we got from this product equaled $1,484.67.
Some of you could say that the team has spent more than a thousand dollars as well and the net profit is actually less than $500. True, but don't forget that a considerable sum was spent on testing. It's an unpleasant but necessary part of the dropshipping business. If the team started promoting the cushion after all the testing (focusing purely on the most successful materials and audiences), the results would be better.
But at this point, the team sends the item and the data to the list of our Premium Products and moves on to the next product.
Besides, a good dropshipping store always has at least several top products which sell well enough to make $1,000 a month or even more each.
What do Premium Product subscribers get?
By now the orthopedic cushion has become one of our Premium Products. By subscribing to this service, the owners of dropshipping stores get everything I have mentioned in this article:
The product idea
The product page along with all the pictures and reviews
Marketing materials which include 3 video ads and 10 banners for remarketing (all pre-tested by our team)
Target audience recommendations
As a result, one can import and start promoting this top product without having to spend hundreds of dollars on the testing phase as we've done it for you!
Wondering how to make an extra $1,000 a month? Premium Products can provide a relatively easy and affordable solution to this problem. Moreover, by subscribing to this service, you get access to ALL the previously added Premium Products!