Monet Woo: Meet The Best WooCommerce Theme For Your Store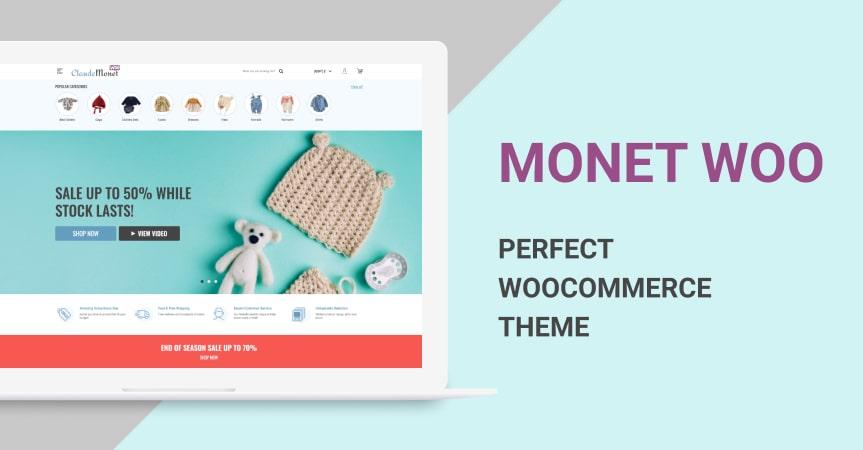 Have you decided to build a highly customizable website? Do you wish to get an online store that is able to convert as many visitors into customers as possible? If so, you need the best WooCommerce theme – Monet Woo!
In fact, the theme of your online store is going to be one of its most important components. When an Internet user first comes to your website, it's your theme which defines what this visitor feels about your store, whether they purchase something from you, etc.
At this point we realize that when starting your own ecommerce business and creating a website, you should pay maximum attention to the site design. And since a theme is the main element that is responsible for design, you need to choose a theme that will totally meet your expectations.
So how to find the best WooCommerce theme? AliDropship has an answer for you!
Where to find best theme for WooCommerce?
Recently, the team of AliDropship started to develop themes not only for the original AliDropship plugin. To date, we are glad to provide you with the premium WooCommerce themes as well.
It means that now you're able to get the best WooCommerce theme designed to be fully compatible with one of the best dropshipping IT solutions – AliDropship WooCommerce Plugin! And today we are happy to present to you our third WooCommerce theme – meet Monet Woo!
Well, this article is going to be all about Monet Woo. However, if you want to learn what themes AliDropship is happy to provide you with, see also our recent overview of the best WordPress themes for your online store.
Best WooCommerce theme: Monet Woo
As a rule, it's not always simple to find a theme that is going to meet all the requirements for your website. Let me guess, do you want your online store to have a brilliant design, different promotion banners, count-down timers, and other features?
If so, it means that you are going the right way. All these purchase-oriented features are able to significantly influence client's willingness to buy something from your online store.
That's why AliDropship has developed a new WooCommerce theme which is to meet the needs of even the most demanding ecommerce business owners – it's Monet Woo!
Monet Woo: why is it the best decision for your online store?
You would probably like to know why this WooCommerce theme from AliDropship is so great? Well, let's find it out!
Since it's a WooCommerce theme, Monet Woo has lots of things to customize. But this is not the most important thing for you to know about it. In fact, it has all the necessary features to make your online store a money-making one.
1. Purchase-oriented banners on homepage
Each business owner knows that promotion plays a key role in generating profit. That's why Monet Woo lets you place several purchase-oriented banners on the homepage.
Feel free to look at the homepage purchase-oriented banners in the slider above.
2. Nice category icons for fast navigation on homepage
As a rule, Internet users often leave an online store in case they don't understand how to navigate through the website. Fortunately, we foresaw that!
The Monet Woo theme can boast good-looking category buttons in the upper part of the homepage. They are designed in order to provide your store visitors with fast and convenient category navigation.
3. Countdown timer creating the sense of urgency
We are pointing at making a website which is going to provide the highest rates of profit, right? In this regard, we have added a bargaining aimed countdown timer on homepage.
Together with all the other theme features, this countdown timer is intended to push your store visitors into purchasing something from you.
4. Remarkable Woo widgets on category page
Don't forget that Monet Woo is a WooCommerce theme. For this reason, we saved the original remarkable Woo widgets on the category page.
By the way, nowadays lots of people surf the Internet and purchase using their mobile phones. That's why we have done our best to make Monet Woo not just mobile-friendly, but mobile-first! It's designed with CTR in mind. So your clients will be able to easily buy from you using both desktops and mobile devices.
5. Advanced smart search across the store
In your opinion, how often do online shoppers use an in-store search? Actually, they do this often enough to think of this option.
However you should be ahead of your competitors, right? That's why we have added an option of smart search to Monet Woo! Due to it, your potential customers will be able to see the search matches in real time, as soon as they start typing the search request.
6. Winsome subcategory icons
Additionally, navigation through your online store is also streamlined thanks to pleasant subcategory buttons. They not only let your website visitors easily surf your store, but also make it impossible to get lost and leave the site without making any purchases.
7. Action-stimulating scarcity badges on single product page
In order to encourage your website visitors to purchase from you, there is an impressive scarcity badge on a single product page.
8. Store benefits on homepage and single product page
How to interest the potential customers right after they went to your online store? Well, try to place a unit with store benefits on the homepage!
What's more, you can add a store benefits unit to a single product page as well. It's remarkable that the elements of store benefits unit will be quite different.
So don't give your store visitors a chance to leave your site without any purchases!
9. Four types of gallery to choose
Do you want to get more freedom when choosing the design for your online store? If so, Monet Woo is a must-have for you!
When installing the Monet Woo theme and customizing your website, you can place the gallery in various places. In fact, you have four types of gallery to choose from – Woo original, to the right or to the left of the main image or even under it!
10. Three conversion boosting tools at Checkout
Finally, do you want to make sure that your potential customers will definitely purchase something from you? Well, Monet Woo can also boast one more bargaining chip. This theme lets you place 3 conversion boosting features at Checkout – it's a timer, Why buy from us unit, and Trust box. Sounds tempting, doesn't it?
Actually, Monet Woo has far more useful tools for you to build a profitable ecommerce website. Based on personal dropshipping experience, the team of AliDropship developers have done its best to create a Woo theme that is able to meet all the requirements, meanwhile, become profit-making.
How to get Monet Woo?
As you can see from the abstract above, Monet Woo has all the necessary features to become the perfect decision for your ecommerce business. Frankly speaking, there are more than enough of these features.
So, if you want to make the most of your online store in terms of profitability, you certainly need Monet Woo! But how to get it right now?
In order to get the Monet Woo theme for your online store, first of all, you need to have an online store. If you don't have it, stop wasting your time and opportunity to build your own empire, then! Start your own ecommerce business immediately!
What's more, you have an exclusive chance to purchase an Established online store that already makes profit!
Then, make sure your online store works with WooCommerce.
Also, pay attention to the fact that Monet Woo is compatible with any WooCommerce website. You can install this theme on your website, even if you don't use AliDropship Woo Plugin – one of the most powerful IT solutions for dropshipping that is able to alleviate your dropshipping journey and set it on autopilot!
Well, if you have an online store and it works with WooCommerce, go and get Monet Woo, then!
By the way, in order to set the theme correctly, you can use the AliDropship knowledge base.
And if you have an online store with another AliDropship theme already installed, you have an opportunity to order a theme switching service from our experts.
Final thoughts
If you're looking for the best WooCommerce theme for your ecommerce business, consider Monet Woo, then!
This WooCommerce theme has all the necessary features that can be required when running a business. Meanwhile, Monet Woo is notable for its brilliant and responsive design, and so on, and so forth.
Moreover, if ordering Monet Woo, you get the following:
Free of charge theme updates and new features
Broad variety of customization options
Free of cost customer support
Original WooCommerce one-page checkout
Social media icons and widgets
Built-in cross-sell
Free of charge translation platform
Sounds tempting, doesn't it?
Well, this is your chance to build an excellent ecommerce site, don't lose it, then! Get Monet Woo, the best WooCommerce theme, right now!