What's Trending On YouTube In 2020?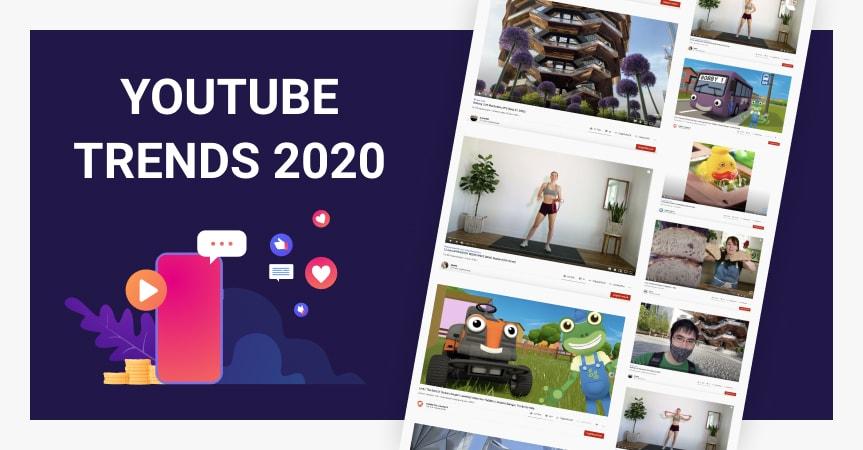 Media is all about entertaining us. Educating us. Keeping us in touch with the world. And it's often a great source of escape. 2020 has been one of the most unpredictable years in history, with a global economic recession and a pandemic turning the world on its feet. From leisurely travel to daily work commutes and errand-running, the everyday way of life we're all used to has changed. In a time such as this, many of us have turned to platforms such as YouTube to be informed and entertained.
And it's no surprise. With over 1 billion hours of content being watched daily and 500 hours of video content being uploaded every minute, there's really no better platform to go for media consumption (that's free too). In April, a New York Times article even found that YouTube traffic increased as much as 15.3% due to the global lockdown, and it's not surprising.
Chart from Channel Factory.
In fact, Channel Factory ran a two-week study on U.S. audiences to find how they were using YouTube to cope with being locked inside. The results found most were utilizing the video platform for entertainment and music as a mood-lifter during the quarantine period.
If you've been thinking of incorporating YouTube into your brand's marketing efforts, or have even considered being a content creator yourself, take a look into what's trending on YouTube for 2020 to help you create your own content plan.
The hottest YouTube trends now: Virtual Tours/Walkthroughs
Manhattan YouTube Live walkthrough from New York-based YouTuber ActionKid.
Yes, yes. If you can't go on vacation – imagine being there at least!
Is it unsafe to go out in large spaces in your home city? You can transport yourself outside of the house to some other city or mall or place. On YouTube, there is content for everything — so it's not surprising there are channels offering virtual tours of top destinations and tourist attractions. Content creators such as ActionKid and 4K Vegas shoot live and premade video walking through hot spots, and during the COVID-19 lockdown, have uploaded videos showing the eerie and empty streets of big-name cities such as New York City and Las Vegas.
Although difficult to integrate into online retail, channels showcasing city walkthroughs and tours are great as sponsorship partners. If you specialize in smartphones or electronic accessories or even bike and walking gear, you can consider reaching out to these types of content creators to get your name and product out there in front of large audiences.
DIY Workouts
Fitness channel MadFit showcases an at-home resistance band workout.
Gotta stay in shape since gyms are out of reach, right? Due to the closure of gyms, people around the world have had to resort to buying gear and equipment for at-home equipment (it's a great niche to do ecommerce in, by the way) to keep fit. Since lockdowns were implemented mid-April, Google Trends has even shown a worldwide spike in people searching for home-based workouts.
And this is where fitness channels such as MadFit and Body Project have capitalized on this increase in demand.
If you're a fitness-based company with on-air talent to boot, you can invest in the creation of in-house workout videos as part of your content strategy. Or if you have the marketing dollars, find fitness influencers to partner with to get your name out there through helpful workout content or tips.
All-time favorite YouTube trends: DIY Cooking
Tasty guides newcomers through DIY sourdough bread.
You probably at some point have heard about the craze in sourdough bread and baking at home. Being stuck inside the house has equated to people upping their culinary skills, from food to beverage. At one point, dalgona coffee was even a big fad, inspiring caffeine lovers and spiking coffee sales.
Food channels such as Tasty and BuzzFeedVideo are examples of YouTube channels that put out DIY cooking videos during this time, capitalizing on trends. And you can too if your online business happens to specialize in recipes, kitchen and houseware, or culinary recipes. Like with fitness, you can consider in-house video on your own YouTube channel, focusing on food and beverages.
DIY Crafts
5-Minute Crafts shows a catchy selection of entertaining, easy-to-try crafts.
Once you've cleaned out your kitchen and done your workouts (and logged off for work, if you are still working), you're probably stuck with some downtime. In quarantine, many people have turned to crafts at home to help boost their creativity and cure their boredom.
If you sell stationary or materials such as wood and plastic, you can consider taking a creative twist to your business marketing and creating fun craft videos to entertain viewers, all while generating buzz for your website.
Growing YouTube trends now: Reaction Videos
Popular channel REACT challenges people to not laugh when viewing funny content.
A fun way to get a laugh out in boredom? Watch strangers react to certain news, pop culture, or entertainment pieces. It's a weird thing if you think about it, but there's actually a science behind why people tend to respond positively to reaction videos — it all comes down to empathy and feeling relatable to people in videos, as explained more in depth by Ars Technica.
Channels like FBE and its appropriately-titled sub-channel REACT host some of the most viral and cool reaction videos that feature YouTubers reacting to many different topics. You can also simply search YouTube for reactions to any type of media content you'd like: for example, if you love music and pop culture and wanted to see reactions to Grammy nominations and wins from this year, you could search and stumble across a reaction video from the channel theneedledrop.
Educational & Learning Videos
Toddler Fun Learning hosts a live-stream video for toddler learning.
This is probably one of the hottest niches for content right now. Videos geared towards learning and furthering one's knowledge have been huge turn-tos during 2020 so far.
Whether you have a toddler or child learning to count or spell or you're a twenty-something trying to learn a new language during downtime, YouTube hosts a wealth of educational-based videos. Young ones can learn with minimal adult supervision with channels such as Toddler Fun Learning while young professionals can boost skills such language abilities on channels such as SpanishPod101.
For more professional skill building, there are class-specific platforms outside of YouTube more suitable such as Skillshare or Lynda on LinkedIn.
SUMMARY: In 2020, YouTube still is the same thing…a source for entertainment and information. But YouTube trends have skewed more towards keeping one sane as the world navigates through an unprecedented health crisis. We see a rise in entertainment and music content (which is not surprising) but also in fitness, cooking, learning, and crafting — people are seeking ways to better themselves while staying home…all without losing their sanity. You can find creative ways to tailor your business to these YouTube trends to boost relevance if you have the right niche…or you can just find self-joy in the amazing escape that YouTube is.