15 Biggest Digital Advertising Trends You Shouldn't Miss In 2022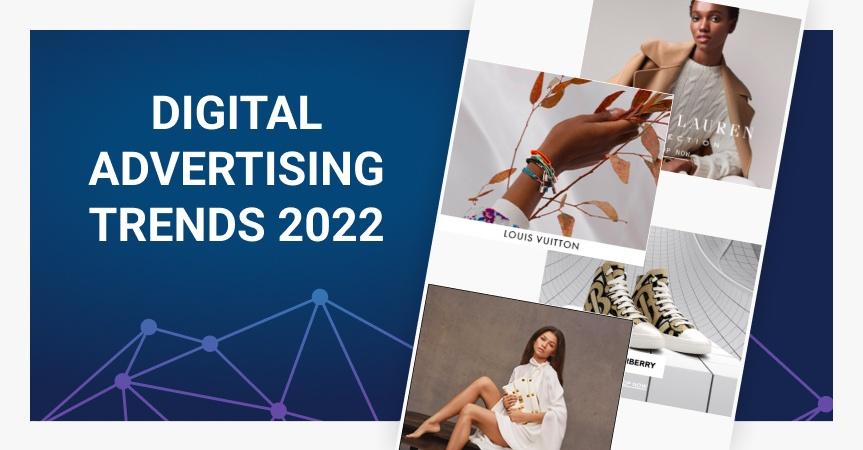 New Year is the beginning of new everything, it's a high time to learn and try something new, especially if we're talking about online business. This is why we've analyzed the most common digital advertising trends that will define your promotional strategy in 2022!
Digital advertising trends every business owner will follow in 2022
To be a successful entrepreneur, it's very important to be aware of the current digital advertising trends. And if you're intended to remain competitive in ecommerce, you need to adapt to its rapidly evolving landscape.
So, fasten your seatbelts and get ready to begin your journey into the most promising digital marketing strategies to explore this year.
#1 Omni-channel marketing
Omni-channel marketing provides seamless shopping experience across several channels.
For example, if you're the owner of a brick-and-mortar store that goes with a website, you'd probably like your customers to have an easy shopping experience:
See your product on TV or social media
Find out that your store exists and get curious to check it out
Either go to the website or visit the actual store
Make a purchase!
In other words, you need to promote your business through all possible channels in order to establish contact points between your brand and a prospective buyer. And here's an interesting thing for you to consider! Omni-channel marketing lets you figure out which channel or chain of channels turns out to be the most effective in your brand promotion, and boost its efficiency.
#2 Landing pages
The popularity of post-click landing pages has grown noticeably in the last few years, and this digital advertising trend is not going to change anytime soon.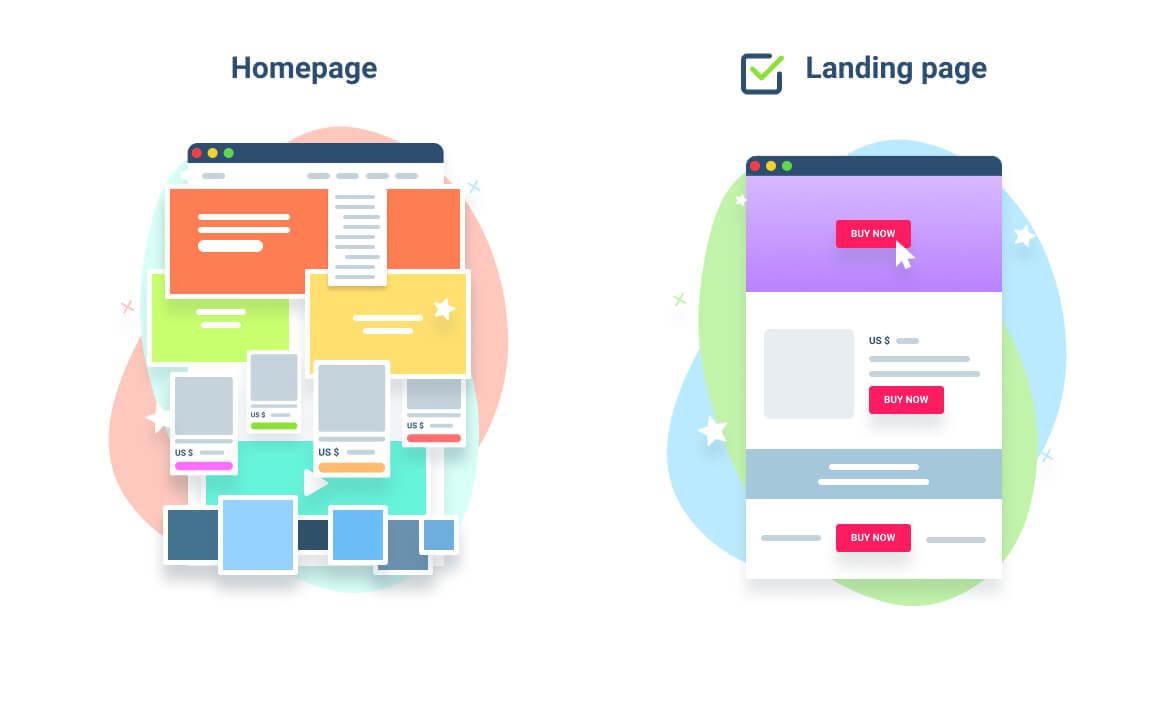 A landing page is a super powerful tool, with one of its greatest features being incredible conversions. In fact, it's reported that landing pages have an average conversion rate of 9.7%! Converting more website visitors into paying customers, you get better sales, grow your audience quicker, and generate a higher ROI.
Recent research shows that companies with over 40 post-click landing pages generate 12 times more leads!
Landing pages focus visitors' attention on one call-to-action and uninterruptedly guide them through purchasing flow to conversion.
As the purpose of a landing page is to sell a product, there are lots of different features aimed at achieving this goal:
"Buy Now" buttons
Lists of benefits
A catchy picture gallery
Social proof sections
Effective exit-intent pop-ups to convert your bouncing traffic
And many others
You can see the difference between homepage and landing page on the picture below:
With our designated Landing pages add-on, you can:
Create as many landing pages as you need: no tech or marketing background will be necessary
Promote your products with an dramatically higher efficiency and create special offers
Supercharge your marketing efforts
Slash customer acquisition cost
Test new business or product ideas
Get valuable insights into your niche market
Drive more traffic to your website
Rank higher in search results
Tailor content to different client segments
Social proof that can inspire customers to trust you more
Surprised? Follow our 20 tips on making landing pages that convert like crazy, and you'll see the difference yourself!
#3 Remarketing ads
According to the experts from Search Engine Journal and their recent State of Digital Marketing report, 91% of search experts use remarketing ads.
What exactly makes this technique so powerful – and helps large-scale brands achieve an impressive ROI?
Remarketing allows targeting your ads at the people who have viewed a particular product or certain web pages. Naturally, this leads to a highly relevant and personalized user experience. As 96% of first-time website visitors aren't ready to buy immediately, remarketing ads become an effective way to draw them back into your conversion funnel.
If you're interested in remarketing ads, use these detailed insights, and let our great Facebook Business add-on help you out!
#4 Minimalistic design
Minimalistic design conquers all the aspects of today's life, from interior design to popular brands' ads. If you look at world-known brands and their ads, you'll see simple but catchy ad design featuring the product without garish cheap-looking elements. Researchers claim that customers consider minimalistic design to be more credible as it is usually the feature of respectable brands.
Just take a look at these minimalistic ads from top-tier brands, and you'll see it yourself:
#5 Conversational marketing
The reality of modern marketing is clear: 82% of consumers want an immediate response to their questions. In other words, people want to see that brands are reacting. In this case, we're talking about conversational marketing which provides a real-time connection between marketers and customers.
This form of marketing is available across multiple channels and enhances the user experience. Today's buyers expect to find what they're looking for NOW, not LATER.
To put it differently, if you want your customers to feel connected to your brand, and even more, if you want them to be your loyal customers, you must monitor your social media channels every day, keep up the conversations with buyers and answer their questions. As a result, these conversational marketing efforts will foster higher engagement and greater loyalty.
#6 Video marketing
Video marketing, one of the biggest digital advertising trends of today, will remain crucial for the next 5-10 years at the very least. Just have a look at these numbers:
There's no wonder video ads are the most popular way for customers to learn about the product. Videos allow people to view the product from all angles.
However, it is worth noting that short videos are far better than the long ones. Long videos won't hold viewers' attention because of unnecessary information.
An interesting fact: if your website contains video, Google will push pages that include videos higher in the rankings, because people find video content more compelling. Plus, today people prefer to use their mobile devices rather than desktop computers, and here video ads are winning again: other types of ads are simply too difficult to read on small mobile screens.
P.S. Don't forget to check out our awesome Facebook & Instagram Video Ads service. Catchy advertising video with your product, target audience, advertising texts, and step-by-step guide – everything to grow your business with video ads that convert now.
#7 Influencer marketing
Influencers are well-known celebrities or Instagram or YouTube personalities who have lots of followers and who can spread the word about your product or business through social media channels.
Don't underestimate influencers' role in marketing because:
Of course, when you're in the beginning of your dropshipping journey, you simply can't afford inviting a Hollywood star or an influencer with millions of followers. However it's not the reason to refuse influencer marketing – you can choose a local influencer for example, who can advertise your brand in exchange for one of your products. Here's how micro influencers can help you out!
#8 Interactive content
Another one of the fastest growing digital advertising trends is interactive content.
In 2022, marketers are going to switch from traditional text-based ads to dynamic, engaging content that allows audiences to feel like a part of the brand.
The most popular forms of interactive content include:
Right now, 91% of buyers are looking for more engaging content. People like it not only because it's fresh and original, but because it makes them feel more connected to brands and more involved in the buying process.
#9 Instagram carousel posts
Instagram carousel posts are one of the most engaging formats on social media today. On average, Instagram carousel posts get 1.4x more reach and 3.1x more engagement than regular posts.
Why choose an Instagram carousel as a format for your posts? The thing is, it provides the "magazine treatment": you can make double-slide spreads, close-ups, and shots from different angles (which is especially important if you dropship clothes or accessories). You can share up to 10 images or videos as a single post in your feed. For Instagram users, it's hard to resist the temptation to swipe left, especially when there's a captivating cover slide.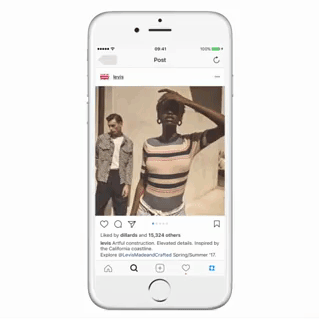 How to make an Instagram carousel post?
Add the necessary photos to your photo library
Open the Instagram app and click on the + icon in the navigation bar
Tap on the 'Select Multiple' icon located in the bottom right of the image preview window
Select up to 10 photos or videos in the desired order
Tap 'Next'
Add your caption, geo-tag, account tags, and product tags
Tap 'Share'
Before publishing, make sure that all the images/videos are in the correct order. After you share the post, you won't be able to reorder or delete single slides.
You can learn about carousel ads on Facebook & Instagram here.
#10 User-generated content (UGC)
People tend to trust other customers far more than they trust companies. Analysts say, for 90% of shoppers, UGC influences their decision to make a purchase more than any other type of advertising. 97% of the surveyed 18-29 years olds even say that it had an "extreme influence."
User-generated content (UGC) is a powerful resource, especially if you want to tap into the Millennial and Gen Z markets. You can encourage your customers to share their reviews with photos and videos by giving them a special offer, such as a discount, or even involve them as your brand ambassadors.
#11 Artificial intelligence
Artificial intelligence (AI) is sure to be at the heart of global business and industry in the future as it holds a tremendous economic value.
If you want to use artificial intelligence for the benefit of your dropshipping business, try Sellika!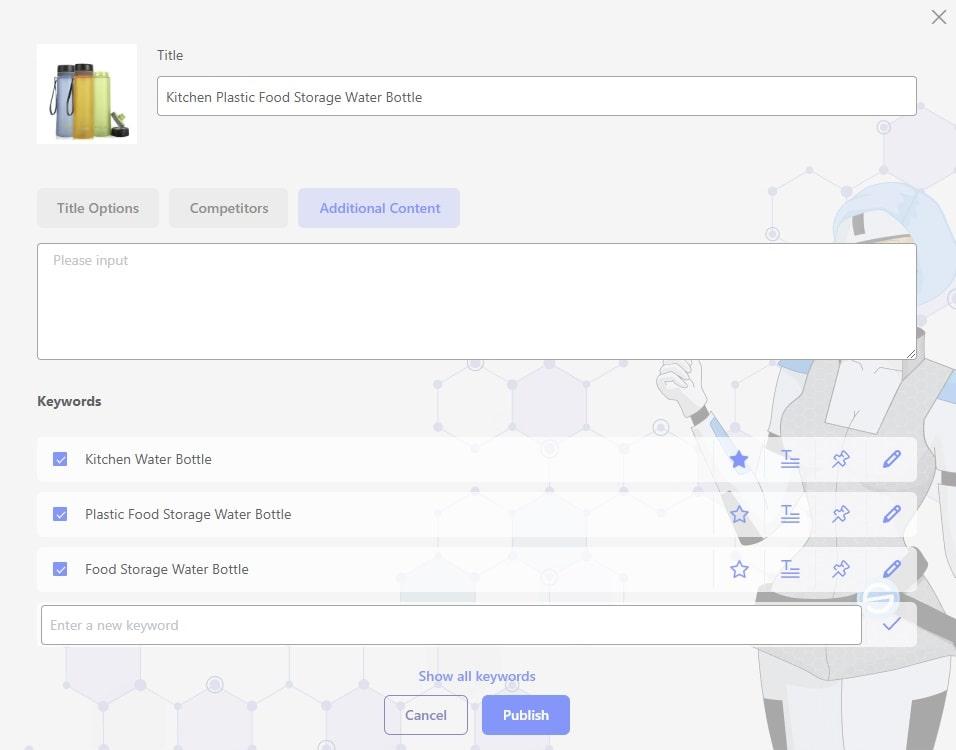 Sellika makes and edits product descriptions with the power of AI. Computer vision algorithms recognize and describe objects, and machine learning mechanisms allow creating smart expressive texts. With this tool, you can save up to 330 working hours per month!
#12 Marketing automation
Today, plenty of businesses use marketing automation technology, claiming it's instrumental to the overall success of their marketing strategy.
To start following this trend before it's not too late, you can try the Social Rabbit plugin. It fully automates your social media posting, but makes it look like you've spent hours on content creation. And with Facebook Business, you can forget the excruciating process of collecting and adding products to the FB Catalog by yourself — in just a few clicks, all the items will be ready for promotion!
Don't forget about email marketing automation, too! Being set up once, the email sequences will be sent without any additional effort from your part. Essentially, it "automates" your email marketing for you. Here's our digital marketers' 'insider' advice on automated email marketing!
#13 Mobile-optimization
Mobile optimization is an essential part of any online business. People are spending more and more time on their mobile devices, which has led to a surge in mobile shopping. According to eMarketer, we will see steady growth in mobile ad spending. As of 2022, mobile advertising spending stood at $275,827, but it is expected to reach $308,182 by the end of 2022, says Statista.
Mobile commerce is expanding and is expected to have the biggest sales growth. Mobile sales are expected to increase by a record-breaking 68% sales growth in 2022. People now have an opportunity to comfortably shop in the comfort of their homes, and mobile devices allow them to do so.
Location targeting mobile ads will also be the center of attention in 2022. These ads are designed to serve location-focused ads to consumers on the go. Industry forecasts revealed that location-targeting mobile advertising spending in the United States will exceed $32 billion by the end of 2023.
#14 Focus on your audience
As the digital landscape keeps changing, consumers are becoming increasingly selective about the media they receive and consume, and as such their expectations are high – don't be one of the accounts that get unfollowed.
Nowadays, with the constant barrage of content in their feed, social media users can easily grow fatigued by it. Those who remain on, face the heavy stream of ads, campaigns, and news that flood their social feeds each day and to say it's saturated would be an understatement.
So, what you need to do is to consider how many sales-y posts each person comes up against in a two-minute scroll, and consider how and why yours would cut through the noise.
Focus your strategy on engaging with your existing audience and you'll find your messages reach those who are most interested in what you do.
#15 Personalization
A big role in 2022 is going to be personalized content. Instead of making content that may appeal to as many people as it can, concentrate on creating specific content that caters to your audience. Moreover, making sure your content is delivered to your audience at the right time is important for engagement. Right time, right place equals greater results.
Take the time to understand the platforms your audience uses, and how they use them. This will allow you to create personalized messaging based on each demographic. Furthermore, this will ensure your message reaches the right audience in the way that is most enticing to them will make your ad spend go further, and could lead to increased customer loyalty.
So, that's it – now you have the list of the 15 most important digital advertising trends you can't miss in 2022. For every dropshipping business owner, it's crucial to keep looking ahead and aim to grasp the latest technologies, strategies, and tools. This is how you gain an edge over your competitors and attract more customers, therefore, achieving a high profit. We're wishing you the best of luck with your online ads – and are always happy to help you make them even more efficient!