Your Dropshipping Sales Funnel: How To Boost Your Profit With AliDropship Solutions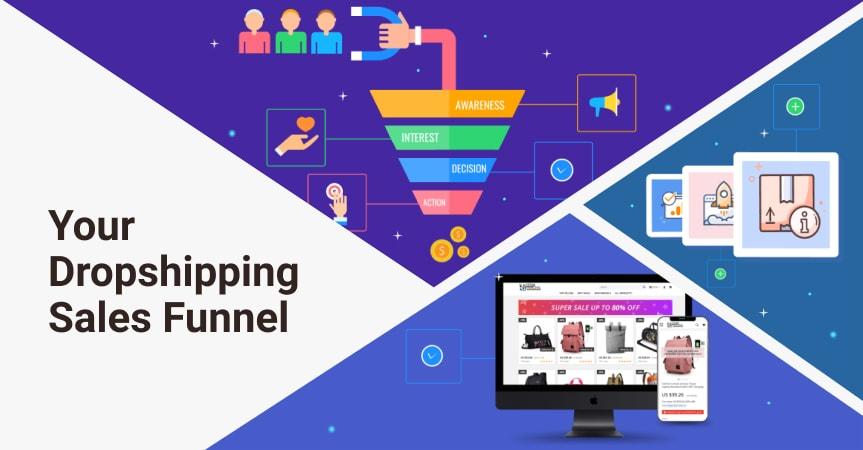 What's a dropshipping sales funnel? Does it have any importance for online business owners? Which tools can you use to make the most of it? That's what today's article is all about!
Can you remember the last purchase you made?
Let's say, you bought cereals in a nearby store, or purchased a book online, or got something else.
Now, the question is: do you remember what brought you to this purchasing decision? What exactly happened in your mind and motivated you to take the money out of your wallet?
Most likely, this purchase didn't happen just out of nowhere. There was a chain of events (and thoughts) that led you to it. Let's try and figure them out, shall we?
The basics of a sales funnel
Simply speaking, sales funnel is a term describing several stages we go through before making a purchase.
Generally, researchers say that there are 4 basic stages:
At this moment, you simply find out that there is a specific product sold in some particular store. For example, you hear about cinnamon-flavored oatmeal cereals in your corner store, or see an online ad for a newly published illustrated book of Shakespeare's sonnets.
Now, when you know about the product's existence, you may or may not get interested in it for one reason or another.
"Do I have something for tomorrow's breakfast?", you start asking yourself. Or, "Isn't Shakespeare my mom's favorite author?"
Indeed, there can be hundreds of reasons for you to start seriously considering making the purchase or forgetting about this offer quickly — and I'll come back to this thought later.
Let's suppose you didn't give up on this particular product idea. What is your next logical step?
That's right: you start processing the information you have, and look for more details if necessary.
Reconsidering your personal reasons that made you interested, reading the cereals package, or viewing the publishing house's photos of the book, you're trying to see if the product is worth buying.
Okay, so let's say you've made a positive decision at the previous step. You actually need the item, it looks good, and you're happy with your little research results. Basically, nothing stops you from buying it, and you become a happy product owner.
This was a sales funnel example. From a person who knew nothing about the product, you turned into its buyer. Isn't that cool? And isn't that the result that you'd love to achieve with your dropshipping business — turning strangers into customers?
If you want it to happen, all you need to do is to guide people through all these 4 steps and make sure they come to the 'right' decision at every stage!
You're welcome to check out this article about marketing funnel hacking, too! It will show you how to borrow the strategies other entrepreneurs use in order to improve your own store's performance.
Is dropshipping sales funnel different in any way?
Yes — and no.
Indeed, a sales funnel in dropshipping consists of the same 4 stages. However, a person should spend much, much less time to go through them and buy the product!
When you're running a dropshipping store, you're first of all interested in triggering impulse purchases. You want your potential customers to see your product, fall in love with it instantly, and place an order without a second thought.
If, let's say, an Instagram user sees your product ad and gets distracted, he or she can easily forget what your store/account name was. So, this internet user will just miss out on the opportunity you offer! Or, let's suppose your store visitor goes online to check the alternatives to your product. There can be a more compelling offer for a lower price or from a better-known brand…
So, your goal is to speed up the decision-making process. Ideally, you need to take your target audience members through all the steps from Awareness to Action very quickly.
How can you achieve that?
Enhancing your dropshipping sales funnel with AliDropship tools & services
How can AliDropship solutions help you take your audience through all the stages of a dropshipping sales funnel? Let's see!
#1 Raising awareness
It's the first, vital section of any sales funnel. Here's what you, as an online business owner, will most typically do to spread the word about your products!
Make the store SEO-friendly
When a store has a higher ranking on Google, it becomes more likely to be noticed by internet users who make a related search query.
The AliDropship plugin that simplifies and automates various dropshipping tasks helps you with that in multiple ways. For example, the plugin's SEO meta data generator creates and adds SEO titles, descriptions and keywords to your product pages automatically, helping them achieve better positions on Google. Also, the plugin creates SEO meta data fields for your Home page and can create a sitemap: a file that helps search engines access and evaluate the contents of your store.
AliDropship themes that are specifically developed to make AliDropship stores look good and perform smoothly are optimized for search engines, too. Their structure makes it easier for search engines to index the site content and evaluate its meaning more thoroughly.
AliDropship's SEO Image Optimizer that works on your images improvement is another tool boosting your store position on Google. It compresses your images, which leads to quicker site loading. Also, it creates proper Alt tags and titles for the image files, making it easier for search engines to scan and rank them.
AliDropship's SEO Starter Pack is a beginner-friendly service aimed at improving your Google positions. This service includes one SEO-friendly article, customized SEO elements for your Home and Category pages, and a set of backlinks connecting your store to other websites. It improves the way your store is indexed by Google, letting internet users find your store quicker during online shopping.
SEO Copywriting Service will provide you with a whole set of purchase-stimulating, SEO-friendly articles that reinforce your Google positions and contribute to your brand image. These articles are also priceless in terms of content marketing which brings me to the next point.
Create engaging content
Entertaining and informative content is a great foundation for your marketing strategies. Thanks to unique, regularly updated content, you attract your readers' and followers' attention to your store and establish yourself as an expert in this area. It gives you a wonderful opportunity to become famous in the industry community and raise awareness about a top-class business you're running.
That's why AliDropship themes allow you to integrate blogs into your store! With a built-in blog, you can easily publish articles on the issues related to your store niche and having value for your audience. What's more, these articles may serve as the basis for your further promo campaigns.
AliDropship's Blog Post Service is built on this exact idea. Upon ordering this service, you get a professionally written article for your blog, ads materials package related to this text, and a subscription form setup to help you collect your store visitors' emails for email marketing. All these components play a huge role in making your store well-known all across the web!
Post on social media
It becomes increasingly common for businesses to create and run social media accounts. With their help, entrepreneurs interact with potential customers and reach a wider audience of internet users. Your store shouldn't be an exception!
AliDropship's Social Media Setup Assistance Service is the starting point for dropshipping store owners who want to have a business presence on Facebook, Instagram, Pinterest, or Twitter. This service includes the creation of social network accounts at your choice, making catchy logos and covers for them, and connecting these accounts to your store.
Thanks to the AliDropship plugin, it is possible to display the relevant social media buttons in your store footer. So, it will be clear to visitors exactly which accounts belong to you, and you won't get mixed up with any other similar business!
AliDropship's Engaging Social Media Posts Service gives a helping hand to entrepreneurs who really want to be active, fun, and popular on social media — but have no idea how to do it. Providing you with sets of engaging images, texts, and hashtags, our digital marketing specialists help your accounts take off — even if you don't have a background experience!
The Social Rabbit plugin, in turn, is an invaluable tool for those who want to fill their social media feed with automatically generated yet attractive and human-like posts. This time-saving solution allows you to be active on 4 top social media at once without neglecting other crucial business tasks!
Run ads on social networks
Do you want even more social media users to learn about your amazing store and your awesome products? Paid ads are exactly what you need. You can delegate them to us, too!
AliDropship Facebook Business add-on cuts the time you spend while creating powerful retargeting campaigns on Facebook. Basically, it synchronizes your store offer with the Facebook product catalog. This is how you set up Facebook dynamic ads in several clicks and drive more interested people to your store.
AliDropship Facebook & Instagram Ads Service lets you explore the world of paid ads effortlessly and efficiently even if you haven't executed a single marketing campaign in your life. You will get a ready-to-use set of advertising elements together with very detailed instructions on launching this ad with the most favorable audience settings!
Run Google Shopping ads
Would you like to attract a huge audience of Google users to your store? Google Shopping ads are your best bet! Thanks to them, you can make your store products shown on the Google search results page to the users looking for something related to your store. So, how about making a very wide circle of people aware of your business?
AliDropship Google Merchant add-on is the tool that lets you create such ads in full accordance with Google requirements. With its help, you get an unmatched opportunity to lure more people into visiting your website. And that's when the real fun begins! 😉
#2 Keeping the store visitors interested
As you probably remember, at the beginning of this article I mentioned that there might be thousands of reasons why people get or don't get interested in your products.
Surely, you can't really influence the life circumstances of your potential buyer who visited your store because of a product ad.
However, you can make a difference to this person's state of mind, change their attitude to this item or the whole product category, and even make them more willing to stay on your website longer.
AliDropship themes lay the perfect foundation for creating a positive customer experience. Providing a clear store layout and enabling quick page loading, they let the visitor navigate your store effortlessly. What's also crucial, all the themes are mobile-friendly. Using any device, your potential buyers will experience no discomfort while browsing the pages.
AliDropship plugin, at the same time, lets you create absolutely lovely product pages that encourage the visitors to spend a little more time investigating them. The thing is, the plugin has a built-in database of exceptional AliExpress products with carefully pre-edited pages. These items' titles, descriptions, and images look catchy and appealing to the viewers. This is why your store visitors don't mind going into details of what you're offering them.
And that's the point where you can transform their decision-making process!
#3 Prompting the decision
So, at this stage of the customer journey funnel, an already interested store visitor begins collecting more specific information on the item(s) you're offering.
Surely, product pages give them enough details of these items' features, variations, designs, etc. But if you can use even more ways to persuade the visitor to place an order, why not go for it?
Use the power of social proof
Coming across an unfamiliar online store, users can't always be sure about its credibility and the quality of offered products. So, help them say goodbye to uncertainty and anxiety!
The AliDropship plugin lets you import genuine product reviews left by AliExpress buyers, and place them on your product pages. To your store visitors, it serves as additional proof of your store's credibility and the item's value.
AliDropship Reviews page add-on, in turn, lets you create a separate 'Trust Page' on your website. This page displays all your products' reviews in an appealing, easy-to-read way, demonstrating the previous buyers' satisfaction with their purchases.
AliDropship Customers gallery add-on serves a similar purpose. With its help, you can make a customizable gallery out of the product photos shared by your happy customers. That's a great way to tell your store visitors they will enjoy their orders, too!
Create a sense of urgency
Can't influence the visitor's original reasons to buy from you? Create new reasons and make them irresistible!
AliDropship themes, especially the action-oriented ones like Andy Warhol, El Greco, El Greco Woo, Dali and others let you create high-converting pages. It happens thanks to numerous elements that give the impression of a booming buyers' activity in your store.
'Selling fast' icons, 'Only 7 left in stock' texts, 'You save 47%' bars and other similar details make the viewer reluctant to miss out on a good deal. It's a great motivation to speed up the decision-making process, and you can enhance it even more.
AliDropship Countdown Timer is a winning tool if you want to let your potential customers know the offer is limited in time. With this easily customized timer, it won't take you much effort to convince the visitors to take action NOW!
And AliDropship Urgency add-on has a whole set of features (social proof icons, trust badges at checkout, shopping cart countdown timer) that are aimed at the same result. It's a 3-in-1 solution to let your visitors know the store is very popular. If they don't place the order immediately, there will be nothing left really soon!
#4 Making it easy to take the action
How can people actually place their orders in your store, exactly? And what should you do if you don't want to lose them at this — the last and the most important — stage of a dropshipping sales funnel?
Allow effortless payments
AliDropship themes guarantee easy and understandable in-store navigation, creating a relaxing and satisfying shopping experience even for first-time online buyers. Thanks to catchy, prominent action buttons, they won't have any trouble adding the desired product option(s) to their shopping cart and proceeding with their orders.
AliDropship plugin lets you integrate the widest range of payment gateways into your store. This way, your customers will be able to pay for their orders in any convenient way. This way, you can be sure they won't change their mind at the last second because of a payment inconvenience!
Streamline the checkout process
No one likes filling out super long forms at checkout, and you shouldn't make your buyers go through this, too!
AliDropship themes allow you to set up customizable, user-friendly checkout forms. Your customers will only need to give the strictly necessary info details before completing the order. By enjoying these time-saving forms, your clients won't be annoyed with the checkout procedure. Therefore, they won't leave your store at the most critical point!
Summing up the AliDropship solutions' role in your dropshipping sales funnel improvement
As you can see, the AliDropship plugin and its themes play a crucial supporting role at every stage of your dropshipping sales funnel.
What's more, you can freely choose between a wide range of AliDropship add-ons and services that raise awareness about your store, boost your customers' confidence and prompt their favorable shopping decisions. Help your clients evaluate your offers and make them more engaged in the purchasing process! That's how you lay the basis for a loyal customers' community that will stay with you for years to come.
And the best part?
You can easily get a tailor-made store with an already enhanced dropshipping sales funnel without extra efforts from your side!
By getting an AliDropship custom store, you get a ready-to-go marketplace that we created with the selling process optimization in mind. Just check out the custom store packages we're offering; you'll see that the most important dropshipping sales funnel elements are already covered there!