How Can You Find The Best Products To Dropship From AliExpress?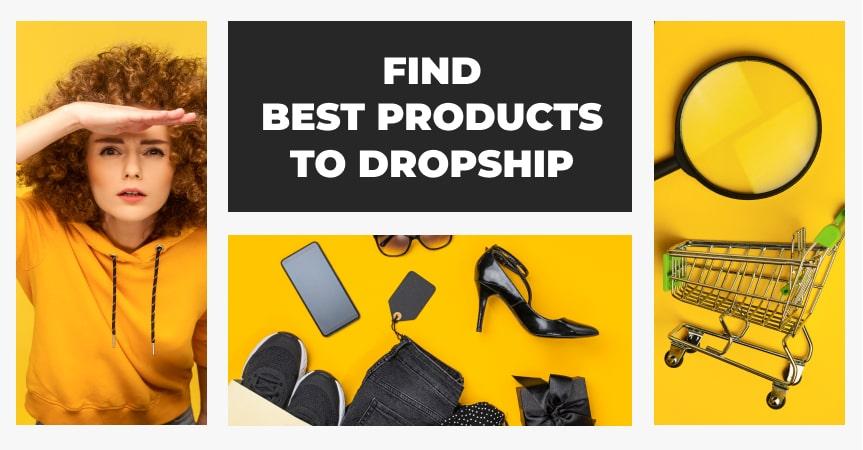 There is no doubt: you need to find the best products to dropship in 2023 from AliExpress if you want to succeed with your online store. Simply follow these instructions, and you will learn how to evaluate the items correctly and how to pick the most promising ones.
You are what you sell.
No, seriously. Correctly chosen products define about 50% of your dropshipping success.
AliExpress currently offers much more than 100 million various items, and even though you can use advanced technical solutions to easily import any of them to your own store, you can anyway get confused – what exactly should you import to dropship for profit?
So, let's figure that out!
Choosing the best products to dropship in 2023: web analysis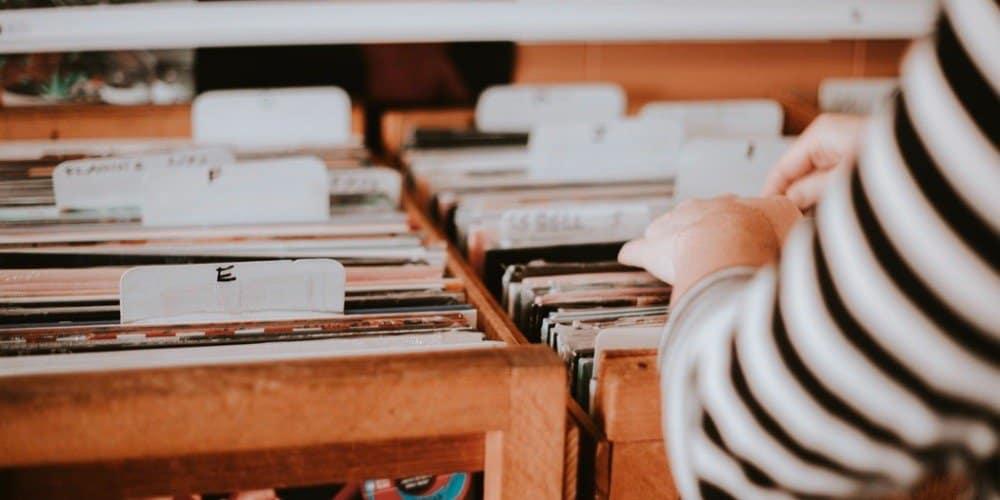 It is super important to start thinking about the products you're going to sell as soon as possible.
Ideally, you should do it at the first stage of your dropshipping store creation while you are choosing a niche. The point is, when you're evaluating the niche potential in terms of SEO, you get the chance to find highly demanded items.
How does it work?
We typically use Google Trends to learn if people are getting more interested in this particular product over time. But this service gives us some additional information as well: look at the screenshot below.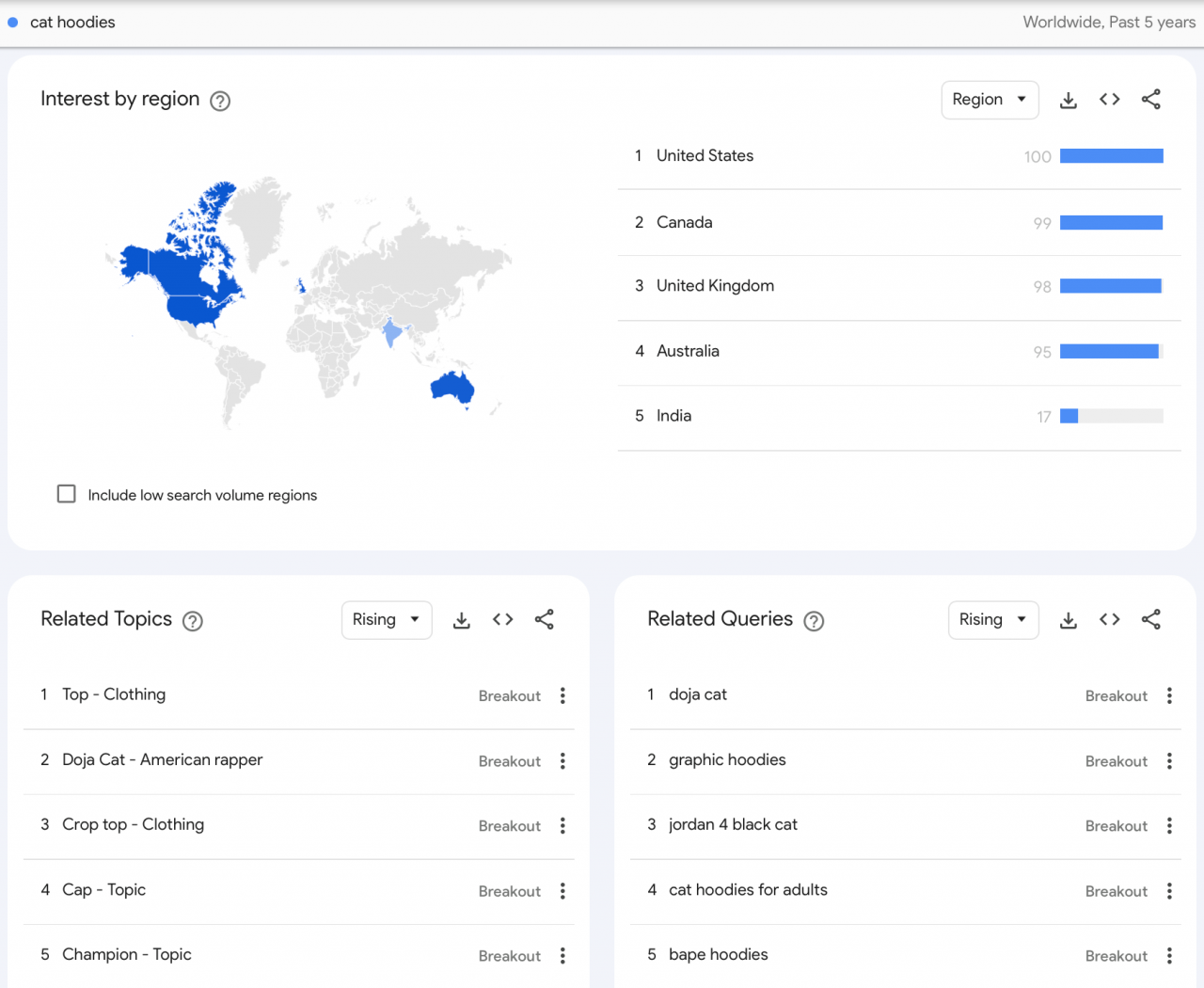 Here, we've tried a 'cat hoodie' query. The 'related queries' category gives us additional product ideas: from this field, we see that people are also looking for specific types of cat hoodies (hoodies with kangaroo pouches) and specific prints ('never bring a bat to a cat fight', 'I am a cat', etc.). This data will surely be useful at the stage of picking items!
As you know, we use Keyword Planner to find out the most promising keywords to use when running a dropshipping store. At the same time, these keywords can also give you an idea of the most demanded products. Here is an example: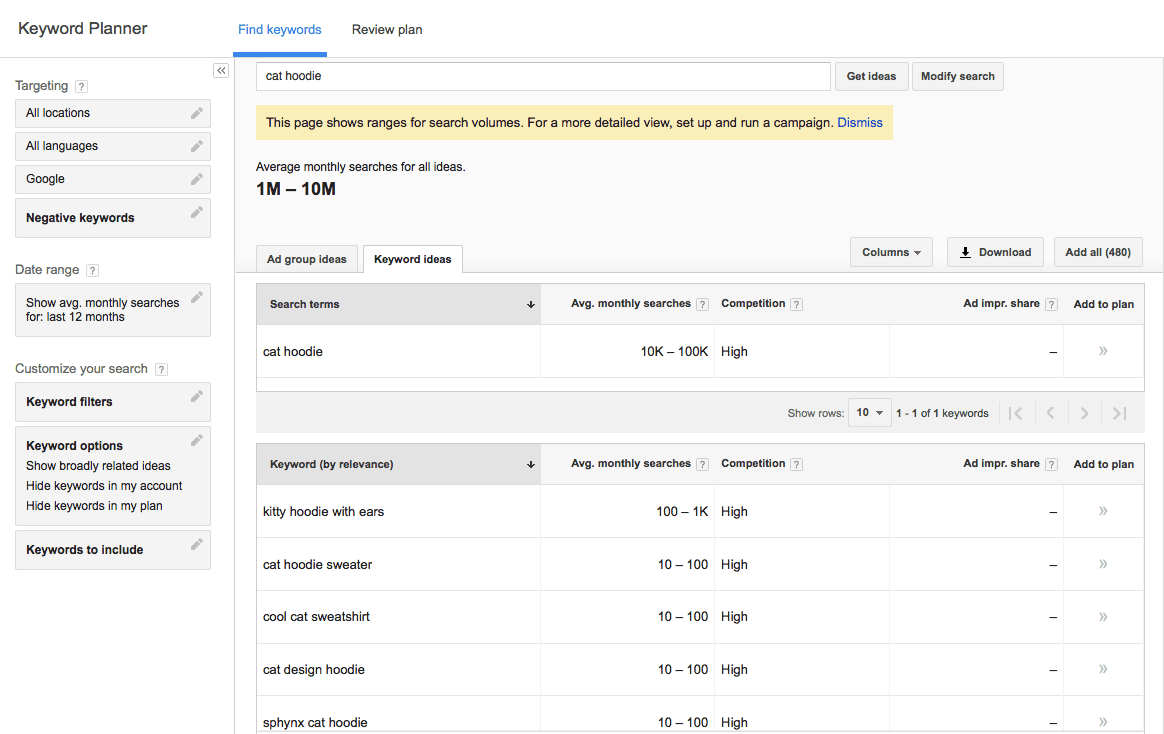 Here, we try the same 'cat hoodie' keyword, and the 'keyword ideas' tab shows us a great selection of related keywords. This is what people search on Google, so obviously, products that match these descriptions will be a great choice.
Moz Keyword Explorer provides data about the intensity of competition in a particular niche. But again, as it shows a range of related keywords, it is a wonderful tool for picking demanded products. Take a look at the screenshot below.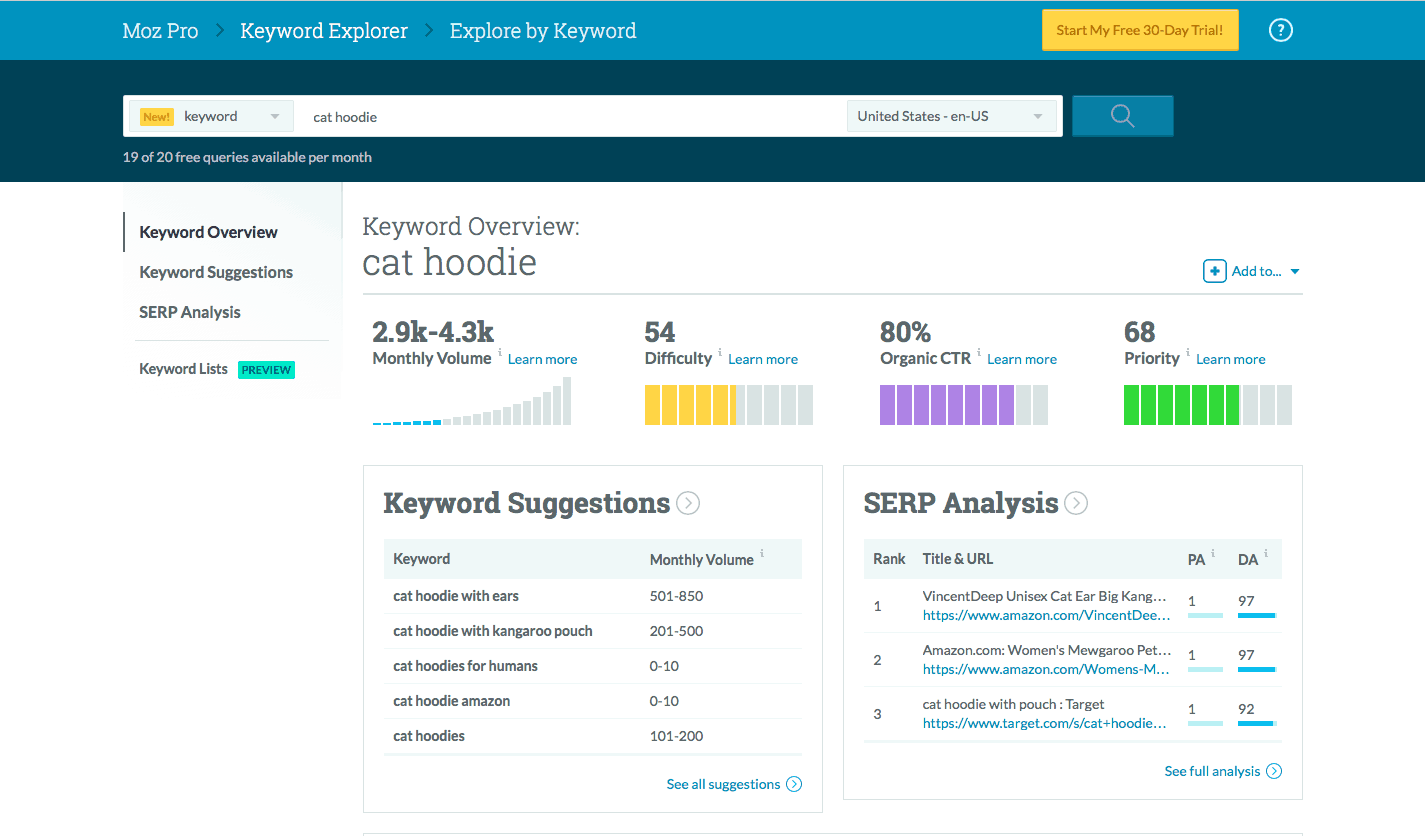 We took the same 'cat hoodie' keyword again and got a number of keyword suggestions. If you click the 'see all suggestions' link, you'll view the full list of related queries that can potentially give you a couple of ideas on the products' choice.
To find out the most demanded products, you can either look at competitors (huge platforms like Amazon and eBay) or check out social networks. Check all the life-hacks on how to find niche products easily.
Choosing the best products to dropship in 2023: social media search
Social networks are great both to look for products to sell and to evaluate the potential niches. Creating insightful content is one of the main tasks of such social networks as Pinterest, Instagram and YouTube. So, surfing social media can give you a wide range of valuable ideas.
Besides, you can find many examples of content marketing on Facebook, Twitter, Linkedin, Snapchat and other social media. And some of them are worth taking note of. Let's take a look at some social media in detail.
It's logical to start from the most popular social media platform. Look for product ideas in various thematic groups. Study the communities of your potential competitors. The analysis of their content can bring a lot of valuable ideas for your niche research.
Try to search and count groups with 30K+ members devoted to your dropshipping niche. How many groups have you found? If there are more than 10 groups, it is a good sign, and your niche is popular enough.
This social media is the home for influencers, trendsetters, and hottest tendencies. Whatever niche you decided to try, you will find here a plethora of thematic pictures.
The rule for niche rating is the same as for Facebook: if the search volume shows that there are at least 10 groups with 30K+ followers devoted to the chosen niche, it really looks promising and is worth trying.
Many companies and ecommerce entrepreneurs use Pinterest for promoting their products. Thematic boards and accounts of influencing bloggers contain numerous inspiring pictures.
Buyable pins are another great source of valuable content. It narrows your search – you'll see only things that people can buy, so they are potential products for an online store.
YouTube is not only our favorite time killer – it can be a plentiful source of inspiration as well if you use it as a search engine. Here you can catch ideas of products and trends that are popular right now. Besides, you can go further and investigate the trends in some definite promising niches.
After you've completed all these steps, you can take all the suggestions you got from the research, and create a whole super long list of potentially good products. What to do next?
How to find the best products to dropship in 2023: sorting out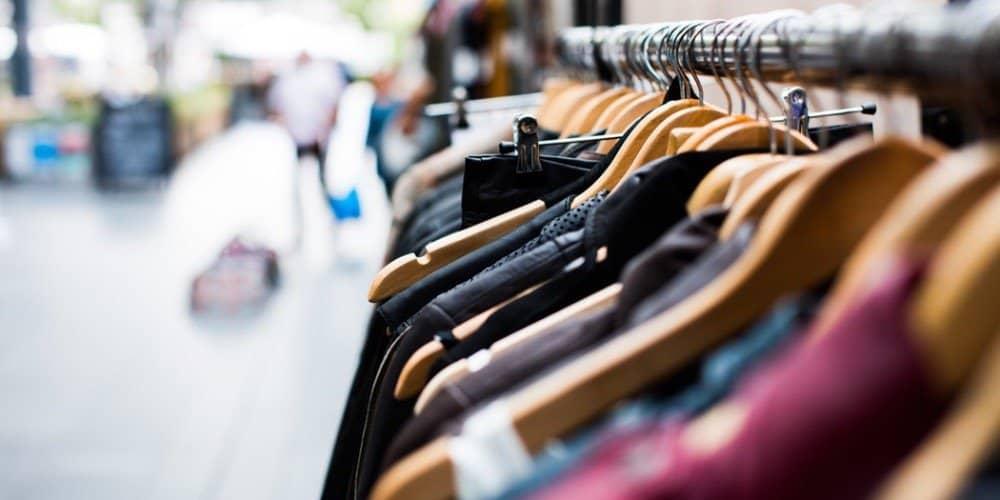 So, you have a list of products related to the chosen niche that are demanded by Internet users. Now, it's time to cross out the suggestions that are not appropriate for a dropshipping store – you don't want to waste your time searching for useless items, right?
Check if the products in your list have these features:
When people make purchases from you, they have to wait for some time till the package arrives. This wait makes no sense at all if they purchase some generic products. Why would they do that, really, if they could find an identical item in a nearby offline store and start using it on the spot? Surely, the wait should be worth it.
Dropshipping stores show the best results when they generate impulse purchases. Generally speaking, that's the effect you should try to achieve: if your store visitors get excited with the offers, they are likely to place an order immediately. Obviously, you can fuel their interest even more if you use a solution for buying motivation, for example, Countdown Timer or Recent Sales Pop-Ups, but the products also matter. Look for something with a wow-factor!
Your store needs impressive yet simple products. People never see your items before the purchase, so, for example, they don't have the chance to try on clothes, shoes or fashion accessories, or to check the performance of technically complex items. This factor might stop them from making a purchase, and can later lead to returns and refunds. Plus, highly sophisticated items typically cost quite a lot, so think carefully if you want to deal with high ticket dropshipping.
These items will be bought by people across the world and shipped all over the globe, so they should be A) lightweight (no one likes extra shipping costs) and B) damage-proof (imagine a buyer's disappointment after receiving a broken, scratched, or crushed item).
Yes, you are just a beginner now. But smart entrepreneurs selling products online do not live for the moment only – they plan to grow their businesses in the future. Besides, the dropshipping business model allows you to expand your niche and add new product categories easily. So, the products chosen should have the potential for growth.
Do you think that shipping, for example, knives or electronic cigarettes is a good idea? Consider the country or region you're targeting, and try to find out local laws. If some particular products are banned from use or selling or importing within this area, it is better to take them out of your list. Plus, make sure you are not selling copyrighted items that are a subject of intellectual property law.
Okay, now you have a much clearer idea about the products you're going to offer in your store. Now it comes to the most interesting part!
Choosing the best AliExpress products for dropshipping: scanning the platform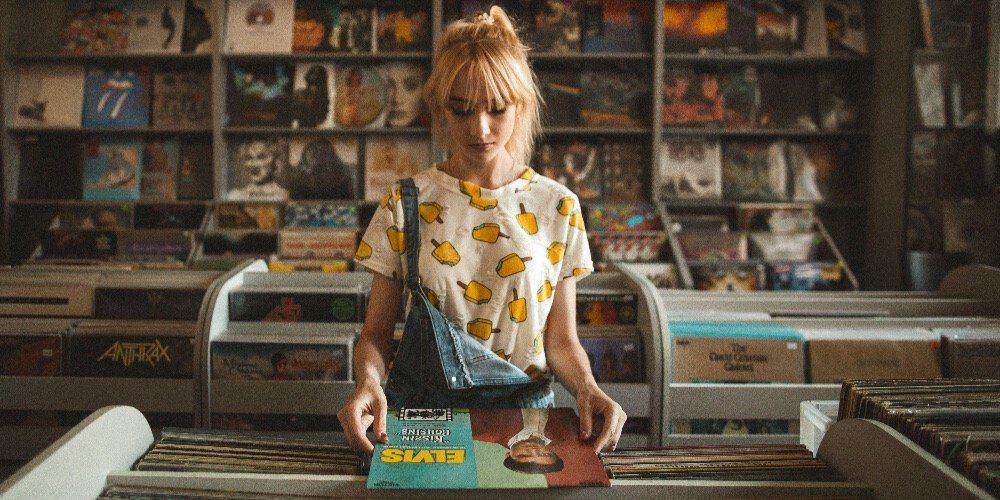 At this stage, you already know what exactly to search for. Let's figure out how to do it correctly!
First, go on the AliExpress homepage and type the first query from your list. You will see a list of related queries as well: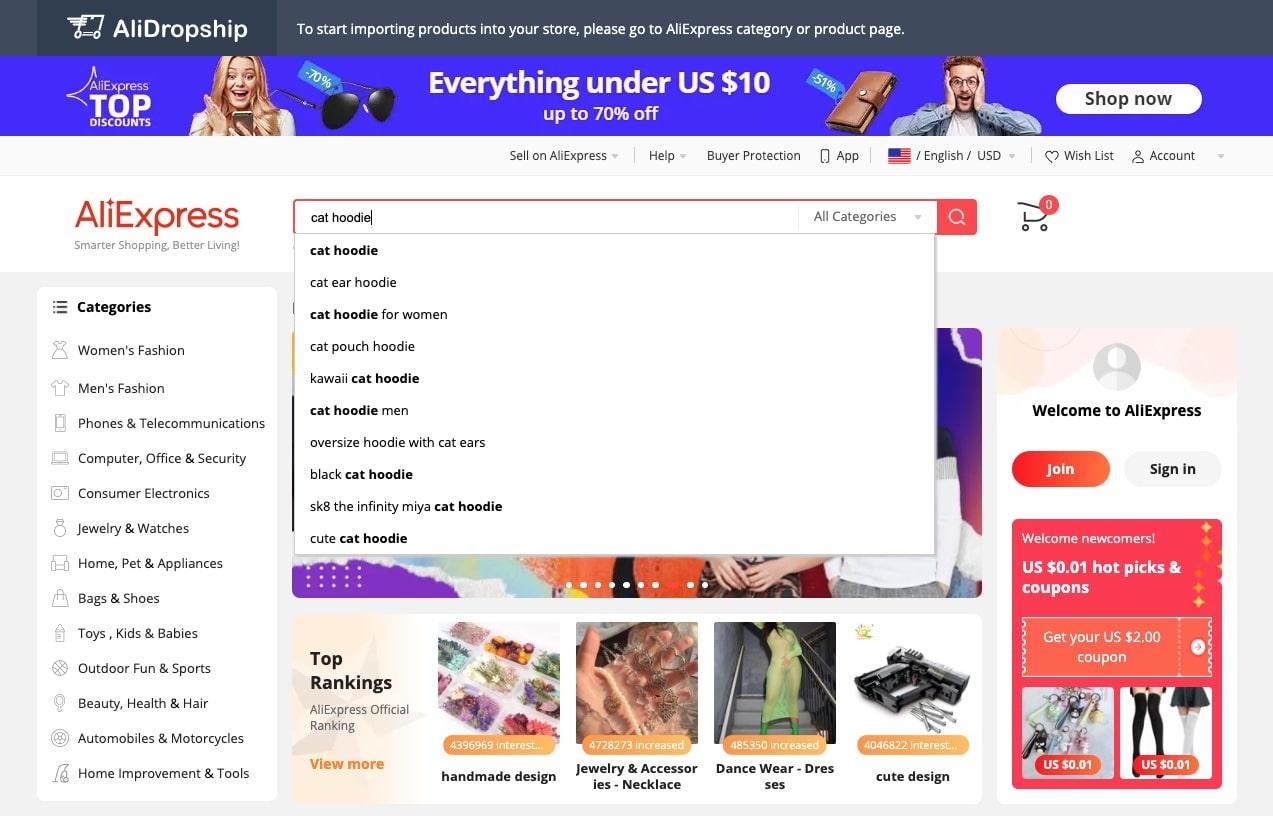 Write them down and don't forget to check them later, and as for now, start with the query you have already typed.
Select the regional settings: in the 'Ship to' field, choose the target region where you will mostly send your products. If your store already had some orders, look at the buyers' geography to understand where do your customers commonly live.
Why is it important? Because the next step is to put a tick in the 'Free Shipping' field. The system will automatically leave out the products that can only be shipped to this destination for an additional fee.
Don't forget to also put a tick in the '4* and up' field – this way, you will only see the items that are approved by the previous buyers.
Finally, in the 'Sort by' field choose the 'Orders' option to view the most frequently purchased items. The more orders an item has, the better; at least 100 is recommended.
This is how the correct settings should look like: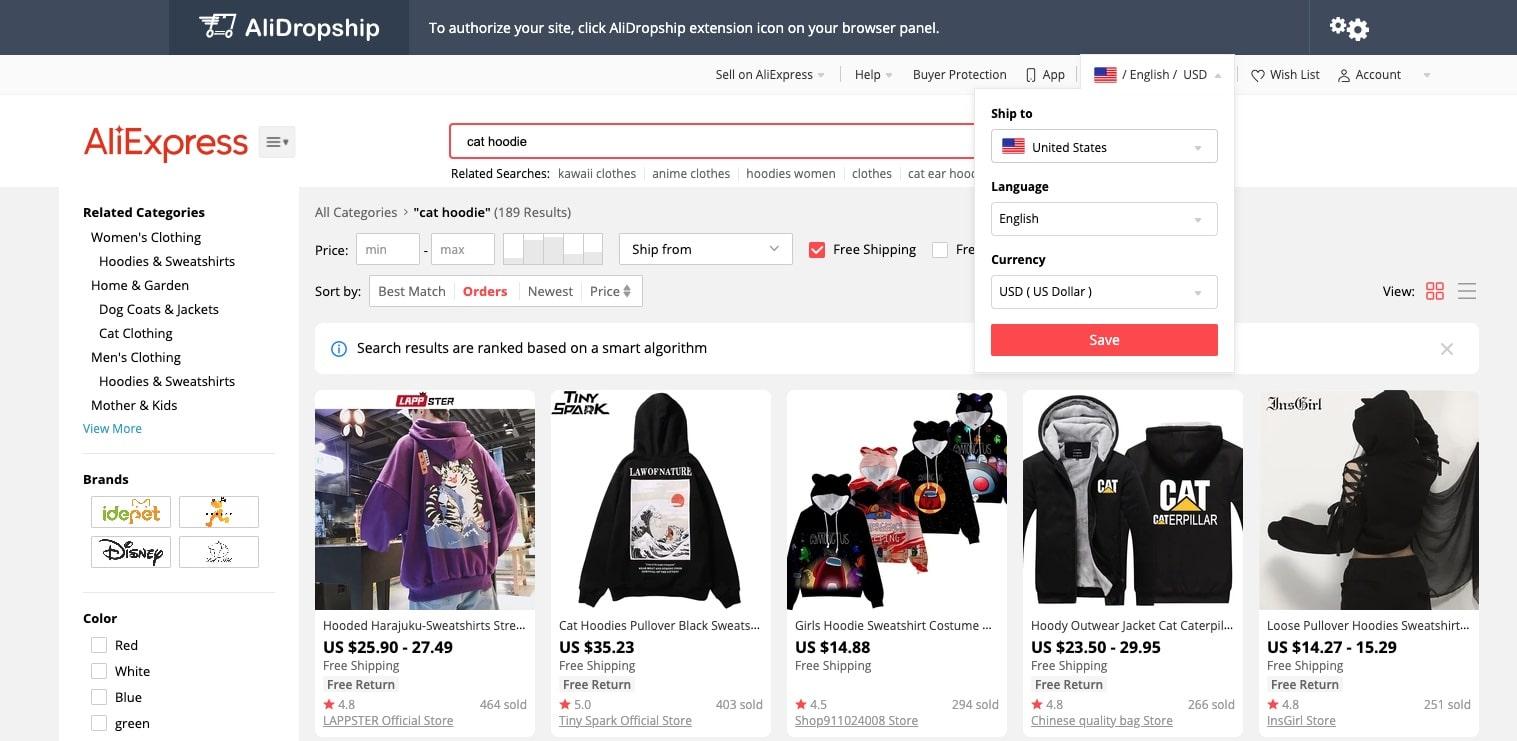 Great! Now it's time to evaluate each product separately.
How to find best products to dropship in 2023: final evaluation
Click on every product you like and take a look at the details provided.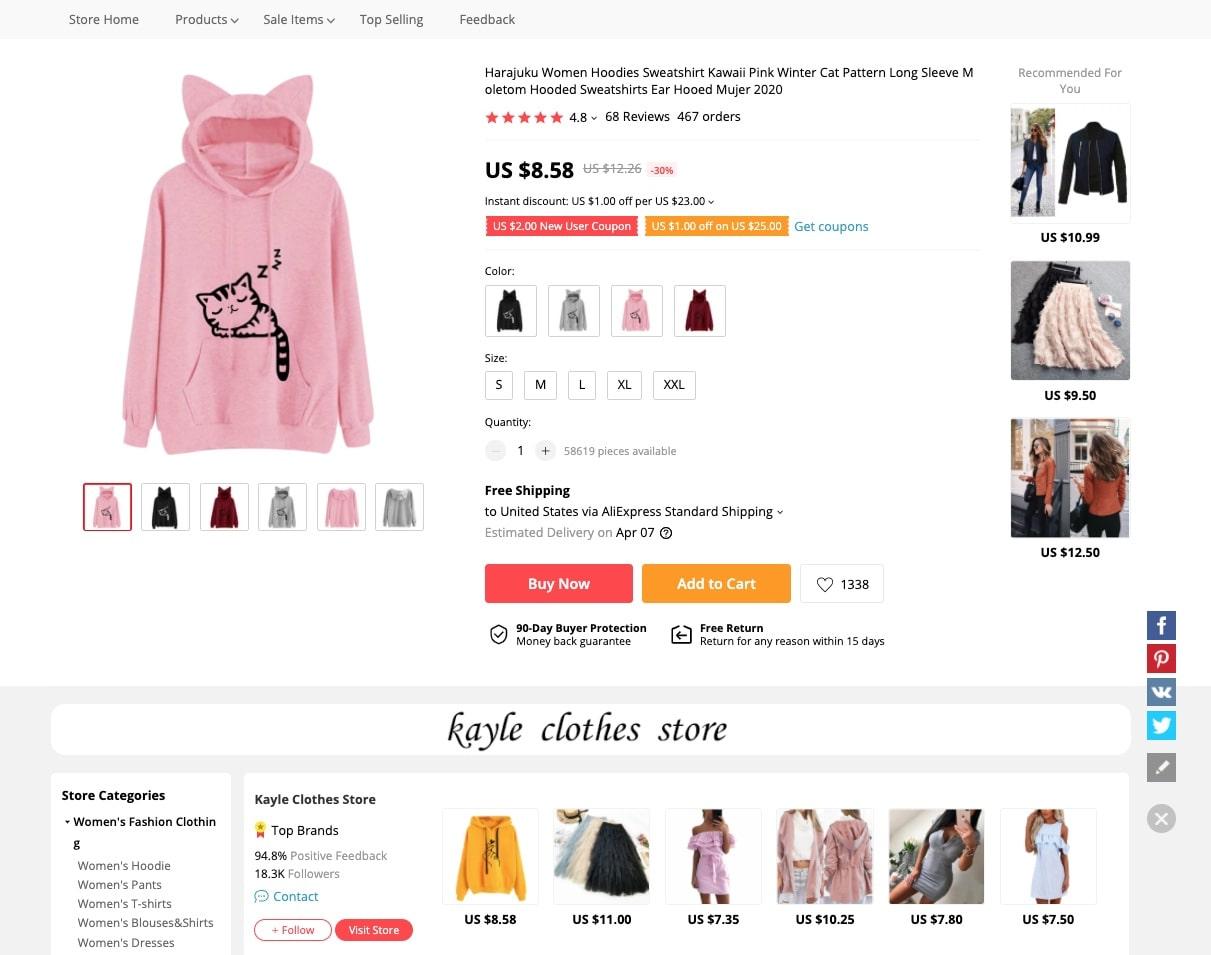 More specifically, you should carefully evaluate:
Your store needs items with trust-inspiring pictures that show the product clearly. Images basically are the only source of information for online shoppers, so they matter incredibly.
Ideally, you need pictures with no watermarks, but even if there are any, you can try removing them with the editing feature of AliDropship plugin.
Don't forget to look at the item description: sometimes, sellers place additional product photos there, so the picture gallery might be not the only source of images for your store.
The reviews from actual AliExpress buyers are a great source of information about the product quality and the seller's behavior. AliDropship solutions let you import the product reviews along with the item because the number and the content of the 'Feedback' tab is super important.
Okay, that's it!
Import the chosen products automatically, and don't forget to make some edits to the product pages in your store. This article will tell you more about this.
Now you know how to choose the best products to dropship in 2023. Use the knowledge and create your own wonderful store and start AliExpress dropshipping business easily!