Dropship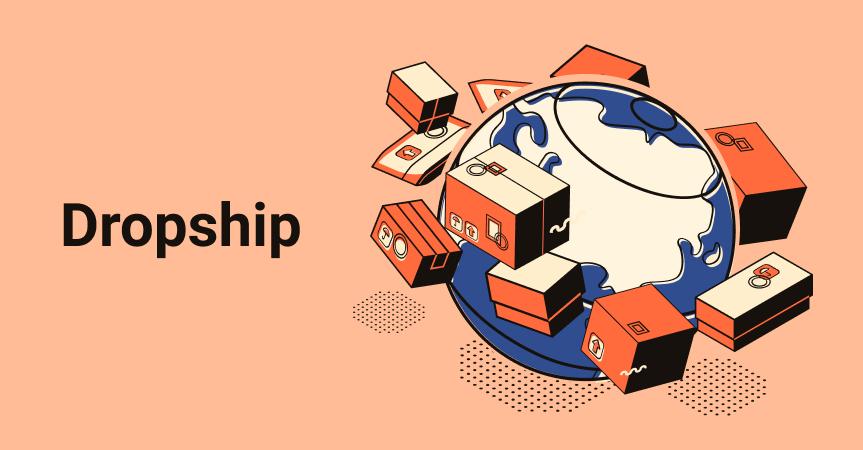 What does dropship mean?
Anyone looking for simple and riskless ways to start an online business has probably heard about dropshipping. People want more from life: more ways to make a living and more opportunities for their loved ones. Working a regular 9 to 5 job isn't the goal anymore: now everyone is seeking something that can provide a steady income and free them from the usual daily routine. These kinds of opportunities are possible with drop shipping. So, what does dropship mean?
What is dropshipping?
Dropshipping is a kind of online business that you can run without maintaining inventory, warehousing, or shipping the products to customers. You as the seller don't even have to physically interact with the product.
How does dropshipping work?
This simple business model can be adopted by anyone. This is the general idea of how dropshipping works:
Select a niche for your online business
Develop a website for your online store or buy a ready one
Find a dropship supplier to partner with and select the products appropriate to your niche (We highly recommend choosing Aliexpress, as it is one of the most widely known and advantageous online platforms)
Transfer pictures and descriptions of the chosen products to your website and set a higher price
When customers order something from the online store, purchase the item from the dropship supplier that you've chosen (note that this process can be automated)
The packaging and delivery process is the responsibility of the dropship supplier.
Your profit is the difference in the price of the product on the dropship supplier's store and your online store.
What does dropship mean for newcomers to ecommerce?
Dropshipping is a business that has limited downsides and is easily accessible to everyone, especially for the young and inexperienced. It provides an excellent opportunity to create your own online business and quickly get accustomed to the ways of ecommerce business.
What does dropship mean for experienced business owners?
For an experienced entrepreneur who already knows all the ropes of the ecommerce business, it can be a great additional source of income, as well as a new challenge to find and develop new business.
Benefits of dropshipping
As a business model dropshipping has its advantages and several aspects that make it preferable over other types of businesses. Here is a list of the benefits of dropshipping:
There is no need to spend huge amounts of money like in other businesses. With the dropshipping model, there is no need to maintain stocks and physical stores, to buy products beforehand, or to hire employees. The only costs are related to the technical store operation (domain and hosting fees) and paid promotions necessary to attract visitors to the store. Therefore, you don't need to invest money in multiple management areas because all of the aspects of traditional business are set aside.
It can be a great start for people that are just getting into the ecommerce business. No special skills or a relevant background is required. All that is needed to run a dropshipping business is a computer and a stable Internet connection.
A broad selection of products
Right now there is a dropship supplier for almost any kind of product. Carefully choose a niche, analyze the competition, research the audience, and monitor their behavior. This will help you discover trending products and focus on them. And don't be afraid to experiment: who knows, maybe you're the person who finds the next big thing.
As mentioned before, in the dropshipping business there is no need to deal with physical products.
Although the seller can purchase products for test purposes, make sure the physical products match the description and be reassured that the product is worth selling.
In the traditional retail business, if your store receives two times the number of orders, you'll need to do two times as much work. But the dropshipping business allows you to delegate the majority of tasks to your dropshipping supplier as they are the ones responsible for the orders. This opens up more time for you to develop your business plans and scale your business.
What does dropship mean in general?
It's a relatively new and attractive selling method that's easy to set up. It requires almost no starting capital, any specific knowledge, or special skills. You only need a desire to create and manage your Internet store and to run a business that allows you to satisfy customer needs without having to maintain or keep track of the inventory. All you do is manage the products purchasing process and advertise the store to a relevant audience. Good news: both of these tasks can be automated and run in a time-saving way!
Are you ready to become an owner
of a profitable online business?
The time has come.