Ecommerce Returns: How Do They Work In Dropshipping?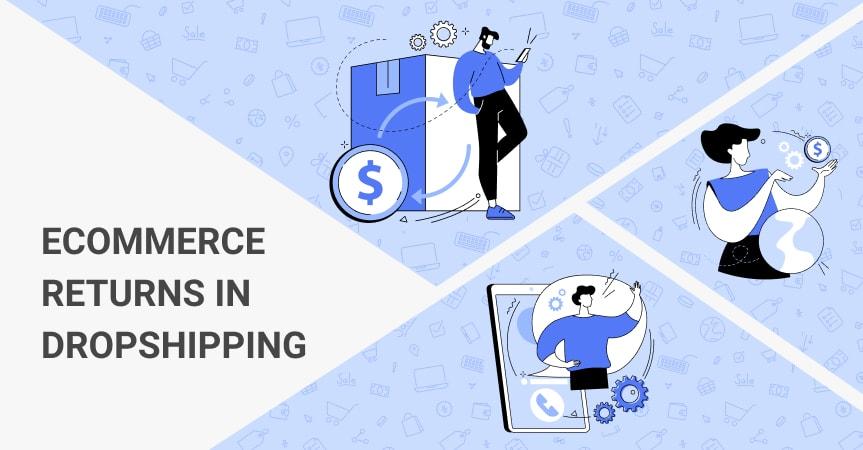 Properly managing ecommerce returns and refunds is certainly not an easy task. And many ecommerce entrepreneurs, both new and experienced, have to face this issue.
In this day and age, the ecommerce industry is flourishing and is becoming a regular part of everyday life, as more and more people are engaged in online shopping. Now, completing an online purchase is significantly more convenient than ever before. This is because many businesses are making an effort to make the purchasing experience more comfortable and advantageous for potential customers.
Different ecommerce companies are implementing various refund and return strategies to win over the customer's trust. Naturally, this boosts the buying activity, which can only bring positive results for the ecommerce business.
Although this does have its drawbacks, let's make one thing clear – refunds are not something an ecommerce entrepreneur needs to constantly stress about. Refunds and returns are a part of any retail business, regular or ecommerce. This applies to the dropshipping model as well.
So, in this article, we will discuss how to properly handle the issue of ecommerce returns.
The current state of ecommerce returns worldwide
All retail businesses encounter returns and refunds for a variety of reasons. As a matter of fact, about 30% of all ordered online products are returned.
Certain categories of products can have higher return rates and refunds than others. If you're thinking of starting a dropshipping business, it's useful to be aware of this. So, here are the categories with the highest refunds and returns rates:
Clothing and shoes (mostly, because the buyers choose the wrong size, and not because this niche is 'faulty' in general)
Electronics
Jewelry and accessories
Entertainment
There has to be some kind of cause for this, right? Based on recent ecommerce return rate statistics, here are the most common reasons why customers return their orders:
Received damaged goods
Decided the product didn't match the description
Got poor quality items
Ordered more than 1 item
Had an issue with delivery
Changed their mind and wanted the product no longer
To avoid any inconveniences, dropshippers need to provide more information on the product, along with high-quality photos and images. Also, the store layout along with the product pages needs to be kept as simple as possible, so that consumers don't make any mistakes while putting in an order request. So, make sure your customers have a seamless shopping experience.
This will result in customers being more informed about the product and making smarter purchasing decisions, which will lead to fewer returns and refunds.
Furthermore, keep in mind that consumers from different countries have different purchasing habits as well as return and refund habits. So, when you decide to target a particular country, closely analyse that country return rate and the reasoning behind it.
However, returns are bound to happen, regardless of how perfect you construct your online store and product offering is.
How to handle online shopping returns
Dealing with returns and refunds is certainly not a fun task, but it's definitely not something you should constantly stress about. Returns are a recurring aspect in the retail industry, regardless of whether it's an online or a brick-and-mortar store.
The refund and return process isn't always a challenging thing to manage! Many entrepreneurs find creative and trouble-free ways to sort it out. If you're wondering how other people are dealing with this business aspect, you are welcome to look at the experience of Kitty from New Zealand and see how she successfully handles returns and refunds in her store.
So, how can you prepare to this part of your business management?
Ecommerce returns in dropshipping
Considering you're running a dropshipping business, your refunds or returns are going to look a little bit different from the traditional process.
In the traditional ecommerce business model, if customers aren't satisfied with the received products, they simply return them to the seller.
However, in the dropshipping model, the returns management process is handled slightly differently. Generally, a dropshipping supplier is on the other side of the world. So, if for whatever reason the customer isn't happy with the purchase, what do you do? Do you tell the customer to send the products back to China? Or to you?
Well, since you're dealing with products that don't belong to you, it might seem a little confusing on what course of actions you should take in case of a demand for a return. The key point to remember is that, since you're a dropshipper, you don't necessarily need to have your customers return their products.
Instead, offer to provide them refunds without returns. This solution works great for you, and your customer. Simply ask your customer if they'd want a full refund and tell them they can keep the received item.
However, before saying that, here is what your first need to consider.
Establish a clear returns policy
As we stated earlier, having a clear return and refund policy is a must for an online store. In fact, according to online research, 80% of online shoppers are scared away from a brand with an indistinctive return policy.
So, when a customer complaint arises, you can refer to your return policy to process the order. However, carefully choose the words you state. To ensure you provide a hassle-free return, be sure to ask your customers to tell you what went wrong and to send you a picture of the product.
Look into why the customer wants a refund or return
If you receive a customer complaint, you need to delicately ask why they want a possible return. Furthermore, remember to keep your tone apologetic and have a positive attitude. You want the customer to cooperate with you, and provide an explanation and, better yet, photo proof.
Resolve the customer complaint
Depending on the reason for the complaint, you should always consider a full refund. As you are a dropshipper, you definitely don't want to spend extra money on the return of a product back to the supplier from a major online marketplace (most likely, AliExpress).
So, let's look at the most frequently encountered reasons for a return or refund and what you should do in that situation.
The customer does not like the product
In this situation, you are unlikely to receive a refund from your dropshipping supplier. Simply not liking the ordered product is not a reason valid enough to get a refund. In this case, you have to decide for yourself whether to issue the refund or to deny the customer complaint.
Though, we would recommend to give your customer a full refund and move on. This may not happen often, but in case of good customer service, they might return for future purchases.
The product does not match the description/ is broken/ has never arrived
If your customer states anything of the above, simply ask politely for a photo of a faulty item and send the visual proof to your supplier together with a refund request. In case the customer claims the product has never arrived, check its tracking code to see if there are any package movements. Does it seem like your buyer complaint truly has a solid ground? Provide them with a full refund and don't forget to apologize!
AliExpress has a strong buyer protection program with a full money-back guarantee. If for whatever reason your customer isn't satisfied with the product, we recommend you get in touch with your supplier and try to resolve the issue as soon as possible.
If you weren't able to talk with your seller, then you can open a dispute on AliExpress. Oftentimes, suppliers tend to refund inexpensive items quickly, without asking you to return the said items. They try to avoid disputes as it affects the store credit.
In the end, you can claim a full or partial refund for a product. For more details on how to handle the dispute, kindly go to this Knowledge Base article.
Final thoughts on how to handle ecommerce returns in dropshipping
Dealing with returns and refunds is certainly no easy task. However, when encountering this, you shouldn't panic, as returns are a natural thing in the retail business. So, it is best to be prepared when you are faced with it.
Though, for a dropshipping entrepreneur, the task really isn't as challenging. Bottom line is, one needs to have a clear returns policy so that if any inconveniences occur, the issue can be quickly resolved. Furthermore, make sure to always keep a level head and try to sort out any occurring issues politely.
Want to start dropshipping? One of the easiest ways is to get an exact copy of one of our successful stores! There are multiple stores to choose from, and all are time-tested and showing phenomenal results. By choosing this ready solution, you can skip establishing your online store and get straight to managing and promoting your dropshipping business!