Effective Landing Pages: What They Are And How To Get Them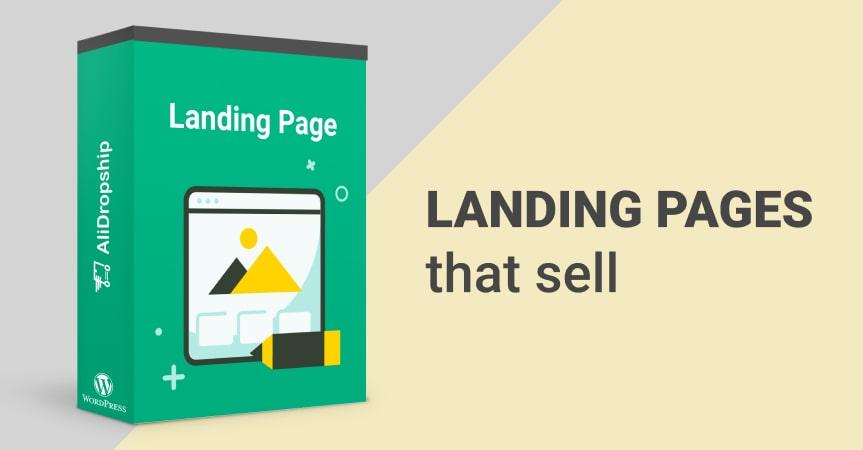 Today, we are just swarmed with choices we have to make on a daily basis. We weigh our buying decisions carefully and spend increasingly more time and effort on product research and comparison shopping. Jeez, how do you stand out and grab your market share? As usual, we have something up our sleeve. That's right: we'll be talking about effective landing pages today! Read on and take notes!
Imagine what a typical website looks like. Beautiful banners, a few dozens of top-selling products, most popular categories, a few competing CTA buttons, a countdown timer, customer testimonials, attention-grabbing Instagram feed, social media share buttons, a subscription form, engaging blog posts, a search bar…
All of them compete for the prospect's attention. This is what makes a great homepage. This is where visitors can get to know your brand and its values and explore your product range. But regardless of how nice your Homepage is, it is simply too generic and distracting to convert customers effectively. With today's market being so competitive and oversaturated, you can't afford to cater to all audience types at once. One size doesn't fit all anymore.
Okay, but what about product pages? Obviously, product pages are designed for products, aren't they?
They are. But on a typical product page, there are also numerous elements that might interfere with the customer purchase journey, distract potential clients from making a purchase, and carry them away from the checkout page.
In other words, typical product pages lack focus and fail to prompt engagement. Predictably, this leads to higher bounce rates and lower conversion rates.
To motivate the people you've fought so hard to win to buy from you, you need to capture their interest and hook them with your offer. Here's when a landing page comes into play.
What is a landing page?
A landing page is a standalone conversion-centric page that your prospects land on after they click your ad (in an email, social media post, search ad, etc.) or a search result. It has one goal: to convert by focusing on one offer.
Thanks to this hyper-focus on conversions and immediate engagement they trigger, effective landing pages make a golden opportunity to convert visitors into paying customers. Unlike websites, they give customers-to-be a single path to the destination point and uninterruptedly guide them from clicking on an ad to completing a purchase.
On a good landing page, visitors are way more likely to complete their purchasing flow as it's free from distractions and offers comprehensive information about your product without having them search, for example, for shipping or privacy terms.
In short, the sales landing page concept boils down to the Rule of One: one product, one offer, one action.
Why use a landing page?
According to this survey, landing pages have proven to convert two times more visitors into paying customers than typical product pages. Plus, landing page customers tend to spend twice as much time on a page as those sent to an ordinary web store. In other words, you have much better chances of achieving the full profit potential.
Standalone landing pages offer almost endless growth opportunities to business owners. With effective landing pages, you can:
Promote high-ticket / complicated / new-to-the-market products in a more convincing way
Generate even more demand for your best sellers
Make new product launches a runaway success
Test out product ideas
Run limited-time special offers
Supercharge your paid social and search campaigns
Tailor content to different client segments
Target your prospects in a more efficient way
Win back lapsed customers and decrease drop-offs
Encourage better visitor engagement and get more loyal customers
Create a stronger business and form a deep bond with your customers
Slash customer acquisition cost
See higher ROI
Drive traffic to your website and gain traction
Get customers' email addresses and build mailing lists
These are only the most obvious benefits you can reap from using landing pages. As the saying goes, the sky is the limit.
Who can benefit from effective landing pages?
Great news: landing pages can be your go-to solution regardless of whether you're a long time pro or you're just starting out.
Are you doing niche research to get started?
You can quickly hit the ground running by giving a few niches a try without investing a lot of time and money in filling the whole store with products you aren't сompletely sure about.
Here's how you can quickly understand if your product is going to be in demand on the market: select a product → create a landing page → launch a marketing campaign. If sales are not that great, just give another product a try. Congrats! You've just tested your hypothesis without spending weeks and hundreds of dollars on building a whole website!
Are you struggling to get sales from an already launched online store?
To get people to know your brand, there's no need to promote all the products you have in your store. Instead, you might want to pick the most promising items and build effective landing pages for them. This way, concentrated marketing efforts will make your campaigns more efficient. Apart from breaking the sales record, you can drive traffic to your website so your landing page visitors can see the whole range of products.
Have you already launched not only an online store, but also a few marketing campaigns?
If you already have an understanding of how to market products, it's high time you leveled up your marketing strategy. Thanks to relevant messaging, a compelling CTA, and sound social proof, landing pages might be your secret marketing weapon that fuels your conversion rates.
Are you an experienced store owner running a successful online business?
Even if you think you've tried everything, there's always room for improvement. With great landing pages, you can easily find a new marketing channel and a novel way to reach your target audience.
How to make high-converting and effective landing pages quickly?
Impressed by how much impact can a landing page make? So were we. But you're probably wondering how to create a landing page if you have zero knowledge of IT. After all, a landing page design is as important as what product you pick for promotion.
That's why we've built the Landing Pages add-on to help you zap the competition and get a massive return on your investments. No matter how savvy and experienced you are in dropshipping, our compelling and mobile-friendly landing pages will give your business a major leg up and help you fine-tune your marketing efforts.
These are not just words. At AliDropship, we've been using the Landing Pages add-on for months!
With landing pages, our dropshipping stores saw an unprecedented spike in conversions. And we're absolutely sure there's nothing that can keep you from doing the same. With this new competitive advantage, everyone can throw together a crazy landing page in no time.
With the Landing Pages add-on, you'll have:
Tested and refined template to deliver spectacular results
At AliDropship, we know the ins and outs of the art of conversions. We've carefully studied best practices and tried out the most convincing ones to deliver this article-style two-page sales funnel. The results? The proven winning template jam-packed with conversion-oriented elements will give you a jump-start your business deserves and make every product sell.
Frontend drag-and-drop builder
With this intuitive tool, launching your first page without breaking a sweat even if you're a total newbie is a pure joy. You can edit the default content and add new elements on the fly, move items up and down or change them up anytime.
You'll see the end result of your work and what your landing page will look like once it's published without leaving the builder. No need to wait for your developer to make changes! But don't worry – If you're in the mood for tweaking the template, feel free to add your custom CSS code to get the look you believe works best for your needs.
Customizable content elements
Control every important element on your web page! Add and edit paragraphs, visuals, lists, buttons (including button colors), countdown timers, comments, and more to make the page look and act the exact way you want.
Two effective exit-intent pop-ups
The add-on detects when visitors are about to leave the page and shows a pop-up window that restates your value propositions and gives your abandoning visitors another reason to stay.
Integration of the Bulk Discounts add-on
This powerful tool makes every product a can't-miss offer and increases the average order value by featuring volume discounts on your product page. Coupled with a countdown timer, the offer is to win lots of sales for you. Once your Landing Pages subscription is activated, you'll get the Bulk Discounts add-on for free!
We're just getting started and have a lot planned. 😏
Creating an effective landing page that can take your store beyond the typical can now be a snap. The Landing Pages add-on is a surefire way to expand your business and see revenue gains.