Best Email Marketing Tips: 20 Simple Ways To Skyrocket Your Sales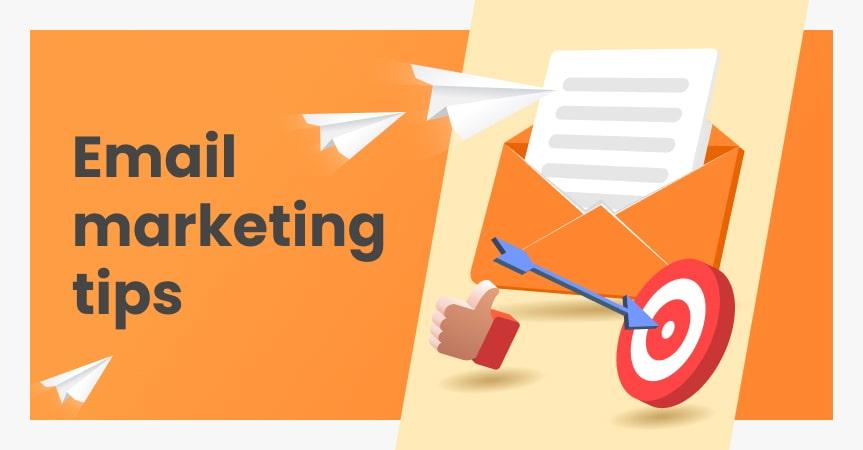 If you have an ecommerce store, you're probably wondering how you can increase its revenue without spending tons of money on its promotion. Email marketing is the perfect option! With the best email marketing tips we're sharing here, you'll be able to:
Grow your email list

Engage your subscribers

Do more with less time through automation

Reach out to lapsed customers to bring them back to your business
Let's dive right in!
Best email marketing tips for making your letter opened
Write a killer subject line
Your subject line is the first thing that users see and use to decide whether to open your email. So, you need to create a subject line that readers just have to open. We advise using cliffhangers to make your subscribers curious about what's inside the letter.
How?
Cliffhangers hold something back from the readers which ultimately will drive them to know more. Here are examples to show you how to use this in your subject lines.
"Hey, We Need To Talk…"
"Oh, Now, That Happened Again…"
"You Know You Want It!"
Caution: Don't overuse this technique as this can annoy your subscribers.
Pay preheader the same attention you give to your subject lines
Without a good preheader text supporting your subject line, your open rates stagnate or get worse. An optimized preheader can do wonders for your campaign. It can boost your open rates and get your campaign off to a splendid start.
That's why you mustn't ignore it anymore.
Take a look at these preheader examples:
Email subject line: Drop Everything. Sitewide Sale. Now.
Preheader text: It's our birthday 🎉 Free Shipping to celebrate!
Subject line: It's now or never!
Preheader: Only 7 hours left on these Black Friday deals
See how the preheaders add more information to sway someone to open up?
So, pay more attention to your preheader and optimize it!
Email new contacts within 24 hours
It's important to take advantage of the window of opportunity when your company or brand is at the top of your prospects' minds. You can really get a pulse of what future engagement will look like by what people do when you email them within 24 hours of their subscribing to your newsletter, signing up for an offer, and so on. Plus, it's a great opportunity for branding and setting expectations.
If you don't have any automated email workflows set up, you're likely missing out on some major opportunities to nurture and engage your existing contacts.
Experiment with emojis
Emojis can be something much more than simple illustrations and can improve your open rate in a huge way. In fact, some brands that use emojis in their emails increase their unique open rate by 56%.
Go out there and experiment with emojis to get similar or even better results!
Create a curiosity gap
A curiosity gap is a practice that leverages the reader's curiosity to make them click through from an irresistible headline to the actual content. By creating a curiosity gap, you're intriguing the reader with a small hint of what's to come, without giving much of the content away.
To integrate this element into your email marketing strategy, you need to:
Focus on the start and ending of your message in the email
Try to leave out important information in the middle
However, by not devoting enough time and attention to this, it can turn into a cheesy clickbait. Nevertheless, done right, this is a simple and effective way to create a copy that spurs curiosity. As a result, you'll get more clicks on your emails.
Here are some examples of what this might look like in practice:
"The easiest way to achieve your goal isn't what you think."
"What's the fastest way to achieve [GOAL]?"
"Should you use this tactic to achieve [GOAL]"?
All of these examples leave something out that can only be learned by clicking through to read the email.
Use power words
Your subject lines should motivate your readers to take action. By incorporating power words, you can motivate your audience to open and click on the email.
Here's an example of words that can increase your email subject line opens:
Use the double opens strategy
If you want more subscribers to open your emails, try using the "double opens strategy".
What is the double opens strategy?
To put it simply, it means to resend the same email to the subscribers who did not open your first email, but with a different subject line.
You must understand that not everyone opens your emails the first time. However, by resending the same email to non-openers, you can boost your open rates and email marketing ROI.
Before resending your email, you must pay attention to the following specifications:
Wright subject lines that better capture the attention of non-openers to open your emails
Improve your preheader text
Keep in mind the send time
Don't resend it right away, take some time to send it the second time. Wait at least 3 to 5 days before resending the email to non-openers
Best email marketing tips for inspiring readers' action
Make sure your emails look clean and crisp
This sounds obvious, but you'd be surprised how many people send emails that look like amateur websites from the '90s. If someone has opened your mail because of an engaging heading, you want to keep their interest. This means:
Using short paragraphs and ensuring that keywords and phrases relevant to your readers stand out.
Including bullet points to help people skim the content and take in the vital points.
Inserting pictures sparingly. Images should illustrate your message rather than replace your content. Some email providers block images or consider them an indicator of spam.
Using GIFs to draw attention to a certain section or content block or, even better, to frame your new product is an effective strategy.
Here's an example of what an email newsletter template might look like: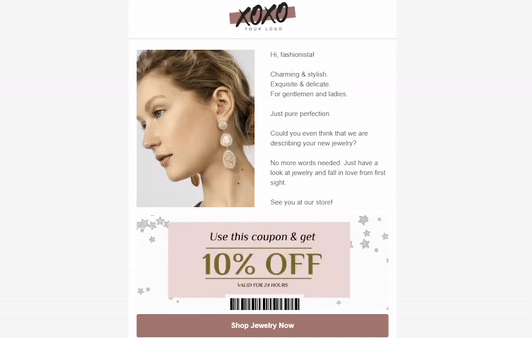 Write like a friend
When writing your emails, put your corporate hat to the side and write like a friend. This is the only way to really appeal to your subscribers and get them to open and click your emails.
For example, a corporate phrase like, "We're offering savings to our customers!" comes off as distant and stuffy.
A more friendly alternative could be something like "You've gotta check out this deal…"
That makes the email seem a whole lot more personal and makes it less likely that your recipients will simply delete your message and move on.
Remember: in this age of information, everyone is looking for a reason to ignore your emails. They aren't looking for a reason to read them. But if you appeal to them on a personal level, you'll stand a better chance of getting that email opened.
Improve your promotional emails
Promotional emails are designed to raise awareness for a specific deal. For example, a Black Friday, Mother's Day email, a Christmas gift guide email or a limited-time-only discount email.
Here are some tips to level up your emails:
New products (or services)
New products often become viral thanks to feedback from customers, so there's no better place to begin when launching a product than with your subscribers. Start with launching a new email campaign.
Liujo.com's example
Create a limited offer deal that relates to customers' interests. Provide a discount on the same category of items they bought in the week before. Remember, when a sale should be compelling, it's best to use simple and clear descriptions and offers.
underarmour.com's example
Subscriber-only discounts
Whether you send a regular newsletter or set up a campaign about special promotions, you can always include discount codes to boost your subscribers' motivation to make a purchase. Offering a feeling of exclusivity and membership is a short way to your clients' hearts.
Sephora.com's example
A traditional and effective form of email marketing is notifying subscribers of special offers based on upcoming holidays or the time of year. You might want to let your subscribers know about a Black Friday sale, an after-Christmas sale, or a spring clearance sale. You can also remind people about upcoming holidays, like Father's Day.
boohoo.com's example
Include interesting links and calls to action
The aim of most email marketing campaigns is to drive more traffic to a site, sometimes to a specific landing page. No clicks means no customers — it really is that simple. Always try to include visually striking buttons with text that give readers more than one opportunity to interact (e.g "Check Out Now!", "Download Now!", etc.).
Add urgency to your emails
If your emails put recipients under pressure to act, you'll convert more subscribers into customers.
For a long time, digital marketers have been using phrases like "Act now," "Hurry," and "Only a few items left" to convert web users.
Urgency is a key feature of the human brain. Urgent situations make us act very quickly.
Best email marketing tips for staying reader-oriented
Test, test, test
Never send anything without making sure it's working properly. Double-check that your messages look the way you want them to be by sending them to your personal accounts. Ideally, you will view them on Outlook.com, Gmail, and Yahoo, and on a variety of mobile devices before finalizing your drafts.
Ensure that all your links work, and all the personalization shortcodes aren't failing. Sending mass emails without double-checking the content would be like turning up to a business meeting having chosen your outfit in the dark. If it goes wrong, you'll look foolish and unprofessional.
Send emails regularly
Stick to a specific schedule! Whether you send monthly, weekly, or daily emails, stay in prospects' minds and inboxes through regular updates, news, and offers to increase your success rate. Keep your emails consistent so that readers could look forward to receiving your email.
Don't overwhelm your subscribers
As mentioned above, it is important to send emails regularly. However, beware of how often you send messages to your list. You don't want to flood their inbox with marketing messages about everything you offer — they might get annoyed and unsubscribe.
Include links to your social media profiles
Encouraging your readers to engage with your business on social media should be one of the key ingredients of your email marketing pie. Therefore, it is a good idea to include links to your social media alongside a call to action to share this promotional offer with their social media followers and friends.
Not only does this give you an added opportunity for promotion, but it also builds trust between your business and your audience. If a visitor has already given you their email, the odds are good they will follow you on social media, too. Make it easy for them to follow you!
Best email marketing tips for managing your campaigns
Maintain your email lists
We would like to share with you a good lifehack. To get better results from email marketing, you should remove the bad addresses that affect your reputation as well as your overall deliverability. It would improve your statistics. Bad addresses include people who ignore, delete, or mark your emails as spam.
Too many marketers focus on growing their email list, but they forget that there is no benefit of having more people on the list if you don't reach the inboxes of your subscribers.
A/B test your email copy frequently
One of the best ways to improve your email campaigns is a regular split testing.
The more you test, the more patterns you'll start to spot, and the better you'll be able to adjust your email strategy.
Please note that it is incredibly important to base your decisions on data rather than guesswork or intuition.
What elements of the email should be a subject to your split test?
From line
Subject line
Preview text
Call to action
Here's how these elements look from your readers's inbox:
And here's how they look in the letter:
We recommend you to test only one element at a time (either subject line or preheader text) for the most accurate results. Use A/B testing, not your guesswork to pick what's right.
Manage your email marketing schedule on a calendar
When launching and managing your email campaigns, calendars and planning tools can help you in a major way.
It helps you build consistency and organize the whole process, which in return delivers better results.
Optimize for mobile
What's the first thing you do when you wake up in the morning? Many people take their phone. In fact, 66% of email opens occur on smartphones or tablets. If your emails aren't optimized for viewing on these devices, you're potentially missing out on a huge number of clicks. Keep it in mind while launching your next email campaign.
Keep your emails out of spam folders
If your carefully constructed emails are flagged as spam, they'll never see the light of day. Start off by making sure your recipients have opted into your emails so you aren't running afoul of any regulations like the CAN-SPAM Act.
Beyond that, avoid using all caps, too many exclamation marks, and hyperbolic phrases ("ACT NOW BEFORE TIME RUNS OUT!!!!"). We recommend you to pay special attention to this topic.
Summing up best email marketing tips
If you're a dropshipping business owner, using email marketing should be one of your priorities.
Email marketing isn't just about sending the same offer to every customer. It's about building relationships, learning what your customers are like, and discovering what they respond to. Most certainly, it's a combination of good planning and analyzing data to make improvements to your campaigns.
The only way to build and improve your own winning email marketing strategy is to get out there and apply these tips to see what works for your audience best! Whatever help you need along this way, you can always ask for a professional email marketing setup – we'll be excited to assist you. Happy emailing!