Niche Market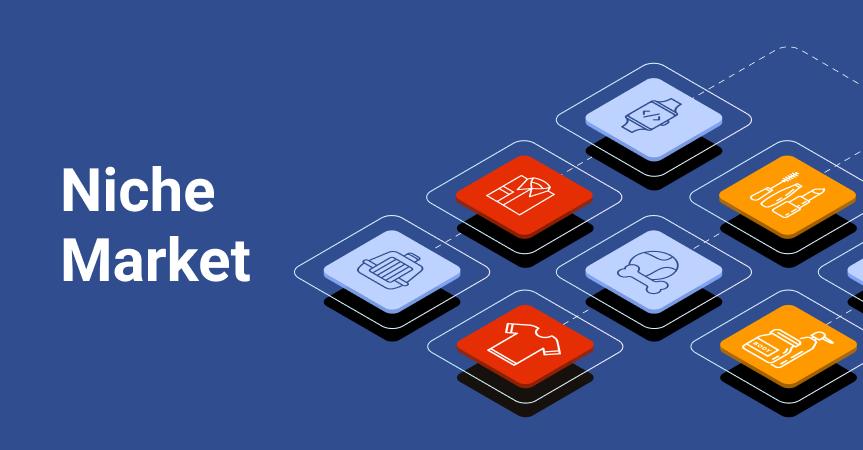 For a dropshipping business to succeed, a huge amount of work needs to be done. To build a competitive business, entrepreneurs need to research the competition carefully and analyze the current market situation. From there comes a business idea of the most profitable niche market to target.
What is a niche market?
A niche market is a small segment of a broader market where the focus is put on a specific range of products or services that are typically demanded by a narrowly defined audience.
What exactly does a niche market definition include?
All the items within a specific niche should have some unifying feature. It can be, for example:
Price level
Purpose
Area of use
There are lots of criteria you can use to identify a winning niche for your business. Almost all markets can be divided into smaller niche groups. For example, the sports market can be divided into different types of segments, such as types of sports, types of clothes, equipment, accessories, and so on. Upon closer research, promising business niches with untouched audiences can be found.
Niche market benefits
When you choose a specific product niche you already have a slight edge over the competition. Here are some benefits that you should keep in mind, which include:
The more specialized and niche-oriented your business is, the lower competition you will encounter.
Generally, catering to the needs of a specific niche means that you do not have to adjust what you sell to different groups of people. It allows you to focus only on a specific group of potential customers.
The reputation of an expert
Offering certain products or services will most likely mean that you are an expert in this field of work. You will know that the products are trending and are popular. This allows you to fill in the store with the most demanded products. Which in turn means that customers will be more likely to order products from you and recommend your services to other people.
Creating a business specified on a certain market doesn't mean that you always have to stick to this market. Eventually, once you've successfully established your business, you can expand into broader markets.
Since you are creating a small business focused on a narrow category of products, it is going to be much easier to manage and improve it from a long-term perspective.
Understanding your customers
Being focused on a select group of people allows you to study them thoroughly. Which, in turn, lets you create a marketing strategy to target a specific audience that you are interested in. Understanding your customers lets you configure your advertising in the most accurate way possible.
By carefully researching and analyzing various niche markets you can decide what segments are more compelling and which ones are a waste of your time.
How to find a niche market
It can be a difficult task for both already established and newcomer entrepreneurs to find a promising niche that's profitable. It is especially challenging if this market hasn't been touched upon before. It can take even more time to explore an unfamiliar market completely from scratch.
While choosing a niche, you need to keep in mind multiple aspects that define its profitability:
The size of a potential target audience
Your potential customers' interests and preferences
The availability of high-quality products that you can dropship
The channels you can use to promote your product (social media, paid advertisements, etc).
To pick a promising niche for your dropshipping business, check out this in-depth niche selection guide, and follow the step-by-step process described there.
Are you ready to become an owner
of a profitable online business?
The time has come.