Ankit Did It Twice! From 0 To $100K With 2 Dropshipping Stores!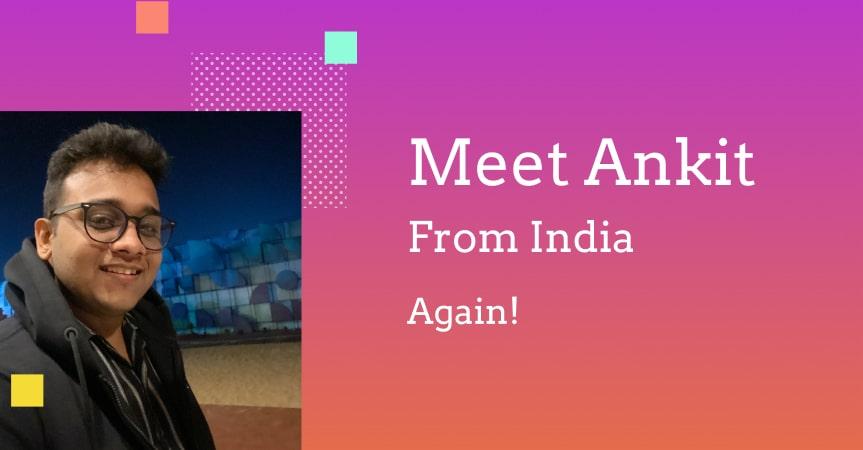 How does a small business growth over time look like? What can happen to a young dropshipping store in a mid-term prospective? Today, we're discussing these questions with Ankit who has been in the dropshipping business for over a year and a half! He has already shared his first dropshipping steps with us some time ago, and now, we can't wait to see how he's doing!
Disclaimer: all the success stories published in AliDropship blog are the results of interviews conducted in the written form. Even though the editors may make some minor changes to the grammar, spelling, and/or punctuation, the respondents' writing styles, views, opinions, stores screenshots and personal photos are left unchanged.
Hi, thank you for getting in touch with us once again! Kindly introduce yourself to the readers who aren't familiar with you yet 🙂
Hi, I'm Ankit, a 22-year-old entrepreneur from Odisha, India. I have done over $170,000 in revenue in the year 2020 with my ecommerce dropshipping stores and spent over $50,000 on Instagram and Facebook advertisements.
Last time we spoke, you mentioned your store made $52K+ in half a year. What has happened to your business since then?
A lot has changed since my last interview. First of all, the niche I was selling the products in wasn't something I was interested in, even though it was something which was definitely making me money. So, I thought instead of closing that store and opening a new one which aligned with my interest. But, then I realised why don't I sell this as an asset to someone who can take this store to new heights? That would mean more capital for me to be able to start a new brand.
So, I searched for various platforms which would allow me to list my store for sale. I finally went ahead with Exchange Marketplace (by Shopify) which allowed me to list my business for sale right there.
The procedure to list your store for sale is pretty simple. You just need to install the Exchange Marketplace plugin and answer questions about your listing (website) and assign a price to your business. After that, your listing goes for review. All the revenue and profit data is verified by the marketplace before the seller is allowed to list their website for sale there. This makes it a safe place to buy for both sellers and buyers.
So, after that was done, I got multiple contacts for my listing and finally sold my brand for a cool $20,000. Here's a screenshot for the offer I received: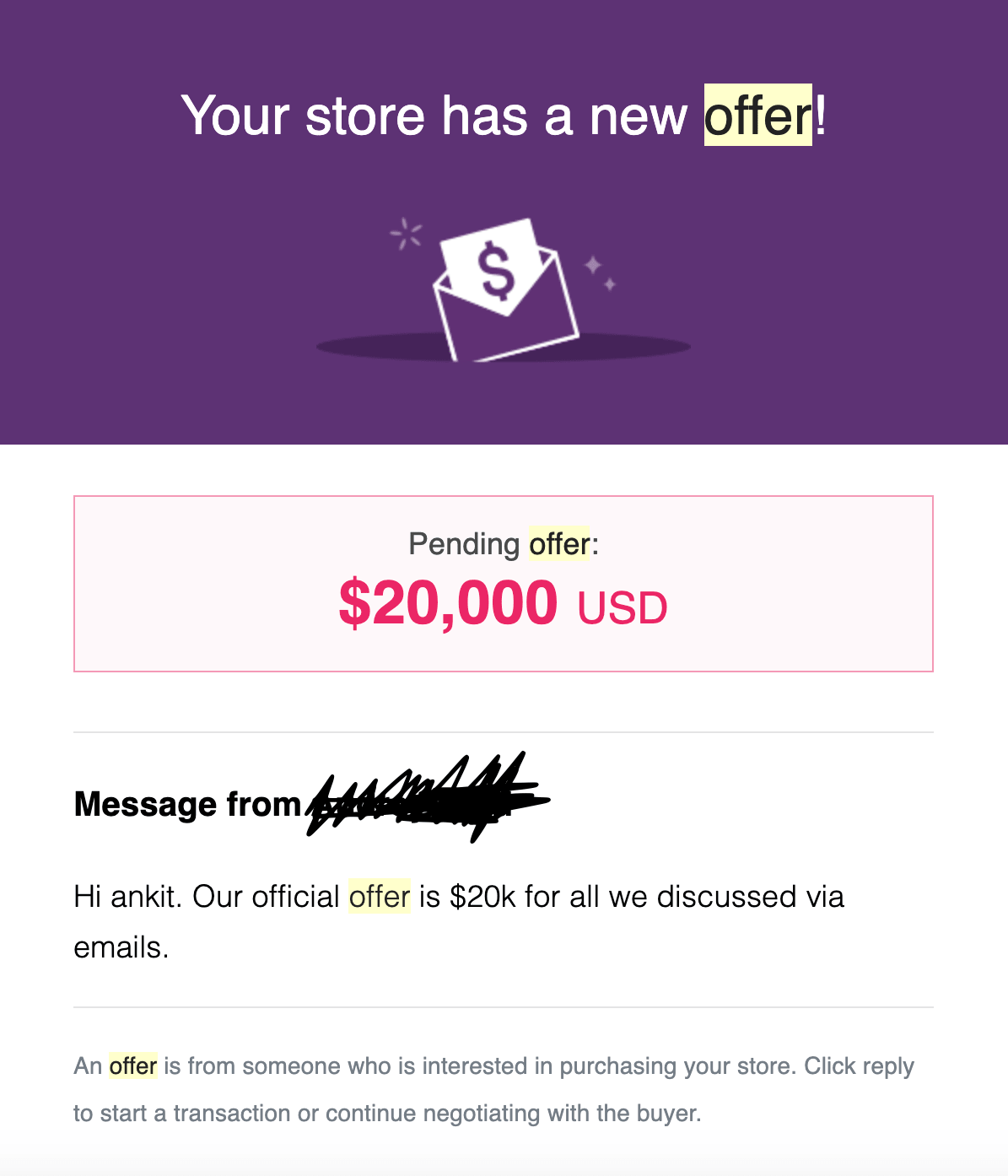 As you sold your first store, what happened to your business next?
I just started making new ones from scratch. Currently, I'm running 2 stores.
My business has been performing great and I was able to achieve a personal milestone of generating $50,000 in a month and I was so glad when I achieved it in the month of December. Here's a screenshot from that store:
What, do you think, are the main reasons behind your business growth over time?
You won't believe me but, when I started out and did $30,000 in a month, I was doing everything on my own. I did everything from marketing, advertisement, sales copy, video ads and even customer service all on my own. But, slowly I transitioned and came to realize that my time is much more valuable and that I'm not doing justice to it. Therefore, I filtered out the things I didn't like and just outsourced it to be able to focus on the parts I did like. This has been a huge plus to me and my business. I have been able to focus more on marketing and ads which helped me hit a personal milestone of generating $50,000 in 30 days.
Is the AliExpress ban in India influencing your business in any way?
Absolutely not. I'm dealing with the AliExpress ban just fine. Things are still normal because you can still use other ways to access the website. My customers are from outside India, so it's not affecting them in any way, either.
To achieve such an impressive business growth over time, how do you develop a product strategy that would support your intense marketing efforts?
When I'm just starting out with a product, I head over to AliExpress and choose the listing that has at least 4.7/5 stars review. The reason is, I have found from personal experience that sellers with reviews lower than that can be deceptive, or the product quality isn't up to the mark. Sure, this doesn't hold true for every seller there is, but it applies to many.
For setting prices, I try to find the perceived value to the customer and research how much is the customer already paying for the exact or similar product. I aim for a price around 10%-20% higher than the selling price to be able to account for all the marketing expenses.
There was this one time where I was selling a product successfully for $34.99 and everything was good but I wasn't happy with the profit margins I was getting. So, I wanted to try a higher price point for it, but then again, I didn't want to lose customers owing to the higher price. So, I did some A/B price testing and increased the price to $39.99. To my surprise, for every 1,000 visitors the higher price point converted 30% better than $34.99. This made me realize that I don't need to be blindly basing my pricing by multiples such as 2X or 3X. Rather, I need to be able to perceive the value it provides to the customers.
What are the most important things that you have learned during your business journey?
I feel the most important lesson I learnt during this year is to be persistent and to have blind faith in myself and my abilities. There's a lot of newbies asking how to start their first business online. Well, there's tons of free resources which I personally followed for a year before even thinking of indulging myself seriously in this business.
Also, ecommerce isn't the only way to make money, neither is it the easiest. But, what I am sure about is if you are persistent in your efforts, then you can surely achieve anything you want.
In general, how has your life changed alongside your business growth over time? What are your next goals?
Things have been the same more or less. I haven't had the freedom to go on trips and "lay back", so to speak. Still, I'm looking forward to things returning back to normal for me to be able to go on those trips. Professionally, I want to achieve $1 million in revenue this year. It's not impossible but it's not an easy feat. So, wish me luck?
Thank you, Ankit, for your detailed and insightful answers! Most surely, it's incredibly inspirational to see what a well-thought-out approach can do for a steady business growth over time. We do wish you the best of luck and hope to see your dropshipping business setting and breaking new ambitious records!