Emoji Marketing: How To Use It To Boost Engagement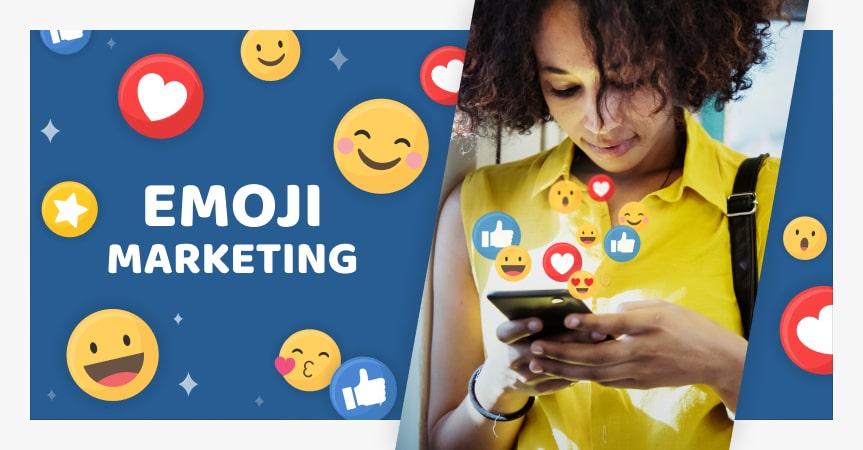 Have you ever texted a friend using this emoji "😀"? Well, it's not a surprise! Nowadays, emojis are widely used in digital media. They humanize interactions and add color to them. That's why many brands have integrated them into their marketing campaigns. So, emojis are absolutely important for marketers who need to attract people's attention in a fresh and trendy way. As a dropshipping store owner, you understand that engaging on social media is a great way to get more customers, maintain good communication with them, and build lasting relationships. You can also use emoji marketing to stand out from your competitors. All of that can bring you more profit in the future.
But when and how can you use emoji marketing to promote your dropshipping store? Let's find out together!
Emoji marketing statistics
Before we move ahead, let's look at some statistics.
According to HubSpot:
Adding emojis to a tweet increases engagement by 25.4%
Using emojis in Facebook posts boosts the number of likes by 57% and increases the number shares and comments by 33%
According to EmojiPedia:
5 billion emojis are sent every day on Facebook Messenger
The top 10 most popular emojis are:
😂 Face With Tears of Joy
❤️ Red Heart
😍 Smiling Face With Heart-Eyes
🤣 Rolling on the Floor Laughing
😊 Smiling Face With Smiling Eyes
🙏 Folded Hands
💕 Two Hearts
😭 Loudly Crying Face
😘 Face Blowing a Kiss
👍 Thumbs Up
The Emojics blog reports the following:
Smartphone users worldwide send 6 billion emojis every day
Emojis increase Instagram engagement rate by 48%
Sounds impressive, doesn't it? Now, let's discover how exactly emoji marketing can boost engagement!
How emojis and marketing are connected
As we mentioned before, emojis are engagement boosters! Adobe Emoji Trend Report states that around 50% of respondents would be more likely to follow a brand if they use emojis in their marketing, and 44% would even buy products that were advertised using emojis.
"When people look at an emoji, their brain behaves in the same way as when they look at a real human face. Emoticons are considered equivalent to the human face by your brain. This is why emoji user engagement is more than what you'll see with text or any other content type," says Emojics Blog.
Messages with plain text and messages with emojis have a different impact on the reader. Emojis are able to articulate the right intent and mood, which might not be that evident in a plain text message.
You can even tell a story using emoji only:
Surely, an essential challenge for all marketers is to create intuitive digital storytelling by using emojis. The most important thing is to be moderate while using them. Otherwise, you will be misunderstood or not conveying the right intention.
Take a look at the following example of using emojis poorly. Here, the U.S. Army inexplicably tried to get in on the emoji action by using cartoonish emoji faces instead of actual U.S. soldiers.
Surely, it triggered a highly negative response, inviting critics to bombard the comments sections with gruesome, emoji-dotted photos relating to past military scandals.
If now you think that emoji marketing is something you'd like to try for your dropshipping business, keep reading to learn some tips.
How to use emojis in marketing campaigns

Using emojis for marketing requires the right balance of the marketing message, intent, and emotion (happy, surprise, pun, etc.). It's better to use emojis that convey positive emotions to be memorable and drive engagement.
Check this impressive example: on the World Emoji Day (yes, it exists), NASCAR Tweeted a mosaic of some of the sport's most famous drivers made with emoji only. Art? Maybe. Cool to look at? Certainly.
Here are our tips to get emoji marketing right.
#1 Research your audience's emoji usage
Understanding how your audience uses emojis and how it perceives certain emoticons is the key to getting emoji marketing right. Here are your few steps to follow:
Understand whether you should be integrating emojis in your marketing messages
Use social intelligence tools to identify what emojis your target audience is using online
Decide on the emoji that fits your brand personality best
Before integrating an emoji into your message, look for its possible alternate meanings to make sure there is no potential misinterpretation: for instance, the Information Desk Person emoji 💁 is also used to 'show attitude'
Test your emoji marketing campaigns on a sample audience to ensure they know what the emoji means
Brands that have crafted a fun persona or are using humor in their marketing campaigns can use emojis to add playful elements. At the same time, a B2B marketer may use emojis subtly to grab attention.
#2 Remember that context is everything
Context and relevance are crucial elements of emoji marketing. Here's what you should consider before including emojis in your message:
Will my target audience understand the intended message?
Does the emoji naturally fit the brand persona?
Does it resonate with the audience?
Is it the right channel?
Does this emoji fit the platform I'm using it on?
One of the most popular uses of emojis is within email subject lines. Still, emoji marketing is considered to be most effective when used on social media platforms.
It is important, however, to use the right emoji that best fits a social media platform. For example, LinkedIn is a platform where people connect more formally and for professional reasons. So emoticons that applaud, generate curiosity, or express interest are more popular.
Look at the screenshot below.
Here, Budweiser used emojis in a tweet for the Fourth of July, which was retweeted hundreds and thousands of times. Budweiser used three different emojis to create an American flag composition: a very creative and ingenious way of using emoji marketing which mimics the way that emojis are used in emoji art.
#3 Use emojis moderately
Marketers must be careful not to get carried away and use too many emojis in their marketing messages. The purpose of emojis is to convey what words could not. But going overboard with emojis will make the message look forced or confusing.
For example, Chevrolet missed the mark when it published the press release (below) composed entirely of emojis.
While the intention behind it was clever, the meaning of what the brand wanted to communicate was entirely lost.
#4 Humanize your brand
Emojis can simplify your marketing message and humanize your brand voice. So sending out ❤️ to your top fans on Instagram or react with 👏 to your B2B client's success on LinkedIn is a great way to express and humanize online interactions.
Sephora is a classic case of a brand that's not just peppering their content with emojis to look hip, but have forged a fun and recognizable voice for themselves just by using emoji marketing in most of their tweets.
They've made it an integral part of their daily communication and stuck to it consistently.
Key takeaways for your emoji marketing campaigns
Emoji marketing is an amazing tool to amplify your marketing message! Balancing your text with the right emojis can bring a positive reaction from your audience and drive more engagement.
So, what you should do to get emoji marketing right?
Identify the emoji that best fits your brand tone of voice
Do research to understand the meaning of an emoji to avoid misinterpretations
Identify the right emoji for each of your social media
Use emojis in email subject lines to boost open rates
Use emojis moderately.
Following our tips, you can add a human touch to your emoji marketing campaigns. Good luck! And remember: in case you're afraid to experiment with your emoji marketing efforts, you trust our specialists to create engaging social media posts for your dropshipping store 😉
What's your opinion on marketing with emoji? Have you ever tried it? Tell us, we're always excited to learn about your experience!