How To Dropship Baby Clothes To Make Every Parent Adore You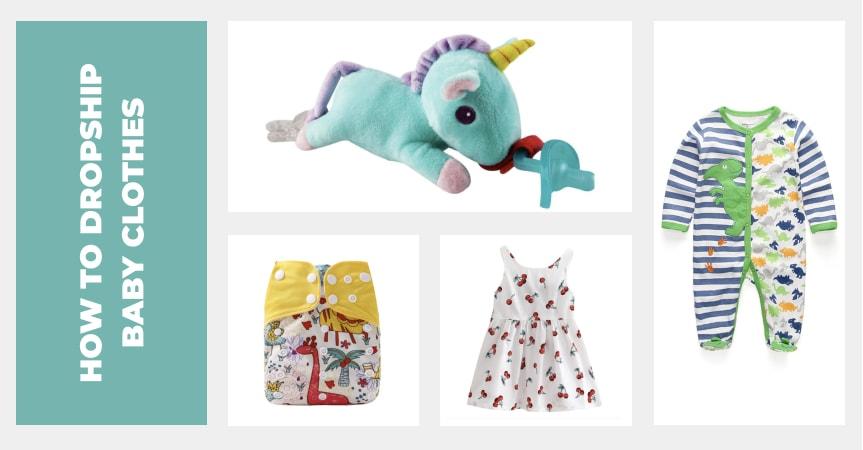 Why dropship baby clothes? Is it a safe business choice? What can you do to benefit from it? Let's go over the most popular questions!
As we usually say it, in dropshipping, the trick to stealing your potential customers' hearts is connecting to them emotionally.
And can you think of any product type or category that provokes a more emotional response than adorable baby outfits?
If you can, just write your idea in the comments section below – but I guess we all know who's the winner here 😉
However, there's more to this niche than just client affection. For lots of reasons, baby clothes are the perfect products to dropship – and here is why.
Is it profitable to dropship baby clothes?
First of all, let's take a look at the graph below.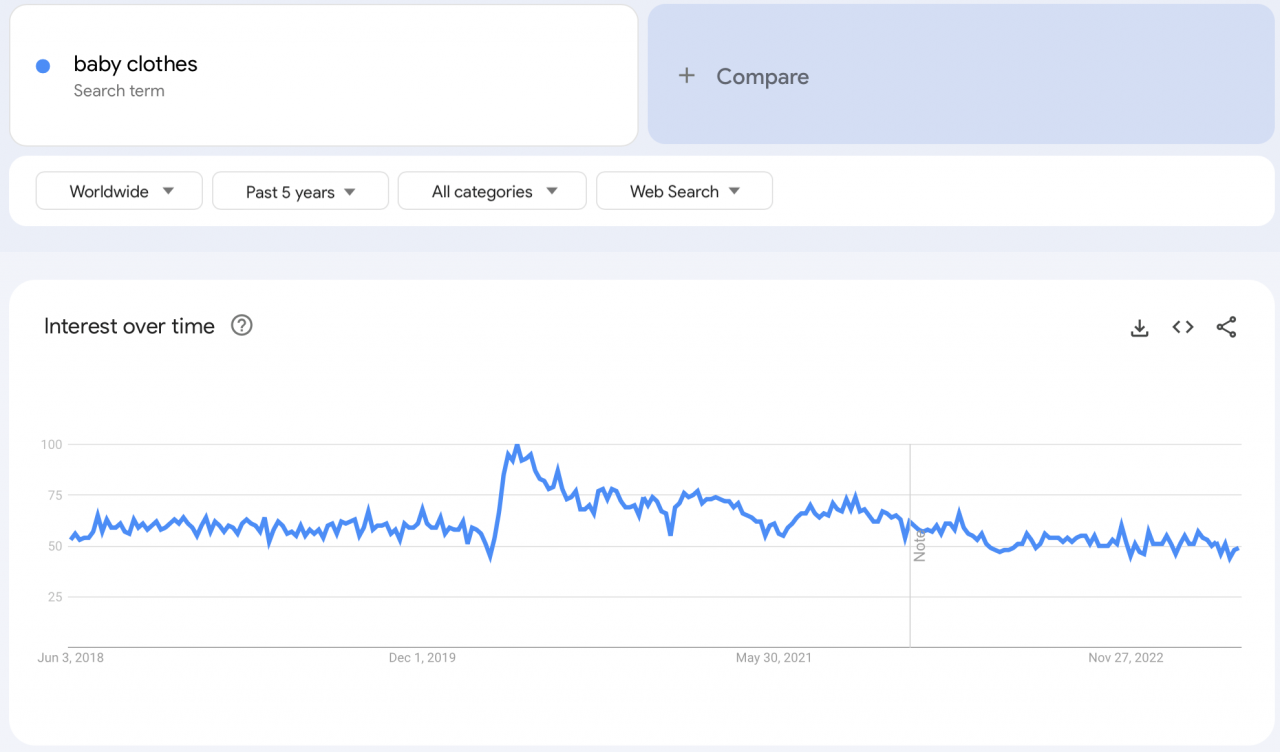 As you can see, over the last 5 years, baby clothes have consistently been a highly demanded product type all over the globe. Despite political conflicts, economic downturns, and other unfavorable worldwide events, people continue to make families, have kids, and cherish their little ones!
With the changing socio-economic environment, this market segment gets even more room for growth. In the developing countries, the middle class is emerging. It naturally leads to an increase in demand for the items of daily use and even switching to their more expensive alternatives.
According to Statista data, in 2022, the worldwide revenue in the baby clothes segment amounts to $41 billion. Quite notably, the biggest part of the overall revenue ($7,4 billion) is generated in the USA.
It lets us safely assume that in this particular country, the financial prospects of this niche are incredible. And, on a global scale, it can bring you considerable profits, too – especially if you treat it right.
How to dropship baby clothes: think your store concept through
Why would parents of a newborn (or soon-to-be parents) order baby clothes online instead of buying them from the nearest offline store?
There might be several reasons for it:
Lack of time or energy to physically go and buy the desired supplies
Limited product offer in the local stores (lack of cute and unusual baby clothes that make the parents happy with their choice, or lack of special needs clothing required for this particular case)
Low quality of the available products (sewing defects, poor quality textiles, toxic fabric dyes, etc.)
High products price
Each of these reasons can motivate buyers to look for the necessary baby clothes in some places other than their local stores.
Therefore, you can modify your dropshipping store in a way that meets the needs and the demands of a specific customer segment, and bring value to your buyers. Of course, it will require you to think very carefully about the products you need to import, the prices you'll set, the most preferable promotional channels and the tone of your marketing messages, etc.
How to dropship baby clothes: bring your communication with buyers to perfection
As consumers, babies are a very sensitive audience 🙂 And, they grow really fast.
It means that as a store owner, you must be able to give your buyers clear and accurate information on the following:
Clothes' manufacturing details
Where were these products produced? What are the textiles made of? Do they meet safety standards?
If you can't find the answers to these questions in the product description and AliExpress buyers' reviews, talk to the AliExpress seller directly. It's important to do it before a concerned parent starts asking you about these product features.
"What size would you recommend for a 6-month-old?"
"My son is 27 in, 19 lbs, is your '8-9 month' size option OK for him?"
Don't make these and similar questions catch you off balance. Put an appropriate size chart into every product description, and consult the original seller if necessary. Don't forget to check previous' buyers reviews to see if someone has shared valuable details on the clothes' cut and fit.
Also, consider putting some kind of a 'store owner's advice' on every product page. Advise shoppers to buy a size bigger. This way, they will enjoy your amazing clothes a bit longer, and won't take them away with disappointment after 2-3 uses.
What's the point of buying a newborn bodysuit if, by the time of its arrival, the baby already turns 1 month old?
These situations should never happen!
Let's suppose you know it for sure that the package delivery will take really long. In this case, it's a good idea to write something like this in the order confirmation letter or right on the product page: "The delivery will take about 25 days. We recommend that you order one size bigger".
And of course, to avoid these situations, you should be really careful in your choice of suppliers and products. Here's what we're going to talk about in our next chapter!
How to dropship baby clothes: pay close attention to your product offer
As I've already mentioned it several times before in different contexts, your choice of baby clothes to dropship should be very well thought.
There are lots of things you should consider:
The items' quality and safety in use
Actual buyers' opinions and feedback on the product in particular and the seller in general
The range of shipping options provided by the seller
To pick the best offers out of thousands of AliExpress offers, you can follow our free guide to the best and worst products to dropship, and use our free Google Chrome extension that helps you a lot with the items' evaluation.
Or, you can turn to the Sellvia Ecommerce Ecosystem! It's the ultimate solution if you're looking to start an online store filled with best selling items. But that's not all, there are numerous other features such as lighting fast delivery, ready marketing materials and much more! All of this is available to anyone. Even newcomers will be able to understand how to quickly and efficiently build their own ecommerce business.
So, if you want to dropship baby clothes from the Sellvia, what can you find in catalog?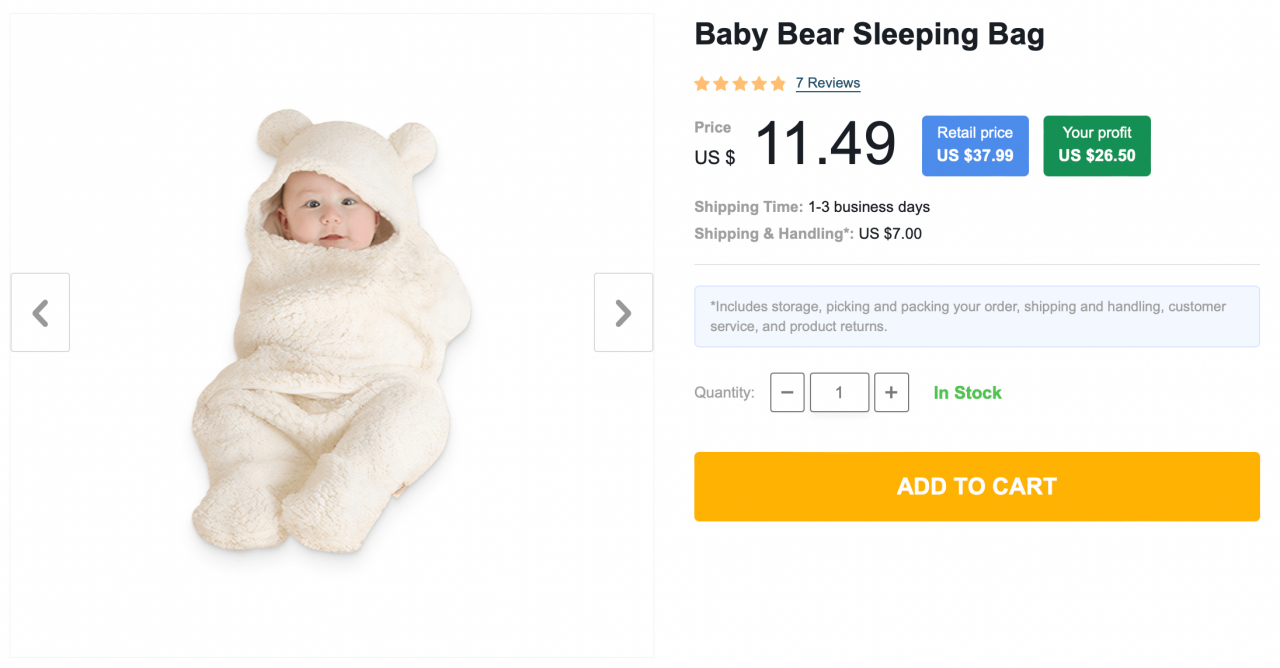 Does it seem impressive to you? All the vital product page elements (titles, descriptions, images) look clean and professional, with no mention of AliExpress, and even a recommended price is given! Surely, importing such products, you save yourself a lot of time – and you can safely spend it on more important customer-oriented business tasks that can't be automated.
Want to scale your business? Dropship baby products of other types, too!
As an owner of a dropshipping business, you're absolutely free to develop and grow it in any way you'd like. And if you've chosen to dropship baby clothes, a great strategy of scaling your business would be to broaden your product offer!
Indeed, as you're targeting a specific audience interested in children clothing, it won't be difficult for you to reach them with a brand-new offer – nearly anything from children's room decor to bathing accessories would do!
Just check out this steady growth of interest in baby essentials: clearly, that's a promising market for you to tap into.
The global baby care products market, for example, was worth about $67 billion in 2020 and grow up to $88 billion by 2026. In the Toys & Baby worldwide ecommerce segment, there expected to be 1 billion users and $118.2 billion revenue in 2023, reaching 174 billion by 2027.
Obviously, that's more than a valid reason to try and dropship baby products of other types than clothing. Let's take a look at the most promising products you can find on Sellvia!
I hope that now you have a much clearer idea on dropshipping baby clothes! If this niche inspires you, look no further and launch your unbeatable dropshipping store today!