Top 29 Ecommerce Marketing Tools To Use In 2022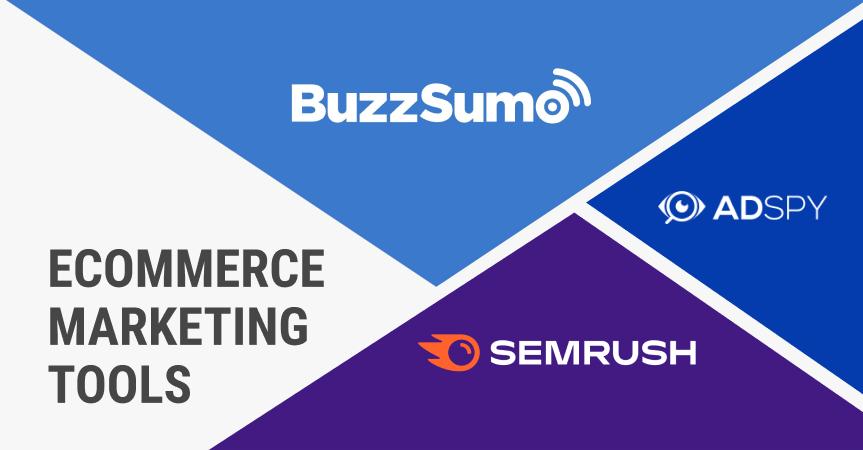 Looking to double down on your dropshipping store growth? You'll need some epic ecommerce tools to help you get there!
The industry is changing and expanding faster than ever. In fact, the global ecommerce market is expected to register $6.54 trillion in sales in 2022. That's up from $3.53 trillion in 2019.
Online commerce is shaping fast, and we must stay up-to-date on the market. With so many free and paid tools available for online businesses, it's not always easy to see which tools are the most beneficial and how they can help your dropshipping store succeed. For this reason, we decided to show you a list of the best tools that our team uses every day to boost productivity and make our stores, as well as our clients' businesses, more successful.
Analytical tools for ecommerce business
This is the most common tool for online businesses' owners. It helps to better understand your customers. The insights you can gain from Analytics will help you evaluate how your market, content, products, campaigns, and more perform.
It'll guide you to where your investments are failing so you can take action. Google Analytics can also show you how many people were on your website and followed through with a purchase. This can help you think of better strategies, make better product pages, and more.
KISSmetrics (From $299/mo)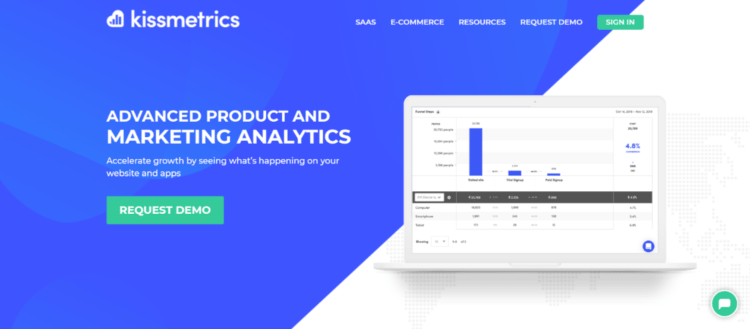 KissMetrics is a website analytics tool revealing visitors' behavior and their online history. The tool is handy for merchants, as it helps in events tracking and online shoppers' funnel analysis. KissMetrics allows retailers to accumulate lots of details about any visitor: where he or she came from (for example, from an ad campaign, etc.), which actions they took in your online store, which events they triggered, and what's their overall history. The tool also offers audience segmentation, A/B tests, comprehensive reporting, retention reports, testing availability, and staging sandboxes.
Another useful analytics tool for scaling your ecommerce business.
Moz allows you to track keyword rankings for your website and for competitor sites, compare mobile vs desktop ranks, find link opportunities, identify keyword opportunities, and update your site to find and fix any potential SEO-issues.
Keeping track of some basic SEO issues is too important to ignore in ecommerce.
Taplytics allows you to better understand how customers interact with your product. With it, you can experiment, test, and track your various subscriber actions. Create A/B tests to gather more insights backed by real-time analytics reporting. You can iterate faster and release features smoothly based on direct customer feedback.
Tracking sales interactions and lead generation is very significant as you scale out your business. This tool will help track leads throughout the entire sales funnel, helping you know exactly when to re-target or reach out and close the deal.
Ecommerce tools for SEO
Google Search Console (Free)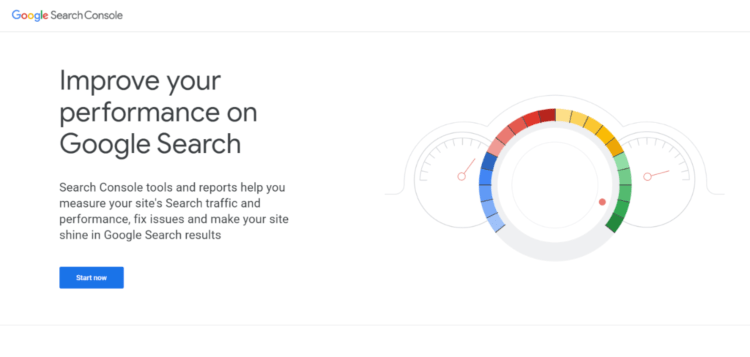 Google Search Console is very useful in understanding the way Google sees your site. It helps you optimize content by diving into analytics and submitting URLs for indexing, exploring mobile usability, and receiving alerts when something goes wrong. Combined with Google Analytics, it is one of the most powerful data sources for SEO.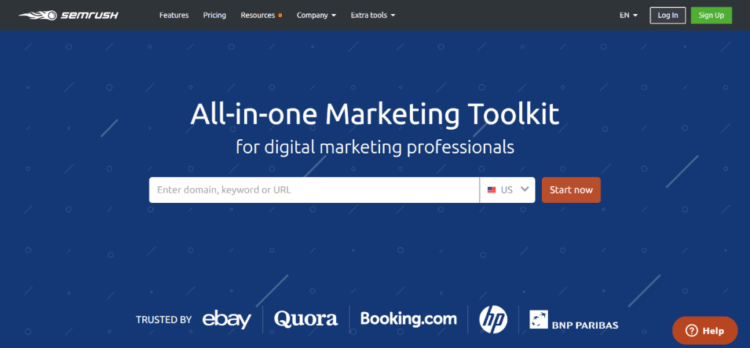 SEMRush finds the best keywords after going through your website content. It also looks at where you can use a backlink and even compares your strategy to that of your competitors! You can track their paid ads performance, organic keywords, and even their best-performing product listing ads.
SEMRush is great for small and medium-sized enterprises. With over 3 million users from all over the globe, it helps business owners make their campaigns hyper-local and get phrase-match keywords for SEO and PPC campaigns.
Competitors research tools for ecommerce business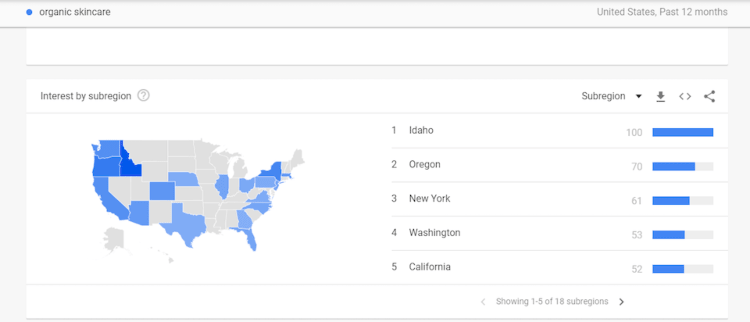 Google Trends allows you to explore the most trending search terms or even observe how one keyword is performing compared to another one. By selecting different regions, you can also see more details on the search volume for specific countries and locales.
BuzzSumo: a content ideas tool (Free trial; plans start from $99/mo)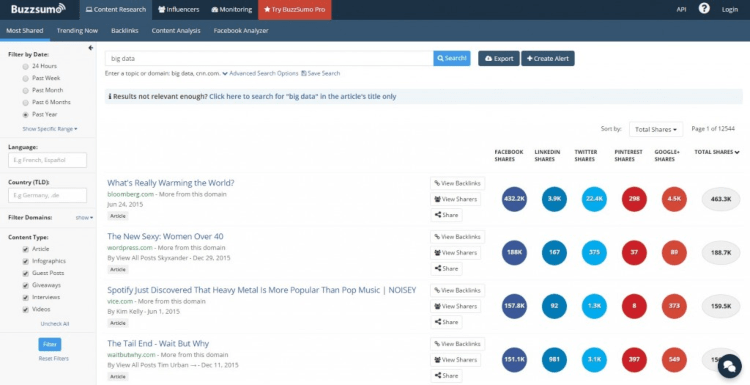 Attracting new customers to your ecommerce store should be a regular task. But sometimes, coming up with new ideas and compelling content can be challenging.
If you create boring content that provides no value, nobody will read it! And even if they do read it, they won't share it, and that means Google won't recommend it.
So, if you are looking for ideas on what to write on your blog, social media or in your newsletters, BuzzSumo lets you search for specific topics and see the most popular articles written about them. You can then capitalize on those ideas to create fresh content for your business. That's all there is to it.
It's free for the first 7 days, and after that, it'll cost you $99 per month for the pro package.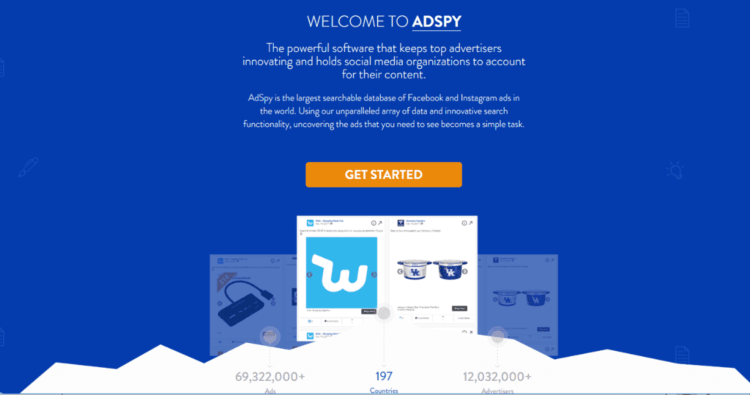 AdSpy is a powerful ad intelligence platform that you can use to find and study competitors' campaigns in your niche.
It provides access to 80M+ ads in 88 different languages across 198 countries from 13M+ advertisers, making it a powerhouse of a database.
Also, it comes with some excellent search filters which allow you to target your competitors' campaigns with uncanny precision.
Use it to discover Facebook and Instagram ads and apply the advanced filters to your search to find ad texts, comments, and landing page URLs along with ad types, daily likes and much more details.
Website optimization tools for ecommerce business
SEO Image Optimizer (one-time payment of $39)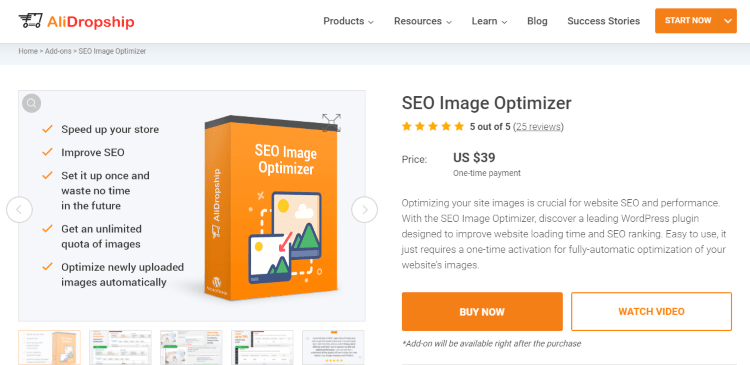 As you may already know, optimizing your website images is crucial for its performance and position in search results. With the SEO Image Optimizer, you can cut down your website loading time and improve the SEO ranking. This powerful tool boosts site performance by resizing your website images for quick loading while creating SEO-friendly ALT texts and titles for search visibility. Easy to use, it just requires a one-time activation for fully-automatic optimization of your website's images.
PageSpeed Insights (Free)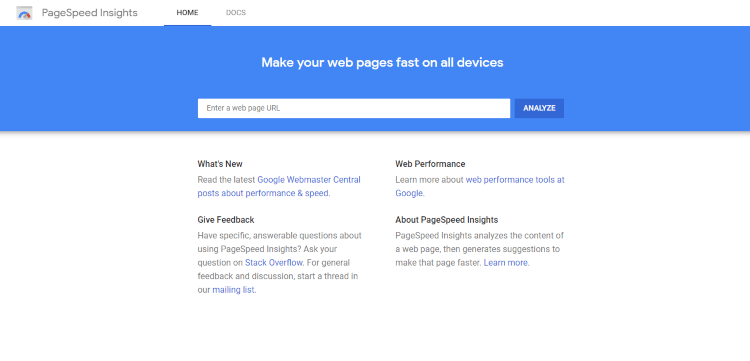 As a dropshipping store owner, you need to keep the user engaged with your store pages and deliver the most pleasant visitor experience for the users of any devices. Google provides a great tool for checking your page loading speed! PageSpeed Insights can be used to analyze the content of your online store and to give you some tips on how to make both the desktop and mobile versions of your site faster.
Content marketing tools for ecommerce business
Canva (Free, paid plans available)
Canva is a template-based design tool that's free and easy to use. With Canva, you can create infographics, presentations, posters, flyers, and even webpages. The templates in Canva will save you an incredible amount of time and effort.
Even the free version comes with a massive library of stock photos, icons, and designs which are more than enough for your ecommerce needs. If you'd like to upgrade, prices start at $12.95 a month.
Animoto (Free, paid plans available)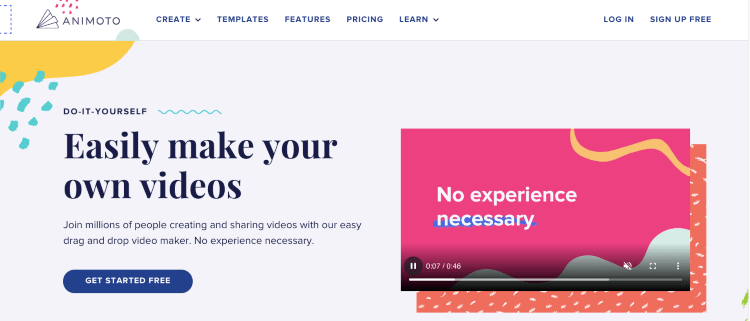 You can create impressive videos in minutes using professionally designed video templates for ads, sales, how-to guides, and more. With Animoto's drag-and-drop video maker, you can simply add your own photos, videos, or text, and then upload a ready video straight to social media.
Animoto is especially awesome for creating video slideshows as you can easily combine photos, video clips, stock videos, texts, and music.
Adobe Premiere Pro ($20.99/mo)
This is a very robust tool, offering more than just the ability to clip, paste, and edit. Adobe Premiere Pro also makes time-consuming tasks easy with the ability to synchronize audio and video from different sources, upload media from a wide range of sources, and provide JKL trimming which allows users to scrub and trim video footage all at once.
It is a powerful tool requiring at least some background knowledge and experience. Luckily, Adobe provides a comprehensive walkthrough of the tool which makes getting started pretty straightforward.
This means you can get started creating high-quality, story-telling videos for your website, YouTube channel, or any other platform in no time at all!
Adobe Photoshop ($20.99/mo)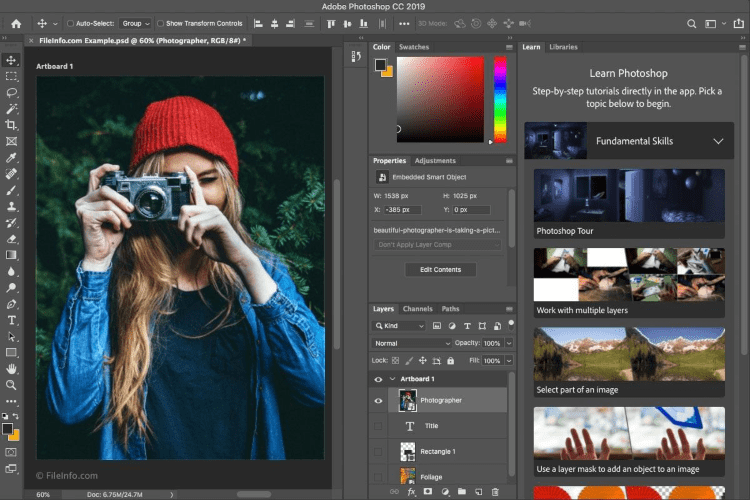 With Adobe Photoshop, you can do anything from photo editing and compositing to digital painting, animation, and graphic design. As a dropshipping store owner, you can use it to create beautiful social media posts, ad banners, visual elements for your branding, email campaigns and much more. With powerful editing tools and new smart features for creating magical effects, you can turn imagery into artistry.
Apester (Free trial; plans start from $29/mo)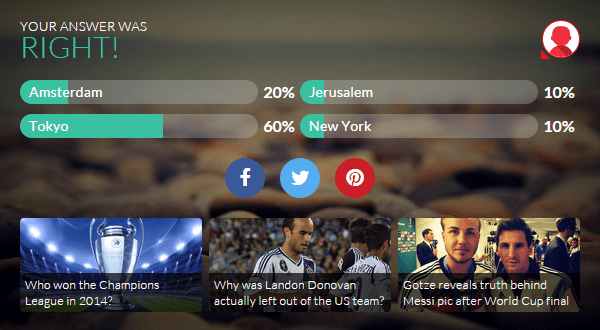 Polls, personality tests, and videos used on Apester allow you to present your content in a more engaging format. These types of online activities are fun for customers: interacting with your brand this way, they also receive unique insights into the facts and details they already know.
Figma (Free, paid plans available)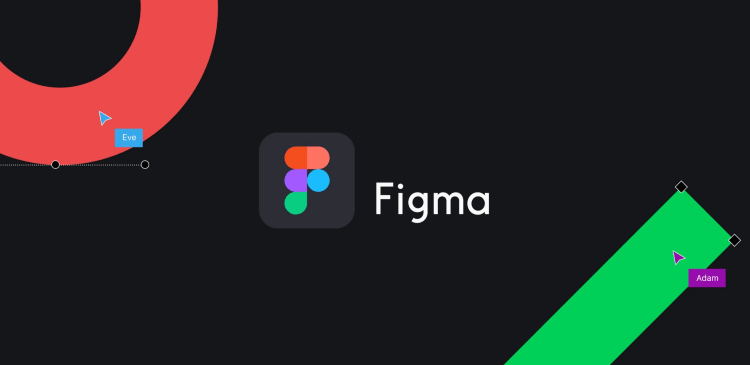 Figma is a cloud-based design tool that allows you to work together with your team on the same file in real-time. This is especially helpful when design team members are not in the same physical location. Designers will feel they are part of your team and see how you value their input. Collaboration gives designers an incentive to come up with the best possible design for a client with the given budget and time constraints. Needless to say, Figma is useful not only for designers, but also for people without any designing skills. It has hundreds of templates that anyone can use to create icons, graphics, etc.
If you're not fond of Photoshop, make sure to try out Figma!
Ecommerce tools for social media management
Social Rabbit Plugin ($69)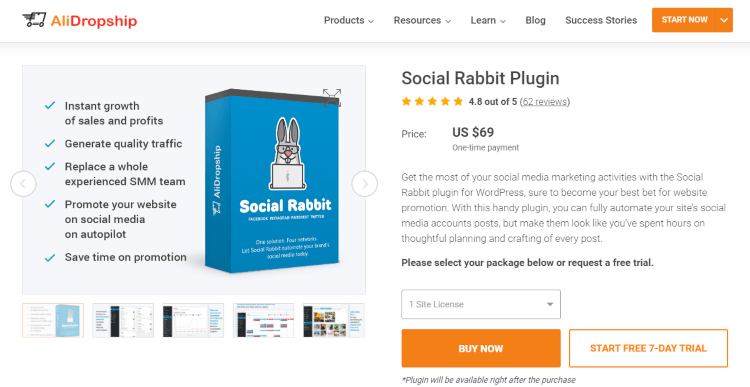 With this handy plugin, you can automatically create smart human-like posts in your feed and run hassle-free promotions on your social accounts 24/7.
What makes Social Rabbit so powerful? It draws attention to your page through following, liking, and commenting on users' posts and accounts. Your social traffic and sales grow like crazy!
Hootsuite can help build a stronger and more authentic brand on social media. It helps schedule updates and interact with current and potential customers.
With Hootsuite, you can see what people are saying about your brand or product, schedule social media updates, and get access to powerful analytics and insights that can help you get more ROI from your efforts.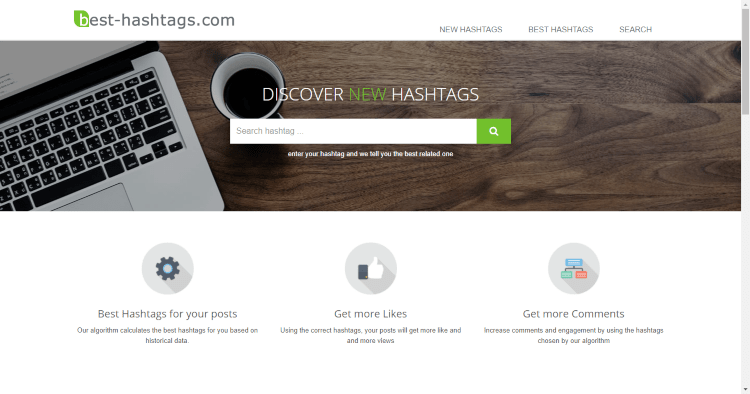 Whether you're using Instagram for personal use or planning to adopt Instagram marketing for your business, it's critical that you take advantage of one important thing – Instagram hashtags. It's a simple tactic that can be used to grow both your reach and authority.
The question is: "How do I find the best hashtags for Instagram?"
With Best Hashtags, you can find the best hashtags to use in your posts on Instagram, Twitter, Facebook or Tumblr to get more likes.
Ecommerce tools for email marketing
MailChimp (Free, paid plans available)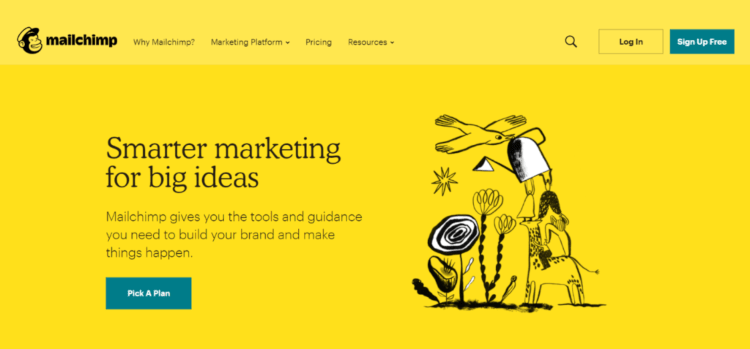 MailChimp is one of the best known and most used email marketing tools in the whole world, and there is a reason for that. Apart from being very user-friendly and having all the basic features, it also offers sophisticated ones, such as scheduling emails based on timezones, providing insightful campaign analytics, sending auto-responses, offering visual drag & drop builder with many templates, segmenting followers based on their location, and many more.
Moreover, MailChimp has the right functionality for Facebook, Instagram & Google remarketing ads, as well as a landing page builder and support of transactional emails via Mandrill.
OptinMonster (From $9/mo)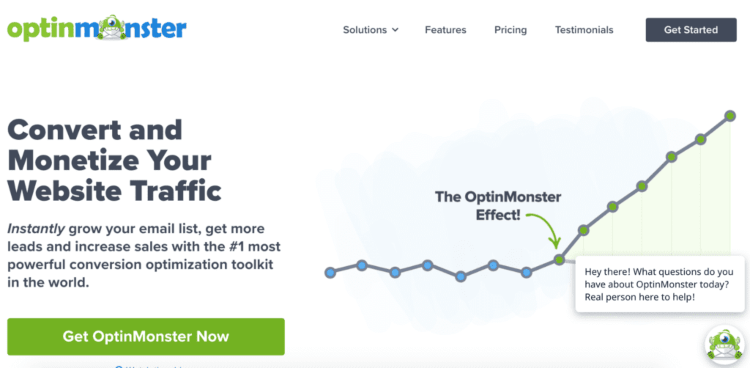 OptinMonster is the best WordPress popup plugin that makes it easy to generate more leads directly from your WordPress site. With its drag and drop builder, you can create eye-catching pop-ups to convert your site visitors into subscribers.
One of the best things about OptinMonster is that it comes with dozens of targeting options to show the right message to the right person at the right time. For example, you can display a popup that offers a lead magnet about blog traffic when your site visitor is reading a blog post about the same topic.
Marketing automation tools for ecommerce
Facebook Business Add-On (one-time payment of $27)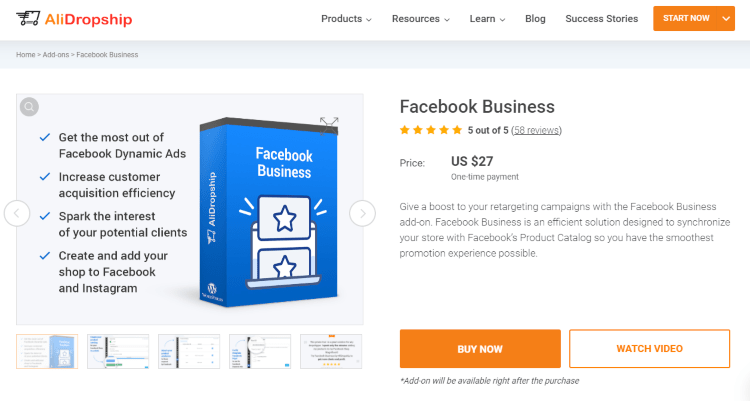 Facebook Business is an efficient solution designed to give you the smoothest promotion experience possible. You can synchronize your store with Facebook's Product Catalog and forget the tedious process of collecting and adding products by yourself — in just a few clicks, all items will be ready to be added to your Facebook page!
This add-on makes it easier to sell from your product catalog and get more profit from Facebook Dynamic Ads by reminding your potential customers about products they've browsed. All you need to do is set up a Facebook Dynamic Ads account and add your Facebook Pixel code to the Facebook Business add-on settings to get going!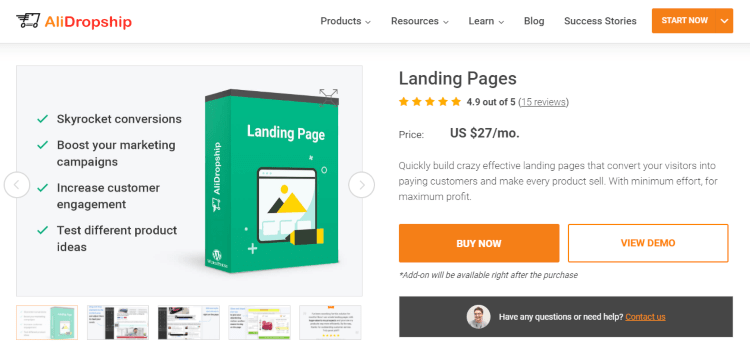 Want to quickly build insanely effective landing pages that convert your visitors into paying customers? Try this Landing Pages add-on!
Landing pages are an incredibly powerful tool that has proven to convert two times more visitors into paying customers than typical product pages. They can help you win more sales, grow your audience, and generate better Return on Investment (ROI) because they focus visitors on one call-to-action and uninterruptedly guide them through purchasing flow to conversion.
Google Merchant (one-time payment of $27)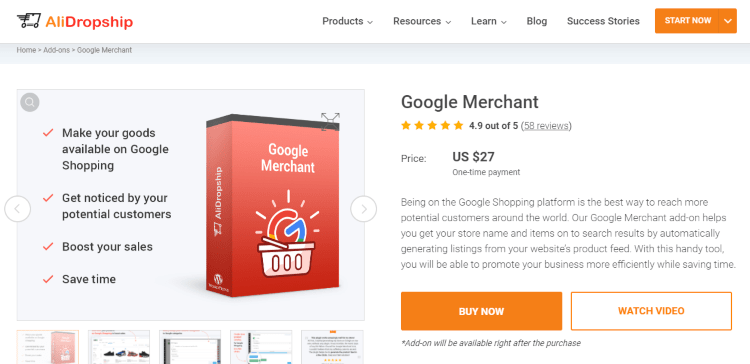 Placing your offers on Google Shopping platform is the best way to reach more potential customers around the world! Our Google Merchant add-on helps you get your store name and items on to search results by automatically generating listings from your website's product feed.
With this handy tool, you will be able to promote your business more efficiently while saving time. The add-on allows you to set up and assign attributes to products to place on the platform. Then, in just a single click, you get an automatically-generated product catalog in the form of an XML file or a link that you can then set up as a shopping campaign in Google Merchant Center.
Leadpages.com (From $27/mo)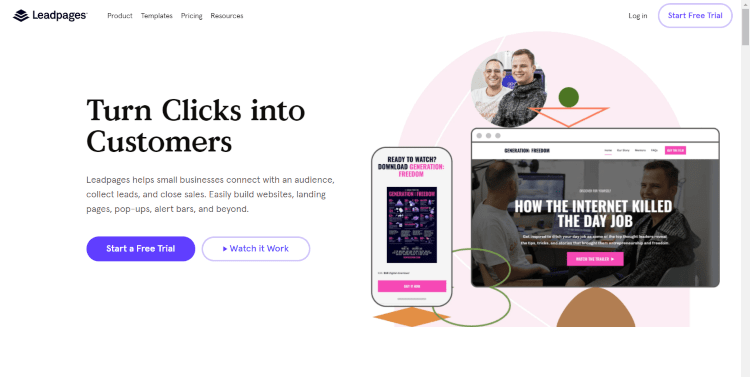 You can use Leadpages to create and launch a professionally looking landing page for your winning product in minutes. Start with a conversion-optimized, mobile-responsive template. Then customize it with the use of the Drag & Drop Builder. No coding or high-tech skills required!
Another way is to use it for lead generation is to create a landing page with a lead magnet and collect customers' emails (you can use them in your email marketing campaigns later). One more option is to create a few landing pages for different products and do some testing to figure out which products convert better. The choice is up to you!
Ecommerce tools for productivity
Trello (Free, paid plans available)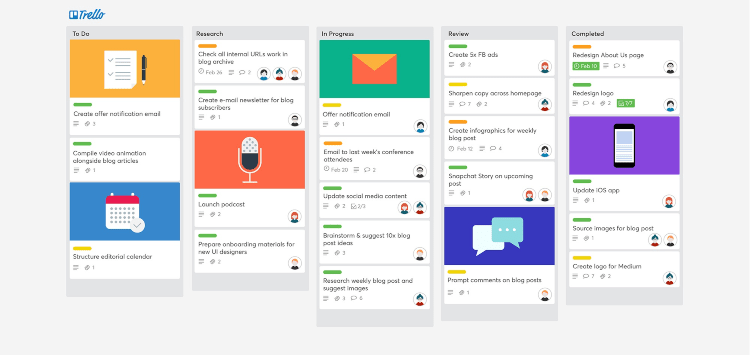 This website lets you use their boards and lists to organize and arrange your projects. Trello can be used to organize business-related or even personal plans and events. Extra features include comments, due dates, and required attachments.
Trello is free and can be accessed by simply signing up. It can be found as an app on the Google Play store and the App Store. The Trello blog explains how to use the platform, as well as shares a few tips and tricks.
Grammarly (Free, paid plans available)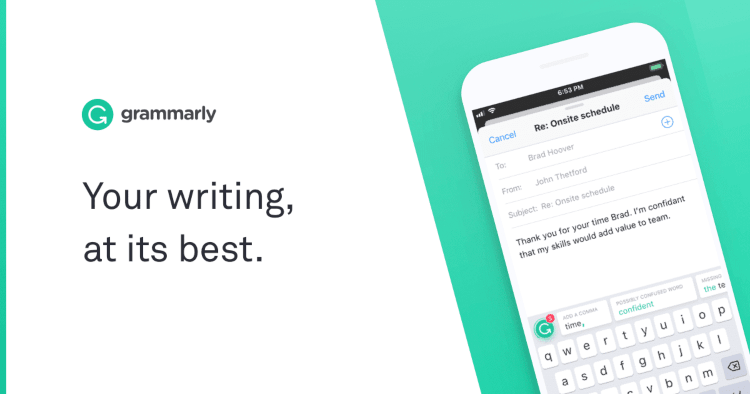 This tool for ecommerce business is the best solution to automatically proofread content and make it clean and understandable. You can set contexts for the texts, too. This means that the tool will analyze your content differently based on its style: business, academic, casual, and more.
To make it work for the texts you're creating in Google docs, simply install Grammarly as your Google Chrome extension. The free trial will be excellent to see how the tool works. And as a business owner, you can buy a premium subscription for unlimited checks!
Conclusion
Ecommerce marketing is growing, and it's here to stay. Technology is advancing, too. Now, there are so many automation tools for ecommerce business that can help you multiply your profits and brand value!
When it comes to analyzing and improving your online store, there's never enough hours in the day and never enough resources. However, with the tools that we've gathered here, you can be more efficient in how you spend your time and make a lot of improvements. Select the best ecommerce tools for your online store, and you will succeed in growth hacking your dropshipping business!