No Dropshipping Product Research Needed If You Import Goods From Sellvia!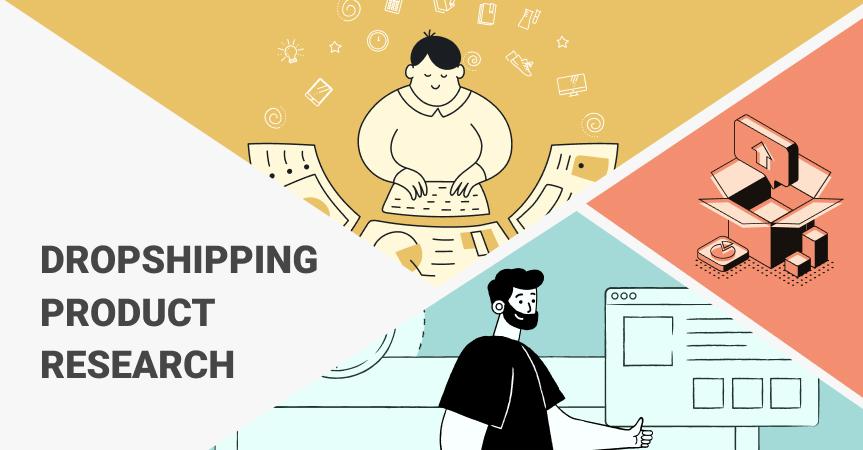 Despite the huge number of products one can find on AliExprerss, not all of them can become popular and bring you lots of sales. One needs to conduct thorough dropshipping product research before deciding whether to import something to their online store or not. That is unless you import a product that was already tested!
Products are different in many ways. It's not just their price or niche they belong to. Certain items get extremely popular for a short period of time, while others enjoy stable demand for decades. Some are easy to promote, while others can be very difficult to advertise. And that's why a dropshipping business owner must analyze product ideas thoroughly.
But what if I tell you that you don't need to conduct dropshipping product research?
Meet Sellvia – an ecommerce ecosystem where you will find thousands of goods suitable for dropshipping. You can import these goods to your AliDropship or WooCommerce store and sell them to customers just like you do with AliExpress products.
While AliExpress has hundreds of thousands of items (which is clearly a huge advantage for certain businesses), Sellvia offers a number of alternative benefits. One of them is the fact that all the goods on Sellvia were picked after a thorough analysis.
Now, let's take a look at how such research is conducted.
Checking product ideas with AdSpy
AdSpy and similar platforms are great dropshipping product research tools. They're especially useful in the early stages of the analysis when you want to check a product idea or are looking for inspiration.
AdSpy lets you browse ads published on Facebook and Instagram. Based on how popular these ads are and when they were created, one can estimate the popularity of the products advertised. Besides, the platform lets you use a number of filters to narrow down the search to a certain social media, location, age, gender, etc.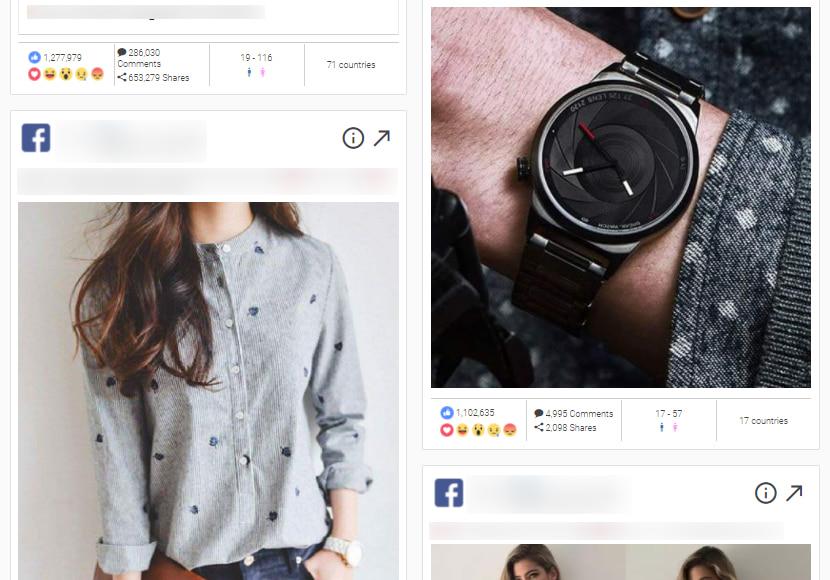 Here you can read more about how to find the best ecommerce products with AdSpy.
As a rule, if an ad generates thousands of likes and remains popular for a long time, it means the product is really popular. Nevertheless, the team looks for products that meet the following criteria.
Trending products may look tempting. And a good dropshipper knows how to benefit from such goods. But Sellvia's team prioritizes products that enjoy stable demand over decades.
Evergreen goods are products that people buy every day. These are some examples of such items: sports apparel, car cleaning tools, laptop stands, makeup applicators, kitchen tools. The demand for these and similar items will hardly ever go down.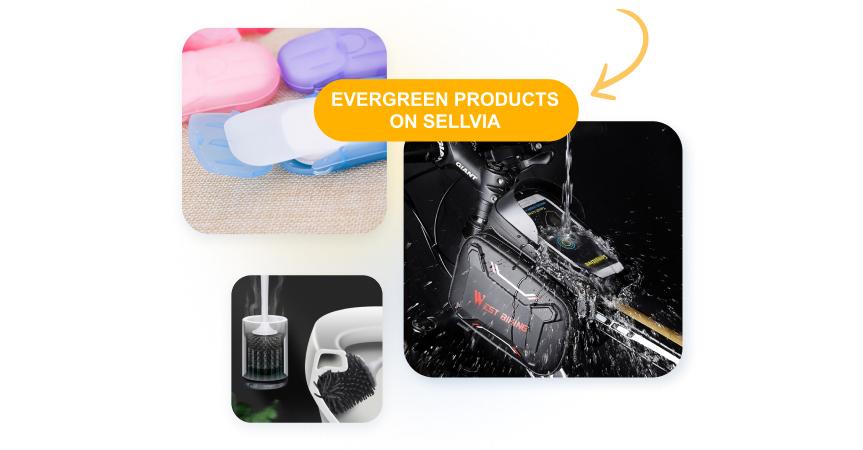 Today we consume an enormous amount of products and services most of which we don't really need. Advertising such goods and services is not a simple task. But a useful item that solves a particular problem is another story!
Such products are easy to promote, and the demand for them is usually higher.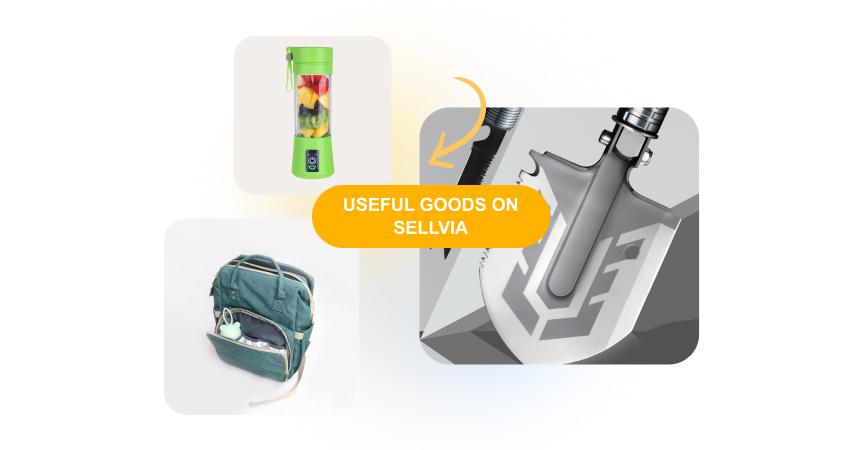 Products with emotional value
Alternatively, instead of offering a useful tool, an ecommerce entrepreneur can make money with products that evoke strong emotions. Although goods with emotional value are less predictable in terms of demand, they can easily trigger impulse purchases.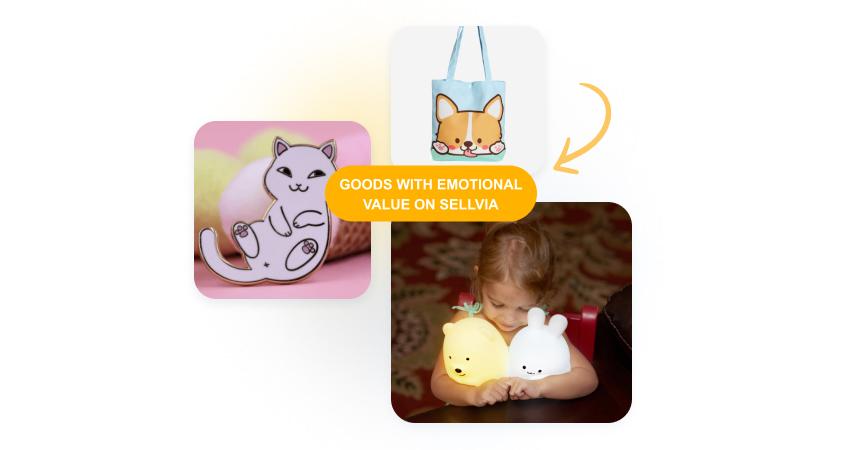 For a dropshipping entrepreneur, the most important advantage of joining Sellvia is probably the platform's fast US shipping. However, the heavier a parcel the costlier the delivery. That's why Sellvia's team avoids heavy products.
Products sold in quantities
And finally, if you're not new to dropshipping, you probably know how important it is to raise your store's average order value. Since bringing a potential customer to the site costs money, you want the client to purchase as many goods as possible. That's why you want products that are often purchased in quantities.
For example, people often buy car seat organizers in pairs – for both front seats in their cars.
All products in Sellvia's catalog meet at least three of these criteria, which, along with fast shipping across the US, makes Sellvia one of the best ecommerce suppliers.
But the research doesn't end with finding potentially profitable products!
Analyzing the potential of the products
At this stage of the dropshipping product research, the team analyzes the products' demand level, customers' satisfaction, and the profitability of the goods.
Google Trends analysis
To understand whether a product is popular, the team uses Google Trends. This simple yet extremely useful tool shows you how the amount of search engine queries changes over time. For example, you can see if a particular query has been rising or falling over the last 5 years.

However, if there's demand for a device or an item, it doesn't necessarily mean shoppers are happy with what retailers have to offer. So, the team's next move is to check customer reviews.
Customer feedback analysis
The team visits popular online stores and retail platforms (first of all, Amazon) and looks for products similar to the ones they discovered at the previous stage of the analysis. Then, they start reading customer reviews.
The goal here isn't just to understand if the clients are happy with their purchases. They want to understand whether the items can really solve the customers' problems, how efficient they are, what exactly the buyers liked or disliked about them, and whether the shoppers tend to buy these goods in quantities.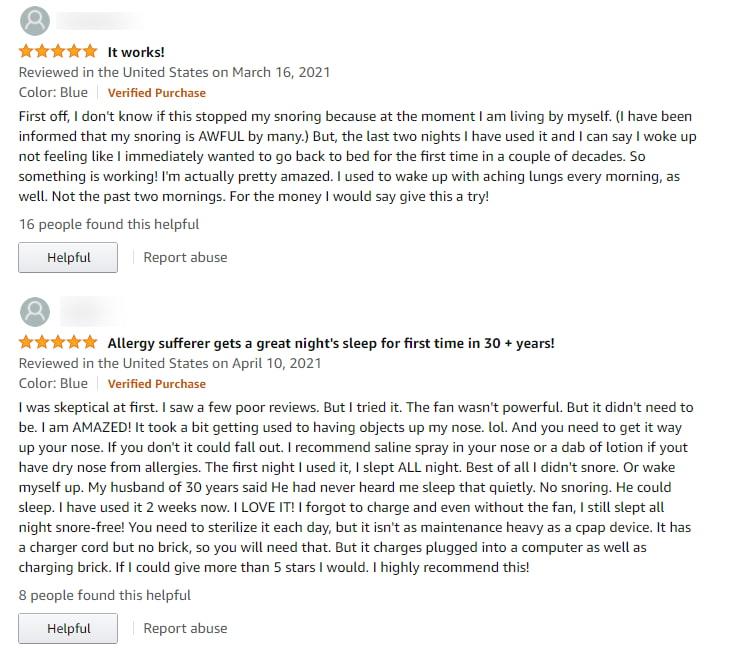 The information the team gathers here is also used to write attractive and informative product descriptions for Sellvia's goods.
Price comparison
And finally, the team analyzes the prices for similar products asked by retailers, wholesale platforms, and popular dropshipping suppliers. The goal here is to make sure Sellvia can bring these goods to its US warehouse and still offer competitive prices that will let online shop owners make money.
Note that in certain cases, you will notice that the total price of the products and shipping is higher than that on AliExpress (where many dropshippers buy their goods). However, unlike AliExpress sellers, Sellvia lets you deliver goods to customers within 1-3 business days (+1 day for order processing). If you look at AliExpress shipping options that offer similar speed, you will see that Sellvia's offer is much cheaper.
As you can see, joining Sellvia offers a number of important advantages for a dropshipping store owner. First of all, you don't have to conduct dropshipping product research every time you find interesting goods. And second, if you work in the US market (as many dropshippers do), Sellvia's fast delivery will be a huge advantage.