What To Post On Social Media: 15 Facebook And Instagram Post Ideas [BONUS: Best Time To Post On Social Media]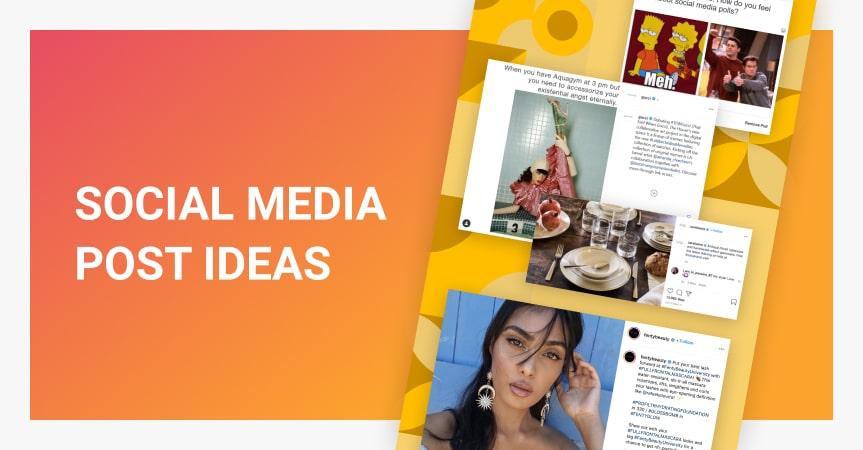 An effective social media marketing plan is an essential part of running a dropshipping business in the digital age. Your customers expect you to be available through multiple channels. It's not enough just to be there. You need to constantly post attention-grabbing information for boosting your sales, and that's why a stock of great Facebook and Instagram post ideas for business is a must!
It can be a huge challenge to come up with fresh ideas for your social media content especially when you need to post something regularly on several platforms.
Here is the list of engaging social media content ideas that will give you inspiration on what to post and help you beat writer's block.
#1 Instagram post ideas: using video content
As everyone has noticed, videos have become even more popular during the lockdown. By the end of 2020, online videos will drive 82% of web traffic. What does it mean? If you give up the idea of sharing videos, you'll lose the reach and engagement of your social media accounts. That means less attention to your products and lower sales.
Social media platforms provide so many options to choose from:
Snapchat
IGTV
YouTube
Live videos (LinkedIn, Facebook, Instagram)
Tik Tok
In-feed videos (Facebook, Instagram, LinkedIn, Twitter, Pinterest)
Our recommendation is to try multiple ones and choose the best options for your business.
#2 User-generated content
User-generated content (UGC) is another significant part of the content strategy for online stores. UGC is the content created by your customers specifically for your products. UGC can include video clips, images, testimonials, reviews, etc.
The main purpose of posting such content on your site or social media accounts is to build trust. Statista reports that over 93% of global digital shoppers read customer reviews before buying something from an unfamiliar digital retailer. What's more, 85% of consumers find user-generated content more influential than brand-created content.
One of the most effective ways to encourage your customers to share their feedback and experiences on social media platforms is to offer them a discount on the next purchase in return. You can ask them to use a particular hashtag and mention your brand name that will increase awareness.
#3 Product photos as the basis for your Instagram post ideas
If possible, take your own photos of the products you're offering. These photos shouldn't look like the catalogue pictures or be identical to the ones already posted in your online store. Try new approaches! Group products in sets, take their pictures on different backgrounds, or simply show them in a new way. Your photos should be unique and stand out in your followers' feeds.
#4 Flash sales
First of all, flash sales are always urgent and time-specific. As a result, they can trigger fear of missing out.
Second, such sales are only available to your followers exclusively. This helps your audience feel like they are part of a private community of just a chosen few. That's very flattering to a customer and adds value to your offer. To make it work to its best, make sure you've specified the time frame: for example, January 8th, 7 pm – 10 pm (Pacific time) only!
This isn't something we recommend you to do too often, otherwise your audience will get used to it. Keep an eye on your engagement to see what is the right offer frequency for your audience.
#5 Micro-influencers' posts
Micro-influencers are just regular people who have a particular interest in some area. They should have around 10,000 – 50,000 followers. The main advantage of working with them is their audience: it's a tight-knit community, highly engaged in this micro-influencer's activity.
Contact them, and offer your free product in exchange for mentioning their experience with you in one of their posts. For the cost of your product, you've just reached out to thousands of people who truly value this micro-influencer feedback.
#6 Polls
It is essential for the customers to know that their opinion is important. So if you ask a question that they can answer by ticking a box, you can be sure that they will engage with that post. Creating a poll on social media is all about such simple steps for boosting your business engagement.
Getting people involved with just a simple poll can help you turn your business into the right direction. Try to create a poll based on your store niche. Thanks to this, you can see what problems your customers are concerned about and help them solve them with your products.
#7 Memes
Trust us, as statistics show, memes are loved by everyone. 90% of the information people process is done visually, so meme images are an easy way to grab people's attention and introduce your brand to your customers. It's also a great way to give your brand a bit of personality.
But be careful when it comes to humor. Don't post anything too risky or controversial as it's likely to damage your reputation and even turn customers away from you.
#8 Stories
Do you know that stories are a huge social media marketing trend? At the moment, this is the fastest developing trend on social media and its growth numbers certainly indicate that stories are here to stay. The number of Instagram Stories' daily active users grew five times, from 100 million in 2016 to 500 million in 2020. Not bad, right?
So use this platform for your business. Tell your customers about your products, show them 'how to use' videos, and share your achievements. This will help you stay in touch more with your customers.
#9 New products
Don't forget to put your items in the spotlight! Make the most of your social networks for this purpose. You can warm up your potential customers with teasers featuring a new product even before its official announcement. Tell them about its uniqueness and affordability, use different advertising strategies, and you're bound to make them curious.
#10 Infographics
Customers often experience a lack of trust that can stop them from making a purchase. When you introduce your potential client to visual information using infographics, the level of trust increases, primarily due to the fact that people trust numbers. The use of infographics as a visual aid can help you persuade your customers to take action. Also, images affect people more than text, don't forget about that.
#11 Challenge the mind of your audience
People's lives are already flooded with a constant flow of information coming from everywhere.
So, instead, try posting a usual photo that makes your audience pause and relaxes their mind for a moment with a little puzzle or quiz. It will also help your brand if you launch puzzles or quizzes that are not only fun and interactive, but also reflect your brand values.
Keep in mind to create engaging contests that are visually appealing, using cute graphics and animation.
These contests don't need to have any specific prizes, as they are done for the sole purpose of engaging with your audience.
#12 Go behind the scenes
Want to do something more than just engage your audience but also build a closer relationship with them?
Show your audience a little behind the scenes of your work. This will be a great way to humanize your brand. Moreover, by letting your followers in on the behind-the-scenes? you help them emotionally connect with your brand even more.
#13 Jump on the latest trends
Want to showcase even more of your fun side to the audience? Various challenges, memes, trends are a great way to inject some fun into your content.
Needless to say, avoid challenges that may hurt your brand.
Or you can share a funny meme, or even create one yourself! However, if you decide to make one yourself, make sure to do it well and so that it connects with your audience. Otherwise, you risk failing and becoming a meme yourself.
#14 Answer FAQ's and ask questions (AMA)
Launch an AMA (ask me anything), it is a great way to directly engage with your audience. It is also a great way to showcase your knowledge and expertise on a specific topic to build more trust among your followers.
Simply create a post by soliciting questions from your audience and answering them in the comment section. Luckily, you don't have to answer every single question, simply choose that pop up the most.
Another way to involve your audience in your brand is to answer their most frequently asked questions. And Instagram is one of the best places to do it. This way, you not only connect with your audience but also solve their problems.
#15 Use a challenge format
Running a challenge in the form of contests and giveaways is a great way to get your audience involved in your content.
Generally, different Instagram accounts set some conditions for people to participate in their challenges. You can ask them to comment on the post, tag their friends, or follow your social account. This helps drive engagement, and can even help you get more followers as well.
BONUS: Best time to post on your social media accounts
As you can guess, there's no universal time frame that would be perfect for every business to use for posting on social media. It depends on a large number of factors. But even though our tips might not get you an exact time that's perfect for your audience, you'll get a great starting point! And thanks to this, you will be able to experiment and find your perfect time.
Best time to post on Instagram
Researchers say that the best time to post on Instagram is generally between 9 am and 11 am (local time), but we have a better idea for you.
If you have a business account on Instagram, you can check when your followers are active and engaged. Go to your profile on the Instagram app, click on your right corner, then find Insights. Scroll to the bottom of the page and you'll get access to followers' activity charts for each day of the week. For more detailed instructions check Instagram's Account Insights guidelines.
In our experience, the best strategy is to post several times every day during the peak activity hours as seen from your brand's Insights.
Best time to post on Facebook
Hootsuite analyzed 300 brands and found the best times to post on Facebook:
The best time is 11 am and 1 – 2 pm (Eastern Standart Time) on Monday, Tuesday, and Wednesday.
Generally, 9 am – 3 pm on weekdays is the safest timeframe to post
Sundays, early mornings and evenings have the least amount of engagement during the week.
Best time to post on TikTok
According to a research study by Influencer Marketing Hub of over 100,00 posts on TikTok, here are the best engagement rates (all expressed in EST and ignoring sectors):
Monday: 6 AM, 10 AM, 10 PM
Tuesday: 2 AM, 4 AM, *9 AM
Wednesday: 7 AM, 8 AM, 11 PM
Thursday: 9 AM, *12 AM, 7 PM
Friday: *5 AM, 1 PM, 3 PM
Saturday: 11 AM, 7 PM, 8 PM
Sunday: 7 AM, 8 AM, 4 PM
Times marked with * offer particularly high levels of engagement.
Even though this is what worked for them, you should keep in mind that each business has different target audiences which means that the engagement time can differ.
Best time to post on Twitter
Twitter has distinguished itself as a platform for up-to-the-minute news. The best time to post totally depends on your audience. But here are the best posting times, according to sproutsocial:
Best times: Wednesday 9 a.m.– 3 p.m., Tuesday and Thursday 9–11 a.m.
Best day: Wednesday
Worst day: Saturday
Best time to post on Pinterest
Posting on Pinterest really depends a lot on your audience, and the type of content you post. The platform uses a smart feed, which is designed to create a more personalized user feed. These are the the best time to post on Pinterest:
Between 8 pm and 11 pm and between 2 am and 4 am
If most of your audience works a 9-5 job, the best time to post on Pinterest is before/after work hours and lunchtime; avoid posting pins during working hours
General tip: you can never go wrong with bedtime browsing from 8 pm to 11 pm
Best time to post on YouTube
Before posting your videos on YouTube, you must keep in mind that YouTube is under the Google umbrella. Thus, all YouTube videos are indexed and ranked in the Google search engine.
Nevertheless, here is the best time to post on YouTube:
Between 2 pm and 4 pm because the highest traffic is from 7 pm to 10 pm
As the weekend approaches, Thursday or Friday
During the weekend, 10 am to 11 am is the best time to post since most people are active in the afternoon
Of course, every business has its own specifics! Experiment with your posting time, and you will definitely find your winning recipe of posting on social media.
What to remember when you look for Facebook and Instagram post ideas?
Ecommerce businesses need to make extra efforts to ensure their content is engaging and interactive. Quality posts enable them to establish their authority, increase their conversion rates and drive traffic on an ongoing basis.
But there isn't a one-size-fits-all content marketing strategy for every store — you need to find and understand your target audience and create a content plan based on the unique knowledge. The above tips can give you some ideas on what to post on your social media and how to build trust with your audience. And wherever you need a hand with your Facebook and Instagram post ideas, we are excited to create engaging social media posts for you!