15 Tips On How To Get More Likes On Instagram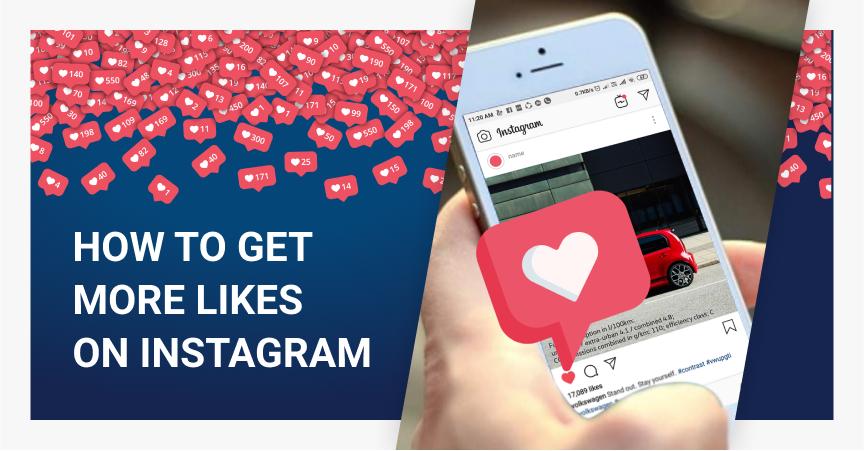 Bloggers, Instagram models and social media influencers are so obsessed with likes that common people sometimes laugh at them. But likes do matter when it comes to promoting a community or advertising products. In this article, we're looking into how to get more likes on Instagram.
Instagram now hides likes, so why should I care?
You probably know that Instagram now hides the total number of likes a post gets. As Adam Mosseri, Instagram SEO, explained, they started these tests to improve the emotional and mental health of the social media users. Moreover, users from the countries that participate in the test can no longer see the total number of photo and video views. You can see how many likes your own posts get though.
This move will have negative consequences for businesses promoting products and services on social media. Users tend to interact more often with posts that have a lot of likes and comments. Now users will see no difference between a fresh post from a regular Instagrammer and a viral post from a popular influencer.
Then why is it still important to track how many likes you get?
Because likes were not removed from Instagram! It's just that your followers can't see them. But you can! As well as Instagram's algorithm.
In other words, although your followers can't see the number of likes or views, you still need them to grip the algorithm's attention.
How to get more likes on Instagram: Work on content
1. Post high-quality photos
Instagram was originally created to let people share their photos. And users want to see professionally made, high-quality pictures and videos. So whether you publish valuable content related to your dropshipping niche or promote a paid ad, make sure they look good.
There's another little trick that can help you build your own brand. Try using the same set of filters for all your content. This way all your Instagram posts will look similar, and the followers will be able to easily recognize your content.
2. Write proper captions
Although visual content is your priority, don't forget about the other part of your videos and photos – captions. What you write can also matter. Depending on what kind of products you promote and what niche you work with, you can provide useful information with your captions or try adding some emotional value to your posts.
Captions don't have to be super smart or long. Take a look at one of Lego's posts:
3. Utilize all content types
When you start promoting a business on a social network, it's hard to say what content types will work best. That's why you need to analyze your target audience and try out different formats. After some testing, you'll understand the audience's preferences, but even then it's a good idea to diversify your posts from time to time.
4. Post videos
If you're looking for a content type which is always effective, you should definitely try videos. Nowadays most social media users prefer this format over images or quotes. However, don't rely on audio very much as most people play videos with the audio turned off.
5. Include user-generated content
Another evergreen content type is the one created by your own followers and customers. Although such pictures and videos often lack quality, people tend to trust them much more than posts made by a company.
In order to utilize user-generated content, you should repost it on your Instagram account and credit the author. The latter is very important! The last thing you want is being accused of stealing someone else's content.
How to get more likes on Instagram: Interact with users
1. Analyze your target audience
Before trying to interact with your audience, you should spend some time analyzing it. In fact, whatever you do on social media should be based on your knowledge of your potential customers, their preferences and behavior. Your content, tone of voice, the images you use and even posting time should be defined by this.
For example, compare these two captions. This one comes from a post published by Ferrari:
And this one was published by Bethesda, a video games studio:
As you can, they use completely different styles since they target different audiences.
2. Ask questions
Never forget that all social networks were designed to be communication channels for common users. Nobody wants their Instagram feed to be overwhelmed with standard ads. So, when promoting your dropshipping store, you should try communicating with potential customers.
One of the easiest ways to do it is to ask questions in your captions. This is how Fender provokes a discussion with a short caption in one of their posts for bass-guitarists.
Social media users like it when brands or influencers ask them to share an experience or opinion. It makes them valuable in their own eyes.
3. Get more likes on Instagram with like-to-win contests
One of the most efficient ways to raise your engagement rate and the number of likes your posts get is to launch a like-to-win contest. But keep in mind that you'll need to offer something really valuable to get the audience interested.
4. Engage with other users
Do what you want your followers to do! Instead of simply creating and promoting content, consume the content created by your followers and other Instagram users. Follow people, like and comment on their posts and repost them when you find something valuable.
First of all, this attitude promotes your brand as a fair business: you ask for attention and you pay attention. Other users are more loyal to companies that return the favor. Besides, there's a good chance to find great user-generated content.
Second, Instagram algorithm tends to prioritize posts created by accounts that interact a lot with other accounts.
5. Cross-promote your posts
Even if you chose Instagram as your main promotion channel, you should not neglect other opportunities. It's not only about targeting a larger audience. By publishing the same content on other channels, you can actually convince these users to visit your page on Instagram, like your posts or even start following your account.
How to get more likes on Instagram: Use Instagram properly
1. Be careful with hashtags
For Instagram, hashtags are like search keywords: if a user is looking for content by typing a certain hashtag in the search field, there's a chance he or she will find one of your posts. Therefore, businesses need to pay huge attention to hashtags.
It's not a good idea to use hashtags that are too broad. But using too narrow hashtags is just as bad. The number of hashtags is important too. To understand how to use Instagram hashtags properly, read this article.
We also recommend using hashtags in your bio and Stories. Although it won't give you any likes, this approach will help you reach new people on Instagram.
2. Get more likes on Instagram with paid ads
Let's face it: free Instagram promotion has its limits. What's more important is that building up a popular Instagram account takes a lot of time which businesses often don't have. In this case, paid advertising can help.
Even if you're trying to create really valuable content, there's nothing wrong with paid posts, especially when you need to advertise discounts and promotions to as many potential clients as you can.
3. Choose the right time for posting
Creating a proper posting schedule is crucial for social media marketing. Your posts have more chances to be seen when you publish them not long before the audience starts checking their feeds.
Therefore, you want to post shortly before your followers log in. The exact time is defined by your target market and niche. Simply check your analytics to understand when your audience is active.
4. Post regularly
Publishing too many posts will do you no good as such an approach rather annoys followers. But if you post too little, nobody will notice your activity.
Marketers recommend posting to Instagram not more than three times a day. Major brands post about 1.5 times a day. If your content is difficult to create, but the audience really likes it, then posting once per day is totally Ok.
5. Watch your competitors
Lastly, if you want to get more likes on Instagram, keep an eye on those who are already enjoying the attention of millions of people. Find competitors or non-commercial communities related to your niche and learn from them.
What do they post? How often? Who do they target? What tone of voice do they use? By analyzing all this, you can copy successful tactics or even create something fresh which nobody has done before.
These were 15 tips on how to get more likes on Instagram. If you want to learn more about how you can promote your business, check our free dropshipping webinar.