How To Create Selling Videos On Instagram For Your Dropshipping Store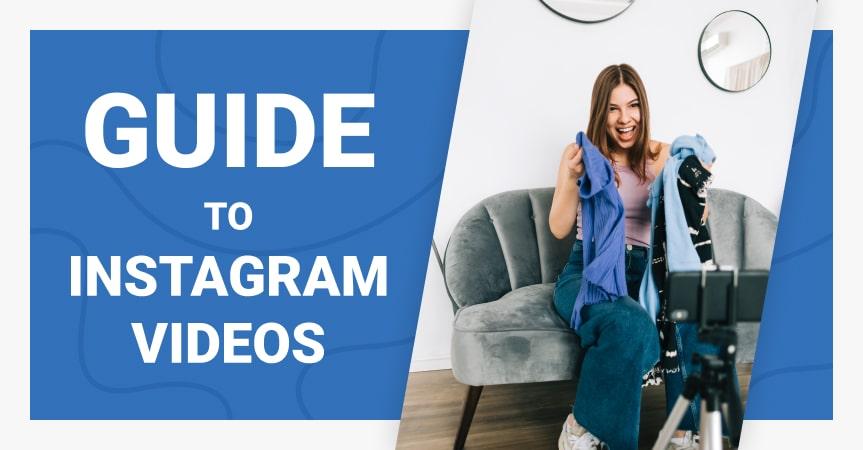 When you want to get the most out of Instagram, you need to go beyond just publishing photos. According to a recent study, videos drive the highest engagement on Instagram as they have 21.2% more interactions than images. Plus, video ads generate 7.5 times more clicks than image ads. 54% of consumers want to see more video content from a brand or business they support. So, it's no surprise that video content is on the rise. However, just posting any video on Instagram won't automatically get you sales. So, if you're wondering how to enhance video ads for your dropshipping store, go through these useful tips on how to create Instagram video ads that perform well in the feed!
The secrets behind a well-performing video on Instagram: the tech side
As videos on Instagram are becoming a more and more popular type of ads, it's important to quickly learn the ins and outs of Instagram videos and video optimization to improve your content and remain competitive.
Instagram video formats
Planning to use a video on Instagram, you might be wondering: what video format is best for the platform?
To begin with, the video format is a file format for storing digital video data on a computer. The best Instagram video format is MP4, however, you can use FLV, and WMV due to their relatively small sizes.
Uploading a video on Instagram: general tech requirements
The MP4 video file format should have these technical specifications:
H.264 Codec
AAC Audio
3500 kbps bitrate for video
Frame rate of 30 fps (frames per second)
Maximum video width is 1080 px (pixels) wide
If you use a video editor to create your ads, you don't need to worry about these specifications: they are already set up correctly.
Remember that different forms of videos on Instagram have different requirements! Let's go through them one by one.
Instagram Feed videos specifications
For Instagram Feed videos, the standard formatting requirements are the following:
Preferred format: MP4 (with H.264 Codec & AAC audio, 3,500 kbps video bitrate)
Frame rate: 30 FPS or below
Maximum dimensions: 1080px wide
Playback length: maximum of 60 seconds
File size limit: 15MB
Keep your ads within these parameters, and your videos will be suitable for other social media such as Facebook & Twitter. This way, you won't need to waste time reformatting them to use on different platforms.
Instagram Story videos specifications
Since Instagram Story videos are typically viewed vertically, they follow the requirements that would fit a typical smartphone screen:
Format: MP4
File size: try to stay under 15MB
Duration: 15 seconds per individual Story
Dimensions: 1080 x 1920 pixels
Aspect ratio: 9:16
Instagram video length
Even though Instagram had started as a photo-sharing app, eventually it expanded into a much more advanced platform that allows to use video content in different forms we've mentioned above: Instagram Stories and Instagram Feed Videos. Let's have a detailed look at video length requirements for each type!
Max video length – up to 60 seconds.
When you upload a video on Instagram feed, it can be up to 60 seconds long, and it should be full of information that appeals to your current audience and potential customers. Keep in mind that the average person will only watch video for about 3-10 seconds, so your feed video ads should have a great balance between being informational and engaging, all while attracting broader audiences.
Max video length – up to 15 seconds.
Even though Instagram Stories require the shortest possible length for video, you still have a chance to win the audience's attention. You should ALWAYS get your message out as quickly as possible – because the average viewer will watch about 40-67% of it before they tap on to the next Story. To nail Instagram Story length and hook customers to your store before they decide to swipe to the next story, you can create something like a teaser or behind-the-scenes video footage.
Instagram videos aspect ratio
When we're talking about aspect ratio, we mean the width of the video in relation to its height. Instagram supports in-feed videos with aspect ratios spanning from 16:9 to 4:5. For example, 4:5 aspect ratio means the video is 4 units high and 5 units wide. And, 16:9 aspect ratio means your video is 16 units high and 9 units wide. A video's aspect ratio has nothing to do with its physical size.
As for the Instagram Stories videos, the aspect ratio should be minimum of 1.91:1 and a maximum aspect ratio of 9:16. We recommend using an aspect ratio of 9:16 for stories as most people prefer their stories to take up the whole screen.
Instagram video quality loss
Sometimes, working with a video on Instagram video isn't easy because the Instagram algorithms absolutely love crushing down video files. But there's no need to get frustrated about this! If you are looking to achieve the highest quality of video on the platform, you will need to optimize the Instagram video perfectly before posting.
When posting Instagram Video Ads for your online store, consider the following tips:
Record your videos with the best quality camera available. The larger and higher-quality your initial video is, the better your post-compression video will look.
Edit your videos with the proper settings. Transfer the full video to whatever desktop or laptop PC you're using to manage video.
Connect to Wi-Fi.
Use the right video formatting requirements like the ones we mentioned above.
Every video you upload will be run through Instagram compression, and there's no way to avoid it completely. The tips above will help you to minimize the loss in quality.
Making a great video on Instagram: the creative process
Now, when you know how exactly your video on Instagram should be made from the technical point of view, let's talk about the creative aspect!
Top 5 simple Instagram video ideas
Product overviews
As a dropshipping business owner, you know everything about the benefits of your product. Thus, it doesn't require much effort, knowledge, or time to show your potential customers how to use your product and provide them with solid reasons to give it a try. You can create product overview videos using the materials from the supplier, and also you can order some products for you, check them out, and make a cool video all by yourself!
Stop motion videos
Modern users are tired of overly polished promotional content, so it's no wonder that simple stop motion videos are trending on Instagram. Stop motion video is a kind of animation that is captured one frame at time, with physical objects that are moved between frames. And when you play the frames you've made rapidly, it creates the illusion of movement.
Fast motion videos
Fast motion option helps to show off the progress faster without boring your followers to death. Moreover, 85% of video content is watched without sound, so this type of content can work well on Instagram.
User-generated content (UGC)
Video content creation can take much time and effort unless you encourage your fans to create user-generated content for you. Did you know videos created by users generate 10x more views than branded content?
If you want to get more UGC videos, establish a connection with your followers and give them a solid reason to produce videos for you, whether you give authors a shoutout on Instagram or exclusive discount.
Influencers' shoutouts
Influencer marketing isn't a new concept. Since customers seek out peers' recommendations before making purchase decisions, many brands collaborate with influencers to promote their products on social media. When it comes to video content creation, influencers can also help you.
Creating Instagram videos for your online store is a must for social media marketing growth and generating more sales. With these simple Instagram video ads ideas, you can build brand awareness of your dropshipping store, increase engagement, and boost sales without spending much budget.
How to make simple Instagram videos engaging
Learn from the best brands online
No matter how creative you are, it's important to see what other brands post online to boost inspiration and analyze the type of video that works well for your target audience.
Make amazing videos with professional video tools
Today, there's no need to hire expensive video content creators to make engaging videos. Once you have a video idea, turn to DIY video creation tools and create marketing videos with ease.
Publishing your videos on Instagram means nothing until you have an engaged following who loves watching them. Thus, it's important to use social media analytics to see what works better for your Instagram followers.
While most people intuitively use portrait or selfie mode when they record with their phones, that's not the best practice for Instagram video. Most people view Instagram video on mobile, which means it's best to shoot in vertical orientation.
Of course, there are some exceptions. For longer video content, horizontal video may be a better fit. Viewers can tilt their phone sideways for a full-screen viewing experience. Landscape video can also be uploaded to Stories and in-feed, but without the tilt effect.
To keep a viewer's attention, you need to make it worth their while. Try entertaining your audience through comic relief, captivating conversation, or your magnetic personality. Or, you could impart tips and tricks, how-to's and workshops, or thought-provoking information.
In each Instagram video, your value proposition should be clear and simple. Before creating a video, consider what someone who watches the video should get out of it. Should it be something they can laugh about, or some kind of informational video someone can watch during their lunch. Whatever it comes down to, it should be clear to the viewers.
If you get it right and deliver quality content, you'll likely see more views, engagement, and shares.
The best way to build an audience is to post regularly. This is especially true when it comes to long-formats like Instagram Video and Live.
Create and share a schedule with your audience so they know when to expect your next Instagram Live. Or develop a video series that your followers can regularly look forward to and tune in to. Take advantage of scheduling tools to make sure your posts are published on time.
As well, try to post when your followers are most active online. Check your analytics and research to find the best times to post Instagram videos.
Which Instagram video editing tool is right for you?
Luckily, the majority of video editing tools are free or come with a free trial that will allow you to test before making the purchase. Having said that, get out there and experiment a little before settling on one.
Best free Instagram video editing tool
iMovie is our pick for free Instagram video editing tools because of its easy-to-use interface and stabilization feature.
Best paid Instagram video editing tool
Magisto is feature-rich and lets you create amazing videos through its flexible customization and AI features.
Best Instagram video editing tool for beginners
InShot is our favorite Instagram video editing tool for beginners because it's so simple and easy to use. You get quite a few features for free, and if you want more, you can upgrade your free account to a paid version for $2.99/month.
Analyzing how your video on Instagram is performing
Now, when we have the tech and creative parts all figured out, it's time to focus on data tracking! After all, it's the analysis of the views, likes, and overall viewers' behavior that lets you see if your video on Instagram reached its target!
Who viewed my video on Instagram?
When you run advertising campaigns for your online store, you want to know whom you've reached and who actually viewed your videos. It's not that difficult to see who viewed your Instagram Stories – however, in case with in-feed videos the same level of information isn't available. But is there anything you can do? Yes, actually there are two ways you can check the viewers of your videos on Instagram.
You can see how your Instagram Stories ads perform in the Insights section of your business profile on the app. You can also view more metrics within Ads Manager and Power Editor including reach, impressions and video metrics just like you would for other ads.
As for your in-feed videos, you'll need to tap the label underneath the post. Unfortunately, you can only see the total number of views, but not the individual user names. You can, however, view the users who have liked it and, thus, have viewed it.
As you can see, you still can get something from Instagram Video Views. Use these details to analyze and improve your future advertising campaigns. For example, you can check viewers' profiles (if they are available), and based on these insights, adjust and improve your targeting settings to reach the maximum of customers interested in your products.
Instagram video views hacks
When you're using Instagram to promote your dropshipping brand, it's important to understand how Instagram works in order to reach as many customers as possible. This also applies to Instagram video views – the more people view your video ads, the more of them ca potentially turn into your customers who will actually buy your products. We recommend using Instagram Insights. This feature allows Instagram Business Account users to see the analytics related to their profile and posts. With these insights, you'll be able to identify what your audience likes and engages with the most to improve your Instagram strategy, hence, increase your video ads views number.
Another great way to learn about your audience and connect with it is to post Instagram Stories. Stories offer engagement opportunities such as polls, stickers, location, and hashtags. Sometimes Instagram Stories work better than feeds because of those additional engagement features. As a result, you get more views of your Instagram stories.
These factors will help you to think over your video ads strategy for better targeting and results.
Instagram video views vs likes
What is more important for video ads: the number of views or the number of likes? Actually, both are crucial!
The indisputable advantage of likes in comparison of views is that likes actually show who cares about your post. Surely, it's essential to understand people who liked your video ads in order to create better ads in the future.
Gary Nix, The Brandarchist's president, wondered about too much weight on the views. "The excitement over a large amount of panic over a small number of views can distract brands (or individuals for that matter) from understanding or even paying attention to the subsequent behavior of the viewer", he suggests.
On the other hand, view counts can provide helpful analysis for businesses who use Instagram platform to promote and sell products. View counts are considered as social proof, some kind of confirmation that your ad was worth posting. Big number of views means enhanced clicks and better commitment. From this point of view, the number of views equals confidence: even if the user is unwilling to like a video ad, he/she can still enjoy watching it. And that's important.
When we speak about brands, in this case "Likes" don't tell you who's seen the ad. That's important because you need to know the reach of your marketing efforts. There will always be silent users who simply don't "like". Thus, "Views" will represent how popular a video ad is, inclusive of the likers and silent users who just watch it but don't double-tap or leave a comment. Much more accurate, and more useful.
Now, when this super detailed guide is over are you ready to create more video ads for your store's Instagram account? Remember, we're always here to help you out with Facebook & Instagram video ads creation if necessary!