Is It A Good Idea To Start A Dropshipping Business In 2022?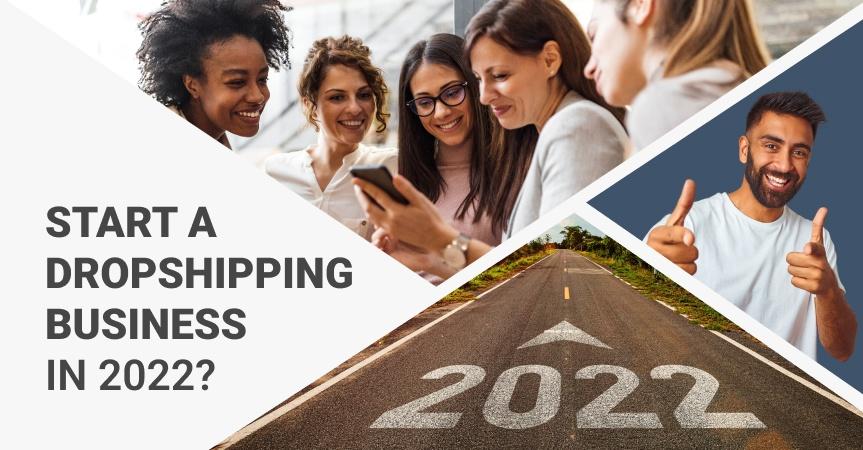 Why start a dropshipping business in 2022? What are the opportunities and possibilities to explore? Let's find out!
6 reasons why starting a dropshipping business in 2022 is a pretty good idea
1. A huge dropshipping knowledge base
People who started their dropshipping businesses several years ago didn't have as much useful information as you have. They were pathfinders and had to learn what was what the hard way. Nobody sent them emails with the ideas of the most promising dropshipping products or gave them any tips on how to manage their stores. They had to begin from scratch.
These days everyone who wants to start a dropshipping business can just google the word "dropshipping" and get tons of articles, guides, educational videos and even special forums where people share their experience in dropshipping. It's an easy way to learn how to find products, make efficient Facebook ads, or properly edit product pages.
Let's suppose that there is no fridge in your apartment. In this case, you will regularly have lots of problems with keeping your food fresh.
Or imagine that humanity didn't invent a car and we all need to use horses or other animals to move from one place to another. It would really take lots of your time and effort.
Earlier, when people first set up their dropshipping businesses, they didn't have all these tools that are making your dropshipping journey easier now.
Seriously, you have much more opportunities than ecommerce entrepreneurs had, let's say, 5 years ago.
You don't need to import your products manually or spend long hours transferring the order details to your AliExpress suppliers. You just need to install the right plugin on your website and enjoy the process of running your own business semi-automatically.
Besides that, nowadays, there are tons of add-ons and services designed specifically for dropshipping. With their help, you can safely forget about many technical things and dedicate your time to your business promotion and customer service.
3. Constantly growing ecommerce market
I guess that now you're thinking: "OK, nowadays, there are many tools and lots of valuable information that can help me out with a dropshipping business. But what about niches? All the profitable ones were occupied many years ago, so starting a dropshipping business in 2022 is pointless."
This is nothing more than a dropshipping myth!
Of course, the more people know about something, the higher the competition in this field is. And it is true for any business, not only ecommerce.
However, you can successfully compete with AliExpress and other ecommerce giants, to say nothing of regular small-scale dropshipping stores. Nobody limits you!
In your store, you will have your own design, a unique set of products, a self-made marketing strategy, etc. That's what will define you – and that's where your competitive advantage lies.
The ecommerce market is huge and there is always a place there for you, too! Just think about it: in 2020, retail ecommerce sales worldwide amounted to $4.28 trillion. And by 2022, the revenues of retail ecommerce are expected to reach $5.4 trillion. Most definitely, on such a huge market, everyone gets a fair opportunity to gain profits – you included! Check out these insights into the future of ecommerce to see what we're talking about 😉
4. A shift from traditional shopping to ecommerce
Another reason to start a dropshipping business in 2022 is to react to the market changes that analytics expect in the nearest future. More specifically, the Covid-19 pandemic caused a shift in demand from traditional shopping to ecommerce.
Because of the pandemic, there's a noticeable change in what people buy and where. In 2022, more than two billion users worldwide are expected to buy goods or services online, and the upward trend will continue in the coming years.
In other words, people now prefer ordering stuff from an ecommerce store rather than going to a brick-and-mortar shopping venue. If this trend truly proves to be a long-lasting one, we are going to see more businesses selling online rather than via traditional channels.
So, is it too late to start a business in ecommerce? The competition in this sphere is definitely going to rise, but so is the demand for online shopping. That's why it's a good idea to start a dropshipping business right now.
5. Improved terms of delivery
Some years ago, the delivery time was a soft spot of dropshipping business.
Most customers were forced to wait up to 2-3 months for their orders because the products purchased from China were shipped by sea. Of course, it was inconvenient and caused lots of problems for both the customers and the sellers.
Everything changed when the Sellvia offering became available, posing as a brilliant alternative to traditional ecommerce solutions. As the Sellvia-provided items are physically kept in the United States, in the company's own Fulfillment Center in Irvine, California, they can reach any US buyer in 1-3 business days – and this is a game-changing market innovation for ecommerce.
So, from the point of view of delivery, starting a dropshipping business in 2022 has a better chance of success.
6. Lots of opportunities for marketing
Do you remember how Facebook looked like ten years ago and how many options it had?
In fact, it was a platform which people used to make friends and slowly exchange messages with them. At that time, no one thought that in several years the terms 'Facebook' and 'online advertising' would be connected so closely.
In 2022, there are lots of marketing opportunities that weren't available to the first ecommerce entrepreneurs:
As you can see, you have a wide range of opportunities to make a name for yourself and for your store as well. Just use them and you'll make your dropshipping business flourish!
Dropshipping business in 2022: the bottom line
Does dropshipping still work in 2022? Is dropshipping still profitable? Yes and yes! And right now, the market conditions are simply perfect for you to give this business a shot.
Starting a dropshipping business in 2022 is a great way to get financial freedom and open up new opportunities for you! Don't let your fears stand in the way of your dreams and hold you back! Everything is in your hands!